In 2014, Marine biologist Dr. Wallace J. Nichols published Blue Mind which has since become a landmark book that explores and scientifically explains how water in all its shapes and forms affects us and how it is a contributing factor to our health and well-being. In short, he proves what most of us know innately: being near water can soothe the soul.
In the introduction to Blue Mind, Nichols points out that humans are hardwired to be healed by water. In fact, Nichols has been a keynote speaker on this topic at the annual Blue Mind Summit since 2010, a conference where a diverse collection of scientists gather to discuss the movement to better understand human beings' connection to water.
Think about it. Every human's relationship to water begins in the womb (where our brains develop and are composed of 80 percent water), and ever thereafter, the human-to-water connection stays incredibly strong. The calm from a nearby body of water can induce a meditative state. There's even a body of science that claims interacting with water on any level can be a potent antidote to anxiety and other mental and physical conditions related to stress.
As one who grew up on the coast a few miles north of Boston, I've always found solace in the healing energy of the Atlantic Ocean, breathing in the salty sea spay from the waves crashing on the cliffside rocks or simply mesmerized watching sailboats float in Marblehead Harbor. When I moved inland, the very act of surfing the web and seeking a seaside escape thrilled me. There's simply no denying the enchantment of being at the water's edge, where many of life's most meaningful moments often take place.
However, oceans, rivers, ponds, and lakes aren't the only places to get a "blue fix." Adding a fountain or water feature to your outdoor space is an easy and effective way to benefit from the soothing sounds of flowing water. Just taking a bath works, too.
Wayne Brown based his entire 37-year career around on-the-water experiences and "Blue Mind" science. His company, Aggressor Adventures, leads 40 unique, water-centric trips in 19 countries, including scuba dives in the Maldives, the Red Sea, the Galapagos, and Belize, boutique river cruises along the Nile, and an assortment of yacht sails.
"As an avid traveler, I realized at an early age that being exposed to the ocean, in particular, alleviated any stress I was feeling at the time," says Brown. "From playing in the waves at Florida beaches as a child to scuba diving explorations later in life, I understood that enjoying the water is more than a fun pastime—it is a natural way to rest and recharge."
Connect to your own "blue mindfulness" at one of these five places, each a worthy destination.
1. Lake Austin Spa Resort
I was first introduced to the concept of Blue Mind at this resort that sits on the shore of this 21-mile lake nestled in Texas Hill Country. Arriving at my room, I found a note card with a message inviting me to find my "Blue Mind." Well, that was easy, as all the guest rooms at the resort face beautiful Lake Austin (actually, a reservoir), and it was raining cats and dogs to boot.
The weather was still pouring the next day. I grabbed an umbrella and splashed through puddles to the resort's elegant, upscale "barn" where I sat happily ensconced under a wool blanket. The view overlooked the lake through the picture window where I got my Blue Mind on—with eyes wide open—while listening to the soothing sounds of a piano meditation.
2. Claude Monet's Garden in Giverny, France
It's about an hour by train from Paris to Giverny, the rural and picturesque little village where famed Impressionist Claude Monet purchased a plot of land and an abandoned house in 1890 located on a minor tributary of the Seine River. It was a place where he indulged in his passion for gardening and for painting en plein air. He built a Japanese–inspired garden just outside the front door of his home and studio. Steps below the home gardens is another garden, an escape he built with the centerpiece being the now–famous pond. This pond served as his muse until his death in 1926, as he turned its seasonal colors and shapes into the modern masterpieces we appreciate today.
After Monet's death, his family sold the Giverny property to France. It opened to the public in 1980, and today it hosts more than half a million visitors annually. Most tourists gather under a canopy of weeping willow trees to stand quietly on a bright green wooden footbridge blanketed in violet wisteria to admire the countless water lilies (nymphéas) floating on the pond. It's an iconic spot to renew oneself and engage in reflective thought.
3.Vichy, France
The Vichy Spa Hotel Les Célestins presented itself like a mirage in the desert as I arrived to "take the waters" after an emotional family crisis. This destination on the banks of the Allier River, however, is a far cry from desert dry. On the contrary, the Vichy region is renowned for its nine thermal springs and for the healing waters contained within them.
My guestroom offered a calming view of Napoleon III Park where swans floated on a tranquil pond and a water fountain mesmerized. At Vichy, "taking the waters" means both to ingest them and bathe in them. Its famed water is a key component to all the wellness programs offered at the spa, and it's incorporated into every meal as well, often adding enhanced color to a dish, due to the minerals present in the cooking water.
Sourced from volcanic mountains in the Auvergne region, the spa waters contain a combination of 15 minerals, including calcium, lithium, silica, zinc, iron, potassium, manganese, and various alkaline salts. More than a dozen treatments at the spa involve Vichy water, including a massage under a rainstorm, which is a 4-handed Vichy shower invented there in 1896. I also soaked in two roaring jet baths. For increased circulation, guests may receive a blast of Vichy water aimed at one's torso through a fire hose.
Essential to the Vichy Spa Hotel Les Célestins' experience is a not-so-thorough examination by its staff physician, who will take your blood pressure (undoubtedly lowering significantly during your stay), ask a few questions, and offer a prescription for a small thrice daily glass of the healing water. It's available from a specific spigot of many at the Vichy atrium, a short walk from the hotel.
I arrived in Vichy feeling like a wilted flower, but left 72 hours later renewed in body and mind.
4. Thalatta Seaside Hotel, Greece
Flying into Athens from Italy, a chauffeur met me at the airport and whisked me away on a mountainous, 2-hour trip to reach the Thalatta Seaside Hotel. Hotel staff welcomed me with a shot glass of mastika, the island's traditional liqueur which is distilled from the resin of the mastic tree and tastes of licorice. Locals call it the "teardrop" of this native Mediterranean evergreen.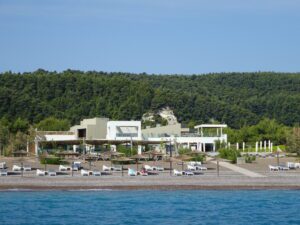 Early the following morning on a delightfully secluded beach, I thought a nap under a straw umbrella was entirely justifiable. The symphony of the Aegean Sea's waves serenaded me throughout my stay at Thalatta, where views of the jewel-toned water take center stage. Before a scheduled catamaran sail to nearby islands of Skiathos and Skopelos (where Meryl Streep performed high jumps on a mattress during the filming of Mamma Mia), I grabbed a lounge chair on pebbly Agia Anna Beach and drifted in and out of slumber.
5. The Crater Lakes of the Azores
San Miguel is the largest of the nine inhabited islands that comprise the archipelago of the Azores, a former Portuguese colony that became independent in 1976. The island is situated in the North Atlantic Ocean about 1,000 miles west of Lisbon.
If I could aptly describe San Miguel, I'd have to say it combines the visual beauty of Ireland, Switzerland, New Zealand, and Hawaii. Its dramatic geography moved King Charles of Portugal to proclaim it "the most beautiful landscape in the world" in 1901, when he arrived.
Added to this beauty is a maritime climate where temperatures never dip below 50 degrees. A Blue Mind can be achieved by the white and/or black sand beaches near one of numerous lakes or by luxuriating in iron-rich thermal springs in the charming town of Furnas. The food is simple but good, the wines are excellent, and the people are friendly. It's no wonder many Azoreans who leave here tend to come back, while its destination as a tourist haven is growing fast.
One would be remiss to pass on a hike around the freshwater lakes in the hills, formed by springs in the crater of a dormant volcano. A thin strip of land is all that separates two lakes, which are notably two different colors.
Legend holds that a widowed king kept his beautiful princess daughter secluded so she never left him. One day while hiking in the kingdom, the princess heard soothing music and spied a shepherd playing a flute. She returned to the same spot often, befriended him, and the two eventually fell deeply in love. When they requested the king bless them for marriage, however, he soundly refused. The dejected lovers cried a lake's worth of tears; one green for her eyes, and one blue, for his.