San Francisco's unfiltered, 98.6 proof Junipero Gin fearlessly led the birth of American craft gin in 1996. Twenty-five years later, Junipero is still made by hand, in copper stills, in The City by the Bay by the Hotaling & Co. Distillery. Here are four reasons this juniper and citrus-infused spirit deserves a spot on your bar cart:
1: Artisan is 'In.' 'The Original American Craft Gin,' Junipero was the first registered gin sold in America to be produced in small batches in a copper pot still. (A copper pot still is conducive to enhanced flavor and aroma production, inevitably resulting in a more complex, well-rounded 'craft' spirit.) This more artisanal and handcrafted distilling method (as opposed to stainless steel, for instance) is still used by Junipero today and requires an intentional approach to the recipe, ingredients, and production.
2: Bar Cart Appeal. A 2020 brand rejuvenation led by award-winning packaging and branding design company Stranger & Stranger revealed a new look inspired by Junipero's fearless and innovative origins and convention-breaking DNA. Modern and distinctively eye-catching, the juniper berry blue-colored glass and graffiti-inspired script take their cues from expressive public art. An additional bottle top brand icon stating 'San Francisco Strength' celebrates both Junipero's genesis and its higher ABV. To put it simply, this bottle begs to be displayed and is the perfect statement spirit for any bar cart.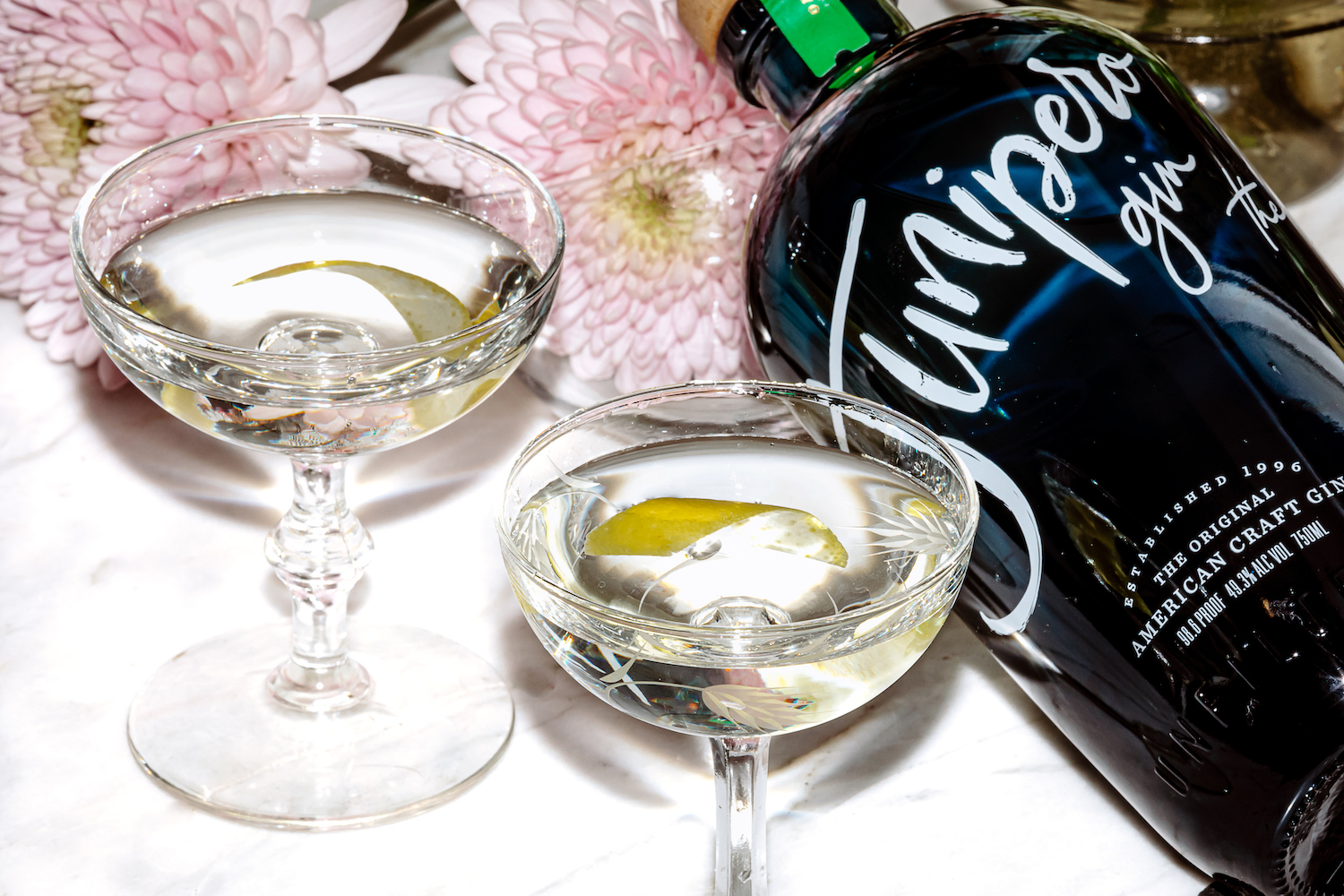 3: Shopping 'Local.' The American craft cocktail revolution finds a spirited history in the San Francisco/Bay Area and Junipero is part of that history, emulating and celebrating locals who live fearlessly through self-expression and innovation. It makes sense that any Bay Area gin aficionado should support the 'home team' by stocking a bottle of Junipero in his/her home bar.
4: Truth is in the Taste. The 12 botanicals found in Junipero include juniper berries, coriander, cubeb black pepper, grains of paradise, lemon peel, orange peel, orris root, cassia bark, cardamom, bitter orange peel, aniseed, and angelica root. This blend, and Junipero's production process has remained unchanged since its launch 25 years ago. On the nose, a strong juniper core is accompanied by a crisp and clean aroma with bright citrus notes and herbal complexity. The palate features big structure with juniper at the forefront and reveals its bold personality in the finish with notes of lemon peel, cardamom, and lemongrass. For gin enthusiasts who appreciate a bold, refreshing cocktail, try Junipero in a Spanish Gin & Tonic, a cocktail that emphasizes a variety of garnishes to complement the gin's inherent citrus and botanical notes.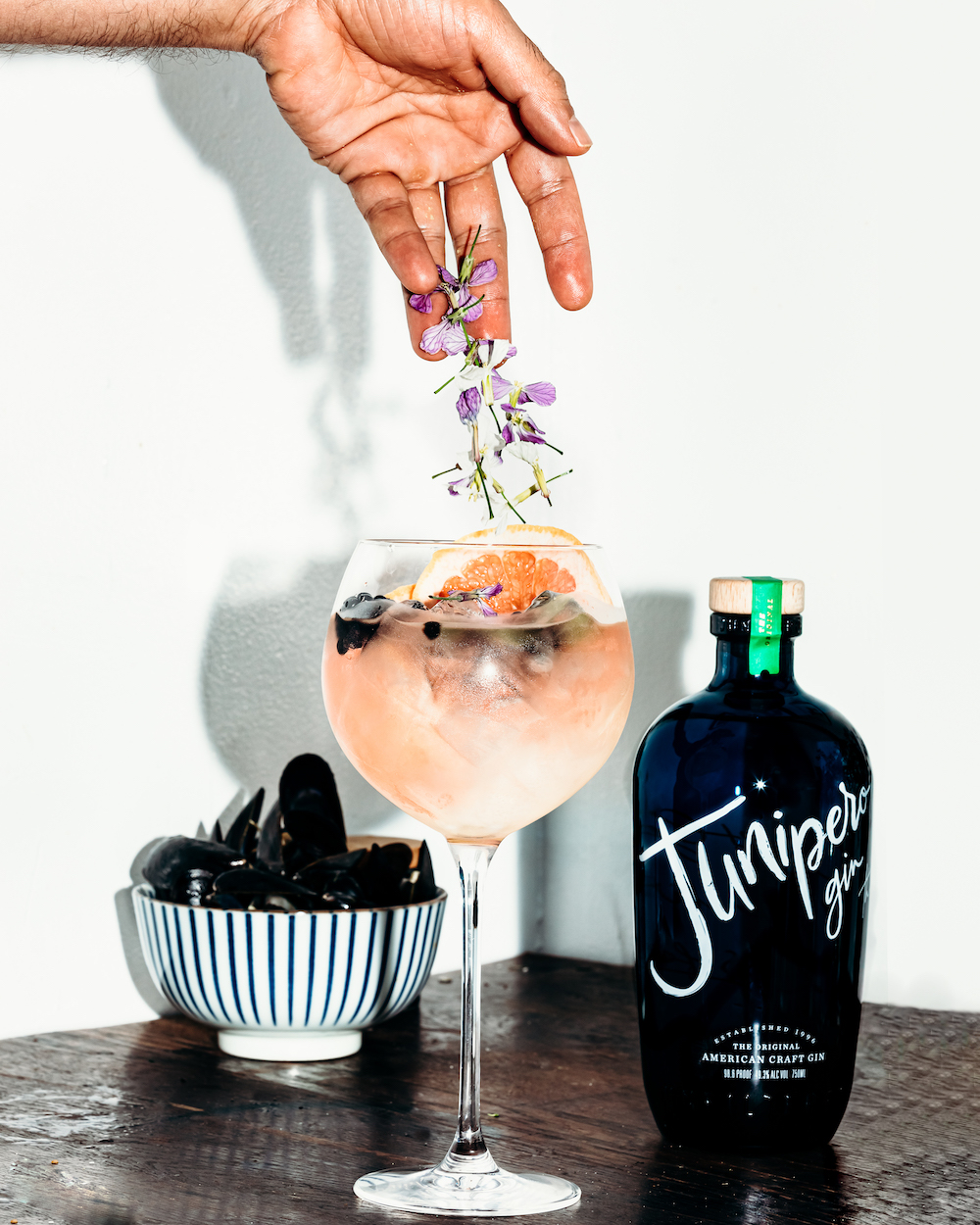 Spanish Gin & Tonic
Ingredients:
2 oz Junipero Gin
3 oz Tonic
Instructions:
Add all ingredients into a balloon glass with ice.
Garnish with fresh citrus and botanicals such as edible flowers, fruit wheels, berries, herbs, spices, etc.
Photos courtesy of Junipero Gin