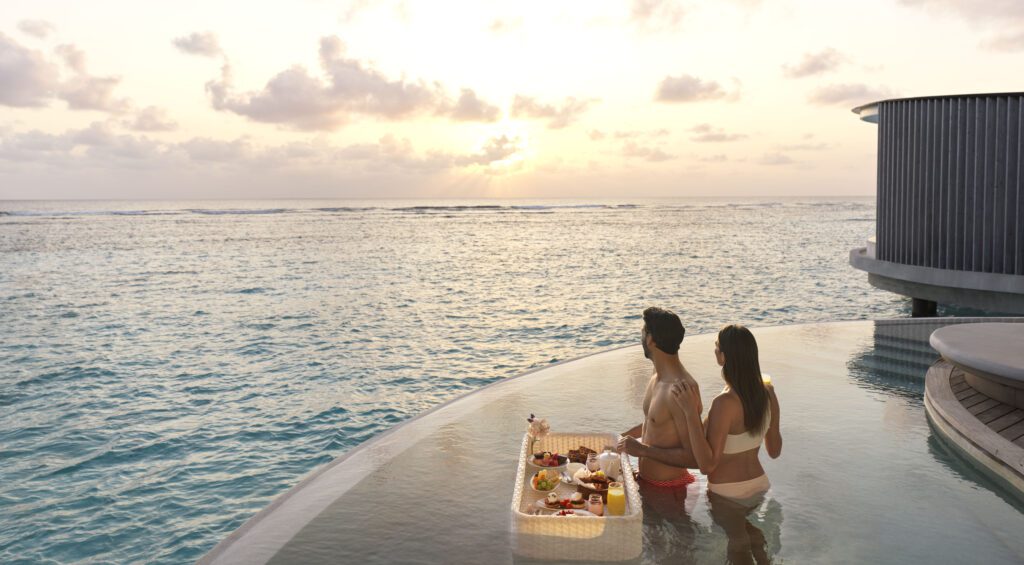 You know those blues in a David Hockney swimming pool painting? Or, the hues of a Van Gogh sky? Perhaps that blue against white pattern on the Blue Willow plate in your grandmother's cupboard? That's the color of the water in the Maldives, a fantastical far flung vacation destination in the Indian Ocean. A nation of nearly 2,000 scattered islands and 26 atolls, astonishingly unspoiled Maldives sprawls for 541 oceanic miles southwest of Sri Lanka. It's on everybody's someday list, a place you've been planning to go but haven't been yet. Indeed, it's a long slog from the United States—an easier getaway for residents of Dubai or Bangkok. But the flight to this sublime paradise can be pleasantly similar to training for (and completing) a challenging athletic event, perhaps a marathon. The road is long, but the rewards are plentiful. It's a place everybody needs to experience at least once in their lives. From swimming with pods of dolphins to diving alongside whale sharks, with surfing, sailing, beach retreats, and stellar spas, Maldives has some of the world's swankiest resorts, many occupying their own island, most with over water bungalows. Nearly 200 upscale retreats vie for your attention in the Maldives, each with a plethora of bells, whistles and luxurious amenities, but one stands out for me: Ritz-Carlton Maldives Fari Islands. Here are eleven reasons you need to go now.
One: The Arrival
Because Maldives spreads out over such a vast space, many resorts require another flight even after you've landed in Male at Velana International Airport. While that plane ride won't be a huge 747, you'll still have to board a low flying sea plane for a flight that might last more than an hour. The Ritz-Carlton Maldives, Fari Islands picks you up at the airport pier in a speedy boat, which whisks you to the resort's private four island archipelago less forty five minutes. As you disembark an array of staff stand by to welcome you.
Two: You have a butler
But, not just any butler. A tThe Ritz-Carlton Maldives, Fari Islands your butler, usually a born and bred Maldivian, is called an Aris Meehaa, a word from the local Dhivehi language which refers to an exemplar person in a prestigious role tasked with caring for and organizing the lives of ancient Maldivian royalty. My Aris Meeha was named Eddie, and he enhanced my stay with his support, suggestions, expertise and elegance.
Three: The Architecture
Designed by the late, great Australian architect and interior designer Kerry Hill (responsible for the design of various Aman properties, among others), the resort deviates from classic Maldivian architecture. Though use is made of classic local materials such as timber and coral stone, the sanctum spreads out across several islands connected by bridges with stand alone villas built in curvy lines and circular shapes, meant to mimic the movement of the water. Circular motifs appear everywhere. Within, sleek interiors reference Maldivian culture and art, while feeling like crisp unpainted canvasses, the implication being an invitation to bring your personality into the space. The minimalism enhances the visual impact of the surrounding, jaw dropping nature.
Four: The Rooms
Capacious and bedazzling, the suites number only 100. Most are egg-shaped over water sanctuaries with plunge pools, while some are beach villas, replete with private crescents of sand. By far, the creme-de-la-creme are the two bedroom beachside villas, havens of luxury, ideal for families. Bonus: rooms come with gorgeous straw beach bags and his and her hats to take home and use on property.
Five: The Dining
You won't be bored with The Ritz-Carlton Maldives, Fari Islands' culinary program. Seven superlative restaurants and bars bring gastronomic diversity to your stay. Whether the immense buffet breakfast (bountiful with options from Arabic, Asian and Western culture) at La Locanda, Teppanyaki at Iwau, upscale Cantonese dishes from Summer Pavillon (a branch of Singapore's renowned Michelin-starred restaurant) or casual lunches at Beach Shack, a world of epicurean delights await.
Six: Cultural Rituals
It might be easy to forget about culture in a place so defined by nature, but The Ritz-Carlton Maldives, Fari Islands does an excellent job of sharing Maldivian insights and experiences with its guests. A highlight for me was the nightly sunset ceremony at the Eau Bar, where Maldivian bodu beru drummers and chanters march along the side of the circular pool in a mystical procession to light a circular fire ring—just as the sun, the color of lemons and raspberries, falls into the sea.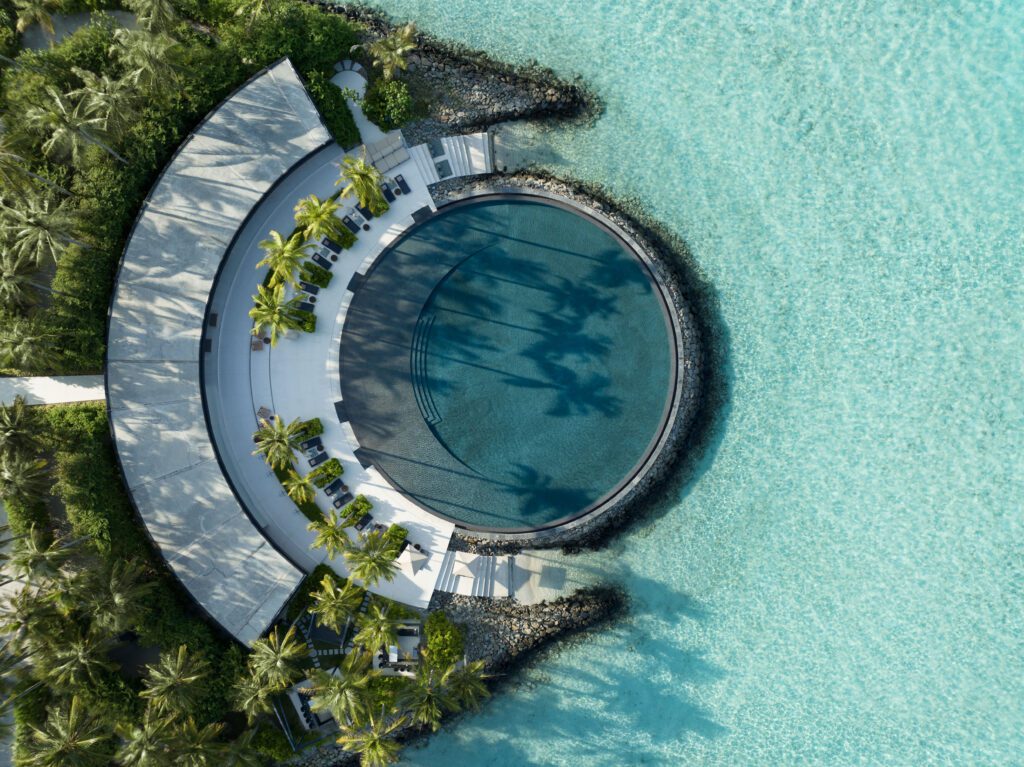 Seven: The Spa
Spa and wellness reign at The Ritz-Carlton Maldives, Fari Islands. The spellbinding circular spa edifice floats on the water, accessible by a long walk down a meandering pier—a metaphor for the journey. Nine gorgeous spa suites dot the circle. Offering treatments by UK-based Bamford, staff bring serenity and healing with every touch. Daily yoga takes place at Mystique Garden, a state-of-the-art gym beckons with trainers and oodles of complimentary fitness classes. Don't miss the weekend run around the resort—another way to keep guests fit and to connect with staff. Try a bamboo massage.
Eight: The Activities
From ocean adventures such as snorkeling and sunset cruises to land outings (think: cooking classes and connections with special guests from world famous bartenders top notch artists), the resort forever aims to bring something novel for guests to do.
Nine: Ritz Kids
There's no kid's club on earth like Ritz Kids at The Ritz-Carlton Maldives, Fari Islands. Envisioned for ages 4-12, the magnificent enclave bases its program on four pillars: water, land, culture and environmental responsibility. Kids have the chance to learn to cook, do art, learn about the sea—and more.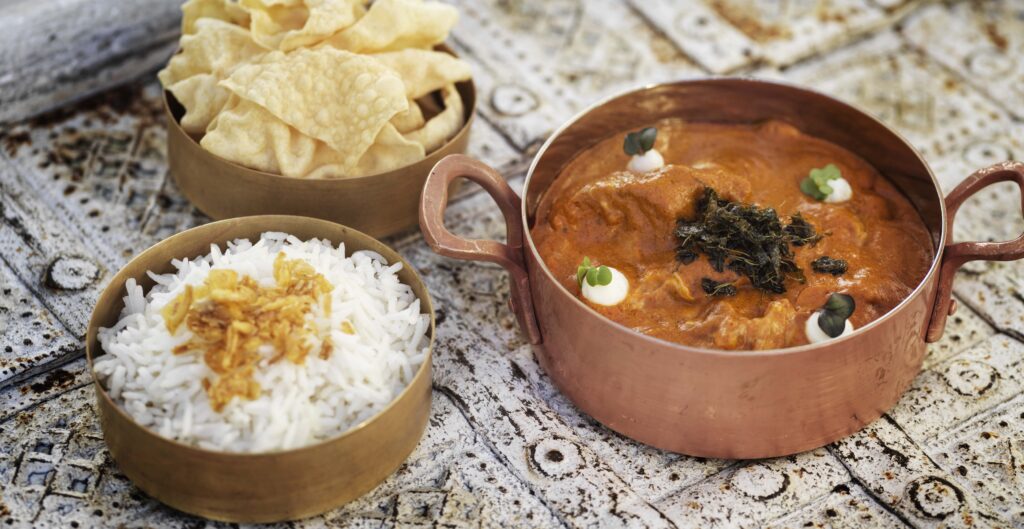 Ten: Dine Around
Let the resort create an unforgettable private dining experience for you, whether on the beach beneath moonlight, in the garden illuminated by candlelight or on trays for breakfast in your personal pool.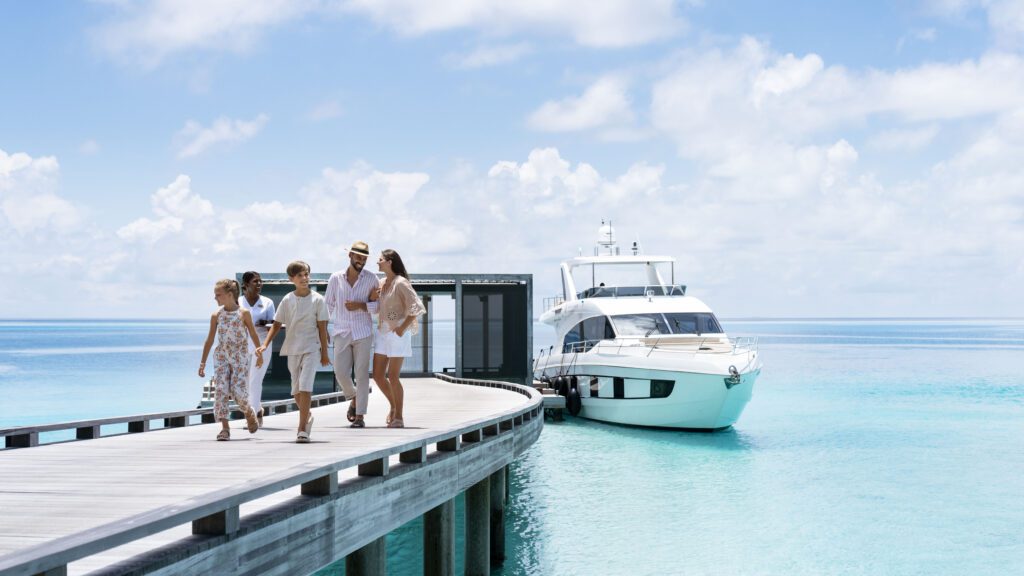 Eleven: Sustainability
Enjoy your vacation knowing that this resort is extremely eco-conscious. Solar power, zero single-use plastic and an in house purification plant are mainstays.