Found in some of Europe's lesser touristed wine regions, these characteristic and inventive wine hotels, one in France and one in Italy, put you right in the middle of the vines. Owned by award-winning winemaking families, each offers old buildings with soul, design-centric, refurbished rooms, gastronomy, wine tasting and wine touring opportunities and pools for lazy repose. Best of all, you'll be welcomed like family by the teams, and if you're lucky, have the chance to meet the personalities behind the wine.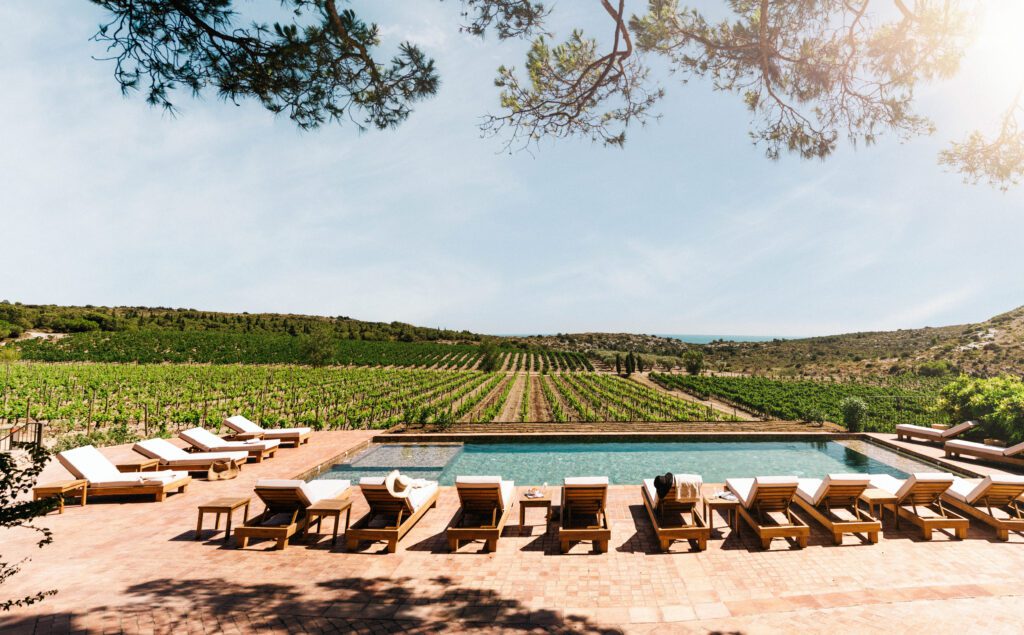 Château L'Hospitalet, Languedoc, France
The first time I visited peerless winemaker Gérard Bertrand at Château L'Hospitalet in France's maritime wine region, the Languedoc, I traipsed through vineyards and the region's scrubby garrigue in muddy boots following a dog. It was December, more than a decade ago, and I was on a truffle hunt, a festive event organized by the winemaker in honor of pruning season—and the continued success of this third generation winemaker's burgeoning empire and decidedly soulful wines. At the time, the wine hotel, so much a part of the vineyards it felt it had been planted itself, had a rustic chic vibe—nothing fancy, but more of a backdrop that allowed the truly stellar wines and the gastronomy to speak for themselves. I loved the place.
But when I returned in autumn for harvest this year, I found Château L'Hospitalet transformed—and though I didn't think it could get better, the touchingly authentic haven had blossomed. It was like seeing a lovely child grown up to be a beautiful, successful and captivating adult—a bedazzling force to be reckoned with. During my absence, not only had Gérard Bertrand's wine realm increased to 17 estates, some 2,100 acres, yielding award-winning red, white and rose wines from a variety of grapes; but, his concept of wine tourism, too, had bloomed and matured to evoke his palpable huge heart, passion, dedication to the terroir and commitment to sharing and promoting art de vivre through wine within us all.
Today, oenophiles visiting what Bertrand now calls Château L'Hospitalet Wine Resort Beach and Spa on the outskirts of the ancient city of Narbonne, so near the sea that the air smells how oysters taste, will experience an enhanced wine hotel, fecund with possibilities, rife with the promise of sensual satisfaction and enjoyment. Enlarged to offer 45 rooms and suites overall, each steps from the vineyards, the resort renovated its original rooms to be more airy and luxurious, then added a sister section called Suites Soleilla. Found down a short, gravely path along the vines from the main complex, Soleilla holds 11 elegantly appointed suites, sleek bolthole's kitted out with natural textures and simple pleasures, not to mention large sliding doors that frame the vineyards, a touchable distance away. My room had a private, fenced garden that made napping outside feel as if I were sleeping in the vineyard, just as Suites Soleilla's infinity pool made swimming laps feel like breaststroking amongst the grapes. Soleilla Spa, also located in this section of the resort, offers classic, results-driven treatments by Biologique Recherche.
With gastronomic restaurants (Art de Vivre and Chez Paule), a canny Jazz Bar, and a seasonal, convivial beach club (L'Hospitalet Beach), complete with deck chairs, tented ceilings, eye-catching art and DJs, Château L'Hospitalet nevertheless keeps wine at its forefront. Think jeroboams of Gris Blanc rosé deftly poured for crowds or sought after pairings with meals. Wine experiences such as private tastings or vineyard tours (and sips of fine wine) at some of Bertrand's various biodynamic estates await. Don't miss an outing to immerse in the birthplace of Clos du Temple, Bertrand's unique, unfathomably exquisite $190 a bottle rosé. Amongst Gaudi-like architectural digs that meld with the landscape and feature theatrical—even spiritual—interiors and jaw dropping views of the vineyards below, you can tipple a glass of Clos du Temple, listen to tunes from a grand piano and be mesmerized on every level. There's even a private bedroom set away from the winery and tasting areas for intrepid dream seekers willing to reserve the entire property for an evening.
Castello di Semivicoli, Abruzzo, Italy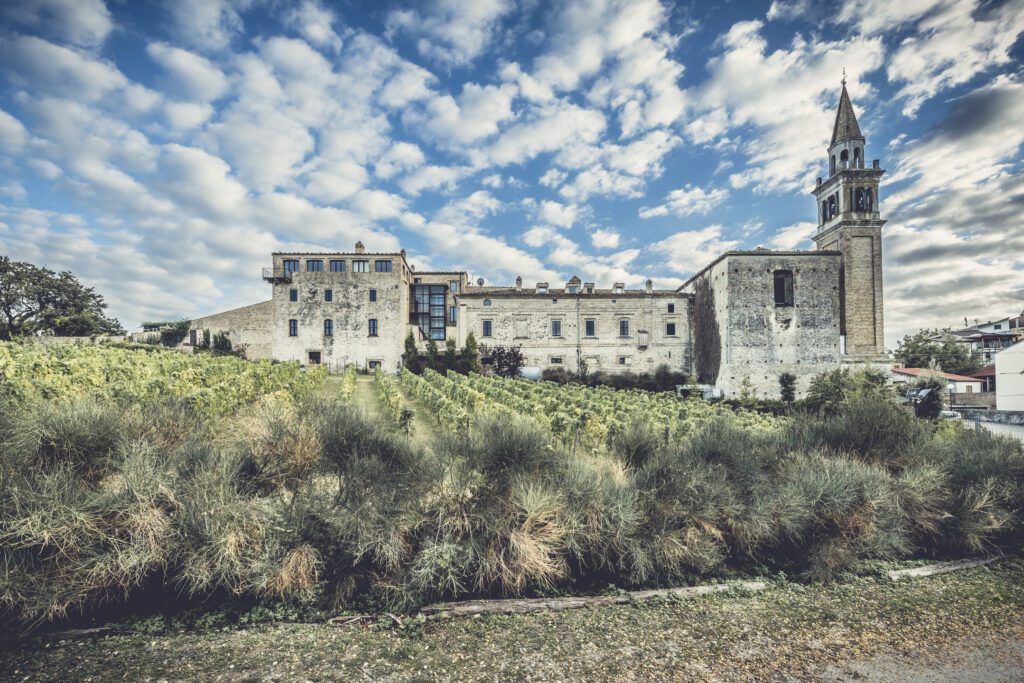 In the Adriatic Sea, I'm skimming along Abruzzo's Trabocchi Coast in a yacht with friends. Between dips in the salty water, which gleams a lustrous shade of jade, we drink cold glasses of wine from one of Italy's most revered wine houses, family-owned Masciarelli, and nibble bruschetta and other canapes made by the captain's wife. Set between the Adriatic Sea and the more urbane Lazio region, which holds Rome, wild, untrammelled Abruzzo is like no other place in Italy—perhaps on earth. It may be most famous for trabocchi, unique fishing structures, which give this coast its name. Dating from ancient times, Abruzzo boasts history as far back as the original Italic tribes. The trabocchi were built to facilitate the ubiquitous livelihood of fishing. Wooden, spindly and as otherworldly looking as an illustration from a Dr. Seuss book, these fishing houses (or machines) use a large net on a pulley plunges into the sea. I've heard locals call them giant spiders and they do look a bit like futuristic insects. Erected along the water's edge, many wooden trabocchi remain today, all family-owned for generations. Though still used for fishing, they usually double as casual, atmospheric seafood restaurants. That's why our captain steers the boat to idle just below one. As we peer upward, we watch a man fill a basket with something that promises to be delicious. Like a scene from a fairytale, he uses the pulley to deliver the basket into our captain's hands. Inside, we find little paper sacks filled with tiny, lightly fried fish and lemon slices. With Masciarelli's Rosato Rosato Colline Teatine 2019, made with Montepulciano grapes, each bite tastes like a dream.
Back home at our castle, Castello di Semivicoli, located 20 miles from the Trabocchi Coast, actually a 17th-century baronial home, restored to serve as clever wine hotel by the Masciarelli wine family, we recover by the pool. The hideaway, part of their wine empire, found amongst vineyards, citrus and pine trees, olive groves and in the shadows of the Apennine peaks, sits on a hilltop with tremendous views. Offering just 11 rooms, each a blend of contemporary touches (think Philip Stark and Driade) and regal elements (antiques, old portraits), it has amenities that extend to include a wine cellar with moody chestnut barrels (an ideal spot for tastings or just sitting with a book), a swimming pool, a wine bar (brimming with the Masciarelli labels), cooking classes and 24/7 expert help and guidance in the art of organizing winery outings and tours to see Masciarelli's 60 wine sites, all located amongst a span of 30 miles. The staff can also help with picnics, hiking trail information, boat trips (such as the one we did to the Trabocchi Coast) and paired wine dinners. Splurge on the Superior Suite, formerly the estate's granary for its colossal size and jaw dropping, 360 ° views from 17 windows, showing vineyards, sea, mountains and countryside.