I can't help but wonder what Dorothée Nakache has in her classic French rolling shopping bag. Organized by my concierge, she's picking me up at swanky, recently re-imagined, Belle Époque Anantara Plaza Nice Hotel, a jewel box overlooking the toothsome Promenade des Anglais just steps from the threshold to storied Vieux Nice. I imagine her bag to be a cache for the tutorial materials she'll use as she leads me on an ambitious, 4-hour tasting tour of Old Nice, the soul of this French-meets-Italian bastion on the French Riviera. However, she has another plan. Dorothée will be shopping with me at her side, filling the bag with a panoply of items for snacking as we wend our way on a customized tasting tour of the city.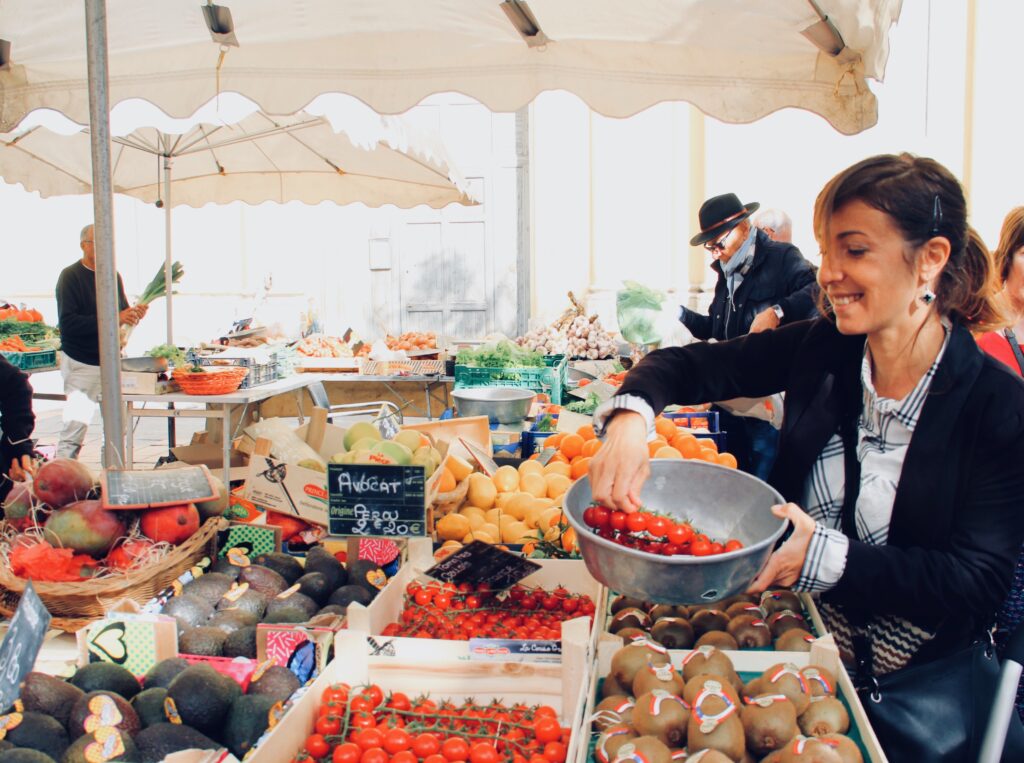 Truth be told, I've visited Nice multiple times, always leaving with a sense of not having delved into it quite enough, always leaving with a longing for more. In preparation for today's food tour, I skipped breakfast (besides an uplifting Provençal café noisette, a single shot of espresso with just a smidgen of milk) in hope of allowing for plenty of space to taste the city, to chew and digest it—literally. As it turns out, Dorothée's tour is a bountiful buffet of abundance, a walk around Old Nice that incorporates nearly 20 local dishes, countless shops, fascinating anecdotes, a tasting picnic in a bistro, and sips of wine in a cave. I'd take this tour again tomorrow, knowing Dorothée, so deeply entrenched in Nice's gourmet culture, has the ability to change it up at will, comprehending from experience that an intimate city on the Cote d'Azur with some 7,000 shops must surely tempt with a variety of ways to navigate and immerse.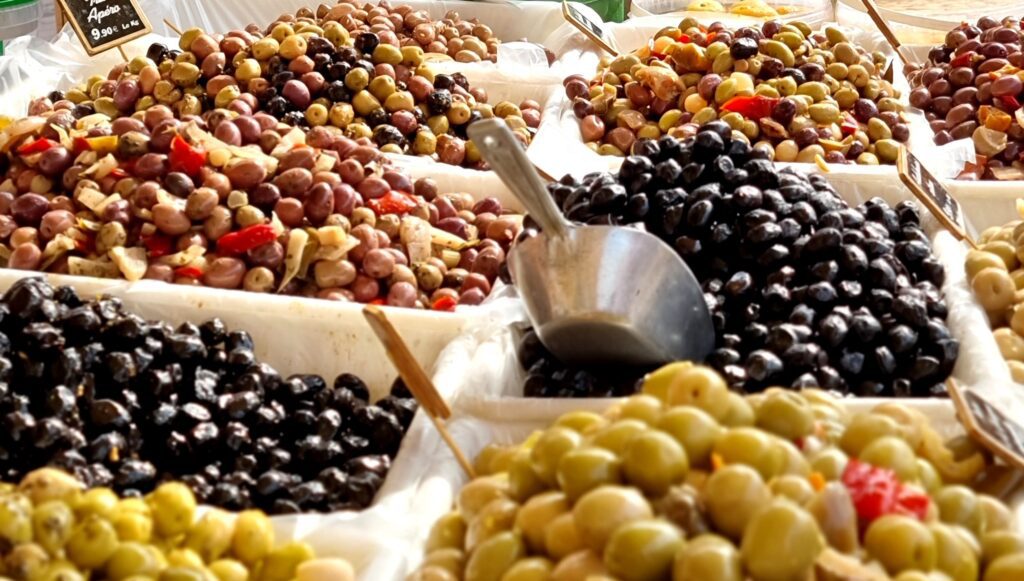 To list everything we eat would be encyclopedic, gluttonously overwhelming—one might even feel some indigestion from reading about it. But allow me to regale you with some personal highlights of the multi-mile journey through the narrow alleyways and market-filled squares of the old city with Dorothée. In the shadows of centuries-old buildings to the sound of the sea, countless shops sell items from lavender soaps to Provençal floral fabrics, cafés and bars beckon, and both tourists and locals roam. It truly is a buffet of Cote d'Azur delight. Clip these experiences for your next visit.
Eat socca at Chez Theresa, known for its wood-fired oven
Showing Nice's Italian roots, socca, essentially a flatbread made from chickpeas, has been traced back to Genoa, perhaps inspired by the Genovese farinata. A street food icon, it is redolent of olive oil, salt, and pepper—best made in a wood-fired stove. Buy a plate and walk or sit outside at the legendary venue to gobble it up with a glass or rosé.
Crunch on crystallized flowers at Maison Auer
Rose petals, violet flowers, and verbena leaves are delicate and elegant. Pastry chefs love them—but they're also a fun garnish for summer cocktails. Nostalgically characteristic Maison Auer excels in pleasing packaging, including combinations of all three. This is also a perfect spot to buy other traditional Nice sweets such as candied clementines and calissons (actually from Aix) which mix fruit and almonds.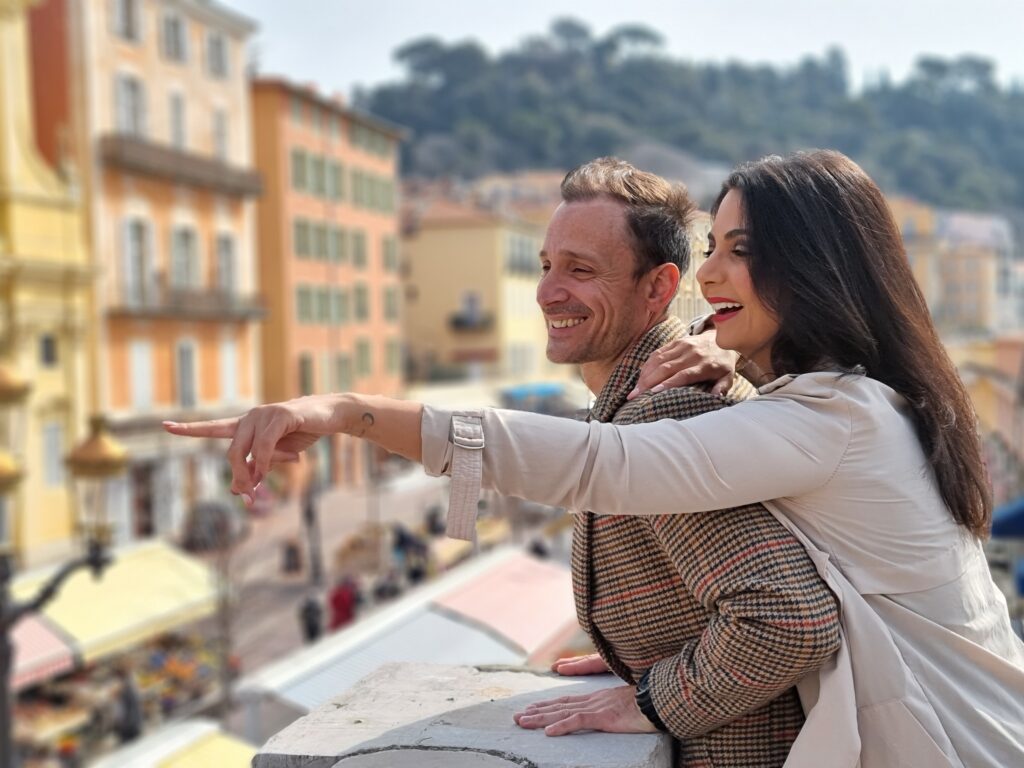 Sample olive oil at A l'Olivier
With several locations, A l'Olivier tempts passersby indoors to sample from a range of the world's best olive oil in breathtakingly divine flavors from basil to truffle. They also sell infused vinegars and a slew of cooking accessories. alolivier.com/fr/
Wander Cours Saleya
This quintessential square in Vieux Nice can keep you occupied and spending money for hours. With a daily famous flower, the haven has tables packed (aesthetically, as this is France) with local produce and food products galore from strawberries to radishes to asparagus to olives. Look for handmade soaps, antiques, toys, honey, lavender products, and other local souvenirs. Note: cash is king here, and most vendors do not accept credit cards.
Get your veggies
Found in most butcher shops among the old neighborhood, petits farcis make an outstanding picnic main course. Famously, this Provençal stuffed vegetable tradition allegedly began centuries ago when locals stuffed garden vegetables with leftover meat. Look for eggplant, zucchini, mushrooms, and tomatoes filled with anchovies and meat mixed with breadcrumbs.
Where you'll want to stay: Anantara Plaza Nice Hotel
The glamorous-but-unpretentious hotel reopened this year under the Anantara banner, thoughtfully and lovingly renovated to reflect both its Old World background and its new status as the future's "it" hotel in Nice. Emanating that chic we associate with Nice from Hitchcock movies, ex-pat American artists, and the turn-of-century global aristocrats who brought the coastal town fame, Plaza Nice keeps things intimate with just 151 rooms, Art Nouveau interiors, and a subterranean spa. Ideally located, it lies as close to Old Town as to Chanel, with the Promenade des Anglais just steps away. Celebrity chef aficionados will swoon over its rooftop restaurant, aptly called SEEN by Olivier, a lively concept hotspot by chef Olivier da Costa.
Best way to arrive from San Francisco
Fly Air France from SFO to start your French fête the moment you board the plane. Stunning business class service, designer uniforms, top tier champagne, and palate-pleasing meals created by a changing array of Michelin-starred chefs set the mood on your direct flight to Paris, where you'll continue to Nice. Start your trip in the new Air France lounge, which opened June 16 at SFO. The multi-million dollar renovation will include a dining area designed in the spirit of a Parisian brasserie. airfrance.us