I've danced at one of Vienna's fairytale balls—and you can too.
This storybook tradition, unique to elegant Vienna dates back to more than a century ago when Emperor Franz Joseph sought to quell discontent amongst his royal subjects by inviting them all en masse to a fabulous fête. The stuff of fairytales, perhaps even the original fairytale, this party, known as a ball, brought people from around the kingdom into the castle to dance and make merry. Most fortuitously simultaneously, local musician Johann Strauss had been working on a peppy new type of music which resulted in an audaciously provocative fast-paced, three-beat dance called the waltz. Enticing, it put couples in closer proximity to one another on the dance floor, made their hearts beat faster and emanated a sexy, even scandalous vibe to any soiree. Together the waltz and the opportunity to enter the castle, ensured that Franz Joseph's ball was a brilliant success. That fanciful outcome grew into Vienna's extraordinary ball season, an annual tradition of socializing and celebration that lasts for months.
Today, more than 450 balls take place in Austria's capital, an imperial city awash in haunting architecture, prodigious museums, and its own urban wine region. Scheduled during lent season, the formal, black tie balls, many of them fundraisers or coming of age parties, take place in palaces, museums, opera houses and courtyards. Organized by professional guilds (such as the Coffee Maker Ball I attended), most Viennese balls reign as exclusive public events, though some parties are private, and a few are informal and aimed at younger crowds. Many view the Vienna Philharmonic Ball as the showpiece of the season. Like the city's renowned New Year's Concert, it's held in the spacious rooms of the Vienna Music Society.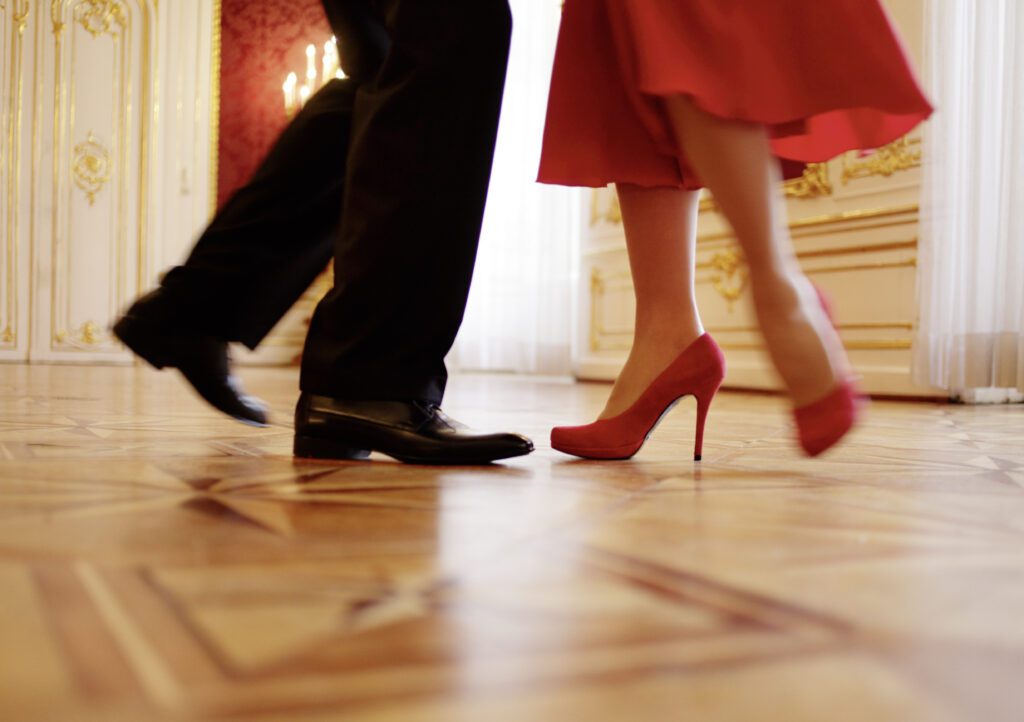 Another season highlight, the dazzling Opera Ball rules as the official State Ball of the Republic of Austria. The event takes over the Vienna Opera in an evening that not only features some of the city's top socialites but also celebrates the opera's premier artists. It's a must for opera buffs. Less fancy balls also have a following. They may embrace a more rustic flair—such as a prominent mountaineering club's characteristic Edelweiss Ball, which features a dress code of strict indigenous apparel—dirndls and lederhosen. Even alternative balls have become popular. The Wallflower Ball dictates that guests wear mousy, beige clothes, with the most inconspicuous ball-goer being awarded a prize at midnight—just the opposite of the glitz and glamour of my Coffee Ball adventure.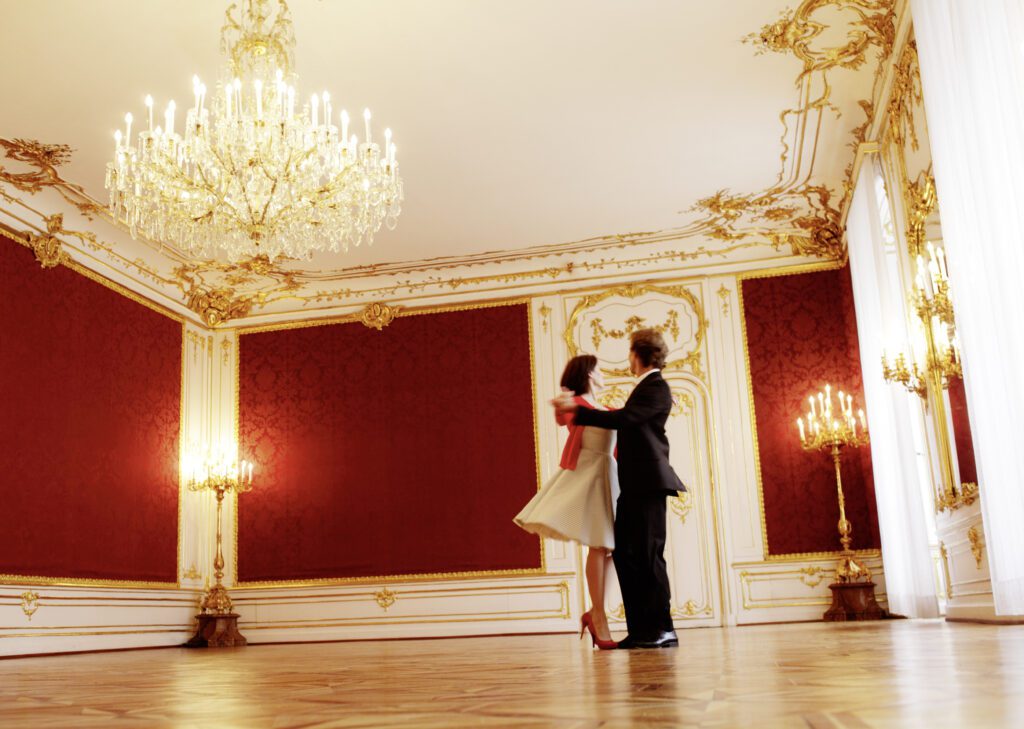 When I played Cinderella in Vienna, I joined about 6,000 partiers at the famed Kaffeesiederball (The Coffee Maker Ball) which spreads through three floors and half a dozen ball rooms in the Hofburg, the former imperial palace of the Habsburg dynasty. Though I did take waltzing lessons at Vienna's top dance school, my skills never managed to materialize on the dance floor, so my partner did his best to help me look airy as we whirled through the various lavishly adorned rooms—including the evocative Spanish Riding School. When the ball ended, we exited the building disheveled and merry, ready to partake of a Viennese apres ball tradition: goulash and beer at classic coffeehouse. Like other participants, we flagged down a fiaker (the city's ubiquitous horse drawn carriages), clip clopping our way to Cafe Landtmann. As the sun rose, I walked home barefoot, realizing that maybe Cinderella didn't lose her glass slipper, but simply left it behind because her feet hurt.
Bereit zum Walzer? (Ready to Waltz?) Here are some tips.
How to Get Tickets
The Opera ball usually sells out a year in advance, while some other balls are a bit easier to secure tickets. Check the ball websites or ask your hotel concierge to assist. They can do wonders when all else fails.
For the Opera Ball : wiener-staatsoper.at/en/staatsoper/vienna-opera-ball/
For the Kaffeesiederball (the one I attended): kaffeesiederball.at
For the Vienna Philharmonic Ball wienerphilharmoniker.at/en/vienna-philharmonic-ball
First Learn to Waltz
Enroll at Elmayer Dance School, Vienna's most prestigious place to learn to waltz. "Backward, between, left, right, together, turn," your instructor will command. When I took my lesson, I struggled, though my teacher told me "dancing is just like walking." He later admitted that some special people "need a few extra lessons.
What to Wear
Note: there is a dress code for most balls.For example, women must wear long, floor length evening dresses and men must wear a black tailcoat with a white bow tie or a gala uniform for many of the balls.
Buy a Ballgown
Located near the Vienna Opera House, Popp & Kretschmer has supplied Vienna's glitterati with evening wear since 1889. An institution that began as a small leather goods store, it remains the consummate destination for stylish ball attendees. They even keep a record of who's wearing what to where so there won't be embarrassing duplicates.
popp-kretschmer.com
Buy Jewelry
Don't mess around. Head over to Vienna's most storied jeweler, A. E Koechert, an imperial and court purveyor to royalty. Since 1814 this fascinating shop in the city's most exclusive shopping district, The Golden Quarter, has been adorning bodies for balls.
Where To Stay
Like its famous cake, chocolatey Sacher Torte, Hotel Sacher Vienna is the sum total of countless perfect details blended into one spectacular home away from home. The epitome of fin-de-siecle Viennese perfection, it remains one of the only five star, family-owned hotels in the world. Adjacent to the Vienna State Opera House, the glamorous hotel captivates with its array of enchantment from glittering chandeliers to brocade and silk wall coverings. Concierges in flawless vintage uniforms stand at attention to answer your requests, a bartender lurks ready in the Blue Bar with a bottle of Champagne and a spa with chocolate themed treatments won't fail to relax you. Choose the Madame Butterfly Suite, a haven of fantastical proportions. With near 360 degree views of Vienna, the sanctum has a fireplace, a separate study, original artwork, parquet floors, a floor-to-ceiling marble bathroom as big as a house and stellar carpeting.