Escape to 1 Hotel Hanalei Bay, abundant with resources for
personal growth and renewal.
Stress is a mysterious beast. It hides in the deep crevices of our minds and bodies. When stress is left unchecked, it may morph into a festering wound, infiltrating every aspect of our lives with negative thoughts and reactions. Stress creates a schism in our life, distancing us from our authentic, loving selves. As much as I don't want to admit it, I let stress take over my life. My body broke down, and I got ill and suffered from migraines. Sleep was elusive.
We have witnessed the devastating consequences of stress on the lives of our loved ones. Realizing that I, too, could be headed down a harmful path of chronic illness, I recognized the urgent need to prioritize self-care and reset my life. So, I turned to the professionals and found David Erlich, the executive director of spa and wellness at 1 Hotel Hanalei Bay.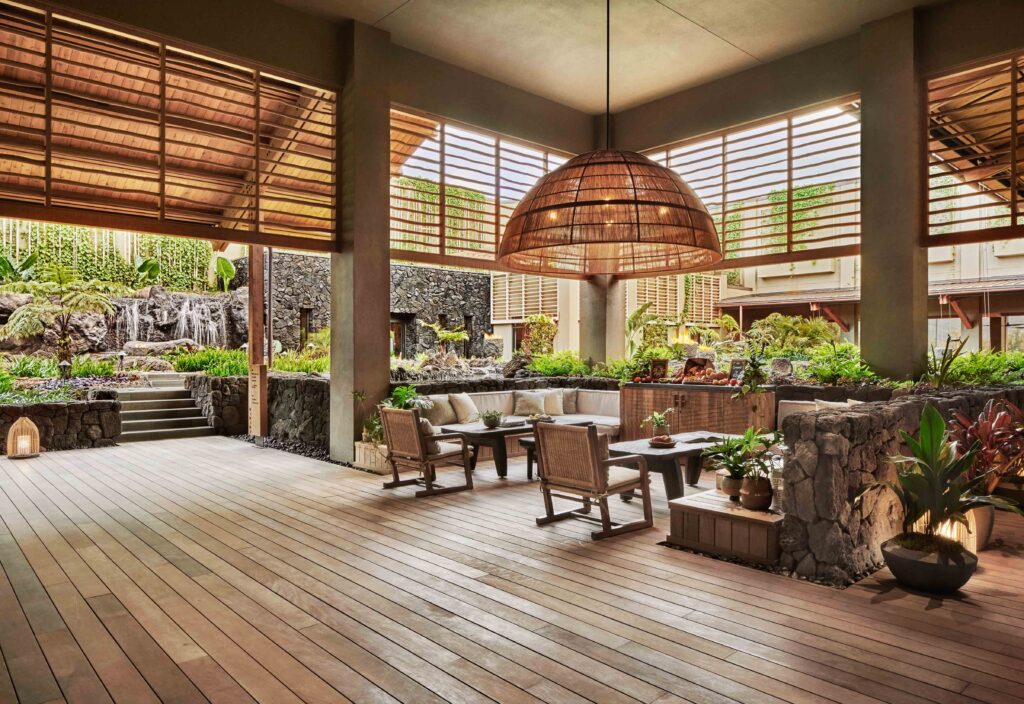 With an extensive background in wellness program design, Erlich has established himself as a global leader in the field. Currently residing at 1 Hotel Hanalei Bay, he channels his expertise and passion to create an unparalleled oasis of well- being, drawing inspiration from the wonders of nature. By seamlessly blending various healing therapies, holistic wellness practices, functional lifestyle medicine, performance-focused fitness, and cutting-edge training methods, Erlich has crafted a sanctuary dedicated to self-care on the stunning North Shore of Kaua'i. One can gain valuable perspective and rediscover their true purpose in this place. When he's not immersed in the spa, you'll often find him riding the waves and immersing himself in the breathtaking beauty of Hanalei Bay.
"My lifestyle has always been that of an adventure sports enthusiast and athlete. I found myself using spa and wellness to help me stay fit and able to compete. Hydrotherapy, massage, nutrition, and amazing personal trainers proved to be the best way to care for my human body and help me recover, rejuvenate, and thrive. So, I made it a career choice to help share this philosophy and lifestyle with others," shares Erlich.
Incredibly impressed by his pedigree in the spa and wellness industry, I set a course to the distant island of Kaua'i to experience Erlich's wellbeing programs. Nestled amid the lush cliffs of Kaua'i at Hanalei Bay, 1 Hotel Hanalei Bay offered the perfect sanctuary for my weary spirit. I was ready to immerse myself in an awe-inspiring landscape where towering mountains kiss pristine blue water.
The resort has a strong partnership with the prestigious Bamford brand, guided by the discerning taste of Carole Bamford. Carole Bamford is a firm believer in sustainable and holistic living. With an unwavering commitment to organic farming, ethically sourced clothing, and thoughtfully crafted beauty products, she has become a powerful advocate for preserving traditional skills and embracing a natural way of living.
The Bamford Wellness Spas curate a range of treatments and classes designed to cultivate relaxation, restoration, and overall well-being; each offering nurtures the body, mind, and spirit through a holistic approach. Embarking on the path of wellness, I wholeheartedly embraced the Bamford philosophy. By adopting this philosophy, I discovered the power of surrendering to my higher consciousness and unlocking true healing.
Despite wanting to take several weeks off to recover from an immensely stressful period, I only had time for a leisurely, long weekend. Determined to make the most of my limited time, I carefully prepared for an extraordinary, 3-day getaway.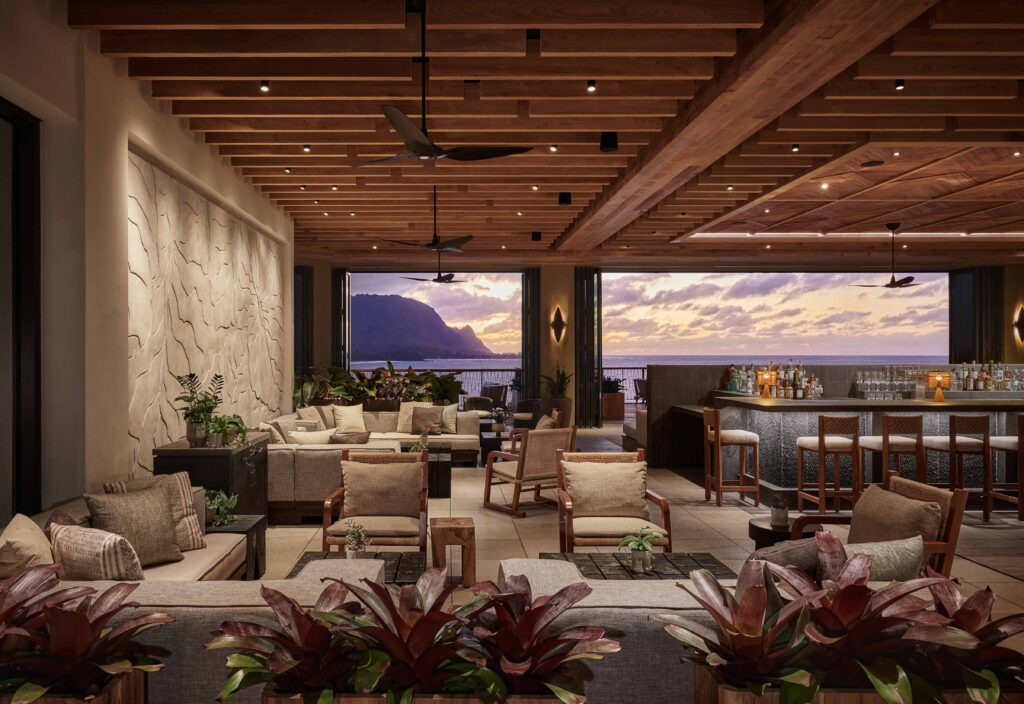 ON ARRIVAL
The resort has a curated program called Within Wellness that offers unique Journeys that can be customized for each guest. Within Wellness is the signature well-being program designed to establish 1 Hotel Hanalei Bay as a comprehensive global wellness destination. For me, I was on a personal weekend warrior path with just a few nights, but wanting to take advantage of all the body, mind, and spirit-renewing opportunities possible.
Upon arrival, I was greeted by a Wellness Sage who escorted me to my luxurious and personalized "Within Collection" suite. Each room features an outdoor terrace, a mattress with sleep enhancement technology, an Infrared PEMF Mat by HigherDOSE, Normatec compression leg boots, a HyperIce Hypervolt 2 Pro percussion massager, a meditation cushion, ergonomic pillows, a weighted blanket, and a white noise machine. Accommodations include exclusive minibar items curated with well-being in mind, healing, protective gemstones, and sleep enhancement technology with Lutron lighting and environmental controls.
DAY ONE
One of the highlights of my fitness journey was attending my first "Body Tek" class with Noah, a renowned instructor with a long list of satisfied private clients in Kaua'i. This class is one of the many offerings that are a part of the resort's Daylife complimentary guest programs. This movement class combines elements of gait, biomechanics, and 3D movements, utilizes kettle balls and free weight flow to maximize sports performance, and aims to reduce pain and strengthen the musculoskeletal system. Later that morning, I had a private training session with Noah, who challenged me to properly align my body and strengthen my core with challenging balancing exercises.
That afternoon I spent in the Bamford Wellness Spa, I indulged in an Intuitive Herbal Healing Ritual with my massage therapist Asher for 90 relaxing minutes.
This ritual begins with a healing herbal foot soak infused with the robust plants of Kaua'i, followed by a full body massage centered on Kaua'i Farmacy's Comfrey Noni Serum. The highly revered comfrey and noni plants awakened my fatigued cells. The mineral-rich comfrey bolstered the vitality of my bones, tendons, and ligaments; nourishing noni encourages circulation and detoxification. For the first time in months, I was pain-free.
That night I dined at Welina Terrace at the sushi bar where chef Misao Masuda creates incredible Japanese plates that pair perfectly with Hawaiian-inspired cocktails. Back in my room, I tried out the HigherDOSE mat and compression boots. I arrived that day with a dark blue bruise on my thigh, and by my first session, the bruise was fading.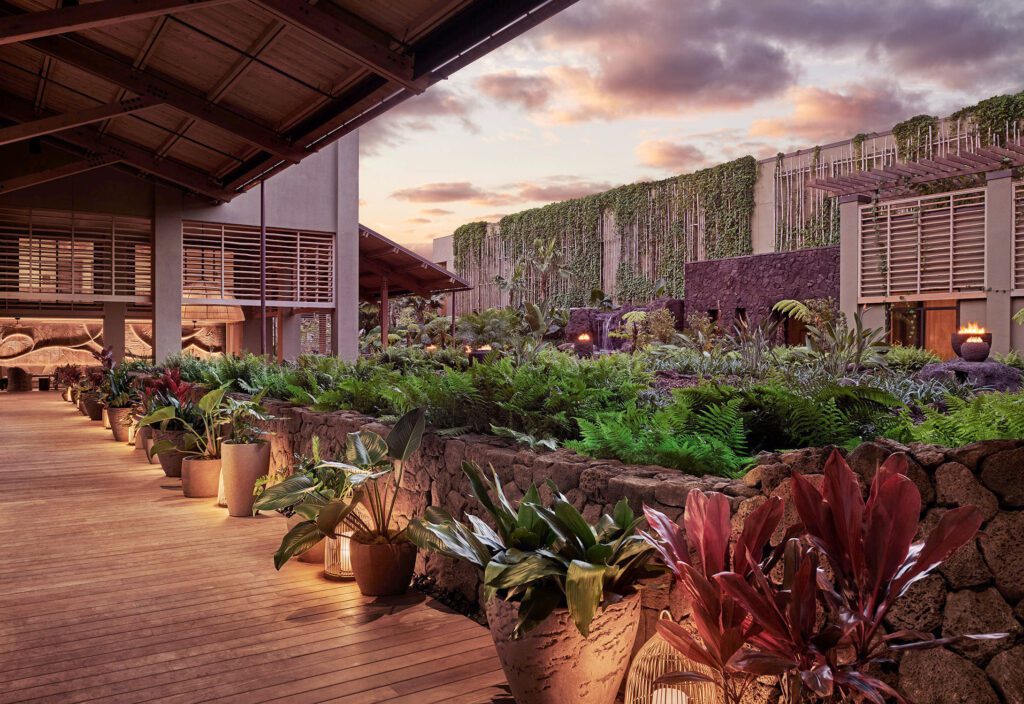 DAY TWO
At 6:00 a.m., I was in the Anatomy fitness studio with six other guests. We were about to embark on an exhilarating journey led by Noah in his "Longevity Lab" class. This unique class, offered by Daylife, aims to align our bodies through efficient and painless movements. By utilizing body mechanics, we activate, connect, and discover the harmonious integration of our entire system.
After a nourishing breakfast of green juice and açai bowl from Neighbors café, I embarked on a serene private yoga session guided by the esteemed Body Architect, Kinsey. After tranquil yoga, I embraced ultimate relaxation in the soothing Float Chamber at the spa, immersing myself in darkness for a blissful 60 minutes of letting go. In the chamber, I could hear my body speaking to me, and every loud beat of my heart told me to slow down. I have one body, and I need to take good care of it to live a long and healthy life. Message received.
My floating experience was followed by the Daylife Crystal Healing session. The guide placed crystals on my chakras and led the class through meditation. I departed feeling centered, grounded, and fully equipped to sustain the positive energy flow. Feeling the tension releasing from my body and ready for a hearty meal, I enjoyed a delicious dinner at their signature restaurant focused on serving hyper-local and sustainably sourced fare, 1 Kitchen, where I feasted on Nancy Silverton's market fish spiedini. Chef Silverton was the inaugural guest chef of their Chefs by Nature culinary series focused on sustainable cooking.
Upon returning to my oceanview suite that evening, I indulged in another invigorating session with the HigherDOSE mat and compression boots. To my delight after the second session, the unsightly bruise on my thigh was nearly gone.
DAY THREE
The morning started with Noah and his Longevity Lab class at 6:00 a.m. My muscles were feeling the burn from the many workout sessions I'd taken, and it felt great to know my body was starting to ignite.
I was in for a surprise when I decided to give the next class a try: Soul Sweat, which is part of the Daylife program. The moment I stepped into the room, I could feel the infrared heaters in the ceiling, adding a touch of warmth. Although the temperature wasn't unbearable, I dripped with sweat, aware that my body was purging toxins.
As the morning classes breathed new life into me, I indulged in a refreshing swim in the calming waters of Hanalei Bay. The saltwater washed away my fatigue, leaving me revitalized. I had an opportunity to meet with Doug Wolkon, the owner of Kaua'i Farmacy. Kauai Farmacy is a seed-to-cup herbal medicine farm, and the spa's intuitive healing experiences are centered upon its plants. He shared the ancient wisdom of plant medicine and educated me on using plants daily to reduce stress.
Once again, I headed back to the spa, this time for a Thermal Facial. This 150-minute treatment starts with a delicate neck and décolletage massage. Included in the treatment were different types of techniques, including gua sha and Cryo T-Shock therapies. My therapist, Lauren, guided me through the process and educated me on how each phase improved my skin and circulation. After the treatment, my face was glowing, and my frown lines were less visible. I was astonished by the remarkable transformation I witnessed in my facial appearance.
The final evening was an unforgettable culinary adventure at Welina Terrace. The staff treated me like royalty as I embarked on a gustatory journey through multiple courses and paired cocktails while watching the sun set over Hanalei Bay. Afterward, I ended the night by gazing up at the stunning, starry sky, surrounded by the comforts of my private garden replete with lounge chairs. I felt overwhelming gratitude for the extraordinary individuals who guided me on this wellness journey. In that silent moment, I had a newfound appreciation for my body.
I repeated my nightly routine with the HigherDOSE mat and compression boots. At the end of the session, my bruise was entirely gone. The following day, I emerged from my luxurious suite, experiencing renewed vigor and relief from months of stress. I ended my stay with one last "Soul Sweat" class at 6:00 a.m. As I made my way back to San Francisco, I couldn't help but notice the profound change that had taken place within me. I became a more authentic, more genuine reflection of myself. While stress will always be a part of my life, I better understand how to better manage my emotions and care for my body and mind.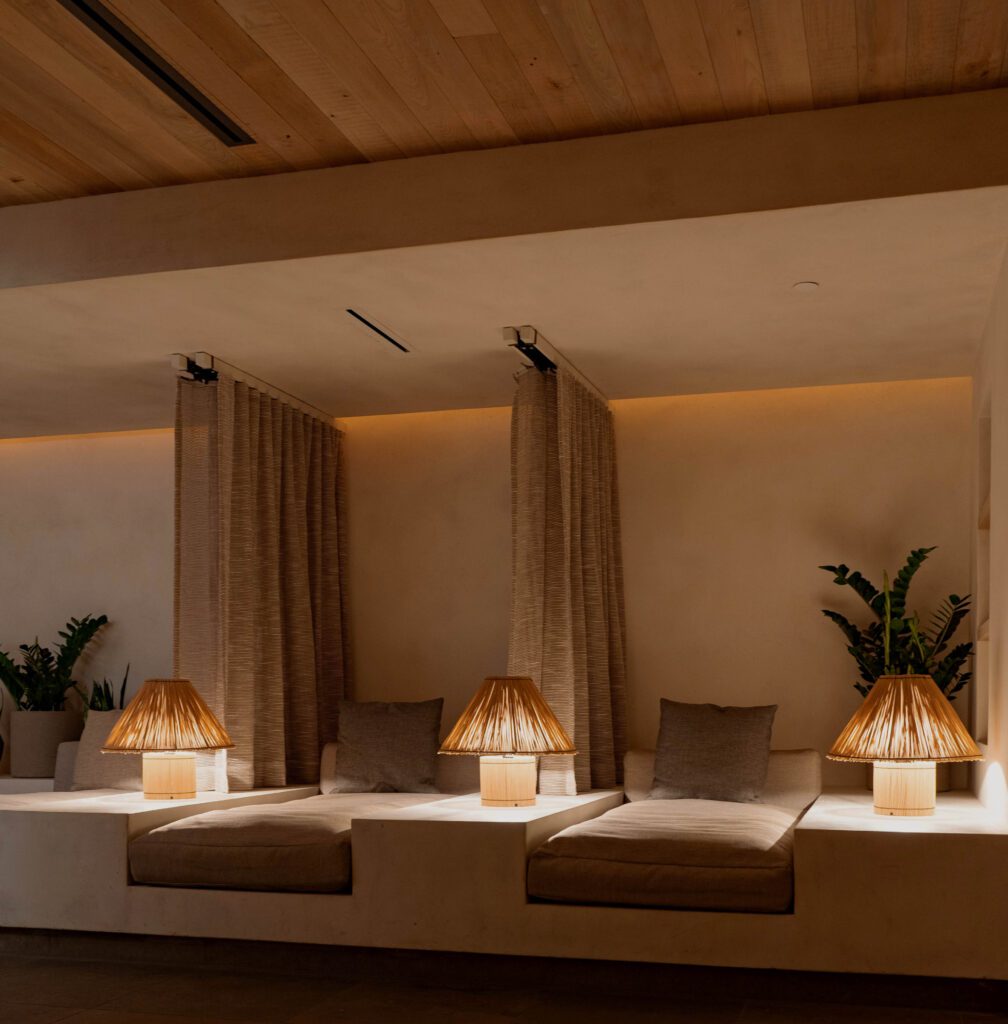 The hotel has partnered with Vitahealth to provide comprehensive integrated medicine crafted by an expert medical team.
VITAHEALTH PRECISION WELLBEING
Vitahealth Precision Wellbeing harnesses Vitahealth's scientifically proven, human-centered, whole-body approach, including premium infusion treatments with bioavailable nutrients, peptide treatments, hormone balancing modalities, metabolic reshaping, as well as cognitive, sexual wellbeing, and mood enhancement therapies.
Vitahealth provides a complete turnkey medical aesthetics program with nutritional guidance and recommendations for a total well-being reset facilitated by medical experts and registered practitioners.
RECOMMENDED TREATMENT: VITACORE PREMIUM IV THERAPY
IV infusions provide a powerful, advanced approach to enhance the body's natural healing and regeneration process. Vitahealth's carefully selected, bio-available, super-nutrient infusions are easily absorbed and utilized by the body. The Vitacore Premium Drip blend consists of 12 super premium, bio-available nutrients: electrolytes, vitamin C, calcium, copper, magnesium, manganese, zinc, thiamine (B1), riboflavin (B2), niacin (B3), dexpanthenol (B5), and pyridoxine (B6).
Discover the profound journey of personal transformation exclusively at 1 Hotel Hanalei Bay.
1hotels.com/hanalei-bay or call 808-977-1155.
Within Wellness scheduled to fully open in late fall 2023.
Photos by 1Hotel Hanalei Bay