A beautiful homage to those we love who have passed on, Mexican culture's most colorful and festive holiday Dia de los Muertos (Day of the Dead) dates back to the Aztecs, who once occupied central Mexico. A fusion of Spanish culture, European religion, and Meso-American ceremony, the fete is marked by elements of magical realism, fantasy, and unbridled joy. It officially begins at midnight on Halloween, when the first souls begin to return to earth, according to legend, to reconnect with friends and family. However, most people begin building altars, called ofrendas, to honor their departed loved ones weeks ahead, decorating these sacred spaces elaborately with offerings—, memorabilia, gifts, photographs, flowers, sugar skulls, liquor, and favorite culinary items. Playing a starring role, skeleton-like catrinas, engage the crowds. Often festooned with flowers and gorgeously attired, the catrinas join revelers for jubilant parades, merry storytelling, meal sharing, sacred dancing, art contests and much more.
Experience the holiday this year when the San Francisco Symphony presents FIESTA Día de los Muertos, on November 6, beginning with a 2pm concert at Davies Symphony Hall. A party for everyone, the soiree promises to be an extravaganza of art, music and joy. Ofrendas and other installments will fill the halls. These altars, created by local artists, have been curated by longtime San Francisco collaborator, Martha Rodríquez-Salazar. Jaunty catrinas and catrines will wander through the halls, posing for photos and invoking the holiday's spirit. Conductor Enluis Montes Olivar will lead a Latin American-inspired musical concert, which features vocalist Flor Amargo and the San Francisco Symphony. Afterwards, a mariachi band will guide the audience from the halls to the elegant Green Room at War Memorial building, where Fiesta continues with additional fundraising activities–an auction, reception and seated dinner, which benefit the Symphony and its various artistic, education and community programs.
"Run, don't walk for tickets," says Sharon Seto, Event Chair, who also serves as Co-Presenting Sponsor, along with husband, David Seto and longtime Symphony patron, Pamela Rummage Culp. A dedicated public servant and leader for myriad charitable events, Sharon credits her parents for instilling in her a desire to help others and support the community. "I want to make the world a better place for all," she says. For Fiesta Dia de los Muertos, Sharon wanted to mirror the success she realized as Co-Founder and Pioneer for the Chinese New Year Concert Celebration and Imperial Dinner, an event that reached out to the Asian community. "Music bonds us all," she explains. "Inclusivity is my goal for DIA, as it was for the Chinese New Year festivities. I think of DIA as a sister event, one that honors our Latino community and teaches us all." As Chair, Sharon tweaked the event linguistically, believing it was important to add more Spanish words into the mix. "Since I love learning Spanish, I decided to share my passion by renaming this event "FIESTA! Dia De Los Muertos- Celebracion del Concierto y la Cena. It's important to me to honor our city's Hispanic culture." Sharon urges everyone to bring their friends and families for an afternoon of reverence for those who have passed, a day full of merry making, and unforgettable entertainment. "Perhaps my favorite part will be watching the children learn about Latino culture as they take photos with the catrine and become enlivened by the music."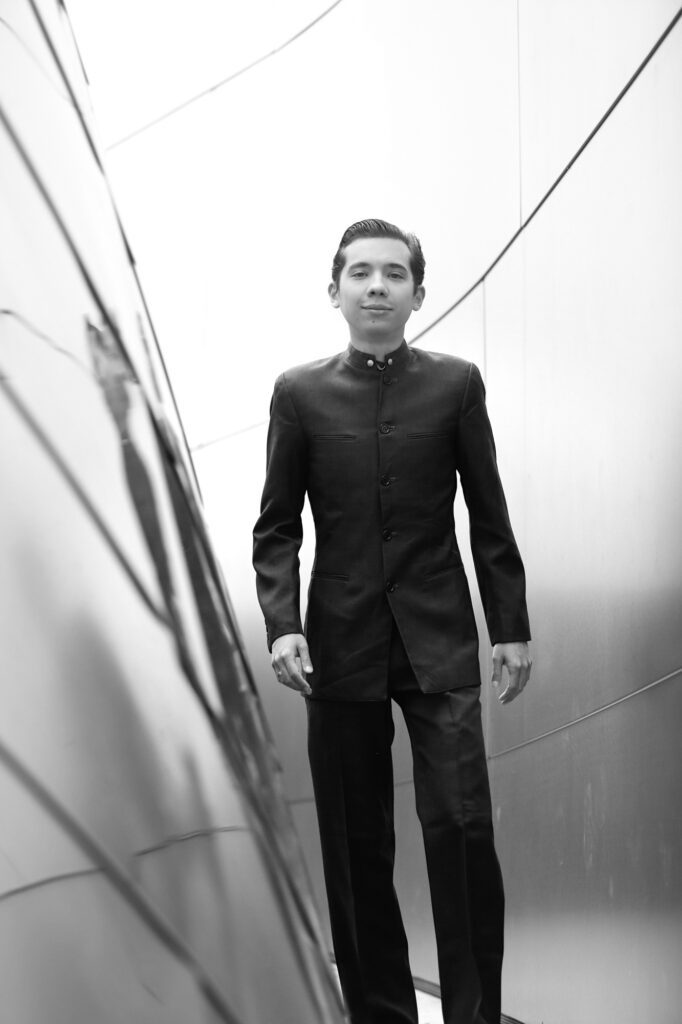 Making his debut with the San Francisco Symphony with the Dia De Los Muertos concert, Enluis Montes Olivar explains that his main objective in choosing the music for the program was to bring the most festive part of the holiday celebration into focus. "I wanted this to be a reflective space to remember our loved ones, but also a cheerful space because those memories are full of joy and rejoicing," he says. "That is why, in this celebratory setting, we have selected happy music, not only Mexican music or music by Mexican composers, but also music from other Latin American countries." Beginning with La Conga del Fuego Nuevo, by Arturo Márquez , the concert starts on an energetic note. It will end with Xochipilli, by Mexican composer Carlos Chavez, a piece named for the Aztec god of flowers, song and dance. According to Enluis, the concert's mascot is the flower-loving hummingbird, which can be imagined during the dominating, airy, wind instrument portions of Xochipilli. The conductor reminds us that in Mexican culture the hummingbird has.a special significance. "Many believe that the tiny birds represent the souls of our loved ones. When the hummingbird flies close, it brings with it a message of love and support." For Enluis the concert's personal crescendo will be when talented, Mexican, multi-instrumentalist and songwriter Flor Amargo is on stage with the symphony. She is "a singer of the people and for the people," he exclaims, looking forward to the collaboration.
Born in Mexico City, trained classically as a flutist and opera singer, Martha Rodríguez-Salazar has curated the San Francisco Symphony's Día de los Muertos Community Concert festivities since the event's inception in 2008. "This event means a lot to me,"she confides, noting that she's proud of her Mexican culture, and that it's important for her to share these traditions with others. Keen to get the point across that Día de los Muertos shouldn't be confused with a Mexican Halloween, she describes it as "a colorful celebration of life, full of music, humor, and loving remembrance." Martha feels that it is vital to be reminded of the connection between death and life. "When I stop to honor my ancestors and friends, I appreciate life itself much more," she says. For inspiration, Martha looked to the pandemic and what San Francisco experienced collectively. "This year we acknowledge the grieving process we have shared over this past year by coming together to bring messages of hope and joyful remembrances of those who have passed away recently." Annually, Martha's choice of artists and their creations combine with the music for an uplifting synergy in Davies Symphony Hall. "This year will be no exception," she says.
For event tickets and more information: https://www.sfsymphony.org
https://www.sfsymphony.org/Buy-Tickets/2021-22/Dia-de-los-Muertos