Featuring a world famous aquarium, gorgeous bay and ocean views, and of course the John Steinbeck-memorialized Cannery Row, Monterey attracts tourists from all over the world who are lured by the region's coastal charms. Top amongst those charms in the Monterey Plaza Hotel, where fine dining restaurant Coastal Kitchen and the sumptuous Vista Blue Spa serve to provide guests the ultimate in gracious hospitality.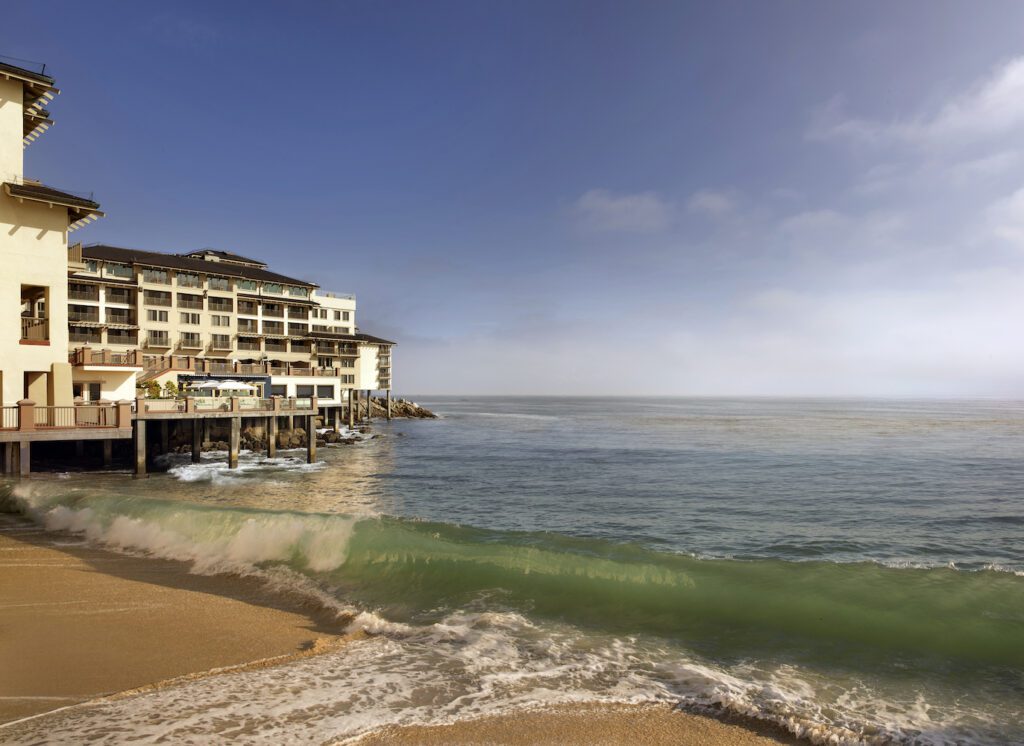 Situated on Cannery Row directly on and over the water, and known as the 'Grand Dame of the Bay,' Monterey Plaza Hotel is ideally located for easy access to the area's most vibrant attractions. But for those in the know, it's the hotel's own amenities that are a draw. A large, welcoming lobby with picture windows poised towards the bay is the perfect spot for whale and dolphin watching. In the evening, the lobby offers a crafted cocktail menu and live music. The hotel's partnership with Adventures by the Sea allows for complimentary bikes. Specially trained hotel staff design personalized experiences and itineraries for guests looking for authentic, local excursions. Casual Schooner's restaurant serves breakfast, lunch, and dinner—al fresco if desired. And for those seeking a bit of pampering, Vista Blue Spa's indulgent treatments are the answer. Finally, the prix-fixe chef's tasting menu at Coastal Kitchen rivals the quality of any Michelin-starred restaurant.
Qadiri Zebrowski serves as the hotel's director of wellness, overseeing Vista Blue Spa's wellness initiatives and programming with a goal of breaking the traditional hotel spa mold. She is accomplishing this by creating a holistic approach and taking into consideration the multidimensional aspects of wellness that improve physical, mental, intellectual and spiritual wellbeing for guests, creating an everlasting impact on their work and personal lives. A tall order, but readily accomplished within the spa's dramatic top floor location where panoramic coastal views, a rooftop sundeck with secluded fireplace, and two whirlpool tubs inspire and rejuvenate. For the ultimate in self-care, the spa's private suite beckons with two soaking tubs, heated floors, a luxury shower, fireplace, and balcony.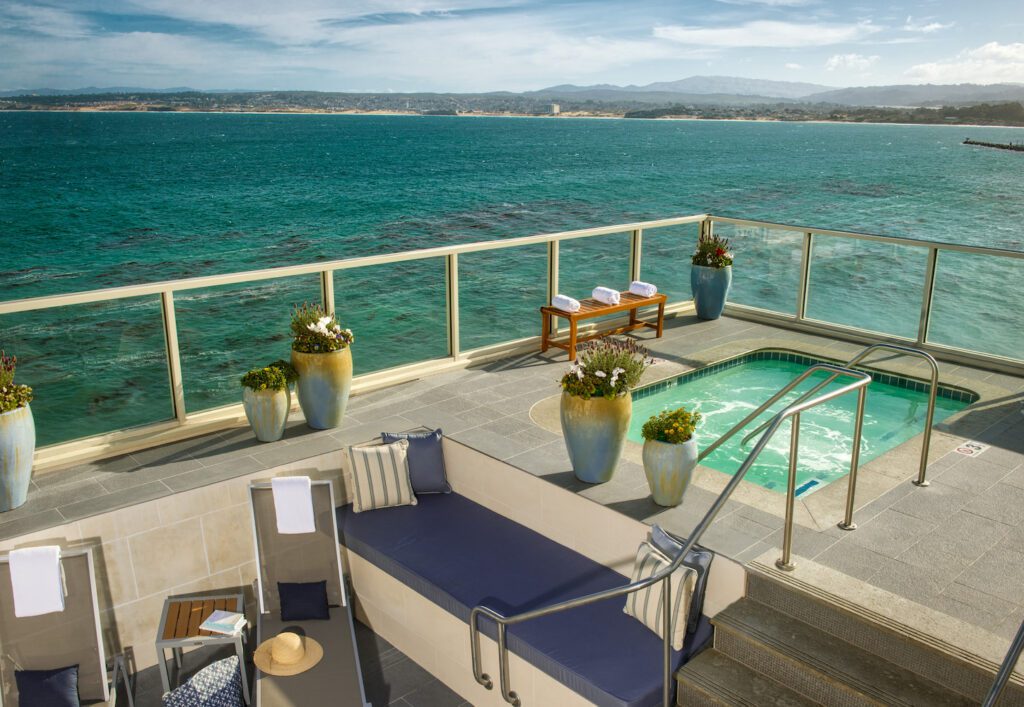 The sea and seasons inspire the spa's European-style treatments, each geared toward rejuvenating the body, renewing the spirit, and reviving the senses. Spa services range from massage and bath rituals to skin care and nail care. Signature treatments include the relaxing and hydrating 80-minute Bliss on the Bay, utilizing an organic lavender and blue chamomile body scrub, a back massage, application of a relaxing oil, a hydrating cocoon wrap and a stress-relieving head, neck, and shoulder massage. Newer CBD massage and bath treatments that target inflammation utilize potent Vital Body CBD products; and new facial treatments include the use of  luxury skincare line Yon-Ka. The spa's current best-selling treatment is the Winter Waterfront Warmer which includes 30 minutes in the salt chamber, a 45 minute warming ginger bath, a 90 minute warm stones CBD massage, and a 90 minute Excellence Code facial featuring a premium bio-cellulose mask plus energizing serum to smooth wrinkles and support collagen building mechanisms.
Guests find further inspiration in Coastal Kitchen's five-course, chef's tasting menu, crafted by talented Executive Chef Michael Rotondo who frequently changes his offerings based on seasonality. The restaurant is the only on the Peninsula to offer a prix fixe, chef's choice menu, and has quickly become one of Monterey's most desired dining destinations since opening in early 2022. Offering unparalleled gastronomic experiences and imaginative wine pairings within a serene dining room overlooking the bay, Coastal Kitchen features creative and artfully plated dishes that have included items such as diver scallops with snap pea; hand cut pasta with black truffle and parsnip; 48-hour braised beef short rib with forbidden rice; wood roasted local black cod; sea scallop with black sesame and sunchoke; risotto with tableside shaved white truffle, and so much more. It is rare these days to experience fresh and new flavors, and Rotondo's ingredient combinations surprise and delight, such as a cauliflower tart with cous cous, walnut oil and quail egg. Each course (including what is actually a sixth course starter of small bites) is beautifully coupled with global wine pairings curated by sommelier Conrad Reddick. The line-up begins with a generous pour of Nicolas Feuillatte champagne, a glamorous precursor of what's to follow.
And finally, Monterey Plaza Hotel & Spa's 290 guest rooms provide luxury and comfort after a day of pampering, dining, and imbibing. Several feature bay views, with requisite tableside binoculars for sea life spotting. Each features plush beds, modern amenities such as Nespresso coffee machines, and spacious bathrooms. Four specialty suites feature residential style furnishings and elegant touches such as luxurious soaking tubs, fireplaces, and private balconies. The Presidential Suite, Monterey Plaza Hotel & Spa's highest-end accommodation, even includes a private whirlpool tub on the outdoor sun deck for the ultimate in relaxation.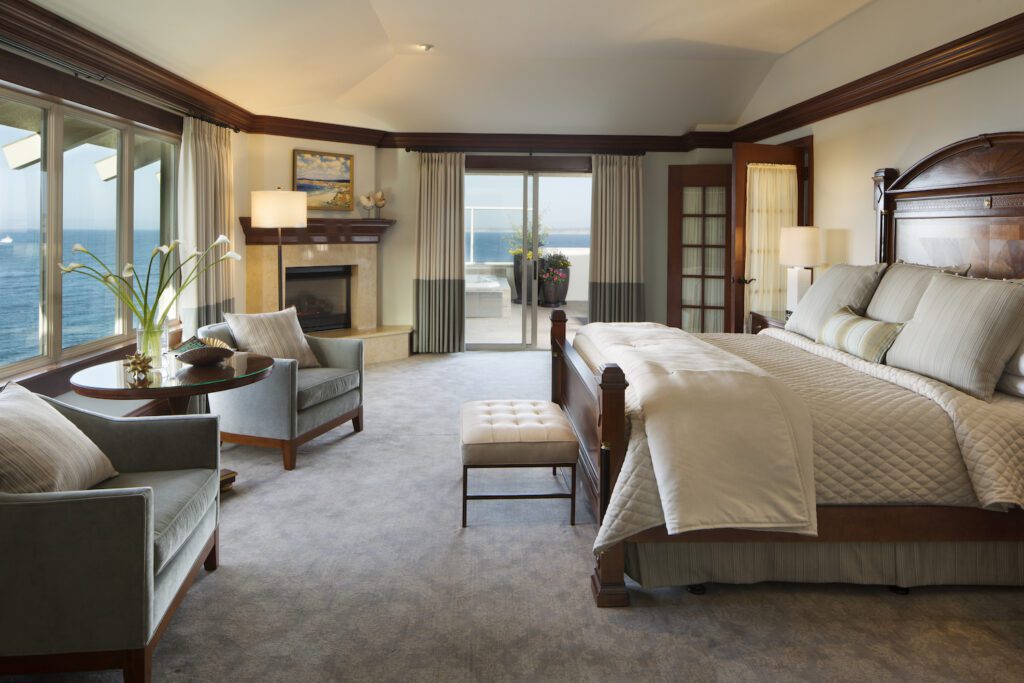 Photos by Paul Dyer