Tucked into the hillside off of the famed Silverado Trail, Meadowood Napa Valley blends seamlessly and sublimely into its oak and redwood tree-studded terrain. Secluded, romantic, and preternaturally posh, the resort, despite suffering damage from the 2020 Glass Fire, continues to be one of wine country's most effortlessly elegant hospitality options. It also happens to be one of the best places within wine country for kickstarting fitness. With its robust schedule of fitness classes curated and taught by some of Napa Valley's best instructors, its incomparable spa, fine culinary options, and sumptuous cottages and suites, Meadowood is a beacon for luxury wellness.
The resort's director of fitness, Denise Henquet, a well-regarded fitness expert in her own right, has assembled a 'who's who' of the region's finest coaches to lead a series of new classes for Meadowood members and overnight resort guests. The list of offerings is vast, and includes but is not limited to bootcamps, yoga, tai-chi, barre, spin, Pilates, boxing, TRX, meditation, guided hikes, energizing and relaxing breathwork, cardio core, HIIT, and more. Daily and monthly classes are held throughout the resort grounds and within the state-of-the-art fitness center with its bright, light-filled spaces.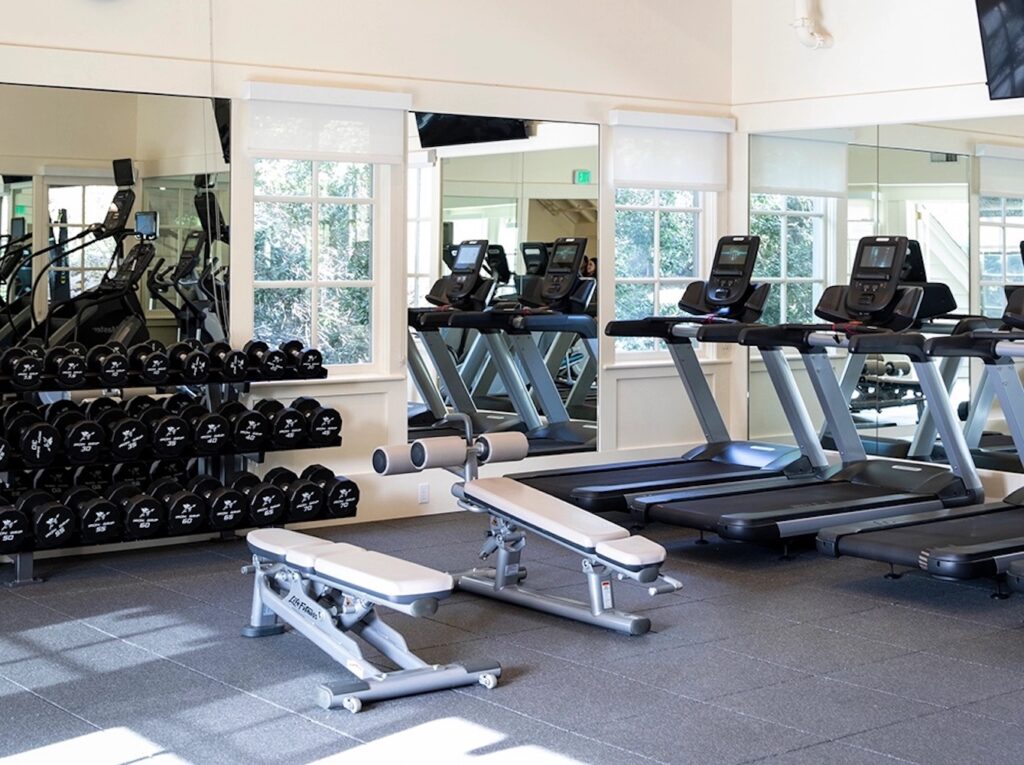 Members and overnight guests can join one class, or a morning, afternoon, or all day session. Additionally, the heated fitness pool offers lap swimming and aquatic classes, and an incomparable tennis program offers instruction with seasoned pros. The resort's rugged hillside terrain provides for an organic workout along marked trails, the reward of which is panoramic views of St. Helena and the ridges that form Napa Valley. A morning hike on the south side of the hill often provides magical moments where hot air balloons can be spotted in the distance. Henquet has also scheduled a number of programs specifically for children and teens, such as silent disco dance parties, aqua fitness fun, and summer camp activities.
Any fitness workout deserves a reward, and the award-winning Spa at Meadowood more than delivers. Formerly open only to members and overnight guests, the Spa is now open to day visitors, allowing everyone a chance for respite at the fireplace-warmed haven; no other wine country spa conveys the same relaxing and peaceful vibe. With its soothing color palette of warm greys, creams, fresh greens, and natural teak, this luxurious harbor offers customizable holistic treatments provided within spacious individual suites. Pre or post pampering, enjoy the steam room, sauna, and hot pool, prior to lounging in the relaxation garden while sampling house-dried fruits, nuts, grains, and nourishing elixirs. Don't miss a peek at the spa boutique, where further bliss can be found with the WHEAT line of incredibly soft and cozy loungewear. For further ease of stress, the resort's new, river rock-lined labyrinth located on the southern hillside portion of the property, presents an opportunity for quiet reflection. Thoughtfully designed by acclaimed master labyrinth architect Lars Howlett (one of only a handful of such designers in the US), a slow stroll along the single winding path quiets the mind and calms anxiety.
Further reward for fitness achievement comes in the form of Forum, the resort's newest dining option offering all day dining (think spiced pancakes and carnitas Benedict for breakfast, and seared diver scallops and garden vegetable fideuà for dinner) within a whimsical Howard Backen-designed tent-like structure featuring warm yellow-and-white stripes overhead and relaxing cream bouclé booths. Refined yet relaxed, Forum is a congenial gathering spot featuring seasonally inspired menus highlighting local ingredients and the region's remarkable bounty. The expansive patio (sun-dappled by day and twinkle-lit by night) is the perfect spot for a post-workout energy drink, glass of wine, or crafted cocktail. (Try the Forum Old Fashioned, a pour of barrel-aged bourbon over a bitters, Luxardo cherry, and sugar-infused ice cube that perfectly flavors each sip as it melts.)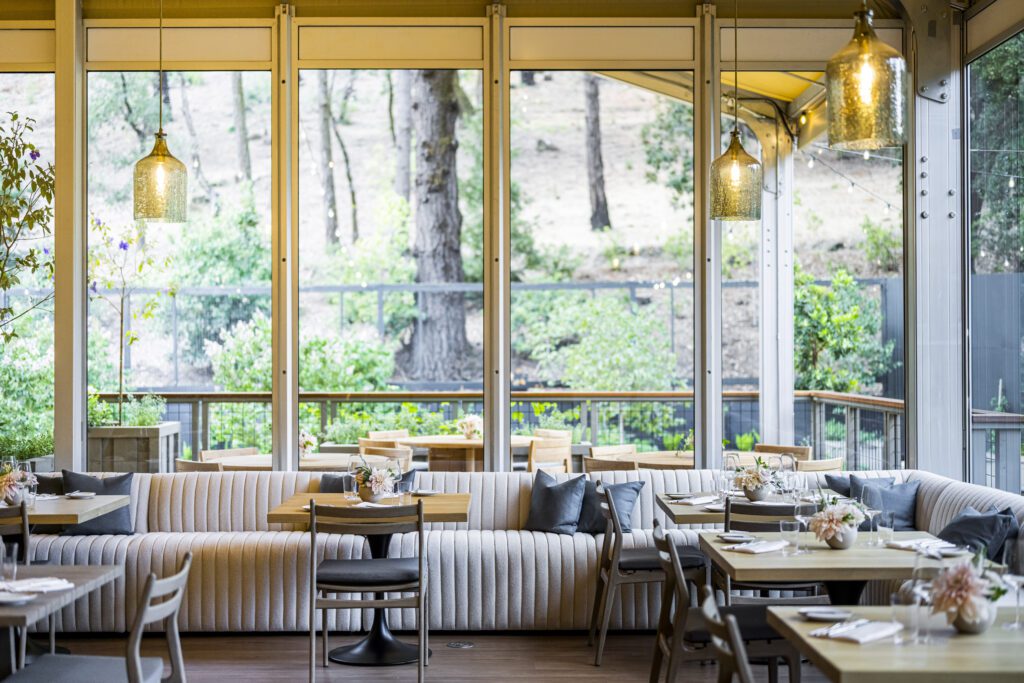 And finally, the ultimate fitness reward is a good night's sleep withing a sumptuously appointed bungalow or cottage. Meadowood currently features 36 New England-style, treehouse-like accommodations featuring furnished balconies or patios, woodburning or gas fireplaces, and lavishly stocked mini-bars (many of the treats of which are gratis.) Dishes of daily refilled house made caramels and nightly turndown treats from the kitchen further gratify sweet cravings. Large marble bathrooms feature deluxe-sized bath amenities, candle-lit soaking tubs, and cozy robes.
After the 2020 Glass fire that ravaged the older portion of the Meadowood property, co-owner H. William Harlan voiced his optimism and determination to reimagine the future of Meadowood while respecting the estate's original character, agricultural heritage, natural surroundings, layered legacy, and place at the community's heart. While rebuilding,Meadowood continues to offer a welcoming immersion in Napa Valley's way of joyful, imaginative recreation and respite. 
Photos courtesy of Meadowood Napa Valley
Meadowood Napa Valley, 900 Meadowood Ln, St Helena, CA