45th year of celebrating cinema.
The Mill Valley Film Festival (MVFF), presented by the California Film Institute, came back strong for its 45th year with Oscar caliber performances, belly-grabbing comedies, and dramas that will have the elevens between your eyebrows working overtime as they forced you to think. For the previous two years Marin County locals and avid cinephiles experienced the festival under COVID protocols as screenings were available online or in drive-ins. However, this year MVFF was primarily in person at the San Rafael and Mill Valley locations with expansion across the Bay Area to include offerings in San Francisco and Berkeley. While there are other important film festivals like Cannes, Toronto, and Telluride to name a few, there are some key factors that set the Mill Valley Film Festival apart. Stars like Leslie Odom, Jr., Kate Hudson, Frances McDormand and others find it easy to make an appearance because of the proximity to LA. The timing of MVFF being held from October 6- 16 is important for films/actors looking to be top of mind for Oscar voters who will receive voting ballots soon after the festival ends. Perhaps the most important one is their focus on diversity, which is demonstrated this year with half of the films being led by women. Whatever your reason(s), one dynamic is common amongst attendees – their love for cinema!
Here are a few films from the festival to check out this Fall/Winter on various streaming services or a big screen near you: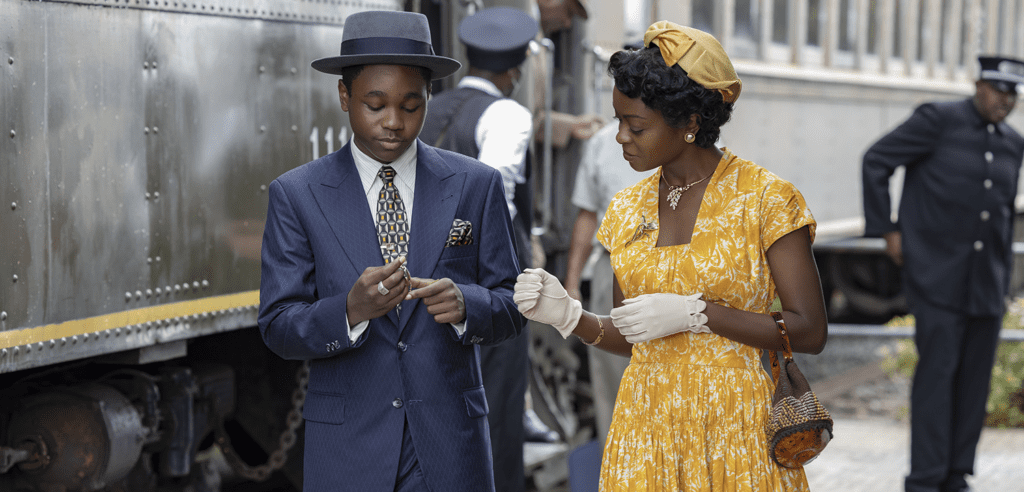 Till
Director and screenwriter Chinonye Chukwu tells the story of Emmett Till through the experience of his mother, Mamie Till Mobley played by Danielle Deadwyler. The Oscar buzz surrounding Chukwu, Deadwyler, and the movie is merited as audiences will watch as Mamie turns victimization into vigor as the brutal death of Emmett sparks action in her that will forever change the nation. 
The Whale
As one of the most versatile actors of our time Brendan Fraser plays Charlie, a 600-pound morbidly obese, grief-stricken gay man who teaches an online writing course from his couch in Idaho.  The supporting characters include Charlie's deceased partners sister and caregiver Liz (Hong Chau), a young missionary Thomas (Ty Simpkins), his estranged daughter Ellie (Sadie Sink), and alcoholic ex-wife (Samantha Morton). Adapted from Samuel D. Hunter's award-winning 2012 play the film explores body image, religion, regret, and redemption. 
Glass Onion: A Knives Out Mystery 
Netflix's new Knives Out film features Daniel Craig's return as Inspector Benoit Blanc and an ensemble of would-be murderers including Kate Hudson, Ed Norton, Leslie Odom Jr., Kathryn Hahn, and Janelle Monáe. This is a classic whodunnit with perfectly timed cameos, hilarious reveals, and an underlying commentary on the rich and privileged. Director Rian Johnson one-upped himself with this stand-alone sequel. Moviegoers will clamor to re-watch for the one-liners alone, but also to seek the clues they missed in the first viewing.  
Good Nurse
Good Nurse is based on the true story of Charles Cullen (Eddie Redmayne), a man who murdered dozens of patients while working at several hospitals in Pennsylvania and New Jersey over 16+ years. Jessica Chastain co-stars as fellow nurse and friend Amy Loughren, a single mother struggling with her own health but who still manages to care deeply about her patients. Danish director Tobias Lindholm slowly builds the suspense in this 2-hour thriller as Charlie enters Amy's life as a calming effect right when she is about to break. Soon after they become close friends the evidence of him being a serial killer becomes too much to ignore. 
Other movies to watch from the festival:
Nanny
White Noise
Women Talking
Bardo, False Chronicle of a Handful of Truths
Armageddon Time
About Mill Valley Film Festival (MVFF)
ABOUT MVFF
Since founding the Mill Valley Film Festival in 1977, Mark Fishkin has shepherded this once small, three-day showcase into an eleven-day, internationally acclaimed cinema event presenting a wide variety of new films from around the world in an engaged, community setting.
The festival has an impressive track record of launching new films and new filmmakers, and has earned a reputation as a filmmakers' festival by celebrating the best in American independent and foreign films, alongside high-profile and prestigious award contenders. Each year the festival welcomes more than 200 filmmakers, representing more than 50 countries. Screening sections include World Cinema; US Cinema; Valley of the Docs; Children's FilmFest; a daily shorts program; and Active Cinema, MVFF's activist films initiative. Festival guests also enjoy Tributes, Spotlights, and Galas throughout. The relaxed and non-competitive atmosphere surrounding MVFF gives filmmakers and audiences alike the opportunity to share their work and experiences in a collaborative and convivial setting.
About the California Film Institute
The nonprofit California Film Institute celebrates and promotes film as art and education through the presentation of the Mill Valley Film Festival and year-round exhibitions at the Christopher B. Smith Rafael Film Center, film distribution by CFI Releasing, and building the next generation of filmmakers and audiences through the CFI Education program.
For more information www.cafilm.org or (415) 383-5256.