Jill Pietrowiak, Joel Goodrich, Clara Shayevich, Mark Calvano, Heide Betz, Stephanie Block, Stephanie Ng: Photo by Vincent Gotti
Toast 101 libations not Dalmations for the 101st season of the San Francisco Opera that debuted Friday night, September 8, with a staggering cast of local luminaries. The stage was set for jaw-gaping black tie outfits as the traditional blue carpet erupted in an extravaganza of organza. It seems the high Barbie pink season ended with Labor Day, because the color palette turned to jewel tones and metallics. I myself was in sparkly rose gold, and my friend-dates for the evening (the best way to gala) were also in golds and pale pinks. The incorrigibly charming Joel Goodrich sizzled in silver as did Haute Living Editor-in-Chief Teresa Rodriguez. 
Teresa Rodriguez, Stephanie Block, Joel Goodrich: Selfie by Stephanie Block
J. Riccardo Benavides decked the halls with a fine feminine floral network of pinks, from the delicate, womb-like party entry tunnel to the rosettes languidly festooned across the balconies of the box seats in the Opera House. A special thank you to the unobtrusive and effective security professionals who kept everyone safe at both venues as well as crossing back and forth across Van Ness Avenue. 
Jeremy Gwynn, Lilian Tsai, Stephanie Block: Photo by Parker Coomans
My dinner table, patron table 214, excelled at excellence because it was put together by the one and only Naivd Armstrong. She was the ultimate lady in red, her unique Jad Racha creation featured a dramatic train spilling down the City Hall steps – Vive Carmen! The elegant Clara Shayevich was a vision of Flamenco royalty in a stunning Oscar de la Renta gown. Also resplendent in red accents was fabulous Opera Guild member Robert Beadle whose ruby broach, he called them the family jewels haha, added a cool Count vibe to his look. And what a jetsetter – he country hopped the very next day!
Heide Betz: Photo by Vincent Gotti
Also at table 214 were my dates, Opera's Bravo! Club member and new bestie Lilian Tsai escorted by her New York opera buff buddy Jeremy Gwynn. Socialite photographer extraordinaire Vinnie Gotti was there taking photos thank goodness, as well as the delightfully bedecked Mark Calvano, the literati Heide Betz of Luxury Trending Magazine, and last but never least the inspiring empire builder Stephanie Ng whose jet black sparkly dress had a tantalizing peekaboo decolletage detail. 
Lilian Tsai, Stephanie Block, Navid Armstrong, Stephanie Ng, Clara Shayevich: Photo by Vincent Gotti
The night began with City Hall arrivals and cocktails. Then we, even the bravely stilettoed, hobbled across the street to the War Memorial Opera House for the performance and then back again to City Hall for the After Party. We got our steps in! This is not my first rodeo; I wore shimmery sneakers. But I helped all my high heeled friends up and down the staircases.
City Hall: Photo by Vincent Gotti
The performance featured Musical Director Eun Sun Kim leading an exhilarating operatic romp through many titles with the help of the San Francisco Opera Choir and husband and wife opera singers Aleksandra Kurzak and Roberto Alagna. Were the stage sets and costume changes a bit understated? They were, in that there were none. But the music was tremendous, from Cavalleria Rusticana to Samson et Dalila to some fun, crowd-pleasing favorites like Funiculi, funiculà. No hints from the Steve Jobs opera (i sad). And the husband and wife duo – do you think they listen to opera at home or you think they turn on Taylor Swift and shake it off? I must know!
Betty Yu, Stephanie Block: Selfie by Stephanie Block
Oh but you want to know who was there and I must dish names names names darling! There was our publisher Olivia Hsu Decker looking flawless. I saw fashionista Tanum Davis Bohen as well as CBS News Bay Area's ultra wonderful reporter Betty Yu. I have to say I've really enjoyed her bold neon looks these past few major events. Of course the Red Curtain Addict founders were there doing red carpet interviews including with moi, yay, thank you Kari Lincks Coomans and Parker Coomans! I air kissed graffiti artist Bip Apollo. Jill Pietrowiak from Nob Hill Gazette was there.
Patron Table: Photo by Stephanie Block
My dear friends Tejal Shah, Dulo Batsuh, and Red Cross Gala Co-Chair Kenzie Ferguson, plus Alec Pickering and wife Lillian Phan who is quite busy since her One Sansome/ Holbrook House project hosted a grand opening the following night! I saw Tiffany & Co.'s Mark Sullivan who was wearing a many-carats amethyst brooch that made me wish I was a cat burglar. We saw him chatting with McCall's caterer-to-the-stars Lee Gregory. And Artistic Director of the San Francisco Ballet, Tamara Rojo, was there, as well as former SF Opera Adler fellows, countertenor Aryeh Nussbaum Cohen and pianist Ronny Michael Greenberg. 
Bip Apollo, Vincent Gotti: Photo by Vincent Gotti
The 101st season promises drama and intrigue with eight operas (Il Trovatore, The (R)evolution of Steve Jobs, Lohengrin, Omar, The Elixir of Love, The Magic Flute, Innocence, and Partenope) as well as events like Opera in the Park, Encounter, and other fun programs that intentionally bring opera out of the concert hall and make it accessible to all, being particularly thoughtful about inspiring a new generation of opera lovers.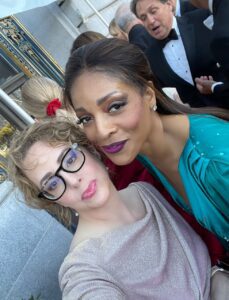 Stephanie Block, Tanum Davis Bohen: Selfie by Stephanie Block
Too, the Opera Ball kicks off the entire social season. San Francisco feels decidedly not dead as everyone is home from summer vacays and second homes and mucky Burning Man (the mud didn't have to be a catalyst to deep revelations – it's ok to admit it was not an elixir of love) ready to revel. The city lives!, led as always by its artists and arts organizations. Our traditions thrive as they evolve. As the introductory SF Opera video promised, San Francisco has been remarkable for one hundred years and will continue to have an impact for the next hundred. 
Bravo! Brava! See you at the next gala!
XOXO Stephanie Block @howdyblock

Stephanie Block: Photo by Vincent Gotti