Plan your menus with these treats.
It's that time of year! The holiday season is upon us as we gather with our families and loved ones (some for the first time since the pandemic) to celebrate. If wine is art in a glass and food is an expression of cultural identity, then what will be the experience when combined? Perhaps as ugly sweaters are worn, belts are loosened, and fridges are raided for leftovers, the answer will come to you. Until then, here are a few examples of favorite recipes with wine pairings from some of the most diverse and famous brands in the industry. From their families to yours—enjoy and happy holidays!
McBride Sisters
The McBride Sisters Collection Reserve 2019 "Cocky Motherf*cker" Pinot Noir is inspired by Robin and Andréa's father and his "presence, stature, intellect, and overall give-no-f*cks attitude." Sourced from Santa Lucia Highlands, Escolle Vineyard, and select rows of vines, the bold Pinot Noir exhibits aromas of crushed raspberry, rhubarb, and candied cherry. The palate is pure silk with bright acidity, lush red fruit flavors, and a hint of spice. "Juicy, opulent, and fresh with a long finish make this wine pair beautifully with a beef stew or roasted salmon for those hearty holiday dinners around the table with family."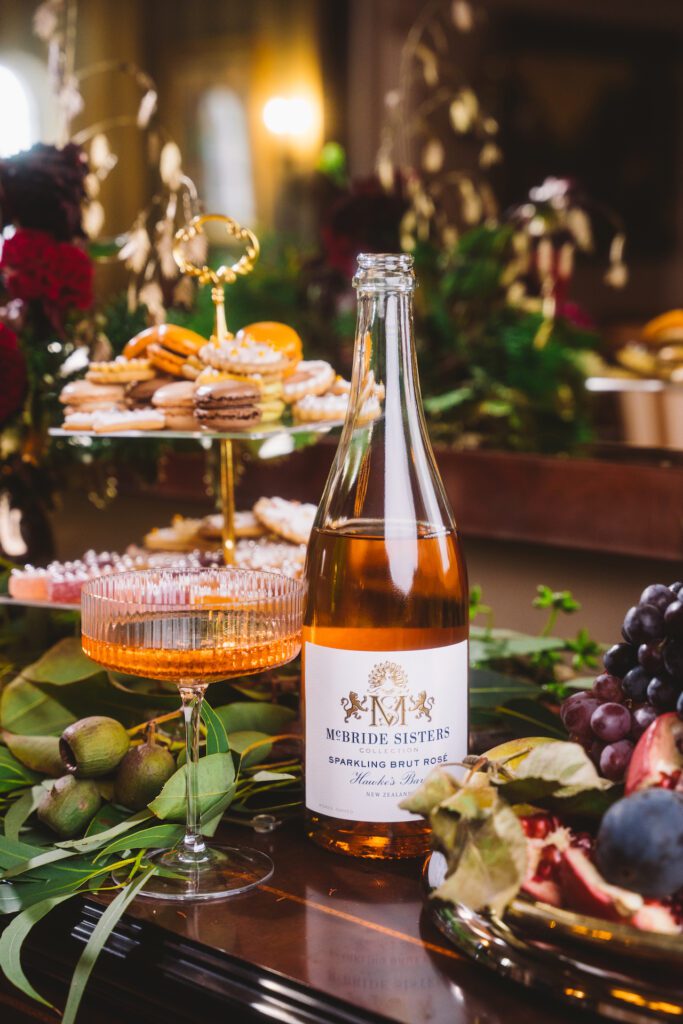 If you love a holiday brunch, the McBride Sisters Collection Sparkling Brut Rosé is there to enhance your holiday morning. The sisters pair it with a delicious cardamom French toast bake. The cinnamon and brown sugar crumble complements the notes of freshly crushed red berries and creamy richness within the sparkling brut rosé. With each sip, a toasty complexity and palatable notes of cranberry, raspberry, peach, and strawberry carry through, leading into a dry finish with a hint of spice.
Aperture
The 2021 Aperture Barrel-Fermented Sauvignon Blanc pairs beautifully with a wide variety of dishes and is especially versatile with fish. For the holidays, Jesse Katz, owner and winemaker, pairs it with crab coated in an herbed butter sauce. The crisp acidity is smoothed over by the crab's soft, flakey texture which brings out the wine's fragrant fruit and honey characteristics. Add some cooked fennel as a side dish and taste how this Sauvignon Blanc's herbaceous character shines.
A smoked brisket coated in a deep red wine sauce seasoned with thyme goes exceptionally well with the 2020 Aperture Cabernet Sauvignon. The fresh, youthful tannins coat the palate beautifully, accentuating the wine's concentrated fruit flavors as hinted spice elements linger toward the finish, making this a beautiful companion to the brisket.
DuMol
The 2020 DuMOL Finn Pinot Noir is a blend of two of DuMol's favorite yet contrasting sites. One site grows old vines grown on heavier clay soils in a cool pocket of the Santa Rosa Plains. The other site is located on the Bressay Estate in the contrasting sandy, foggy ridgelines 11 miles from the coast. The ying and yang of these two sites give this wine a broad range of flavors with deep concentration, a chewy core, and a beautiful lift of crunchy red fruit and spices. The silky purity of the palate can stand up to meatier seasonal dishes like roast prime rib. The bright acidity refreshes the palate between each bite, while the inky, pure fruit will marry and heighten rich flavors. One of their favorite pairings with this wine is a mushroom risotto.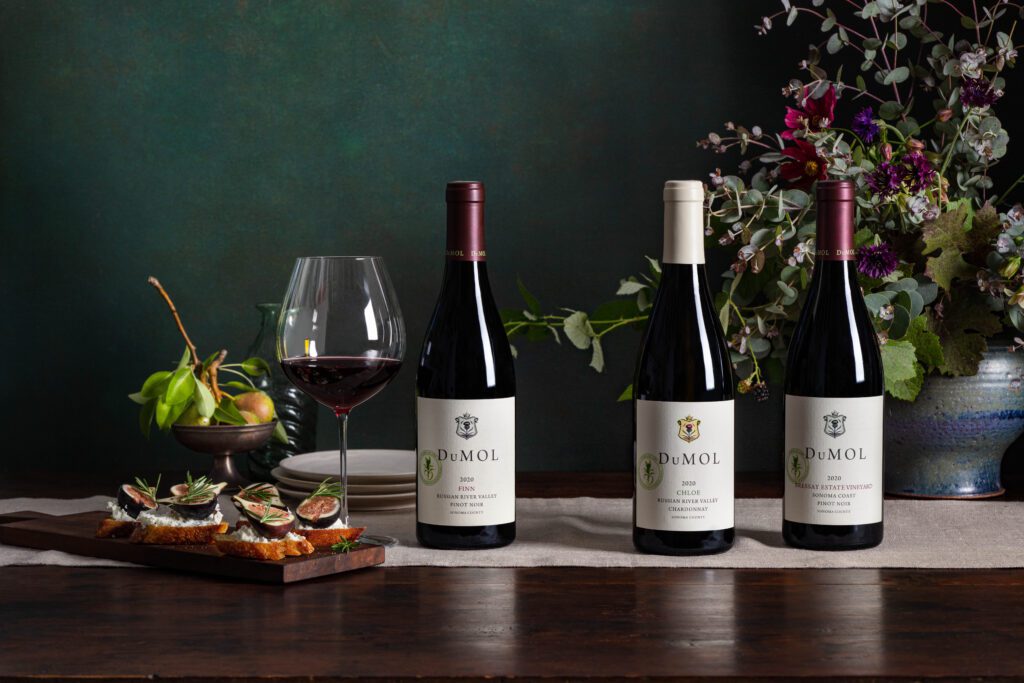 The 2020 DuMOL Estate Vineyard Pinot is terroir driven, harvested from specific, selected parcels from their high-density estate vineyard in the foggy western edge of the Russian River Valley. This wine teems with tension and elegance. The perfumed bouquet of rose petal, pine, and black cherry lends this wine to be paired with a wide range from delicate to heartier dishes. The subtle earthy nuances and high acidity work beautifully with your Thanksgiving turkey. One of their favorite pairings with this vintage is roasted chicken slow-cooked on fresh seasonal vegetables such winter leeks and carrots. The earthiness of the wine complements the vegetables, and the fresh, coastal intensity and fine tannin structure work beautifully with the roasted chicken. 
Sosie Wines
Celebratory with its saturated hue and tiny bubbles made from 100 percent Syrah grapes from the Vivio Vineyard of Bennett Valley in Sonoma County, Sosie's 2019 Sparkling Red Wine, "A Moment of Weakness" makes for a holiday favorite. Festive in the glass with red fruit berry characteristics, savory notes of bacon, and a lovely acidity, this dry red sparkler is Sosie Wines' co-founders Scott MacFiggen and Regina Bustamante's go-to wine for their holiday roasted turkey and all the sides. "Holiday turkey dinners are full of myriad flavors competing for attention, such as cranberry and stuffing. The acidity in this wine helps refresh the palate with every bite. Bright red fruit flavors and tannins are delicate enough not to overpower the turkey."
A delicious blend of 45 percent Cabernet Sauvignon, 45 percent Merlot, and 10 percent Cabernet Franc, the Sosie's 2017 Red Blend, Cavedale Vineyard, Moon Mountain hails from Sonoma's renowned Moon Mountain. Sitting at an elevation of 2,000 feet, the vineyards here produce hardy mountain fruit that yield tiny but intense berries, resulting in a structured wine with defined tannins that is bottle-aged for over a year before release. A robust pairing is the cut of beef that is the top sirloin cap known as picanha (pronounced "pee-KAHN-ya"), a steakhouse specialty in Brazil, homeland to Sosie Wines' co-founder Regina Bustamante. The flavorful cut is especially enjoyed throughout the holiday season. "The match between the picanha and wine rests with tannins, substances that come from grape skins, seeds, and stems as well as aging in oak barrels. The wine's tannins help soften the fat in the meat, resulting in a greater release of flavor. The wine's flavors of cherry, cranberry, and dark chocolate all meld together with fabulous freshness that can stand up to the robustness of the meat." 
Symington Estates
Graham's 20 Year Tawny Port  is made with the highest quality grapes from Symington Family Estates' prized vineyards in the rugged Douro Valley of Portugal. The resulting wine is a blend matured in seasoned oak casks for an average of over 20 years in Graham's historic Port Lodge outside Porto, Portugal. Almond tart, a favorite dessert in Portugal where almonds are grown near the famed vineyards of the Douro Valley, and Graham's 20 Year Tawny Port are a classic holiday pairing. Food and wine pairing 101 tells us what grows together, goes together—in this case, almonds, and port wine grapes! This dessert wine's signature nutty character—the result of time spent ageing in oak barrels—makes for the perfect pairing with almond tarts.
2019 Pombal do Vesuvio red table wine hails from one of the great estates of the Douro Valley, home to some of the world's finest port wines. This treasured vineyard also provides the fruit for this special wine, a unique blend of three Portuguese grapes: Touriga Franca, Touriga Nacional, and Tinta Amarela. Bacalhau com Natas (cod with cream) is one of the Portugal's classic dishes, a baked gratin made with salted cod, onion, and slices of potato covered with bechamel sauce and cream. It is super creamy and yields generous portions and is traditionally served on Christmas Eve throughout Portugal, including in the Symington family home. "Salty dishes can often have the effect of making wine taste sweeter than it is, so a drier wine with good acidity, such as Pombal do Vesuvio, is an ideal match. Vesuvio's signature thyme fragrance marries all the rich flavors of the bacalhau, while the acidity and freshness cut through the bechamel and creme, preparing you for your next delicious bite!"
Aldina 
2021 Aldina Vineyards Sauvignon Blanc is fruit-forward with uplifting acidity and captivating aromas of citrus blossom, grapefruit, and sweet peach. On the palate, this wine has rich, elegant flavors of toasty vanilla, lemon-lime sherbet, and honeysuckle that combine depth and fruit. Aldina Vineyards, owned by the Lopez family (Al, Dina, Francisco, and Monica), suggest pairing it with a beautiful, vibrant, and mildly spiced chicken pozole verde which pairs exquisitely with the light oak and elegant flavors of their Sauvignon Blanc.
2018 Aldina Vineyards Cabernet Sauvignon has deep garnet-purple color with intensifying aromatics of hibiscus, pomegranate, dark cherry, and vanilla. This Cabernet Sauvignon is full-bodied with approachable, lush layers of silky-soft, dark fruit, caramel, toasty vanilla, tart cherries, and chocolate. The Lopez family pairs flavorful pork tamales with a glass of their Cabernet Sauvignon to bring out sweet, earthy flavors of the tamales.