John and Marcia Goldman asked the youth of East Palo Alto to let their imaginations run wild, then made their ideas a reality.
Albert Einstein once said, "Creativity is intelligence having fun." I was reminded of this recently when I caught up with my 7-year-old niece after two long years. She had composed no fewer than three original songs, drew spitting images of cartoon characters on her iPad, and proudly shared the groundwork for a business she had started with her classmates—complete with business cards. "She could rule the world someday," I thought to myself.
Given the tools and space to express themselves, kids can astound with their boundless imagination. What could we learn from the youth of today if we listened more? What if we gave them questions and asked them to find solutions? What if we put real decision-making power into their hands? One Bay Area couple wondered the same.
Atherton philanthropists John and Marcia Goldman originally established their foundation in 1997 to involve their children in giving. Having spent time in East Palo Alto—John a lifeguard and Marcia a swim instructor working with children with disabilities—the couple of more than 40 years were also set on making underserved youth in the San Mateo and Santa Clara Counties one of their priorities.
"After the dot-com boom, there was a perception that poverty didn't exist on the peninsula," said John. "But because of our personal involvement in communities like East Menlo Park and East Palo Alto, we knew that wasn't true." In communities such as East Palo Alto, the median income is still less than half that of neighboring Palo Alto. The area was known for having the highest homicide rate in the country just 30 years ago. Despite that, East Palo Alto was on the mend. In the late 2000s, the Goldmans hoped an investment in the community would drive even more positive change for generations to come. That begged the question as to what the best way was to help.
For the answer, John and Marcia took a surprising route: asking the local youth themselves. "Who knows better what's best for a community than the people who benefit directly?" said John. Marcia. He explained that they asked their executive director—who worked closely with the youth of East Palo Alto on several of the foundation's grants—to ask youth what they would want if there weren't any limitations. After two years of discussion, outreach, debate, and decision-making, the Goldmans had their answer: an arts and music center specifically for East Palo Alto youth.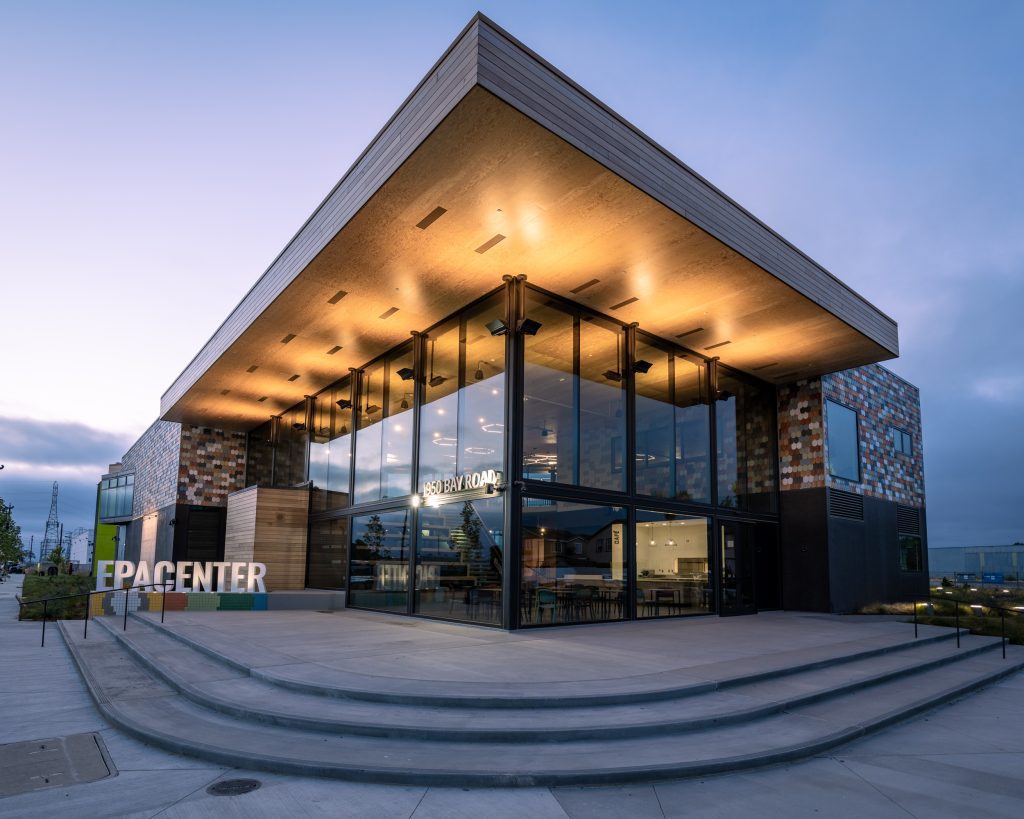 This would fill a much-needed gap in the area for quality arts instruction, critical to developing minds: students who take four years of arts and music classes average almost 100 points better on their SAT scores, and students in under-resourced neighborhoods who study the arts are five times less likely to drop out of school. They are also more than twice as likely to attend college. Youth were asked to present their findings to the Goldmans, not knowing they were the ones who originally posed the question. "After we introduced ourselves and they made their presentation, we said we would make this happen. The amazement, joy, and tears on their faces spoke more than words ever could," said Marcia.
Now, those young people's dreams are a reality in the form of a staggering, creative youth development center named EPACENTER. The 25,000-square-foot building encompasses a professional recording studio, art gallery, makerspace, restaurant-grade kitchen, dance studio, theater, flexible workspaces, and more, as well as free programming, job training and workforce development programs, and support to help youth develop the socioemotional skills needed to thrive. Free for local youth ages six to 18, EPACENTER's arts classes include voice, painting, drumming, piano, ukulele, guitar, digital art, photography, cartooning, yoga, acting, screenwriting, culinary arts, and more. All are led by professional instructors, such as master percussionist James Henry and acclaimed chef Alaun Grimaud. Meanwhile, EPACENTER's paid internships allow teens to learn skills in photography, visual art, digital design, fashion, and public art.
After the John & Marcia Goldman Foundation first highlighted the need for the center in 2009, it enlisted participants in a youth action research project which evolved into a youth action team that guided the planning process. The center broke ground in 2018, and the Youth Advisory Council was formed the following year to continue managing the center's building and development.
East Palo Alto resident Staci Edwards, a member of EPACENTER's Youth Advisory Council, first heard about the project when she was only 10 years old. "The fact that this was a youth-led project is amazing to me," she says. "Usually, people will donate money to a community and tell the community exactly what to do with it. It is not often that you'll hear about real community members—especially the youth—organizing, designing, and managing a project this large."
It's indeed rare that a foundation eschews the donor-driven model of philanthropy, but the Goldmans were committed to pursuing this route because they felt they didn't have the deep understanding and appreciation of what was most important to those who lived there. "It's like the old saying—we were given two ears and one mouth for a reason," said John. They also discovered that putting this kind of power into youths' hands had other unexpected benefits. "These young people are empowered and responsible," said Marcia. "Leadership development, self-confidence, and fearlessness are unintended outcomes that we didn't really expect. And they have a tremendous sense of ownership for EPACENTER."
In addition to the idea of an arts center itself, youth were also involved with selecting the executive director and architect for the project and determining its programming. "They even insisted that the building be designated LEED Platinum, because they wanted EPACENTER to be sustainable in every possible way," said John. Marcia added that the youth also came up with the name for the center—a reflection of the rich cultural energy of their community and the power and potential in its young people.
"EPACENTER is such an important addition to East Palo Alto because it will open doors and many opportunities … especially for our youth," said Keitlan Wallace, a dancer who became involved with EPACENTER as a high school junior. "I hope that the world sees that, even coming from a rough and a less privileged neighborhood, we can move on and become big and succeed in life. I hope they can see the talents we have within our youth—how we also dream of becoming the next best actor or the world's greatest dancer."
Edwards, now a student at the University of San Francisco, is also thrilled that youth in her community have a place that belongs to them and that they don't have to go outside the city to be in a safe environment where they can creatively express themselves. Ethan Avena is one such example: he is a student of the Tinsley Program, a voluntary transfer program where students living in the Ravenswood School District attend school in the Palo Alto Unified School District. The program was established in hopes of reducing the racial isolation of students of color and to improve the educational achievement of Ravenswood students. However, the massive income gap between Avena and his wealthy classmates from Palo Alto was still palpable. "Most of [them] take classes that are expensive, and my parents can't sign me up," he said. "But EPACENTER is giving me the opportunity to take classes I enjoy—like ukulele classes, photography, [and] digital art." Avena's younger sister is enrolled in ballet classes. "Without EPACENTER, there is no way me and my sister would have the opportunity to [try] things we love to do."
EPACENTER envisions a future where all young people in and of East Palo Alto will have the opportunity to become creative innovators and enjoy economic and social success in their community, resulting in a stronger and more vibrant city. "Because the youth in the city constantly grow up hearing of the city's troubled past, EPACENTER aids in shifting their perspective," said Edwards. "[They] absolutely need a place where they can feel safe, protected, and looked after. They should feel like their needs are being met and that people care about their future in the city."
Located on the corner of Bay Street and Pulgas Avenue, EPACENTER is designed for longevity and resilience with adaptive spaces that can evolve with the organization. What's next is up to the youth, along with the support of the community. "The opportunities go far beyond creativity and design; it is about job skills, mental health and well-being, expression, and engagement," says John. The Goldmans hope that Silicon Valley will make EPACENTER their priority and invite community members to tour the building and meet some of the students who are so passionate about learning—and witness the center as a beacon of hope for these inspiring young people. "[EPACENTER] is home," says Wallace. "It's our comfort zone, our escape place. It's a place where [we] can grow and develop without being judged—a place where we can proudly say we are from East Palo Alto." Now that the center has finally opened for in-person classes, students can be found strumming ukuleles in its classrooms, practicing pliés in the dance studio, or simply enjoying the sunshine while working on art projects in the outdoor amphitheater. When Avena finally saw the completed center for the very first time, he says he thought to himself: "I belong here."