Your Guide to Low-ABV Libations for Lighter Celebrations
Many of us are approaching this holiday season with some caution, but events and celebrations are definitely back, which means a steady marathon of indulgent meals and festive libations. By January, we are swearing off booze and detoxing. A proposition: slow down, pace yourself now, and ease into the season's festivities with lighter and lower-ABV (alcohol-by-volume) options. From the classic apéritifs from Spain, France, and Italy to a wonderful new generation of light, bright bottles from our backyard, here are just a few to keep in mind as you start sipping your way into the season.
Sherry
We're not talking about the sherry in the back of the kitchen cabinet. Sherry has experienced quite a revival in recent years, making its way back to the craft cocktail scene and the home apéritif hour. Sherry is a fortified wine, meaning a distilled spirit has been added. One of the wonderful things about sherry is its diverse range: it can be sweet, dry, or anything in between, offering something for all palates and occasions. Dry sherries (finos) pair well with a range of savory dishes (lovely with seafood!) and many sweeter sherries make excellent late-night after meal digestifs.
Aside from drinking straight and slightly chilled as an apéritif and on the rocks, there are some lovely, low-ABV cocktails with sherry, including the 19th century classic bamboo cocktail, a favorite of Jonny Raglin, Director of Bars & Development at San Francisco's Absinthe Group (Absinthe Brasserie, Bellota, Akna, Arbor) and partner, Comstock Saloon, which recently reopened after a hiatus for a major restoration.
Says Raglin, "The bamboo is a beautiful, low-ABV cocktail and has been a wildly successful cocktail for us. We had it on our opening menu 10 years ago at Comstock, just as sherry was experiencing a real comeback on the bar menu. We went back to the classics, and it was an instant hit. We're excited to be reopening with the bamboo lkon the menu."
Vermouth
Most of us are familiar with vermouth as that magic ingredient in the martini. Like sherry, vermouth is a fortified wine, but it is aromatized (infused) with botanical herbs and spices, which can create a more medicinal, bitter quality. The most common styles are the drier white and rosé traditionally from France and the sweeter red from Italy. But this has changed, too. With the continued creative boom of both artisan winemaking and craft distilling in the U.S., a whole host of beautiful, vermouth-like (and some very different!) wines have emerged on the market.
"It's easier now more than ever to sip and mix low octane drinks with the plentiful assortment of aromatized wines and vermouth brands out there," states Prairie Rose, California-based cocktail and spirits educator and author of the new release, Mixology for Beginners. "For example, Lo-Fi Aperitifs, both their sweet and dry vermouths, are amazing on their own, and their Gentian Amaro (16% ABV) makes for a delightful spritz. I'm also obsessed with Napa-based Mommenpop's grape-based apéritifs made by winemaker Samantha Sheehan. Their blood orange (17% ABV) is a great cocktail modifier and also lovely on its own."
Quady Winery in California's San Joaquin Valley was one of the first to offer a locally crafted vermouth with its award-winning Vya vermouth line of both dry and sweet bottles. Several years ago out of Sonoma wine country, Jardesca launched its lovely flagship White Aperitiva (17% ABV), a blend of three grapes and a dozen wine country-inspired botanicals lightly fortified with a local neutral spirit. With consumers looking for lighter options, Jardesca set out to establish itself as the quintessential California apéritif (or aperitiva): a perfect stand-alone sipper on ice or as a bright, fresh spritz base with sparkling water or wine and topped with a garden garnish of seasonal fruit and herbs. The brand followed with the launch of its red expression.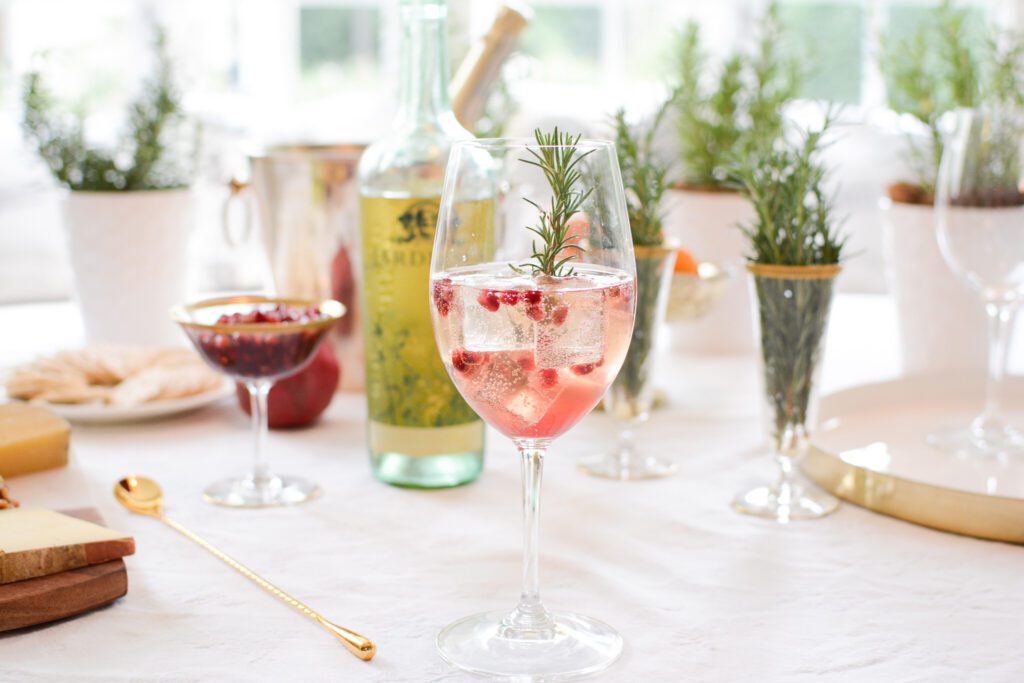 Lillet
From Bordeaux, France, a brand dating back to the 1700s, Lillet is also part of the wine-based apéritif club and can mainly be found in white and rosé versions, cut with a small amount of macerated spirit. Straight from the fridge, Lillet Blanc (17% ABV) is bright and clean, a perfect way to start the festivities.
Champagne
Bubbles and the holidays are synonymous! If you're a purist, you may choose to sip your sparklers solo throughout the holidays, and we can't say that we blame you. But if you want to take things up a notch, Champagne cocktails add that extra shimmer to the season, are easy to mix up, and are relatively low in alcohol.
For a super simple touch, add a splash of limoncello, pure fruit juice, or bright, unique syrups to your flute or coupe, such as pomegranate, lavender, cranberry or cherry pistachio from producers like Sonoma Syrup Co., Williams Sonoma and Floraluna Apothecary & Trading Co.
For something truly luscious, yet still bright and low octane, wow your guests with a Sloe Royale, a riff on a classic Kir Royale, with Northern California's Spirit Works Distillery's award-winning Sloe Gin in place of traditional crème de cassis. A bit higher on the ABV front at around 24 percent, sloe gin is a gin infused with sloe berries, a small, tart relative of the plum found in England and across Europe. The only producer in the US to make a traditional sloe gin, Sebastopol's Spirit Works Distillery uses an award-winning recipe from England that has been in co-owner Timo Marshall's family for generations, tweaked a bit for this market. They macerate sloe berries into their signature gin until the delicious fruit flavor and color have fully released in the gin. This vibrantly hued liqueur features both bright berry and citrus notes, combining ripe sweetness with fresh acidity, delicious sipped on its own or as a replacement for sweet vermouth in any cocktail. (See recipe below)
Bringing It All Together
As a host, you want to spend more time enjoying your guests and less time playing bartender. Mixologist and author (Artisanal Cocktails) Scott Beattie is used to being behind the bar, currently as mixologist for the Montage Healdsburg. When he's home, he wants to relax a bit and enjoy his own party and guests. Long known for his beautiful bar presentations and dedication to using the freshest of seasonal ingredients, he likes to replicate the same beauty at home for the holiday season. Starting with a mix of sherry, vermouths (both red and white), sparkling wine, and sparkling water, he'll decorate a bar cart or counter with arrangements of fragrant, fresh herbs (rosemary, thyme, bay leaf, basil), fresh fruit slices, edible flowers, ice, and, voilà, let guests play and mix up their own concoctions.
Cheers to a lighter holiday!
Low ABV Recipes
The Bamboo
This recipe calls for equal measures of dry sherry and dry vermouth, plus a couple dashes of bitters. Comstock's Raglin prefers to do small cocktails in cordial glasses, apéritif style, using one ounce each of the dry (make sure it's dry!) sherry and vermouth. Stir everything with ice, strain into a coupe, and garnish with a lemon or orange twist. The result is a lovely and complex, yet low ABV cocktail that you can sip for hours. He typically chooses Bodegas Hidalgo Oloroso sherry and Lo-Fi Dry Vermouth. (Comstock Saloon, 155 Columbus Ave, San Francisco)
Sloe Royale
1 ounce Spirit Works Sloe Gin
1 ounce lime juice
¾ ounce simple syrup
1 dash Fee's Old Fashioned Aromatic Bitters
Dry sparkling wine
Have chilled sparkling wine ready. In a shaker, combine sloe gin, lime, simple syrup, bitters, and ice. Shake and strain into Champagne flute or coupe and top with sparkling wine
Holiday Spritz
3 ounces Jardesca California Aperitiva (white)
2 ounces Prosecco or sparkling wine
1 small spoonful pomegranate juice (POM is perfect)
Serve over ice. Garnish with pomegranate seeds and a rosemary sprig
Jardesca Mistletoe Mule
3 ounces Jardesca Red Aperitiva
2 ounces ginger beer
1 small spoonful cranberry syrup (or cranberry juice)
Pour Jardesca Red Aperitiva over ice in a stemless wine glass. Top with ginger beer and garnish with cranberries and rosemary sprig