Let's be clear: you do want to be another pretty face during the holidays. While no facial alone can launch a thousand ships, enjoying the right facial treatment before your event will not only relax and rejuvenate you, but will switch on your inner (and outer) Christmas tree-light-like illumination. From Hydrafacials to LED Light rituals, spa facials (as well as some at home treatments) promise photo ready countenances, well polished skin and confidence aplenty for all your holiday bashes this season—and beyond.
Face Changing Spa Treatments Near You
The Masterpiece at Spa Montage Healdsburg, Montage Healdsburg
120 minutes, $950
After a wine tasting lunch, retreat to newly opened Montage Healdsburg, a contemporary haven, ensconced amongst oak trees, rich with bungalow-style suites. Its 11,500 square-foot Spa Montage Healdsburg's creme-de-la-creme, The Masterpiece, fights signs of ageing with its cell renewing, six mask journey into visage-enhancing bliss. Unlocking the scientific powers of cutting edge Swiss brand La Maison Valmont, this facial includes a complete collagen treatment for the face, neck, décolleté and the eyes, as well as salicylic and glycolic acid peels, suction and oxygen infusion.
Signature Custom Facial at Dawn Patrice Skincare
60 minutes, $275
In an airy, plant-filled studio situated in the historic Flood Building in downtown San Francisco, Dawn Patrice passionately shares her decades of skincare knowledge during one-on-one focused, client appointments. "When you book an appointment with me, you'll never see another client," she says, noting that guests often become like family. Her facials, customized for each client, include all of her advanced technology, including the Intraceuticals O2 Infusion—the celebrity favorite for flawless skin. Dawn Patrice's oxygen facial comprises skin analysis, extractions, a custom peel or mask (based on skin type), as well as bespoke additions, such as LED light therapy.
Best of Auberge Facial at The Spa at Solage, Solage Auberge Resorts Collection
120 minutes, $470
In the characteristic town of Calistoga, forego their famous mud baths for the Best of Auberge Facial, which takes advantage of myriad, ultra effective beauty weapons. Settle in for a revitalising two hours of bombshell awakening procedures, including the signature HydraFacial MD treatment, a Nuface lifting and toning session, finalised with Light Stim LED light therapy. Plumper, radiant skin continues for days on end. Show off your newfound countenance atop one of Solage's complimentary bikes, as you pedal around town.
Signature Facial at Redmint Holistic Wellness Center
75 minutes, $199
A blend of ancient practices and new modalities, this thoughtful sanctum in the heart of the city offers an earthy approach to beauty in a decidedly urbane setting. Dedicated to the long proven techniques of TCM (Traditional Chinese Medicine), Redmint fuses old world wisdom and novel discoveries in a range of detoxyifying, customized treatments and dedicated house products. The Signature Facial tones with gua sha (a kind of cupping), adding the benefits of healing sound tools and herbal masks to the restorative mix.
Gold Hydralifting Facial at The Spa at the Estate Yountville, The Estate Yountville
90 minutes, $325
Touted as a "village within a village", The Estate provides an intimate, hideaway experience in peerless Yountville. Yet more exclusive, The Spa, with five private spa suites, each boasting soaking baths and fireplaces (plus seven other treatment rooms), proposes well being and exemplar facecare. Glimmer with the The Gold Hydralifting Facial, a ritual comprised of a double exfoliation, followed by a rose-scented gold mask, brimming with hyaluronic acid. This hydrating and repairing facial ends with a special firming massage, and a layer of gold shimmer oil.
Hydrafacial Restorative Facial with Regen Growth Factor at SenSpa
60 minutes, $305
A bamboo and Buddha-filled tranquility haven on the verges of the Presidio, this 13,000-square-foot, zen bolthole proudly announces on its website that all therapists are verified vaccinated—something that should make every guest feel secure. Experts in the art of the Hydrafacial, patented vortex-fusion technology, which essentially uses suction to clean, exfoliate, tone and hydrate, SenSpa offers various options of the modality. Relaxing, painless, and with astonishing results, the process feels like tiny feet dancing on the skin. Go for their newest version of the facial, Restorative with Regen Growth Factor, which supports collagen and elastin with M-007 Fulvate Complex.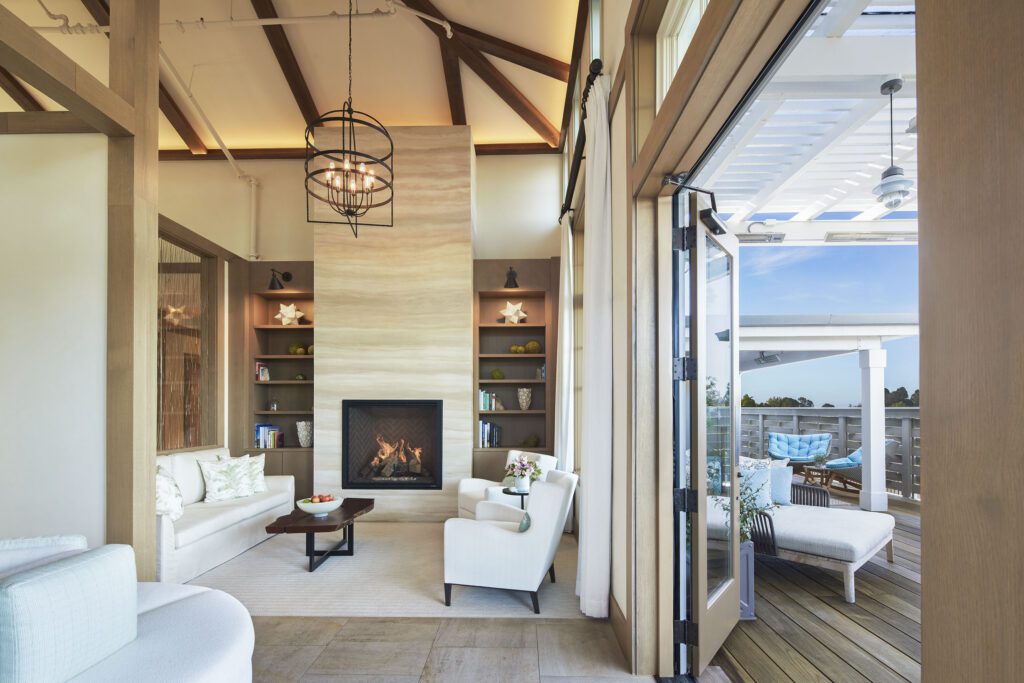 Rose Quartz Reversive Facial at Carneros Resort and Spa
Carneros Resort and Spa, Napa Valley, California
90 minutes, $350
Channeling Napa's legendary agrarian culture and its bevy of thriving vineyards, this charming world of tiny farmhouses, edged by rows of vines, warms the heart. Wake up in your spacious Private Cottage and head to the Spa and Wellness Center, reminiscent of a nostalgic barn. There, the Rose Quartz Reversive Facial harnesses the skin's natural healing powers to slowdown and overcome the everyday consequences of ageing. Expect lymphatic drainage and contouring via a massage, executed to plump and diminish lines on the face, neck, and décolleté. Exfoliation and a firming message result in a final undoubtable glow.
(Sidebar)
Do it Your Self Face Glam
Knesko Skin
$45-$150, available at knesko.com
From reiki master and skin care expert Lejla Cas' applauded holistic skincare line, these serum-brimming collagen masks harness the healing powers of precious gemstones (from diamonds to black pearl), minerals and energy work to renew skin with instant results. Used in some of the world's top spas for facial treatments, beloved by celebrities, the revitalising masks can now be enjoyed at home. Cas "charges each mask with love,"a bonus meant to awaken wellness from within.
Naturopathica Ruby & Dragon's Blood Love Mask
$76, available at naturopathica.com
No dragons were slain to make this creamy mask. Instead, it contains anti-bacterial super power dragon's blood, a sap from a South American tree as well as elasticity targeting copper and plumping ruby to fight wrinkles and smooth the skin.
$150, available at eviveskincare.com
A decadent soufflé for the face, this energizing mask boosts and brightens with Vitamin C and collagen building ATP (Adenosine Triphosphate) for a refreshing, pre-party finish. Watch as the mask turns from lustrous white to glittery gold, while it restores the skin.