Don't pinch me, lest I wake up from the dream that is the Turks and Caicos Islands
Seeing is believing, except in the case of the Turks and Caicos Islands. As we make our descent into Providenciales, sunlight streams into the plane from the open windows and all eyes are glued to the extraordinary view. As far as one can see, blue skies flow seamlessly into striking turquoise waters. Providenciales (known locally as "Provo") welcomes me after exactly 17 months—to the day—that shelter-in-place orders were first announced in the Bay Area. It's one of those "the universe provides" types of things, I like to think. I'm keen to start exploring, as one does after an extended period of being housebound.
My driver Boise ("Like Idaho," he says) expertly navigates the small island, which covers just 38 square miles. Picturesque images of island life flash by: goats roaming on the edges of the roundabouts (there isn't a single traffic light on Provo), a road sign that points the way to "DA BEACH" (neatly graffitied using a stencil), and license plates proclaiming the country's motto ("Beautiful by Nature"). Despite its rising reputation as a luxury destination, Providenciales holds onto its rustic charm. It's a place where locals (known as "belongers") often refer to restaurants by the owner's name rather than the actual business—but these days, you might bump into the Kardashians at the island's weekly fish fry. It's a community where 5-star restaurants live in harmony with beloved mainstays such as Sweet T's, a fried chicken joint that ran KFC out of town with its simple business model (customers can walk up with any dollar amount and receive a meal equivalent to the value). Rife with culture, the island celebrates its heritage with annual fêtes such as the Conch Festival and Maskanoo, a street festival held on Boxing Day.
The suite life
A smattering of shops painted chartreuse and gold line the main strip off of Grace Bay Club, where I'm welcomed with a fresh-cracked coconut in the open-air lobby. Set along 1,100 feet of the famous Grace Bay Beach, the 11-acre, all-suite property is split into three distinct offerings: the adults-only hotel, family-friendly villas, and the exclusive estate section. Then there's the beach, the shockingly tranquil and pristine white sand beach, sparsely populated save for a couple here, a family there. The moment I wade into the warm water and tilt my head back, the clouds break and a white ray of sunlight streams through, illuminating the rolling, crystalline waves. I'm seeing it, but it's hard to believe that this perfection exists.
For luxury travelers seeking a boutique hotel experience, Point Grace is located less than a mile down the beach from Grace Bay Club. Its chic design combines Caribbean with British Colonial influences with charming porches framed by gingerbread trim. The hidden gem is its French-inspired restaurant, Grace's Cottage, a cozy oasis nestled among lush greenery lit by flickering candles and lanterns. It's anchored by the newly renovated bar which features a gorgeous Bisazza glass tile mosaic that spans the entire length of the room. Designed by Young Huh, who also recently refreshed the resort's suites, the 25-foot backdrop incorporates local flora in its design. This is where contender-for-the-best-bartender-name Wisky Maitre works his mixology magic with wisps of rosemary-scented smoke, spicy homemade ginger syrup, and sweet watermelon purée.
Seas the Day
Sometimes it takes a day or two to settle into vacation mode. The solution? A private charter with Ocean Vibes, led by Captain Wayne Hall. As soon as you step onto Island Magic, a 48-foot catamaran that picks you up right off Grace Bay Beach, the Caribbean music and rum punches will have you feeling relaxed and ready for dolphin-watching on the bow nets. Born and raised in the Turks and Caicos Islands, Captain Wayne also happens to be a professionally trained scuba diving instructor, tour guide, and bartender who has been working in tourism for a quarter-century—suffice it to say, you're in good hands.
After a sublime day on the seas, dine with your toes in the ultrafine sand at Grace Bay Club's Infiniti Restaurant & Raw Bar. A spacious patio opens up right onto the beach, offering a stunning sunset view of sailboats under a dazzling mauve sky. Our server, Brave, keeps the wine flowing, which is a good thing when the evening's entertainment shows up just after dusk. It's a local fire dancer who performs all sorts of gasp-worthy stunts before asking: "Who's feeling brave?" Fueled by the bit of liquid courage, courtesy of our aptly-named server, I volunteer for an exercise in fire baton twirling. The evening wraps up with a spectacular trick that lights up the entire beach when the dancer spins a chain, throwing white-hot sparks 50-something feet in the air while simultaneously breathing plumes of roaring fire.
Privacy, Please
For the ultimate in seclusion, look no further than Sailrock Resort on the undeveloped island of South Caicos, where wild donkeys graze, pelicans perform sweeping dives, and flamingos idle among the vast salt flats. With a population of just over 1,100 (and a low-density zoning mandate), the quiet island is a quick, 45-minute flight from Providenciales and offers solitude for those who want the "private island feel." (In fact, I'm told a certain Canadian singer and his model wife are big fans). The beachfront villas at Sailrock are all understated luxury, outfitted with outdoor showers and yoga mats, perfect for a sunrise session overlooking the ocean which stretches into the infinitude just beyond each villa's own infinity-edged pool.
Sailrock guests can take ATVs to The Cove Beach Bar to enjoy a South Caicos martini (which they can shake up at a sunset mixology class) or iconic island plates such as cracked conch (I also recommend the fall-off-the-bone-tender jerk chicken wings). After dining, guests can relax on floating hammocks, while more adventurous travelers might opt for one of the resort's Hobie Cat sailing lessons. My affable guide, Justin, expertly rigs up the small catamaran and gives me a rundown on the island as we sail past the mangroves, schools of juvenile fish darting in and out of their roots. The resort can also arrange for bonefishing excursions (after all, South Caicos is the fishing capital of the islands), which pair famously with "Mama's Bread" (ask any local for directions). Speedboats ferry guests to the rock iguana habitat on Long Cay or to admire the thorny residents of Starfish Alley, with stops to drop in and snorkel along the way. Breathing in the salty air and feeling the warm breeze as our boat glides over the crystalline waters of the Caicos Bank (crossing paths at one point with a five-foot-wide stingray that flutters alongside our boat), I'm reminded again that this is—somehow—real life.
Livin' la Villa Loca
More than ever, travel is about escaping day-to-day life—and Pavilion Management's opulent villas and bespoke vacation experiences are the ultimate indulgence. Whimsical roads named "Hibiscus Lane" and "Elder Flower Drive" lead to one of its crown jewels: the exquisite Cabuya Villa, a 7,500-square-foot, 6-bedroom, six-and-a-half bath estate in an exclusive, gated community on Providenciales. The foyer expands dramatically as guests enter, opening up to a mammoth main room that showcases the blue-green waters of the Leeward Channel through wall-to-wall glass. I'm told the owner is a fan of the Met, apparent in the exquisitely curated artwork and elegant finishes: minimalist handrails, softly illuminated from underneath; a chandelier of cast resin orbs that evokes a cluster of glistening bubbles; sleek, cream-and-taupe-swirled horn handles. All of the doors in Cabuya sit perfectly flush within its whitewashed walls, giving the villa a stunning, museum-like quality. The floor-to-ceiling glass doors allow for a seamless transition from indoor to outdoor, with ample space for entertaining under the swaying palms flanking the infinity pool. The second-floor grand master bedroom looks out onto the villa's private beach and a protected nature reserve across the channel, while the ground-floor master opens onto a neatly manicured lawn and sweeping sundeck. With a private chef, butler, and housekeeper, every need is met—and exceeded.
Pavilion's General Manager Gavin Murugan has attended to the needs of A-list celebrities on five continents (once flying roundtrip from the Bahamas to New York last-minute in order to secure a gown for the Queen of Latin Music) and strives to connect with guests on a personal level to create the ultimate, customized vacation. Chef Aida—who made her way from Guadalajara to Athens, then New York to Providenciales—delights with menus tailored for every kind of diet. I'm fortunate to visit during the season when local fishermen are hauling lobster, which she serves alongside a spectacular Calabrian chili emulsion. Pavilion's other offerings include Amazing Grace, a stately villa in the style of a classic West Indies plantation manor, and Emerald Pavilion, a grand abode with amenities such as a chef's kitchen, wellness packages featuring plant-based meals and juice therapy, in-villa yoga, and more.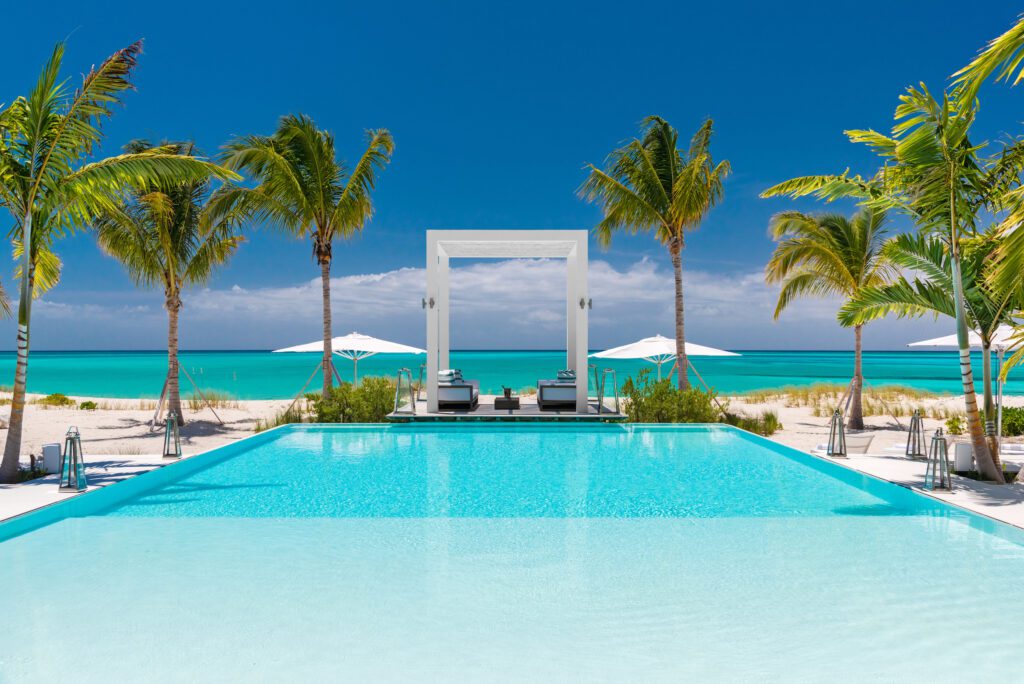 Paradise Found
During my treasured time in the Turks and Caicos Islands, I meet many fellow visitors who are similarly mystified by the country's untouched quality. I'm almost reluctant to share the hidden gem, this archipelago of pristine islands, each a destination within a destination. I'm told North Caicos is famed for its whale watching and, for more courageous folks, underground caverns teeming with bats. (Perhaps Brave can top you up at Infiniti before you go.) Meanwhile, Bambara Beach in Middle Caicos is known for its immaculate beauty, even among the splendor of the country's beaches. Jennifer, a belonger from Grand Turks, regales me with stories of a childhood spent swimming out to the country's coral reefs—one of the largest systems in the world.
On my day of (reluctant) departure, I leave with the sense of wonder and fulfillment that only follows one of those rare, life-affirming sojourns. As the plane takes off and I prepare to return to everyday life, I hold on to this dream just a little while longer, flicking through the camera roll on my phone: thumbnail after thumbnail of simply unreal shades of blue. I still can't believe it.