Stop by Via Veneto to be reminded of the simple pleasures in life: good food, good people, and good times
Named after one of the most elegant streets in Rome, Via Veneto has been a mainstay of the Pacific Heights community for more than 30 years, no easy feat in San Francisco's costly and competitive culinary landscape. Not unlike its namesake, the neighborhood Italian trattoria has hosted many notable personalities during its time—just see the photo of owner Massimo Lavino and Robert De Niro behind the bar.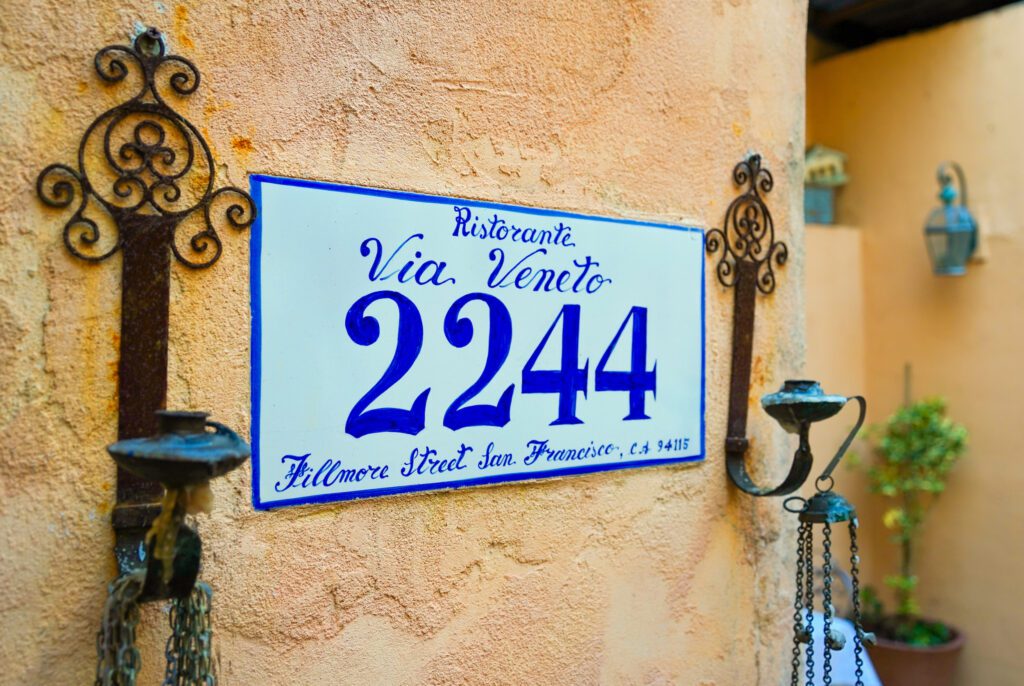 The food is hearty and satisfying, as Italian fare should be, but Via Veneto draws a sizable crowd of regulars because of its delightful owner and warm, attentive staff. Unlike some restaurant owners who stay strictly behind closed doors, Lavino is constantly on the floor and seemingly everywhere all at once. There's a welcoming air of familiarity as soon as he greets you, as though he's been waiting for you to show up. Suddenly, you wonder why you hadn't dropped by sooner to see your old friend, Massimo. I watch as he darts around with a pepper mill under his arm, breezing through the front door and serving diners seated at sidewalk tables while socializing with familiar faces strolling by. Suddenly he's behind Via Veneto's bar, stirring up one of his oft-requested Negronis.
Some of the regulars followed him here from his time in North Beach (where he started at Grazie in 1984 and worked his way up to ownership), while others visited Via Veneto as adolescents after it opened in 1990 and are now introducing their own progeny to Lavino's menu of northern and southern Italian fare. It really does feel like a home of sorts, if home had magnum bottles of wine lining the walls or a devastatingly charming courtyard that transports you straight to the Italian countryside.
Lavino insists on an authentic yet affordable menu, so neighbors and friends can visit, and often. The approach works. My server, Rolando, tells us about a couple who has come in for lunch and dinner nearly every single day for two years straight (sometimes, he makes them off-menu dishes just to mix things up.) Behind me, a pair is celebrating their 67th anniversary. Via Veneto has been a longtime date night locale for lovers, many of whom would catch dinner at the restaurant before a film at Clay Theatre across the street. (The single-screen cinema, one of the last in San Francisco, shuttered last year; but, to the delight of dinner-and-movie devotees everywhere, talks are in place to reopen it with a historical landmark designation.)
Every meal at Via Veneto starts with a basket of piping hot fresh bread, served with a crock of garlicky olive oil. Silken cloves, roasted to perfection, spread effortlessly over the soft pieces of bread. Appetizers range from a classic Caesar salad to delicate golden rings of calamari fritti. The long-steady lovebirds nearby opt for garden-fresh bruschetta on Lavino's recommendation. Flitting around as always, Lavino then attends to our table, dividing up our caprese salad and gently places each portion on stunning ceramic plates bearing the restaurant's name and whimsical designs. Painted with brilliant shades of vermillion, ultramarine, and olive, these handmade plates crafted on the Amalfi Coast reflect Via Veneto's appreciation of good craftsmanship and the equal artistry in its kitchen. The Caprese salad delights, showcasing slices of creamy, whole milk mozzarella sitting atop fresh local tomatoes and fragrant leaves of basil, drizzled with a fruity olive oil and freshly cracked pepper.
Pasta is one of those foods for which I vehemently deny that there is a healthy substitute. You simply can't skimp when it comes to authentic, fresh-made noodles and a thoughtfully prepared sauce with the finest ingredients, whether rich and creamy or hearty and tomato-based. As Erica Jong once mused, "What is the fatal charm of Italy? I believe it is a certain permission to be human, which other places … lost long ago." To me, pasta is the ultimate expression of self-care—forget diets and counting calories. Luckily, Via Veneto offers an indulgent pasta dish for every palate and preference, such as a fettuccine alfredo with cream sauce, nutmeg, and parmesan; the penne alla puttanesca with a spicy tomato sauce simmered with kalamata olives, briny capers, and anchovies; or the gnocchi alla fiorentina with pillowy-soft potato dumplings in a cream sauce with spinach and Gorgonzola. There's always a risotto and ravioli del giorno. Today, the latter is a lobster-stuffed edition topped with shrimp and asparagus and doused in an aromatic white wine cream sauce (making my dinner selection that much more challenging). There's also a selection of carne, pollo, and pesce entrées, including a mouthwatering gamberi al diavolo, featuring prawns sautéed in a spicy sauce of garlic, brandy, mushrooms, tomatoes, and green onion. I opt for linguine alle vongole, with a buttery, herby white wine sauce that allows the delicate brininess of the fresh clams to shine.
I savor an after-dinner espresso, served in more exquisite, custom-made ceramicware, this time painted in shades of brilliant turquoise and Tuscan yellow, before pulling Rolando aside to ask if zabaglione is on the dessert menu tonight. It usually isn't, but they're happy to whip it up—literally—if they're able. Otherwise, you can't go wrong with a traditional tiramisù or Via Veneto's pera arlecchina, a scoop of vanilla ice cream enclosed by a cinnamon-spiced poached pear with strawberry coulis and crème fraîche. I vow to return soon so I can taste the tartufo al limoncello, a sharp lemon gelato with limoncello and airy meringue sprinkles.
Via Veneto does things the old-fashioned way, as you may have already guessed: reservations are only accepted via telephone. That said, you can rest assured you'll be taken care of by the dashing Lavino and his cordial team the moment you walk into this sweet slice of Italy in San Francisco.
All photos by Robert Richards