When you're used to jetting around, staying in is the gift that keeps on giving. But what's a girl to do when she still wants to be pampered? Park James Hotel has just the solution.
After a long weekend of flights and festivities, the Kurobuta pork belly and creamy polenta at Oak + Violet warms my soul on a slightly chilly Sunday. Perfect for digging into the hearty plate of sweet, tender pork belly and earthy braised chard, soaked with red-eye gravy and topped with microgreens for some brightness. A perfect balance of flavors, and the ideal comfort dish to wrap up an activity-filled weekend while readying myself for the week ahead.
If my partner was here, I would've loved to also taste their popular fried chicken and bacon waffle with crème fraîche and caviar—but alas, I've left him at home for this "Girl's Getaway" I'm having at the Park James Hotel here in Palo Alto. I'm a firm believer in a little "me time," and checking in with yourself from time to time is essential. Whether you've been putting in overtime or simply need a small change of scenery—and a beautiful one at that—the Park James' "Girl's Getaway" package is the perfect solution for ladies looking for a little bit of luxury.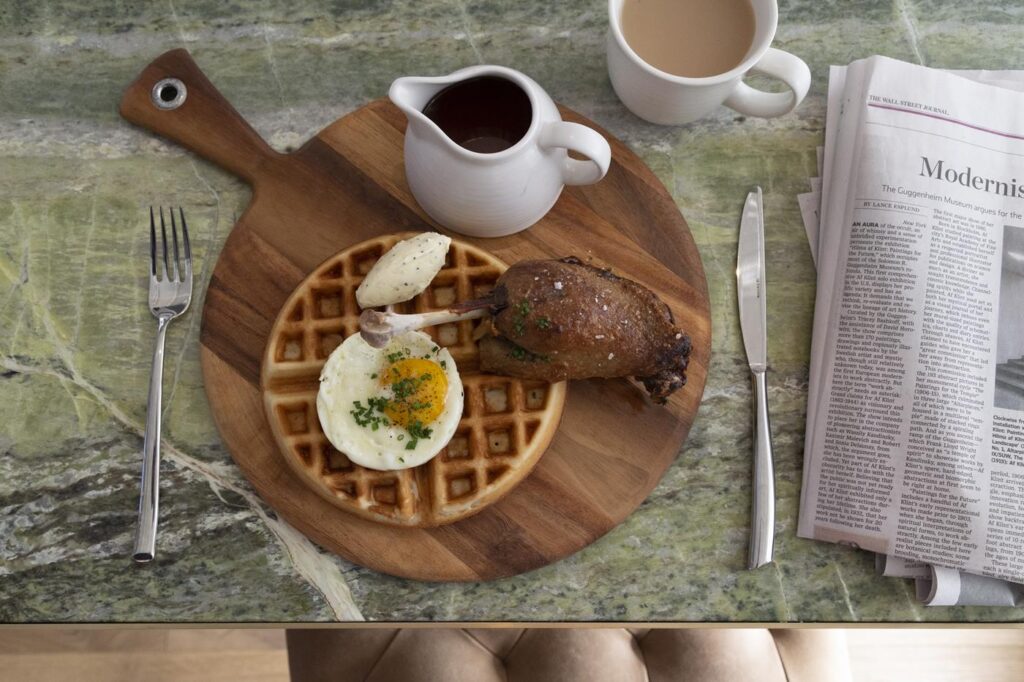 Located in the tranquil neighborhood of Menlo Park—yet within a stone's throw of Palo Alto's bustling downtown and the Stanford Shopping Center—the regally designed boutique hotel is also perfect for staycations, business travelers, couples, and families (including the four-legged variety). My "me day" at Park James starts with the nourishing brunch at the hotel's in-house restaurant, popular with passersby even on this brisk day. A towering oak and globe lights sweep over the tables, cozy sofas, and fire pits in the tranquil courtyard of the open-air restaurant, sitting opposite of an outdoor bar (also accessible from inside the hotel). Oak + Violet's dinner menu offers crowd-pleasing charcuterie and cheese boards, as well as inviting entrees such as a lemon and thyme seasoned half-chicken served with endive, watercress, roasted peaches, and preserved lemon; whole branzino with Castelvetrano olives, roasted shallots and fennel, sweet peppers, and romesco; and even a hand-cut, bone-in ribeye weighing in at 46 ounces. (There's also plenty of vegan, vegetarian, and gluten-free options for the discerning diner.) I sip on a lilac-colored Southside, a citrusy gin-based cocktail served in an etched coupe glass and garnished with a single orchid, before wrapping up with dessert. I opt for a lemon sorbet, a refreshing pop of tartness after my hearty entrée.
After checking in, I head up to my spacious king suite, one of 61 rooms on the property. Amusing quotes dot the hotel's walls and floors via neon signs, oversized lightboxes, and tiled floors, including ditties such as: "There are no strangers here, only new friends." The rooms emit warmth and a sense of "home," which is always appreciated when one is away. A cozy wool throw is draped over the bed, with wide headboards upholstered in brown leather. A beautiful crystal chandelier lights up the room, a touch of luxury to the cozy yet elegant suite. One delightful surprise is the pour-over coffee station, a rarity in most hotel rooms, offering fresh-ground beans from San Francisco's popular Ritual Coffee Roasters. However the hotel is also decidedly tech-savvy, with in-room tablet controls, and the option to download the Intelity app, which allows guests to use their phones as a digital key, for requesting valet service, or checking out at the end of their stay.
As part of the "Girl's Getaway" package, I'm also greeted with surprises from two women-owned brands: a special gift from Luisa Spagnoli, in addition to a gift certificate to be redeemed at its Palo Alto boutique, and a pouch of Juice Beauty organic anti-aging facial products. "What better way to pamper our female guests than with exquisite fashion and beauty provided by local women-owned businesses, in a luxurious space created by an incredible female designer?" said Laura Rose, Managing Partner of the Storey Hotel Management Group. "We're excited to offer this luxurious package to women near and far, and look forward to seeing friendships celebrated as well as women choosing just to treat themselves to some alone time." After a quick break to freshen up, I head over to Luisa Spagnoli at the Stanford Shopping Center to peruse their new Autumn/Winter 2021 collection. I'm welcomed with a cup of espresso, and my private shopping experience is led by Michela, a delightful guide to all of the beautiful dresses, jackets, and more than line the walls of the luxurious boutique. She grew up in Rome, where Luisa Spagnoli is renowned as a high fashion brand, whereas it is less-known over here, with this Palo Alto location being the only one in the States. That said, the clothing's sumptuous fabrics and hand-tailored quality are absolutely exceptional, and deserve to be widely known—even Kate Middleton has been spotted in the brand's ensembles. The brand offers all sorts of pieces that can be worn daily, as well as statement pieces that truly stun. Though I normally opt for neutrals, I'm immediately drawn to a gorgeous, pleated midi skirt in a bright shade of turquoise. A cotton and silk skirt in a bold tiger print also catches my eye, as well as the lavish wool capes and belted trenches. Michela believes now is the time for women to treat themselves—after months of the pandemic and staying in, it's time to remember that it's OK to indulge in a little something to lift our spirits, cheer our senses, and simply fall in love with getting glam again. I leave swinging one of their signature polka-dot bags, which safely encloses my new, velvety, camel-colored bucket hat. There's definitely something to be said about retail therapy.
My evening wraps up with a glass of wine as I partake in a little self-care. Park James' premium Davines Momo toiletries (featuring melon extract sourced from Italy) helps refresh my hair, while the gift pouch of Juice Beauty samplers include products from its Green Apple line to help clean and exfoliate for a brighter complexion, while its Stem Cellular serum and moisturizer helps smooth and tighten my skin. Now fully rejuvenated, both mentally and physically, I slip under the divinely soft Frette sheets to settle in and catch a chick flick to end this gratifying girl-powered getaway.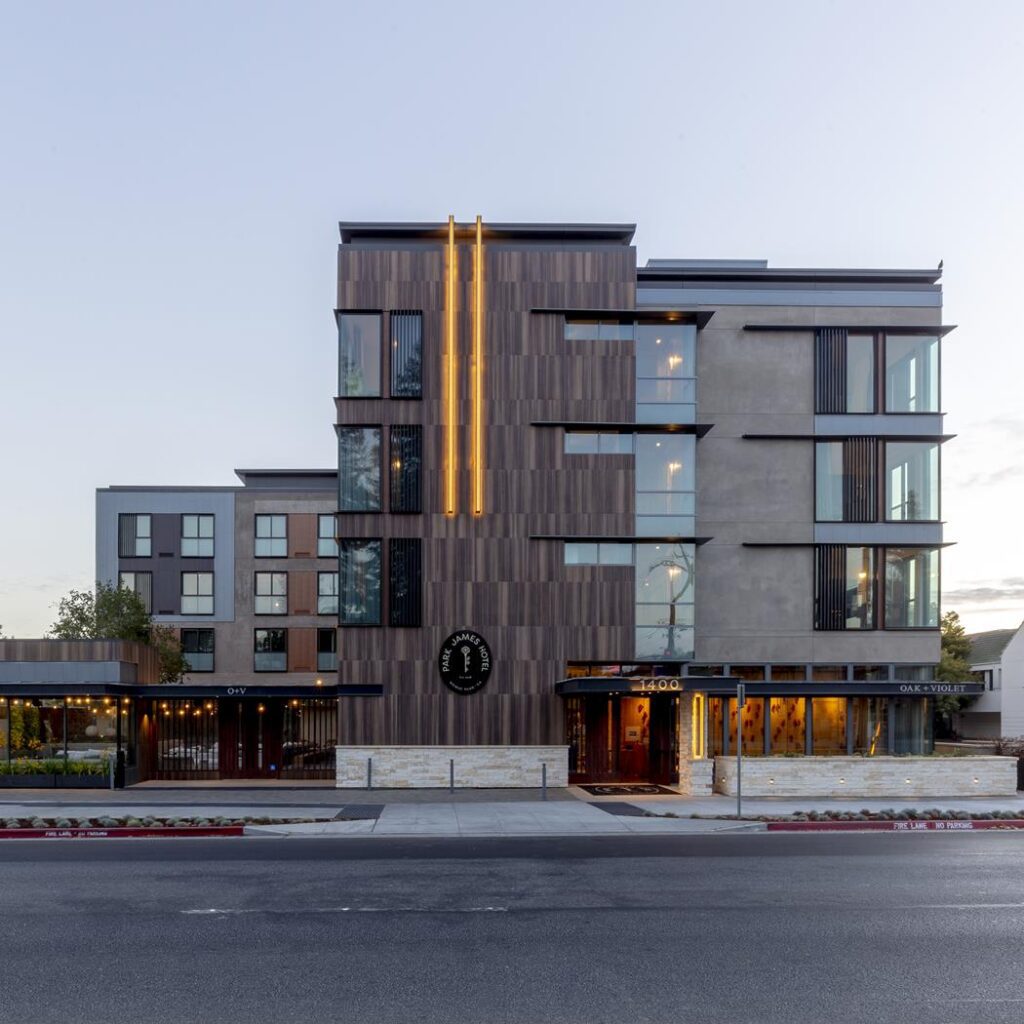 Park James Hotel's "Girl's Getaway" package will be available for a limited time only. In addition to a $100 gift certificate and a gift from Luisa Spagnoli, and a Juice Beauty sampler bag of organic anti-aging skincare products, the package includes a $50 food and beverage credit at Oak + Violet restaurant and a half-bottle of sparkling wine upon arrival. Massage appointments, which take place in a private tent onsite, are available for an additional fee. Bookings for the package can be made by calling 650-304-3880 or visiting www.parkjameshotel.com.