The 19th-century politician William Jennings Bryan wrote that the way to develop confidence and banish fear was to "get a series of successful experiences behind you." While his words ring true, many of us have found ourselves in dark places without an exit door. We've felt downtrodden and lost, helpless and unsure. In that situation, the world in which everyone else seems to live happily feels impenetrable and impossible to access. Thankfully, the Bay Area's charitable, non profit organization, Dress for Success San Francisco, helps build a smoother path to a new reality. Their services, programs and committed volunteers make a difference, elevating and supporting myriad women as they rise. With a specific mission to empower and support women as they hunt for jobs, and to keep them plugged into personal growth even after they procure employment, Dress For Success celebrates its sixteenth birthday this year in San Francisco. Embracing much more than providing clothing for interviews, the organization also furnishes a range of tools for personal growth and enhancement—from self confidence-boosting communication skills to resume writing, plus digital support and professional style tips. Both group seminars and one-on-one sessions help to educate and inform participants. Dress for Success ably and empathetically ensures women get that "series of successful experiences behind" them, a gift with lasting results.
Some Stories:
Juthaporn C. currently a 2021 Ambassador for Dress for Success Worldwide, had battled drug addiction and homelessness for twenty years. When her son, Douglas started preschool, she decided to do something she "had not thought she could do, but had always wanted to do"—she chose to look for a job. Though she was offered an interview, she couldn't afford the requisite uniform. Luckily, a case worker told her about Dress for Success. "The rest is history," says Juthaporn. With gusto, she immersed herself into every initiative offered. "I began with the Going Places Network program, and then the Professional Women's Group. I also participated in the Financial Literacy Program and spoke at the 2018 Gala," she says. Today, deeply grateful and full of promise, Juthaporn currently attends college at CCSF to be certified as a residential counselor, her dream job. "I personally gained my self-confidence and my love of self back. I was able to appreciate my womanhood and motherhood. There is no magic pill for self-confidence, but with my first appointment, I was immediately transformed into a superwoman. I felt like a new me. Since coming to Dress for Success I have transformed into the woman I have always wanted to be: a woman who is confident and knows her worth." "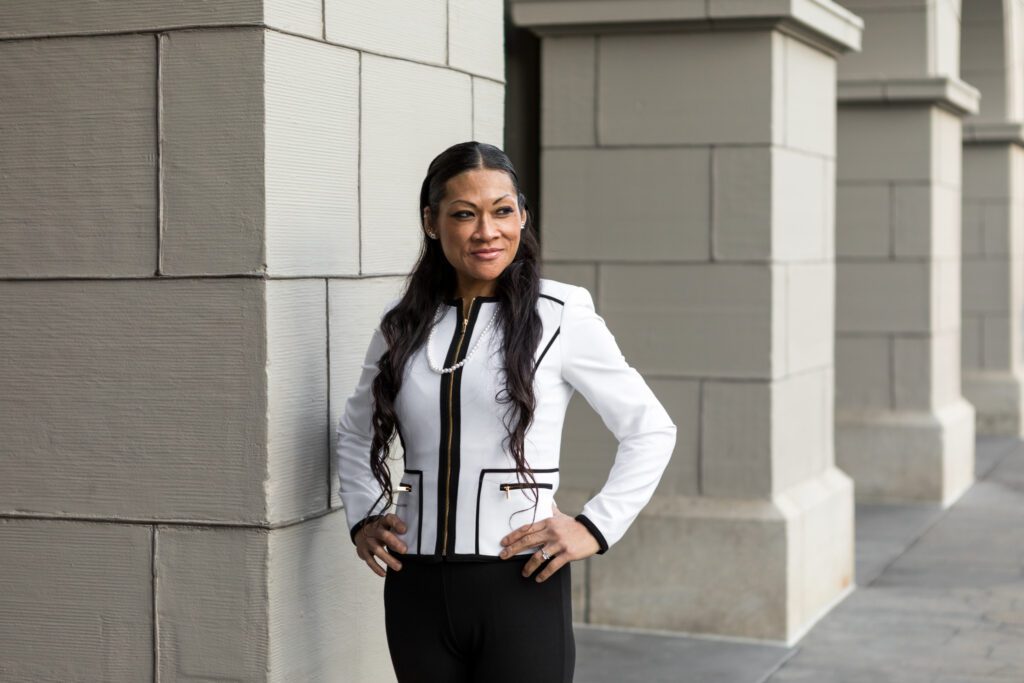 Currently working at French Finch Youth & Family Services, Brittany S. explains that the most important thing she learned from Dress for Success was that there were people out there who cared and that faith in herself was possible. "I learned that there are people in the world who want to help us achieve our goals," she said, emboldened by the assistance and the care she received. Brittany first reached out to the organization for the Financial Literacy Program, which completely changed her outlook. "I feel more empowered about my financial decisions since taking these workshops, and I greatly appreciate the other opportunities that the Dress for Success community has presented to me," she says. Brittany credits the program with helping her think more proactively about her future and sharpening her money management acumen. "I gained a community of support with the Dress for Success staff and other women in the programs," she says. "I love and am grateful that the staff connected me to resources, helped me plan goals, and offered me a once-in-a-life-time opportunity."
Corevia F. had been looking for a job for six months when she met up with a representative from Dress For Success at a job search workshop at the San Francisco Public Library. She plunged in–starting with the Career Center and Career Development Bootcamp to work on her resume and networking. She praises the volunteer mentors who helped her identify the type of job she wanted, and those who led her in showing her how to focus in on her job search."The most important thing for me personally was updating my LinkedIn profile and résumé," she says, noting that the person who recruited her for her current job at Everlaw, a Legal Technology Company, actually found her on LinkedIn. Dress for Success also helped coach Corevia, one-on-one, for her triumphant interview. For those considering Dress For Success, Corevia exclaims: "Don't be nervous. The team is so welcoming that they will share with you their own job search journeys because they empathize with what you are going through. This is not like any other job search organization or experience you may have already encountered," she says. Paying it forward, Corevia happily share the tips and advice learned from Dress for Success with others.
In Their Own Words
Juthaporn C: I love the ability to work and make my own money. Dress for Success has weekly workshops, and I am part of their Alumni Professional Women's Group employment retention program, which meets about four times a year. I also utilize their career advisors to brush up on my resume and job search. It is a wonderful organization that I am honored to be a part of. I will always be a Dress for Success groupie.
Brittany S. : The advice I would give someone who is considering Dress for Success and is feeling nervous is that you need to know that the staff are welcoming and approachable, and so eager to support you. Your nervousness will subside! The women utilizing the services are friendly and supportive as well, so you will soon feel a part of the Dress for Success community.
Corevia F: I'm really grateful not only for the excellent quality of the coaching but that all Dress for Success services are free to the client. Even if I had found my own career coach, I could never have afforded their help because my financial resources were so depleted by that time. I still share the tips and advice I learned during that coaching with other friends who are looking for jobs or trying to advance their careers.
Don't miss Casino Royale:
A Sweet 16 Anniversary Gala October 16, 2021 at The Palace Hotel.