"Walk with me," says my wellbeing butler at Rosewood Mayakoba. We wander down undulating trails. In a soft voice she tells me to concentrate on my senses. "You must feel the power of the plants," she says. I hear the tiniest buzz, almost as if the garden hums. Nearby, water gurgles and birds sing as if in harmony. The perfume of herbs and flowers encircles us. The smallest details—the veins in leaves, butterflies resting on blossoms, the clouds reflected in the water—reveal themselves.
As we linger together, my wellbeing butler tells me about ch'ulel, that ponderous life force that the Maya people believe pervades everything around us—plants, animals, water. "The Maya people believed that the body is an extension of the soul, and that everything is connected," she explains. When we walk to the treatment cabana, a standalone space shadowed by trees, we feel in sync. "Our healing must begin inside out," she says as we enter. Her words are as fervent and promising as a benediction.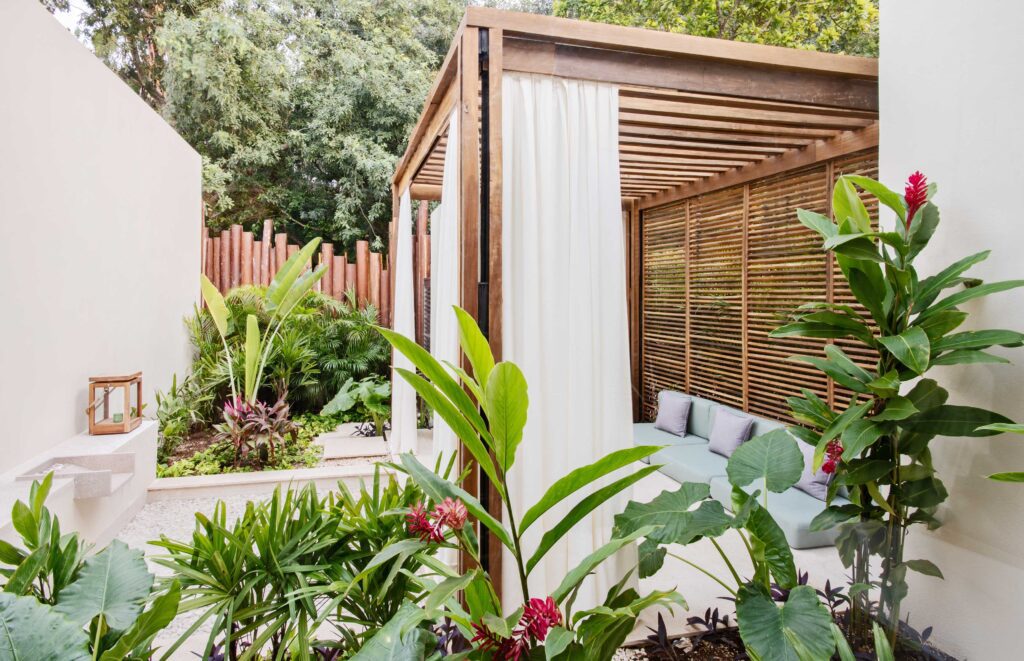 At Rosewood Mayakoba's Sense Spa, tucked amid the resort's vast nature preserve on the Riviera Maya, healing always comes easily. Check into one of the resort's new Wellness Suites to up that ante. Anchoring an isle, surrounded by infinite greenery, occupied by inquisitive iguanas and cartoonish coati, the eight Wellness Suites feel like havens of healthiness within an already blissful resort. Conceived to support self-healing, each airy guest room has a private salt-water therapy pool, meditation pavilion, reflexology fountain, and in-shower aromatherapy. Sleeping tools (such as a circadian lamp) help with jet lag, while that evocative wellbeing butler curates customized experiences based on your goals. All the while, you'll feel the curative ch'ulel around—especially within your one-of-a-kind wellness suite.
Other Spa Suites for Rejuvenation
Swissôtel Chicago
Designed by revered Chicago architect Harry Weese, urbane Swissôtel Chicago peers over the Chicago River and Lake Michigan near the Magnificent Mile. Inside the stunning, all-glass structure, fitness buffs can luxuriate in the newly launched Swissôtel Chicago Vitality Suite. Encompassing more than 1,700 square feet and five rooms, the suite's coup de grâce is its Wellbeing Wall, which boasts a Peloton bike, water rower, weights, mirrors, and other exercise paraphernalia. Its stylish wet bar hydrates and fuels the body with healthy options, while a Vitality Pillow menu promises a good night's sleep. Forgot your jammies? No worries. A Lunya sleep set comes with the room.
Malliouhana, Auberge Resorts Collection, Anguilla
On Anguilla, the British West Indies island known for its genteel atmosphere and jaw-dropping, 33 pristine beaches, most people spend long days outdoors. Book the huge, 4,500-square-foot Spa Three Bedroom Villa, which crowns the resort's spa, and indoor wellness activities become irresistible and easy to access. Roomy, a veritable pied-à-terre with plenty of room for your friends (bachelorette party, perhaps?), this spa-centric grand suite with three guestrooms and bathrooms also has a private patio and immense terrace. Descend as often as you like to the spa below to enjoy Caribbean-inspired treatments and the resort's custom product blend, a mix of neroli, lemongrass, and vetiver.
Le Relais Bernard Loiseau, Burgundy, France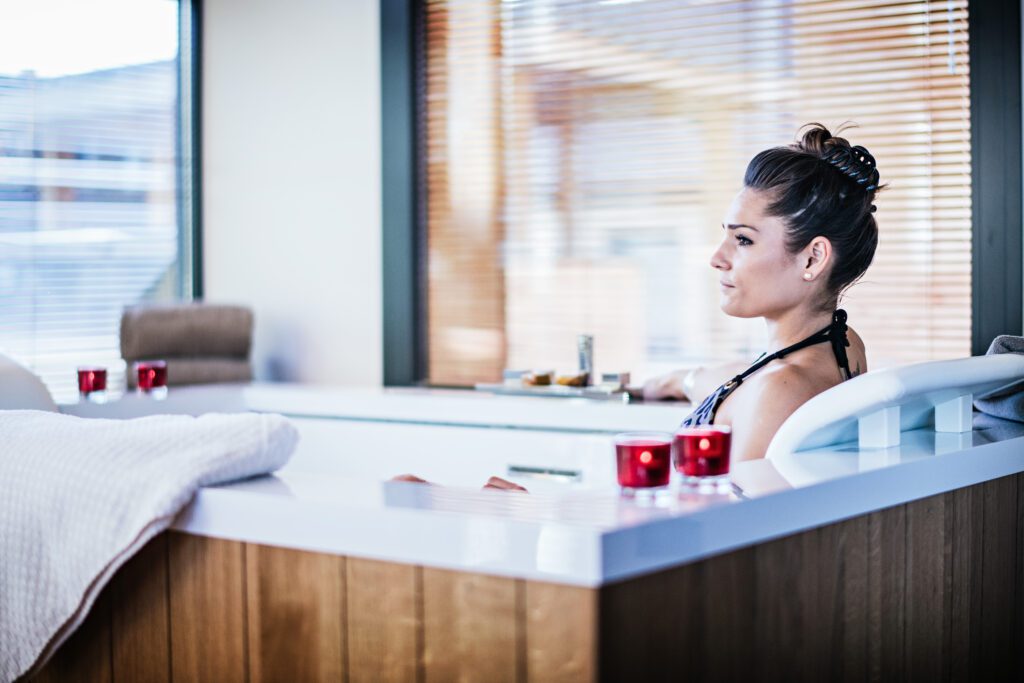 Eccentrically elegant Relais & Châteaux hotels are best known for their gastronomy and characteristic sense of place. Le Relais Bernard Loiseau, a gem in the heart of Burgundy, lives up to that reputation with its stunning location and two Michelin-starred restaurant. This hostelry also celebrates wellness seekers in its 16,000-square-foot spa, La Villa Loiseau des Sens, where some treatments feature potions based on local Burgundy blackcurrants. Prolong your spa day when you opt for a night in the 700-square-foot VIP Spa Suite, complete with sauna and hammam, a sanctum on the spa's top floor.

Andaz 5th Avenue, New York
Though you'll have views of both the Empire State Building and the New York Public Library in this heart of Manhattan-located hotel's Wellness Suite, you may spend more time gazing into your personal The Mirror® Gym by Lululemon. It's one of many stellar self-care features provided in Andaz's seven rooms in this category. Expect, as well, adjustable weights, yoga equipment, a large soaking tub, and a sound machine. Snooze comfortably on the back-healing Airweave® mattress and nibble at the Mini Bar RX, which holds a delectable hoard of healthy snacks.
La Quinta Resort & Club, A Waldorf Astoria Resort, La Quinta, CA
Glam it up like Greta Garbo did at La Quinta, a fabled desert destination. Though the resort vaunts 41 pools that pepper the property and activity options galore, guests in search of renewal find their way as often as possible to the 23,000-square-foot Spa La Quinta, a state-of-the-art oasis. To add ease to your spa commute, stay across the courtyard from the spa in a cosseting, 900-square-foot, residential-style King Spa Villa Suite, a home base with private patio, kitchen, pool, and commodious living space. Don't miss a yoga class in the spa's dedicated yoga room, painted with Buddha images by Point Reyes-based artist and celebrity yoga instructor, Amanda Giacomini.
Banyan Tree Resorts Worldwide
Long before anybody else thought about it, Banyan Tree conceived and executed the concept of holistic wellbeing sanctuaries at their resorts, situated in key spots around the world, including Thailand, Morocco, and Mexico. More in vogue now than ever, their beloved concept includes a 64-point wellness assessment to connect guests with their goals and a slew of options to achieve success. Striking accommodations keep the mood salutary, with personal swimming pools long enough for laps and massage tables for in-room treatments, plus daily access to a huge range of inclusive curative, educational, and feel-good activities—think: ocean breath meditation, couples yoga, a daily massage, pre-sleep baths, and nutritious, chef-made meals prepared with locally sourced ingredients.