North Beach Restaurant: Inside A San Francisco Tradition
San Francisco is full of history and traditions; from the sourdough bread (it's the natural yeast in the air, that makes it unique to us), to freshly trapped, steamed and chilled Dungeness crab cocktails on-the-go, walking Fisherman's Wharf, and to a soft and warm char sui bao (barbecued pork bun) while exploring the charming wonders of Chinatown; it is these wonderful traditions that connect us, and us to the World – I've known chefs in Paris that swear of the sweetness of our crab, and it wouldn't be Thanksgiving at our place without my 'San Francisco Style' Barbary Coast Sourdough & Oyster Stuffing, made with SF's Boudin Sourdough (check aubreyabouttown.com for recipe), a recipe with lots of preparation, but a labour of love nonetheless…traditions we cherish.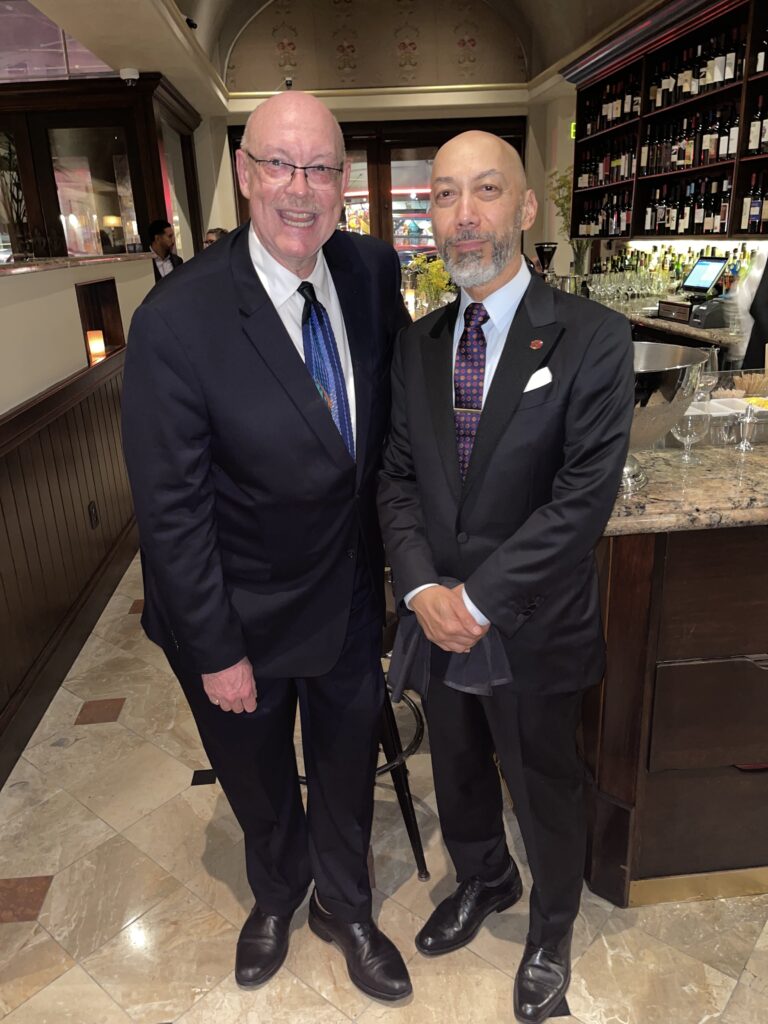 Growing up in the City, there were certain traditions that we just did; Clement Street for Chinese, and across the City in North Beach for Italian. And the one place I looked forward to the most was North Beach Restaurant.
To this day, North Beach Restaurant has been a mainstay in my repertoire of favorite restaurants, both to frequent, and to suggest to others when asked on places to go for dinner (and lunch), and it has remained one of my partner, Ed and I's favorite weekly haunts for date night. And we're not alone in that regard; Since NBR opened it's doors back in 1970 by a young Sous Chef, Bruno Orsi (of the famed Orsi's Restaurant), and a young dishwasher Lorenzo Petroni (who worked his way up to bus boy, server, and ultimately, bartender). Both sharing the American Dream, through hard work, and perseverance.
NBR has been a traditional San Francisco hotspot for celebrities, athletes, and politicians alike. Everything from marriage proposals, movie deals, and local politics have taken place within the walls of North Beach Restaurant, and it remains a favorite meeting spot for local and national movers and shakers, including Vice President Kamala Harris; Speaker of the House, Nancy Pelosi; San Francisco Mayor London Breed; and former SF Mayor Willie L. Brown Jr., who, to this day, along with his girlfriend, and my long-time friend, Sonya Molodetskaya, (whom Willie lovingly refers to as the "First Lady of San Francisco") along with best friends, and travel companions, socialite, Farah Makras, and her husband, real estate mogul, Victor Makras who still keep to their weekly Friday night dinners at North Beach Restaurant, Kokkari, or the occasional new "it" restaurant, a Friday tradition they've enjoyed together here in SF, and around the world for nearly two decades.
During their 18-month closure due to the covid pandemic, North Beach Restaurant was the one place Ed missed, and asked about the most…"When are they going to reopen – are they reopening?!" is all I'd ever hear! So it was with great delight when I ran into the former Manager, Leo Petroni (son of the founder, the late, Lorenzo Petroni) a few months back at the trendy Battery social club in San Francisco, and was assured that the reopening was imminent, and then, low-and-behold, a couple months later, our pal, and North Beach Restaurant's veteran Maître D' of 18 years, Warren Hart called to announce North Beach Restaurant's grand reopening on July 28th, with a 2-night weekend VIP dinner for their most loyal clientele (a week prior) to celebrate!
The pre-opening weekend commenced Friday evening; with a cocktail reception for the loyalists, with vignettes of delectable offerings, including their house-cured prosciutto-wrapped melon, Carpaccio crostini, and large serving bowls of some of the best meatballs in marinara I've ever had; as you may have guessed, that's were I hovered like a praying mantis. And naturally, I (and inappropriately so) wore an all white Valentino number, (hey, it's Italian, right?) a serious passo falso when eating meatballs. But luckily, Fortuna was on my side, and I made it through the evening, my frock unscathed.
The VIP dinner the following night was magical. We were sat at the late, Lorenzo Petroni's private table overlooking the bar, and I was sat in Mr. Petroni's chair. Lorenzo was like a father to me, so, I was taken back with emotion, and it wasn't long before those emotions turned to tears. Tears shared with the staff and guests alike. But soon, those tears turned to laughter when I began impersonating Lorenzo, with me jokingly shouting, "Bello, Bello! Did the customer ask for two olives?!", something I fondly remember Lorenzo playfully saying while watching the servers garnish martinis from his perch.
The dinner was scrumptious; for old time sake, I had to begin with the bay shrimp cocktail…old school. The crispy chicken al Mattone (cooked under a brick) is wonderful, but the pièce de résistance was the Tiramisu, absolutely life altering; and a story, just as sweet. As the story goes, the recipe was handed down by NBR's longest working Server, (of over 30 years) Marco Candela's grandmother, a native of the Piedmont region in Italy, a region famed for it's sophisticated cuisine, Barolo wine, and the birthplace of the Fiat automobile. The recipe was written in Italian, and when Marco's fellow Server, Luca Ortolani (who also happens to be a pastry chef at SF's famed, Victoria's Pastry down the street) was tasked to translate the recipe to English, North Beach Restaurant's new General Manager, Maureen Dongan suggested, "Why not make it yourself?"; and we're all happy that she did, and he did! Luca also bakes the other desserts, as well as the delightfully miniature cheesy pizzetta and rolls, new to the breadbasket that accompanies the meal.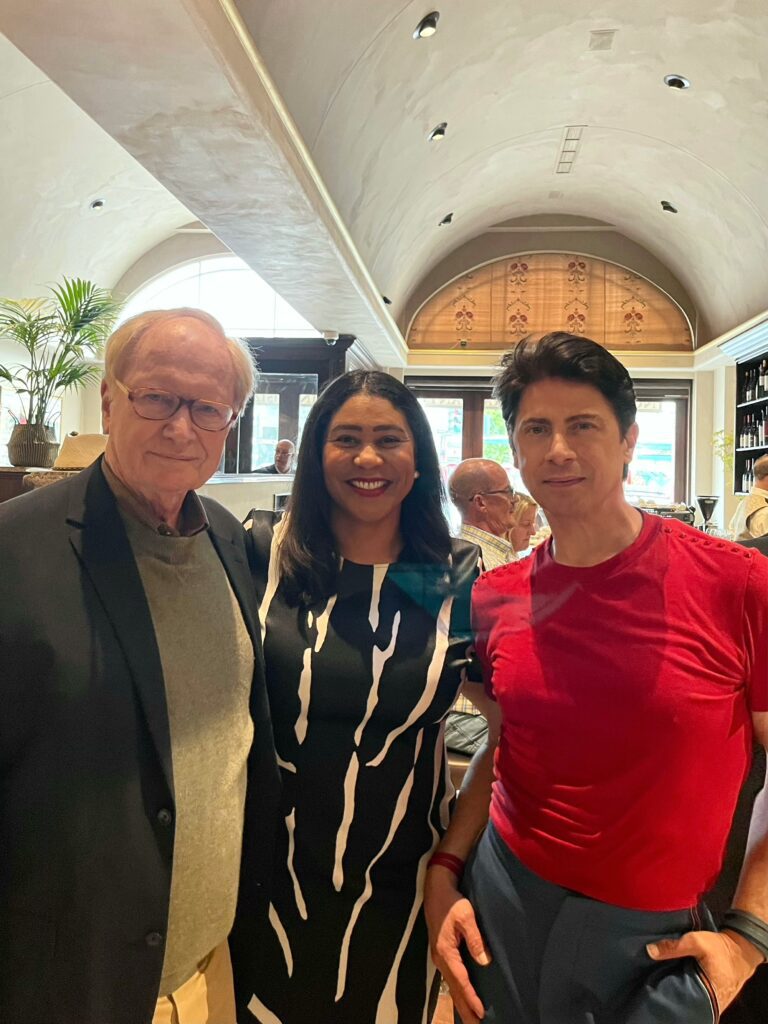 As guests happily enjoyed their dinners, the energy in the room was transformed, and guests (including San Francisco notables, Mayor London Breed, former Mayor Willie L. Brown Jr., and socialite, Sonya Molodetskaya) were in awe as we were serenaded with an impromptu opera performance of 'Libiamo, ne'lieti calici' (The Drinking Song) from Giuseppe Verdi's 'La Traviata', and there wasn't a dry eye in the whole place. Lorenzo's spirit was in the room, and I just know how moved he would have been at the warm turnout of the City's who's who and NBR loyalists joining his family & beloved restaurant family to call in a new beginning, post covid, and celebrating 50 years of a San Francisco tradition. All our familiar Servers and Staff have rejoined the company, along with a new General Manager at the helm, the lovely Maureen Dongan. Maureen brings over 35 years of fine dining experience she had gained in some of San Francisco's most iconic eateries, such as the Marina district's Balboa Café and Izzy's Steakhouse (in which she opened in 1987), and MoMo's, the Presidio Social Club, and the long gone, but always remembered, Postrio (I think I lived on their pizza Margherita for a month once!).
Maureen has made continuing Lorenzo's vision of old-world Tuscan cuisine and elegance her passion project with an extensive remodel of the upstairs dining rooms, lower level banquet hall, and the famed "Prosciutto Room", with the addition of the 'secret' multifunctional VIP room that will be hidden on the lower level, (psst, don't tell anyone, but look for the hidden latch in the bookcase!) and offering chic new restrooms with custom built floating marble basins, restaurant-wide Venetian-plastered ceilings, antique dining chairs, sterling silver flatware, fine china, and European statuary, that she carefully curated through auctions across the globe.
I've always been a believer that love is in the details, and it's in these details that will foster the continued popularity for this San Francisco institution, keeping it our special tradition for years to come!
The Rotunda at Neiman Marcus' VIP Pre-Opening Lunch
The Rotunda at Neiman Marcus opened with much anticipation and fanfare with a by-invitation-only pre-opening day sneak peak, and the San Francisco Bay Area's most fashionable ladies (and lads) who lunch went all out in hosting their tables.
With just a call to action from NM's Vice President and Market General Manager, (Northern California) Mark Sullivan, inviting Neiman Marcus' top clients to make reservations; tables quickly filled with the Bay Area's chicest socialites & fashionistas.
After over a year of closure due to the covid pandemic, the much-anticipated reopening was finally here.
The afternoon fête was just the excuse these elegant ladies needed to finally leave the covid loungewear behind, and dress up in the season's finest designer fashions, and they didn't disappoint! Amongst the afternoon hosts were, former Raiderette and socialite, Lisa Zabelle, who's guests included our mutual friends, the lovely Mary Beth Shimmon, Sobia Shaikh, and Barbara Brown. My dear friend, and philanthropist, Sophie Azouaou, who's notable guests included jazz icon, Paula West, luxury real estate guru, Joel Goodrich, socialite, Clara Shayevich, and NBC Bay Area's, Jessica Aguirre, to name a few. Even Haute Living San Francisco's very own, publisher, Olivia Decker stopped by to join the festivities.
For this host, an homage to the modern elegant Southern Ladies Who Lunch, a pastime Stanley Marcus, along with his brother Edward (sons of cofounder, Herbert Marcus Sr.) fostered in the 1950's when Stanley was elected President & Chief Executive Officer, with brother Edward by his side as Vice President.
The fashionable socialites of Dallas quickly took to the pastime, whilst enjoying the new trend of elegantly prepared French inspired American-Continental cuisine to the background of informal modeling, combined with charitable events, and designer trunk shows at the Dallas store, or as Vogue magazine coined in their November 1953 issue, "Texas with a French accent", and "Continental Chic in Texas."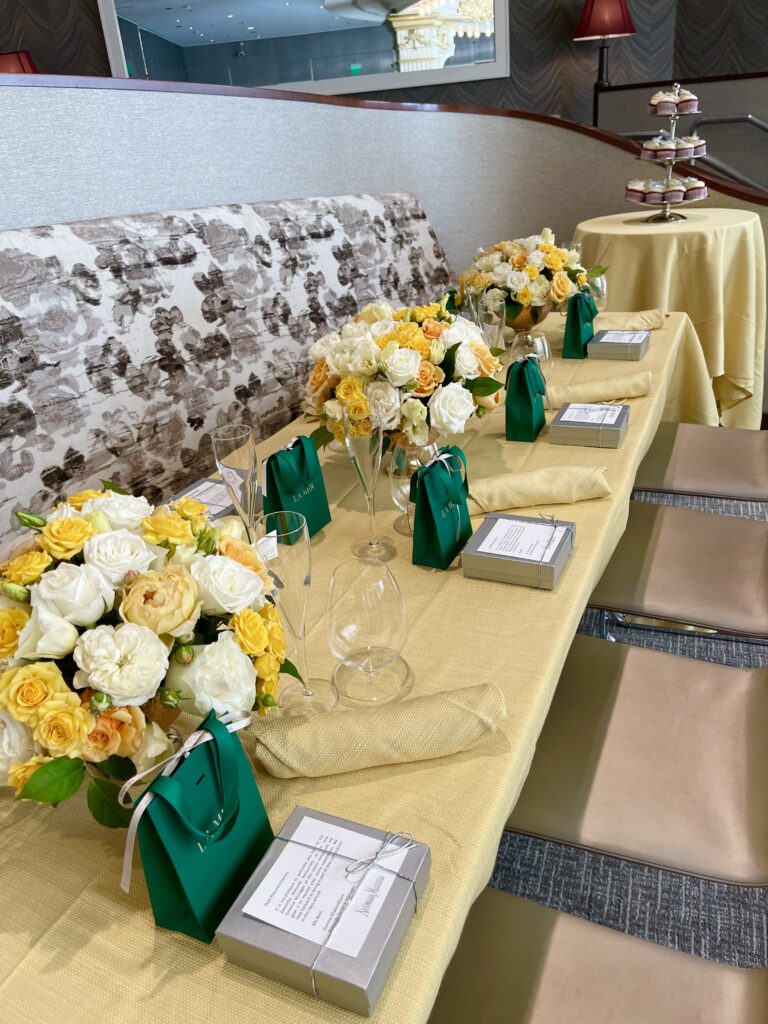 With my long time love and friendship with NM, and with a fifteen-month absence of indoor dining in San Francisco, it was important to me to create an unforgettable and joyful afternoon that was both opulent and safe for my guests. So, with a tip of the hat (or in this instance, a tip of a cowboy hat) to Neiman Marcus' Dallas roots, I wanted to emerge my lunch guests into a quintessential Neiman Marcus experience. And what could possibly evoke the sentiment? Yellow Rose of Texas!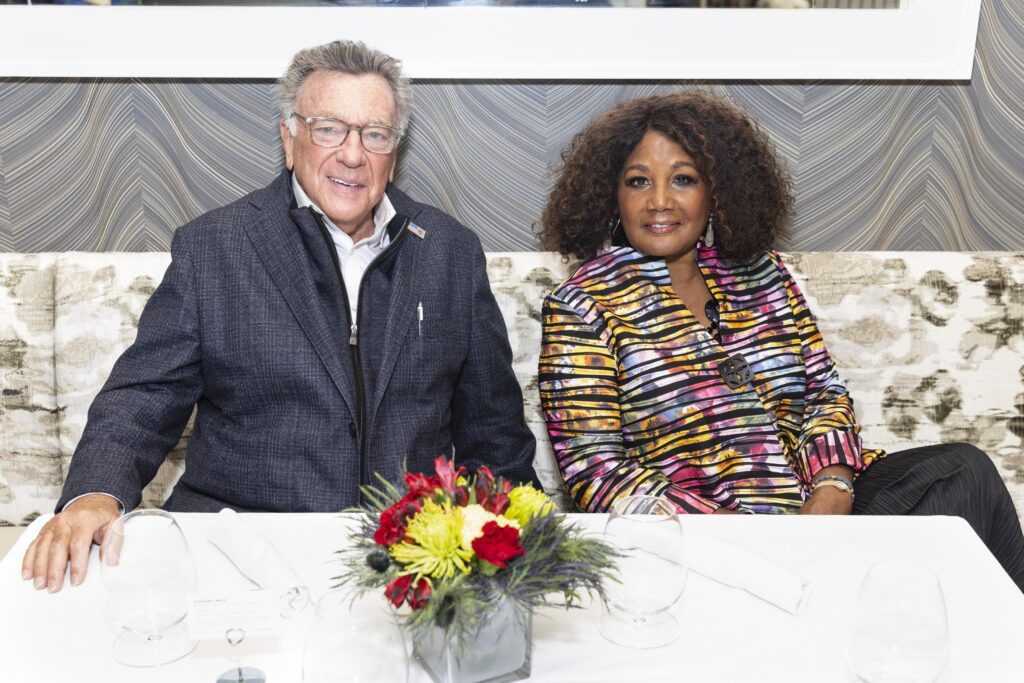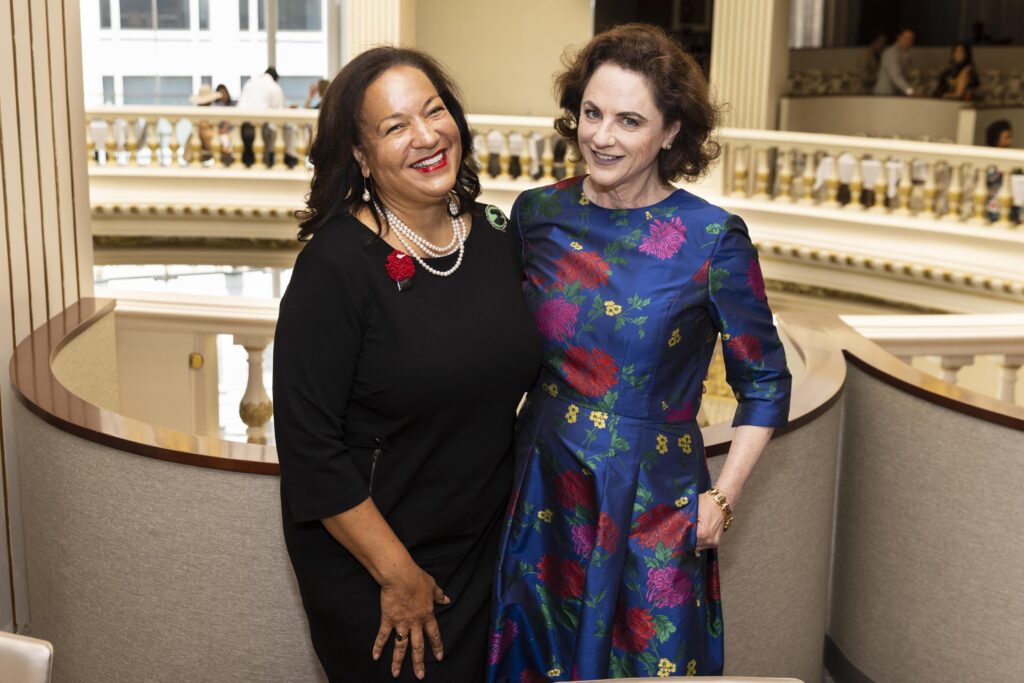 My guests dined on NM's classic lobster club sandwiches, crab & shrimp Louie salads, and copious quantities of champagne, while sitting at a table adorned in marigold linens, grand bouquets of roses (crafted by Bella Fiora Floral Design) in various hues of yellow, complete with gift bags of indulgent La Mer skincare, and a jewel box of NM's iconic signature chocolate chip cookies; and to top off the afternoon? Naturally, I baked red velvet cupcakes with cream cheese buttercream, topped with edible NM butterflies. Guests included retired ABC 7 anchor, Carolyn Tyler; socialite Sonya Molodetskaya; press agent, Lee Housekeeper; Lisa Harris; the Hon. Karen Clopton; Table + Teaspoon founder, Liz Curtis; and socialite, Heide Betz.
The chic afternoon pastime of Ladies Who Lunch continues to this day across the Neiman Marcus Group family of stores, including Bergdorf Goodman in New York City, and is often copied, but never surpassed.