After the cancellation last year, the luxury motorcars' annual biggest gathering in the world returned in full force.
Pebble Beach Concours d'Elegance
The iconic Pebble Beach Concours d'Elegance celebrated its 70th Anniversary with an impressive 38 former Best of Show cars on display at the 18th fairway of Pebble Beach Golf Club to welcome a new winner to their ranks. This year, from the 230 collector cars participating in the competition, the car named Best of Show was the 1938 Mercedes-Benz 540K Autobahn Kurier belonging to The Keller Collection at The Pyramids in Petaluma, California. The rare Mercedes-Benz 540K features a long, sweeping hood and aerodynamic design, echoing the legendary Silver Arrow Grand Prix cars, plus its advanced engineering and superlative performance. Mercedes made only two 540K Autobahn Kuriers, and this is the only one still in existence and still sporting its original equipment.
This is the proud owner Arturo Keller's third Best of Show win at Pebble Beach Concours d'Elegance, coming after a 1986 win with a 1936 Mercedes-Benz 500K Special Roadster and a 2001 win with a 1930 Mercedes-Benz SS Erdmann & Rossi Roadster. "It's my triple crown," said Keller. "This is the only remaining car of its kind, and I am the second owner from new. It's a very special car, and we are very happy." The car was last restored in 2006, and has continued to be shown, rallied, and toured since then. The Kellers also won the Elegance in Motion Trophy.
I had the pleasure to represent Arturo Keller for his dozen-plus real estate investments in San Francisco Bay Area, including the Petaluma ranch where he built Keller Estate Vineyards and the private museum for his vintage car collection known for more than 60 very rare Mercedes-Benz cars that's the envy of even the Mercedes-Benz Museum in Stuttgart. This win is the ninth for Mercedes-Benz, tying the marque with Bugatti for the most Best of Shows at Pebble Beach. "This Best of Show winner embodies so many sensational features—styling, speed, and performance. Unveiled at the Berlin Auto Show and built to rule the new German Autobahn in 1938, this rare automobile is truly an example of beautiful German design," said Concours Chairman Sandra Button as she handed the trophy and the ribbon. Other contenders for the Best of Show 2021 included Joanie & Scott Kriens' 1937 Bugatti Type 57S Corsica Drophead Coupé; the 1966 Ferrari 365 P Pininfarina Berlinetta Speciale shown by RQ Collections; and Jonathan & Wendy Segal's 1956 Maserati A6G Zagato Coupé.
The Pebble Beach Concours raised more than $1.75 million for charity this year, bringing the event's total charitable donations to over $32 million to date. Through the Pebble Beach Company Foundation, the primary charitable partner of the Concours, these funds will benefit more than 95 local charities, impacting the lives of more than 10,000 children annually in Monterey County. The 71st Pebble Beach Concours d'Elegance took place on Sunday, August 21, 2022. For more information on the Pebble Beach Concours, visit www.pebblebeachconcours.net.
Gooding & Company, the official auction house of the Pebble Beach Concours d'Elegance, realized more than $107 million in sales at its annual Pebble Beach Auctions this weekend. Friday evening's auction included the world record-breaking sale of a 1995 McLaren F1, which sold for $20,465,000, and a 1959 Ferrari 250 GT LWB California Spider Competizione, which brought in $10,840,000. The auction on Saturday afternoon followed suit with its star cars, including a 1929 Bugatti Type 35B Grand Prix, which sold for $5,615,000, and a 1958 Ferrari 250 GT Series I Cabriolet, which achieved $4,405,000.
Concept Cars at the Pebble Beach Lodge Lawn
Pebble Beach is not all about vintage cars. Below are concept cars on display at the Lawn on August 15 that resemble the science fiction and dreams of its creators:
-The Genesis X Concept is the brand's fifth concept car, following the New York, GV80, Essentia, and Mint concepts, and epitomizes its new take on sustainable luxury car design.
-Porsche Taycan 4S Cross Turismo draws on the strengths of its sport sedan sibling.
-McLaren's Artura is first-ever series-production High-Performance Hybrid, representing the distillation of more than half-a-century of expertise in race- and road-car engineering
-INFINITI QX60 offers the stunning design and comfort of a luxury vehicle, while also providing the utility of a three-row SUV.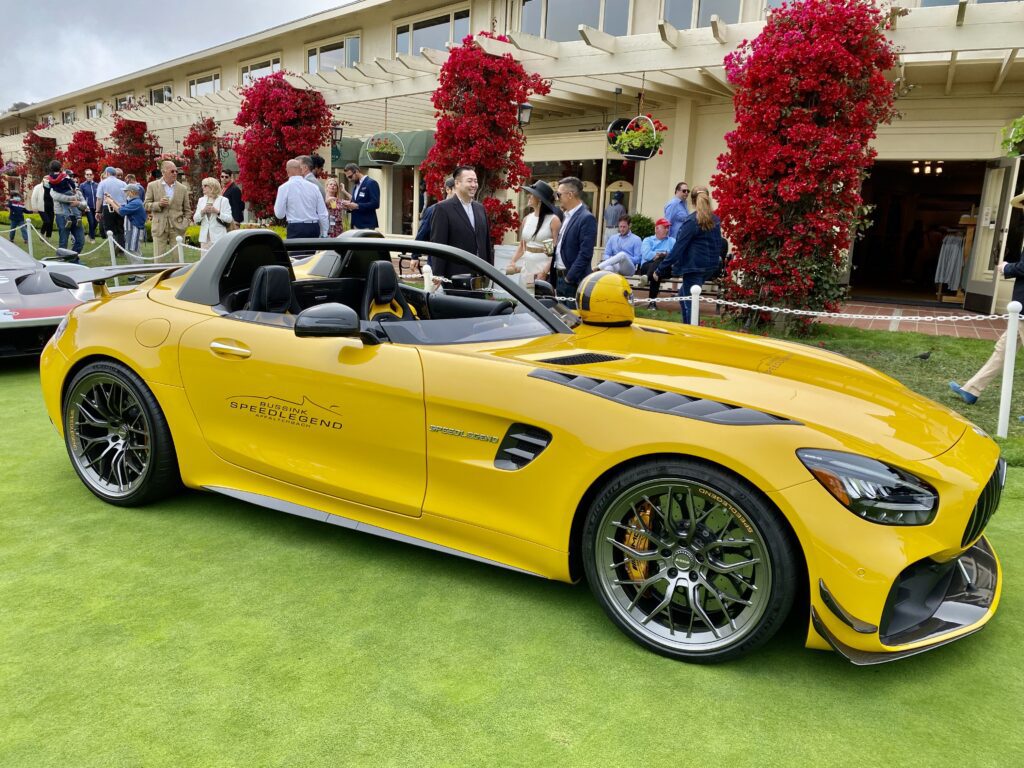 -BUSSINK GT R Speedlegend is a contemporary interpretation of a unique high-performance speedster with a Formula 1 feeling goes above and beyond with 850 ps and lots of carbon light-weight components. The donor vehicle for the BUSSINK GT R Speedlegend is the Mercedes-AMG GT R Roadster, limited at 750 units.
-The Marsien concept, based on the all-new Porsche 992 Turbo S series, is a hybrid that combines a modern-day supercar, with all its comfort and day-to-day practicality, with off-road capabilities, enabling the ultimate on- and off-road driving experience. Marc Philipp Gemballa, the 27-year-old son of Uwe Gemballa, is launching this very first production-ready supercar, following in the footsteps of his father and starting a new era in 2021.
-The Maserati MC20 combines performance, sportiness and luxury in a unique style that reestablishes Maserati in the mid-engine, RWD super sports car segment. The pure sculptural design achieves incredible aerodynamic efficiency and balances craftsmanship with engineering. I loved the butterfly doors that are both beautiful and functional, as they enable optimal access in and out of the cabin.
-The Lincoln Aviator Shinola Concept showcases a soft white exterior, inspired by Shinola's iconic mother of pearl stone dials, that reflects hues of blue in a true expression of luxury.
In revising the current 993 chassis to accommodate an open cockpit, Gunther Werks has taken extensive steps to avoid a common side effect of removing the roof—a reduction in torsional rigidity.
-The Ford GT is America's only Le Mans-winning supercar and the pinnacle of Ford Performance.
 The Quail, A Motorsports Gathering 2021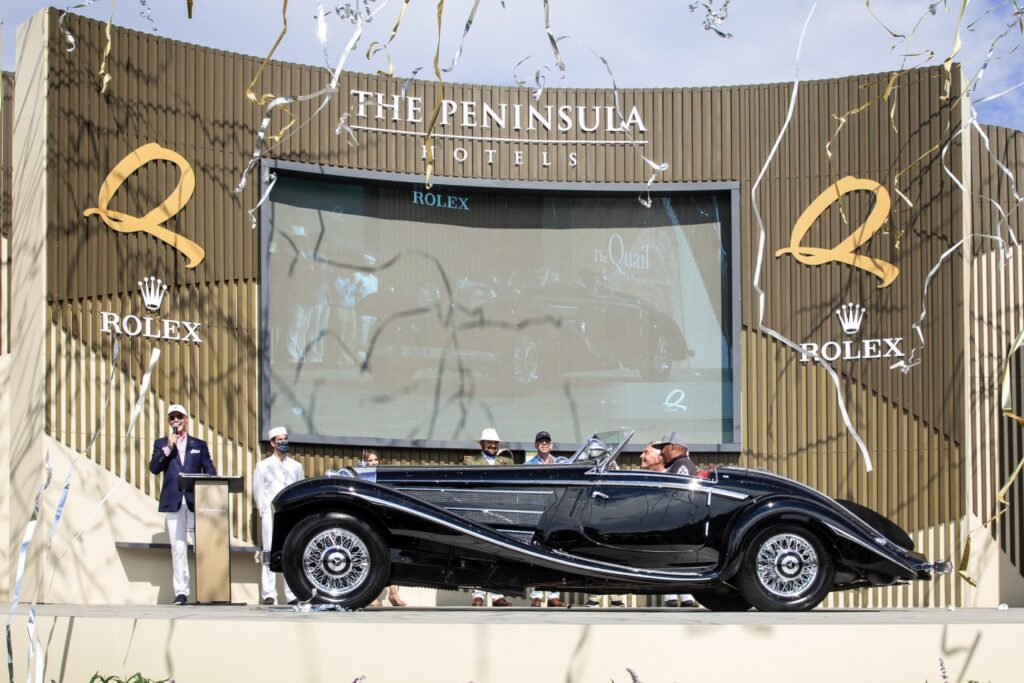 A signature event hosted by The Peninsula Hotels and Quail Lodge & Golf Club in Carmel, The Quail has created an exclusive experience for motorsports enthusiasts and collectors from around the world to enjoy collections of exquisite motorcars both vintage and new on display plus fine dining at a dozen culinary pavilions hosted by Peninsular Hotels on the greens of Quail Lodge & Golf Club. The Quail 2021 tickets were sold out months before the event, even at a $1,200 price tag. The themes in 2021 were Cars of Curiosity, 50th Anniversary of the Alfa Romeo Montreal and Automotive Couture, French Cars Featuring the 50th Anniversary of the Citroën SM. Sponsored by Rolex, the trophy competition included the Classes such as Pre-War Sports & Racing, Post-War Sports, Post-War Racing, The Evolution of the Supercar, The Great Ferraris, Custom Coachwork and Sports and Racing Motorcycles.
The Rescue of Aston Martin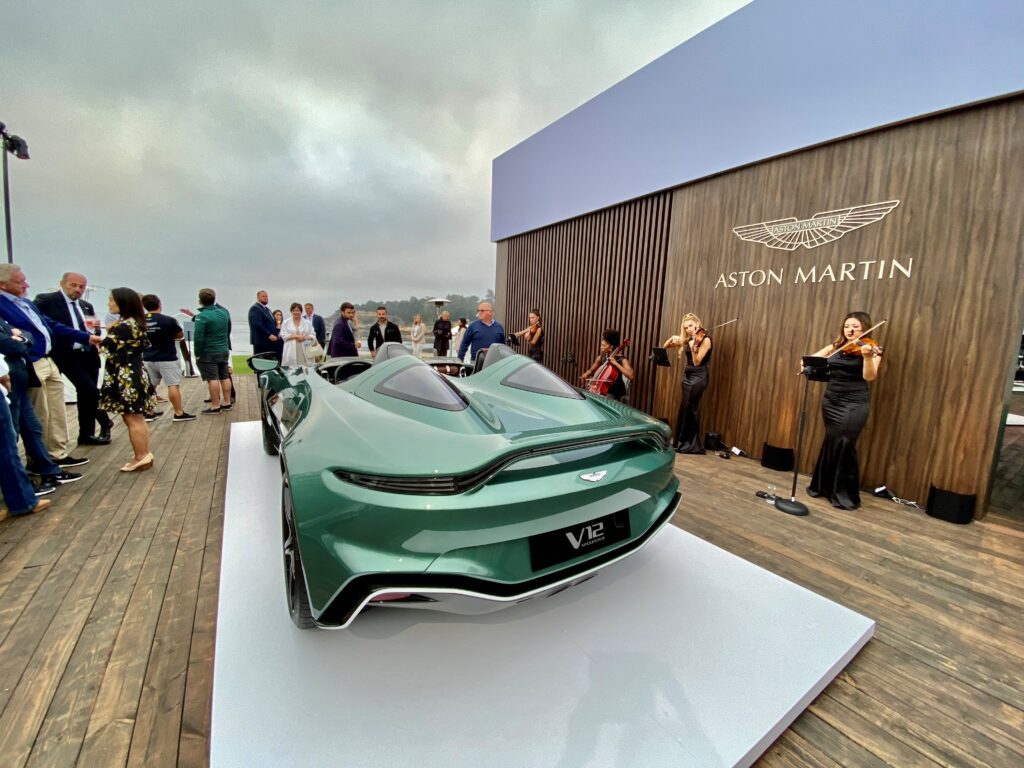 A consortium led by Canadian billionaire Lawrence Stroll invested £182m, with the rest of the funds coming from existing investors, to rescue the ailing British car maker Aston Martin. Mr Stroll partly owns the Racing Point Formula 1 team which he purchased from Vijay Mallya's Force India Formula 1, now branded Aston Martin. Also, Mr. Stroll became the executive chairman as his consortium took 20% stake in Aston Martin whose best known customer is fictional spy James Bond and the company recently revealed that four of its cars will feature in the next Bond movie, "No Time To Die." The flashy James Bond connection unfortunately didn't pencil out profits, Aston Martin's financial difficulties started with the building of a new factory at St Athan in South Wales, where it will produce its long-anticipated sports utility vehicle, the DBX that is expected to give big long-term benefits for the carmaker. The new funding from Stroll gave Aston Martin some much-needed stability and to get the DBX into production. Mr. Stroll is known for his partnership with Hong Kong billionaire Silas Chou in Tommy Hilfiger, Michael Kors and Asprey. He is also a car collector.
Re-birth of Delage
Delage is a French luxury automobile and racecar company founded in 1905 by Louis Delâge in Levallois-Perret near Paris; it was acquired by Delahaye in 1935 and ceased operation in 1953. On 7 November 2019, at the Lyon Époqu'auto show, Les Amis de Delage and entrepreneur Laurent Tapie, son of Bernard Tapie, announced that they had signed an agreement for relaunch the Delage Automobiles brand. Tapie becomes president of Delage Automobiles. The new Delage planned for this project is called the Delage D12. It is a hybrid street-legal Hypercar powered by a normally aspirated V12 engine of 990 hp (740 kW), coupled to an electric motor of 110 hp (82 kW), for a cumulative power of 1,100 hp (820 kW). It will be produced in France like all Delages.
Delage Automobiles has joined forces with racing driver Jacques Villeneuve as the development driver for the future production model. The car was presented at private events in Los Angeles and Orange County in California in December 2019, then in Monaco in September 2020, Geneva in November 2020 and Dubai in December 2020. Voted "most beautiful car in the world" (best Design) by the jury of the Automobile Awards 2020/2021, only 30 units of the Delage D12 will be produced and sold at a price tag of 2 million euros per car.
 The Triple Crown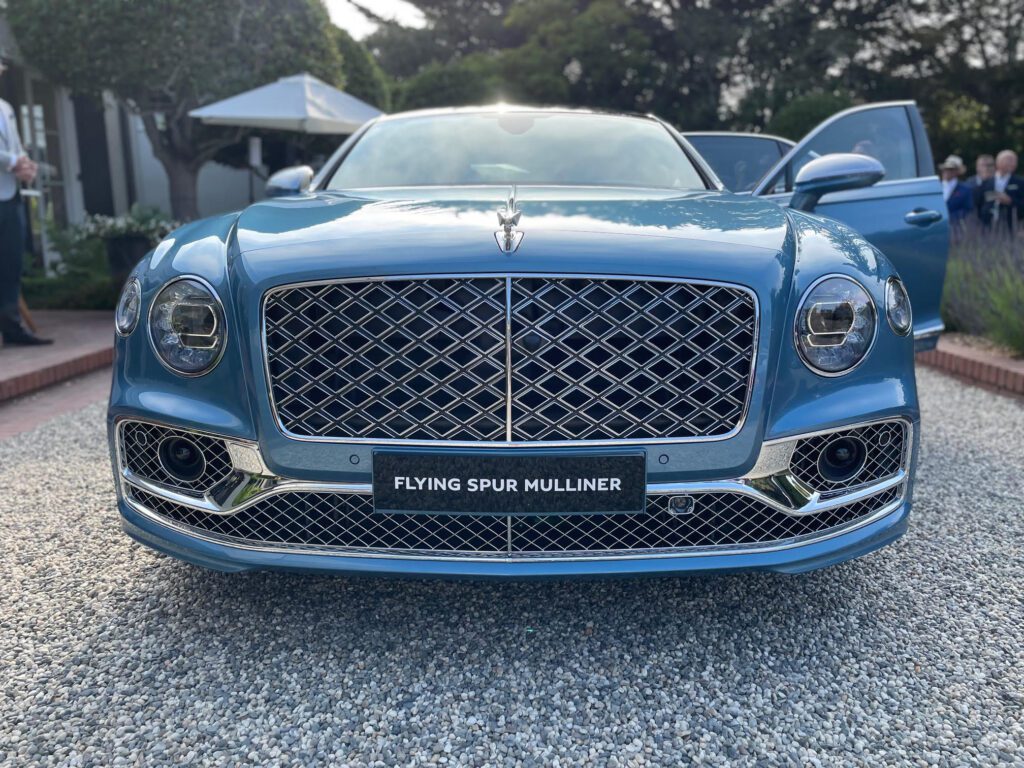 Bentley, Bugatti and Aston Martin are clearly the triple crown of Monterey Car Week.  These three car makers were on display for this year's spectacular Pebble Beach Concourse D'Elegance. Horsepower engine, transmission and performance define all as pure thoroughbreds. Bentley unveiled the newest member to the Bentley collection — The "Flying Spur Mulliner," described as the pinnacle car in the Flying Spur range, it is available as a W12, V8 or hybrid. Its horsepower capacity of 0-60 mph time as quick as 3.7 seconds, with top speeds 207 mph in the W12 it is agile while also delivering uncompromised elegance. This car clearly exudes luxury with its leather, wood, and metal accents, combined with modern technology. The exterior is equally as elegant with 22-inch wheels and self-leveling wheel caps. Bentley's Flying Spur Mulliner is the perfect car for in city driving or an occasional tailgate on the green as picnic tables elegantly deploy. Bugatti exudes a blend of style and engineering creating a sophisticated masterpiece. 
At Concourse D'Elegance, Bugatti displayed their Chiron, a quad-turbocharged W16 engine which generates 1,500 hp and 1,600 Nm of torque, thus outputting 2,000 and 6,000 rpm resulting in massive performance. Showcased was the sophisticated Chiron in dark blue and orange metallic trim, it was quite the vision. The beauty of its curves the horseshoe grill seamlessly blends with the C-bar on the side Bugatti's signature. With a price tag of nearly $3 million, the Chiron is a statement piece for the buyer who desires center stage.  Aston Martin was staged at Club 1913 on the 18th fairway. The epitome of elegance and grander, violins serenaded guests as they strolled along the perfectly manicured pebbled driveway. 
The Union Jack concealed the view of what would awe its spectators. The Aston Martin Valkyrie Spider and Valhalla model were unveiled among a crowd of select spectators. The Valkyrie Spider was unveiled as a sold-out car by new CEO Tobias Moers. The Valkyrie has removable panels and a top speed of 217 mph. Chairman Lawrence Stroller stated that, "We decided to launch in the most important market in the United States, Pebble Beach was the right place. The future could not be any brighter for Aston Martin."