My affinity with caviar goes way back. The creamy and briny sensation, the ritual, the elegance, the accoutrements, everything—a food so perfect the French even have their own dish in which it's served, and the name says it all: a presentoir, as if to be said that caviar should be presented.
One knows a celebration or a special time is to be had when the caviar is served, so what better way to kick off a romantic Valentine's Day than caviar for two?
I always make sure to serve it in copious quantities at every event I host, presenting it to guests in a most memorable way. I fondly remember guests' amusement when I served it in a giant sushi bune (boat) at my Japanese-themed "Kaiseki Bloom" birthday luncheon or in a grand gold punch bowl at my Southern turn-of-the-century, Georgia-themed "Mystique Savannah" luncheon, hosted at Neiman Marcus San Francisco's posh Penthouse on 5.
I may be stating the obvious when I say that caviar is my all-time favorite snack. It's often a running joke among friends when the waiter asks what I'm having. We could be at a barbecue ribs joint, and when a waiter asks what I'd like to order, there's always that one smart aleck that yells, "He'll have the barbecued osetra!" Yeah, those are my friends! I lovingly refer to it as "fishberry jam," from a line from my favorite film, Auntie Mame (1958, Warner Bros., starring Rosalind Russell). I enjoy it more than I wish to confess!
I'm often asked where the best places (or place) in San Francisco are to have caviar and I'm delighted to share with you my top picks!
The Rotunda at Neiman Marcus San Francisco
The Rotunda at Neiman Marcus is where I spend most afternoons; it's my home away from home. One can usually find me holding court at my usual table where caviar and oysters and the burger (or whatever new delight chef is excited to share) is my usual lunch. I've consumed more caviar at Ro than any other place. "Ro" is the nickname I dubbed due to pure laziness when trying to text friends on the T9 keypad of my old Motorola flip phone back in the day. Hey, it was the nineties, and the iPhone was years away!
The Rotunda's executive chef, Erik Harrelson, has curated a delectable selection of sustainably grown and farmed California caviar from The Caviar Company. I was honored (and most willing) when he asked me to help him narrow down his choices from a dozen varieties to the three he offers today: the royal white sturgeon (my go-to), Russian osetra, and the exquisite Imperial Gold osetra that I reserve for special occasions. Chef Erik offers traditional accoutrements (sieved hardboiled egg whites and yolks, crème fraîche, chives, capers, and his applaudable buttery sourdough blinis—a tip of the hat to San Francisco) served in a chic Michael Aram coral presentoir. Try ordering it the "Aubrey way," simply served with crème fraîche and chef's ultra-thin, house-made potato chips (made fresh daily). Newsflash … I'm at Ro noshing on some fishberry jam while typing this … shocker!
Gary Danko
I would guess that anyone who has been to Gary Danko in San Francisco would agree that it's the quintessential place to go to impress. They don't call it the "Gary Danko experience" for nothing. Gary Danko is one of my absolute favorite restaurants to dine for dinner and a mainstay for celebrities, politicians, A-listers, and the like. It's always on my list of places to recommend when asked where to go for dinner by out-of-towners. Whenever I mention that I am going there, often a gasp of excitement follows. It's chic, elegant, and extremely romantic, with (hands down) some of the most exquisite cuisine (and one of the best wine selections) in town and one of my top picks for caviar. When I heard the news of their reopening after a pandemic-related closure, I (and other San Franciscans and fans worldwide) breathed a sigh of relief.
Gary Danko features both 3-course and 5-course menu selections and a tasting menu. If you desire all courses to be entrées so, be it; if you wish them to be all dessert, well, no judgment here. One of my all-time favorite, private, midweek "me time" moments to unwind is to sneak out of the house and head over to GD around 9 p.m. when it's less busy and there is ample room at the bar where I can chat it up with Gary Danko's manager (and husband to Mr. Danko), the marvelous Greg Lopez. I like to order what I refer to as the 4-course late night supper (not to be confused with the 4-course option, but rather a 3-course selection with added caviar to start): the Maine lobster salad (avocado, fennel, citrus, quinoa, and mustard-tarragon vinaigrette), horseradish crusted salmon medallion (with dilled cucumbers and grain mustard sauce), and the filet of beef with soy-mustard glaze (and eggplant-shiitake marmalade, potato gratin, and haricot verts with pearl onions) is my lineup of choice—all beginning with an ounce of caviar!
Gary Danko offers a selection of three caviar varietals: the white sturgeon, Black Sea osetra, and the most indulgent of the three (and my favorite), the Imperial Gold osetra. The highlight of GD's caviar service is their signature buckwheat blinis. Made fresh to order, the blinis are crisp and oh-so-buttery. Served with rich crème fraîche, they are truly heavenly. My usual accoutrement to fishberry jam is potato chips, but when it comes to these decadent buckwheat blinis, my will power is, well, powerless. GD continues to be a special place in my heart, and, like caviar, it's a culinary treasure!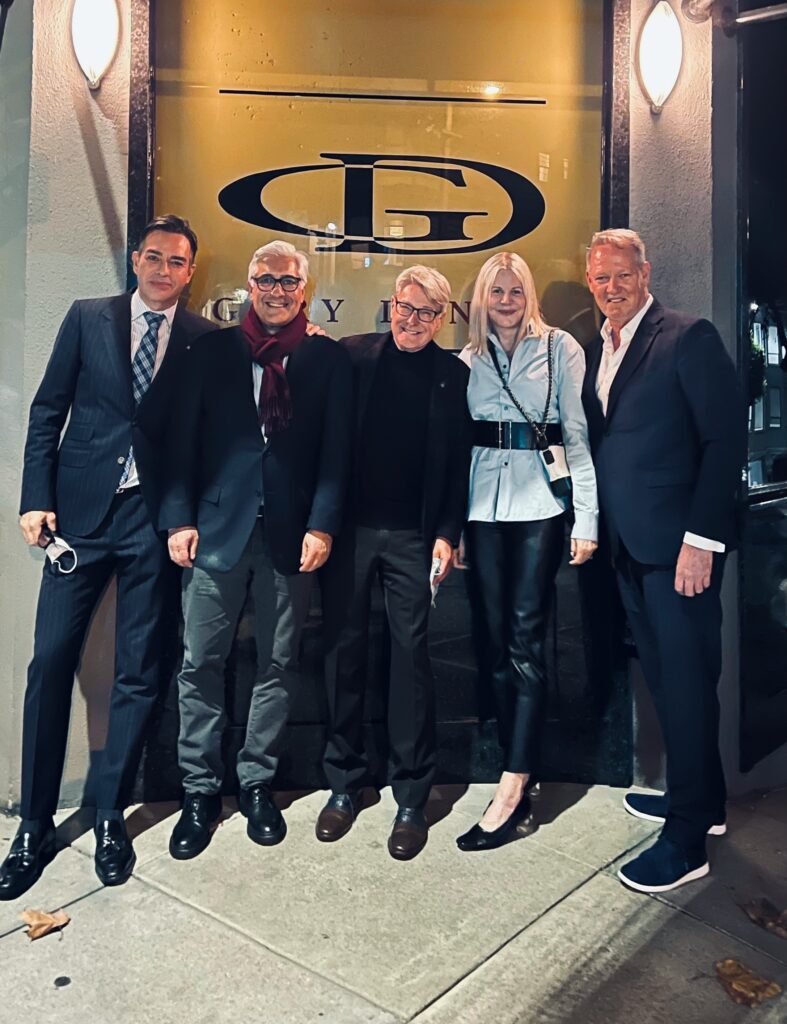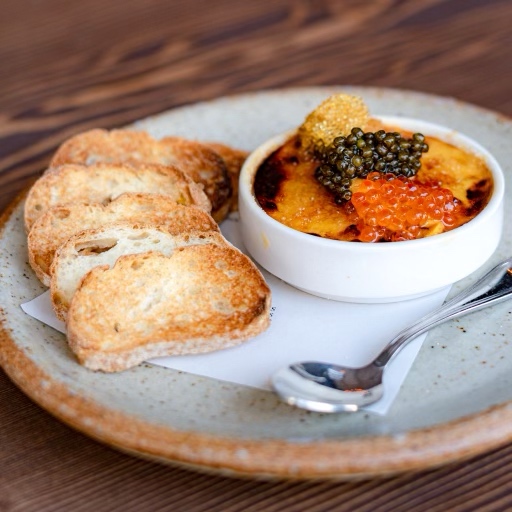 Special mention: While at Gary Danko this weekend, I ran into friends David and Mary Beth Shimmon, along with their friend and famed restaurant critic, Michael Bauer and his husband, Michael Murphy. I mentioned that I was writing about my favorite spots in SF for caviar, and Michael Bauer raved about the uni crème brûlée (generously topped with Kaluga caviar, trout roe, and yuzu tobiko) at Greg Lutes' 3rd Cousin in Bernal Heights. When Bauer raves about a dish, it's a call to action to check it out … and I did! Absolutely scrumptious and worth a mention!
Spruce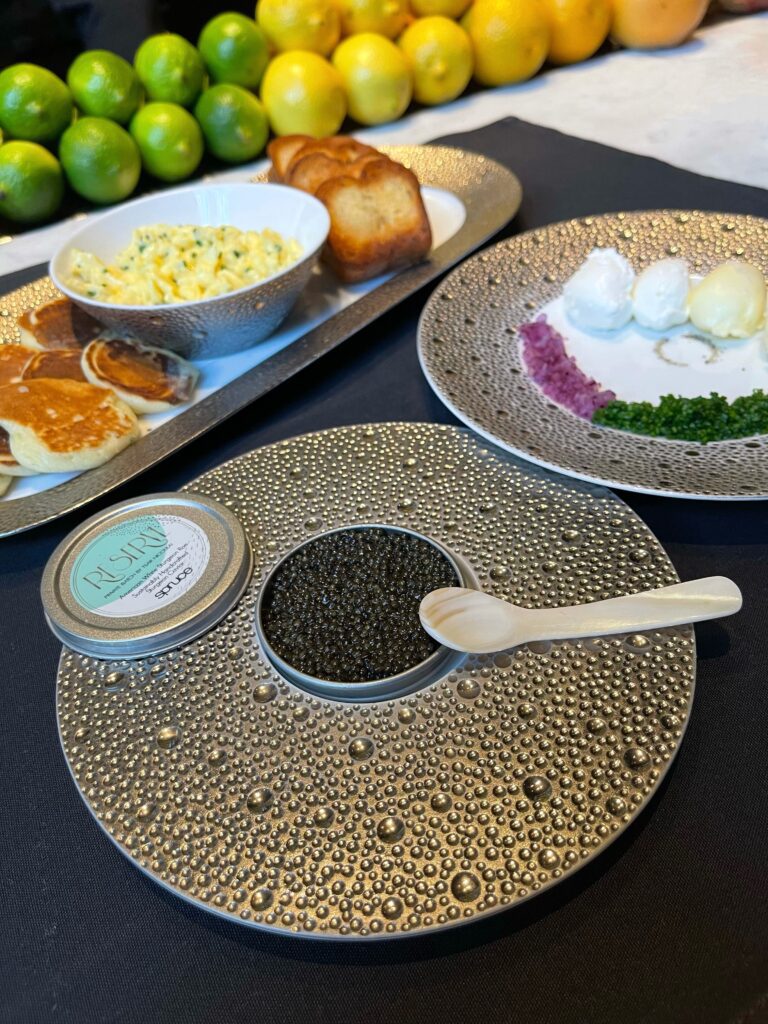 When I'm craving solitude and need an escape from the hustle of downtown life, a trek out to Spruce is a great way to enjoy a moment or two to myself. Spruce may have one of the most eclectic selections available. It proudly offers caviar Perlita from the south of the Bordeaux region of France. This caviar has a softer and brinier experience and is sustainably farmed by Tsar Nicolai caviars with a selection of kaluga, golden osetra, and reserve. Flights of all three or a flight of four (including the French Perlita) are available to those who prefer an explorative approach.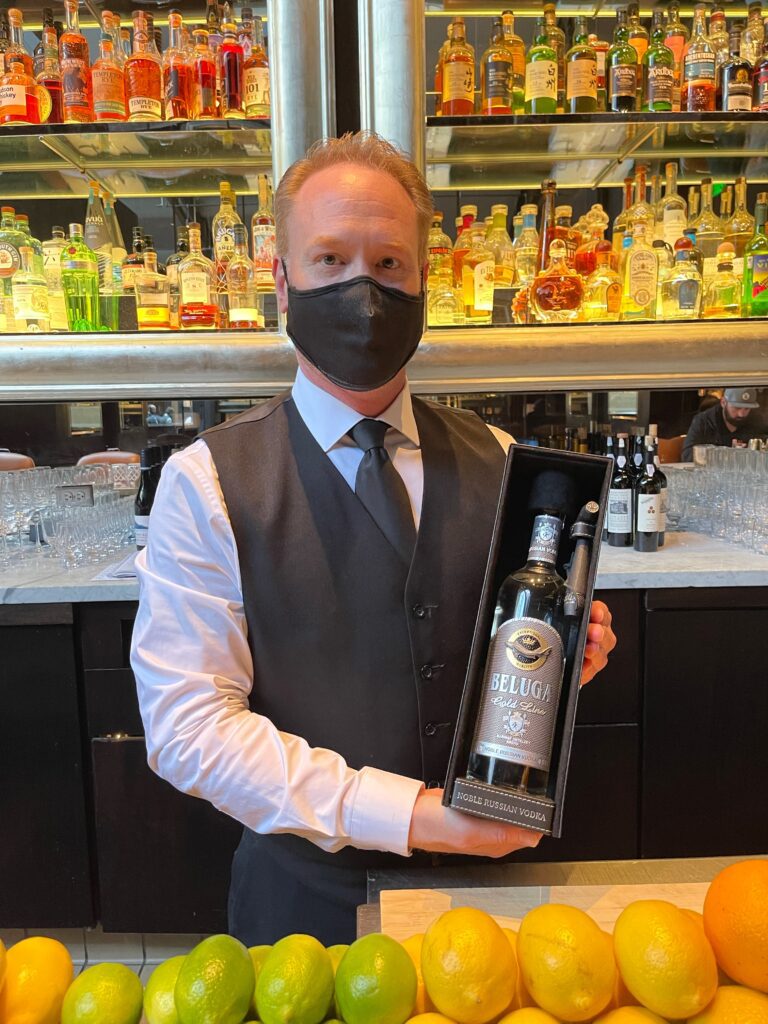 Served on beautiful French Bernardaud écume porcelain presentoirs, Spruce's caviar service includes creamy French-style soft scrambled eggs, along with traditional blinis (gluten-free buckwheat blinis by request when available), and toasted brioche, with quenelles of crème fraîche and sea salt topped butter, minced shallots, and fresh chives. Bartender Geoffrey Saubolle suggests Beluga vodka, distilled especially for pairing with its namesake. For Valentine's Day, Spruce is offering a chef-curated, multi-course table d'hôte menu. Reservation availability fills up fast, so be sure to make your romantic dinner plans early. I suggest using OpenTable to book your reservation, because, as I have learned first-hand (while calling to confirm their caviar names), they tend to get busy and the host who answered the phone can be (like spent caviar) quite salty.
Tsar Nicoulai Caviar Café at the Ferry Building Marketplace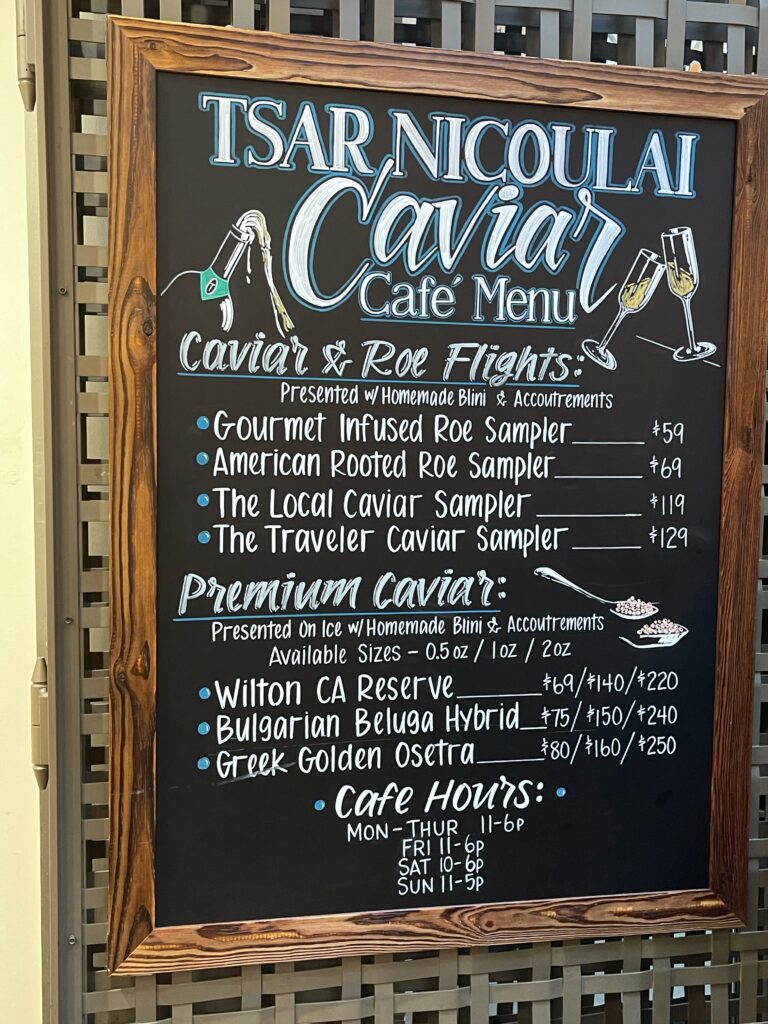 Back in the day, I would have been hard-pressed to miss an episode of The Oprah Winfrey Show, often having friends over for cocktails so we could laugh and/or share our Winfrey-inspired "ah-ha" moments together. My favorite daily ritual was to rush over to the Ferry Building's marketplace and pick up a half-wheel of Mt. Tam triple cream brie from Cowgirl Creamery (which, sadly, has since closed the Ferry Building store, though the Mt. Tam brie is available at select cheese mongers and online at cowgirlcreamery.com), a fresh small loaf of sweet ficelle (petite baguette) from the Acme Bread Company next door, and a generously sized jar of Tsar Nicoulai's "Estate" caviar, then dashing along the 12-minute stint from the Ferry Building to our FiDi residence, so my pals and I could nosh while we all got our Oprah on. Sadly, that ended when The Oprah Winfrey Show went off the air and TNC's Ferry Building location shuttered its doors.
Although, unfortunately, Winfrey is still off the air, we San Franciscans (and visitors alike) rejoiced when the Tsar Nicoulai Café returned to its original spot (at space 16) across from the Acme Bread Company inside the San Francisco's historic Ferry Building Marketplace. Founded in 1984, Tsar Nicoulai has been the premiere purveyor of fine, sustainable caviar to some of California's chicest restaurants and on the tables of romantic Valentines dates, engagements, weddings, and other momentous celebrations. With their newly reopened retail space, it's just a fun excursion to the Ferry Building (or shop tsarnicoulai.com) to enjoy a variety of selections not found anywhere else, all while people watch from their casual bar seating.
I recently stopped by TNC and met with their new café manager, Moises Perez. I was delighted to learn that Tsar Nicoulai just had their roe harvest on November 6, now in its 8-week curing process just in time for Valentine's Day. Tsar Nicoulai offers a large extensive variety of caviar, ranging from classic varietals like their Select, Reserve, and the coveted Crown Jewel, as well as a whimsical selection of infused roes such as Ginger Whitefish, Truffled Whitefish (marvelous topped on seafood linguine), and the Smoked Gold Pear Trout, which makes for a decadent bagel and cream cheese! And Tsar Nicoulai's imported Greek caviars like the baerii (small black roe) and the golden osetra, available in TNC's "The Traveler" sampler pack. Tsar Nicoulai offers all the traditional accoutrements to go and packs your caviar in a charming, reusable, insulated lunch box, making it a one-stop shop for all things caviar.
Aubrey's Valentine's Heart-Shaped Ribeye for Two
Carved tableside and made to share, this king of steaks is a sweet notion and a romantic expression for this Valentine's Day or any time you want to share your heart with the special person in your life.
1 2-pound ribeye steak (about 2-1/2 inches thick)
¼ cup water or beef stock (or red wine)
3 tablespoons butter
1 tablespoon brandy or cognac
2 cloves fresh garlic, minced (optional)
1 teaspoon olive oil
1 teaspoon kosher salt
½ teaspoon dried thyme
½ teaspoon ground black pepper
INSTRUCTIONS:
Holding your hand flat over the surface of the ribeye steak, from the fat side (rounded side) carefully butterfly the ribeye towards the opposite side, being sure not to cut all the way through, leaving about a ¼ inch. You should now have two attached steaks forming a large heart-shaped ribeye steak.
Coat both sides with olive oil, rub both sides with minced garlic, then season with dried thyme and ground black pepper.
Place seasoned ribeye on a dinner plate, cover with plastic wrap, and refrigerate 30 minutes to an hour. Remove the seasoned ribeye from refrigerator about 10 minutes prior to cooking.
Heat a large skillet over medium-high heat. Add two tablespoons of butter to melt.
Season both sides of the ribeye with salt. (You want to season with salt right before cooking to avoid a tough steak.)
For medium-rare, cook the ribeye in butter for three minutes on the first side, using a spoon to baste the ribeye with the butter in the skillet. Flip the steak and cook another three minutes, basting with the butter as before.
Transfer the ribeye to a large plate, cover tightly with foil and set aside.
Lower the heat to medium and carefully add the brandy or cognac, tilting the skillet away from you. Add ¼ cup water (or stock), scraping any brown bits (fond) from the bottom of the skillet. Simmer to reduce the liquid by half (about five minutes). Stir in any liquids that have accumulated on the plate from the ribeye, add the remaining tablespoon of butter to the pan sauce, and stir until melted to thicken and silken the pan sauce. Optional: for a refined sauce, strain through a sieve.
Carve the heart-shaped ribeye tableside and drizzle with the brandy pan sauce (or serve in a gravy boat on the side).
Serve the ribeye with a baked potato or my creamy, garlicky pecorino cheese and parsley noodles and steamed artichokes with curry aioli (both recipes are available at AubreyAboutTown.com).