Take a Look at the Past With Archivist Barbara Rominski
Digging deep into the extraordinary history of the company that just marked its centennial season is the job of the San Francisco Opera Director of Archives, Barbara Rominski. From the popularity of opera during the Gold Rush to a bold beginning 100 years ago and throughout the years leading up to the centennial season, San Francisco Opera has presented an internationally acclaimed standard. When Haute Living, San Francisco asked Rominski to share some of her knowledge, she uncovered a few fascinating facts. For instance, from its beginnings, "in a sense, the whole enterprise was crowdfunded."
If you love SF Opera, don't miss these two special exhibitions. BRAVO: Celebrating San Francisco Opera, Its Italian Roots and Legacy. Through October 22 at Museo Italo Americano at Fort Mason Center. 

Also, see actual costumes from the archives on display. San Francisco Opera: A Centennial Celebration through October 15 at SFO Museum is in Harvey Milk Terminal 1 (located post-security in Departures Level 2) at San Francisco International Airport.
HL: Founded in 1923, is San Francisco Opera the nation's first company? 
BR: Actually, the roots of opera in America extend back to the 18th century, and in San Francisco, back to 1851 during the Gold Rush. Though San Francisco Opera was not the first professional company established in the United States, it is one of only three American opera companies to ever reach the centennial milestone, which is significant. Our 100th season was a celebration of that achievement as well as the beginning of a new era for the Company.
HL: What operas were performed in the inaugural season? 
BR: San Francisco Opera's inaugural season was comparatively short to what we present now, but it was filled with bold productions and some of the greatest singers of the day. Company founder Gaetano Merola packed 10 operas into just 13 days, beginning with Puccini's La Bohème and including the composer's still very new triple bill, Il Trittico, and [Arrigo] Boito's Mefistofele, a complex piece which requires an enormous, well-rehearsed chorus. And he featured Beniamino Gigli, the world's greatest (and most expensive) tenor. Merola's ambition was breathtaking and has been a guiding principle throughout San Francisco Opera's first century.
HL: What was the local response? 
BR: From the early days of the Gold Rush, San Francisco has been an opera-loving city, discerning and accustomed to hearing the latest and greatest. So Merola's new resident company was welcomed enthusiastically and generously supported. In a sense, the whole enterprise was crowdfunded.
HL: In what ways were Italian Americans connected to the roots of our opera company?
BR: As a Neapolitan transplant, Merola had deep connections in the local Italian community. During card games and at parties and events he raised tremendous support for the Company. With seasons featuring mostly Italian operas and artists like Claudia Muzio, Beniamino Gigli, and Giuseppe De Luca, the Company had a strong Italian profile from the beginning and was a point of pride for the Italian American community.
Talk about dramatic scenes: Did you know that during an outdoor concert on August 30, 1953 at Stern Grove, Gaetano Merola collapsed and died while conducting soprano Brunetta Mazzonlini in the aria "Un bel dì" from Puccini's Madama Butterfly?
HL: When the War Memorial Opera House opened in 1932, was it the world's largest indoor theater? 
BR: It wasn't the largest, but its then 3100+ capacity certainly made it one of the largest auditoriums. It is, however, the first municipally funded, owned, and operated Opera House—which was quite an accomplishment given it was built and opened during the height of the Great Depression; a time when many other theaters across the country were going dark.
HL: Who are some of the international superstar opera singers that have performed in San Francisco? 
BR: There are so many. In fact, there are only a handful of superstars who didn't sing with San Francisco Opera. This company has a proud tradition, especially during the Kurt Herbert Adler years, of being the first American opera company to present the greats in this country. That list includes Renata Tebaldi, Mario Del Monaco, Leontyne Price, Tito Gobbi, among many others. Both Price and Luciano Pavarotti considered San Francisco their artistic home and sang many of their roles here first before taking them to the East Coast or abroad.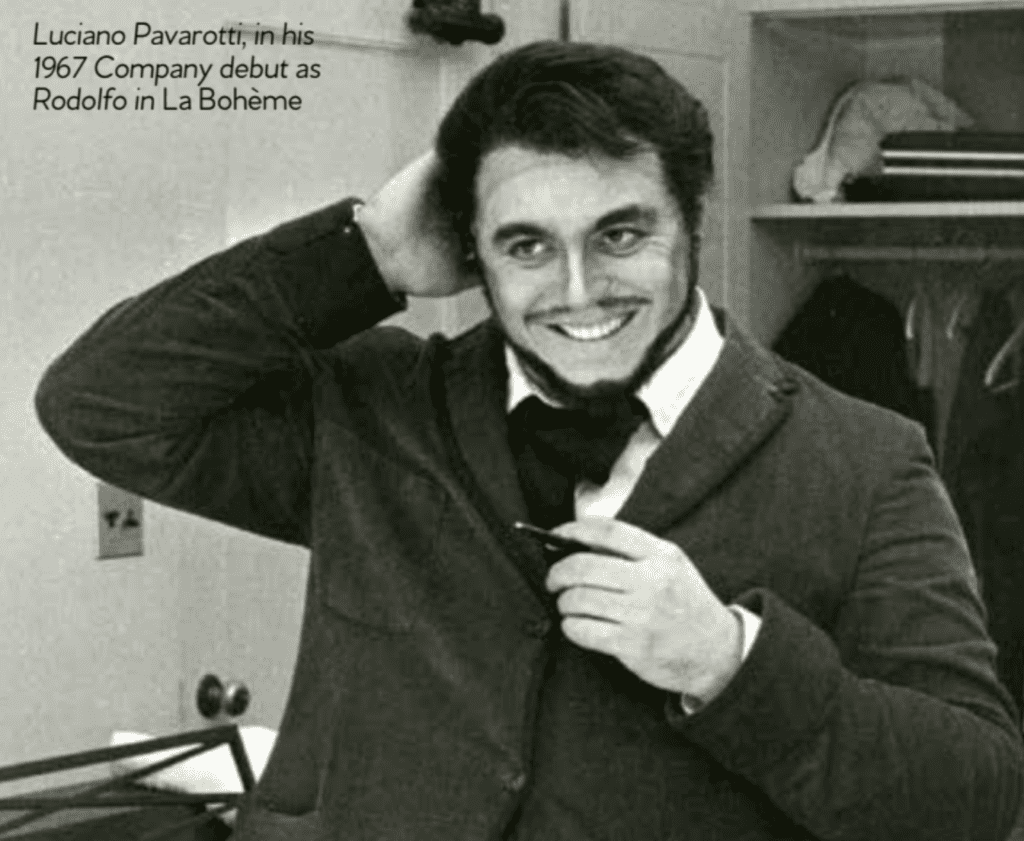 "Luciano Pavarotti was singing the role of Rodolfo in La Bohème. Suddenly, midway through the third act, the entire theater seemed to rumble and shudder. Chandeliers began swaying. Members of the audience stood up in confusion; some bolted for the exits. 'What is happening?' Pavarotti hissed to the prompter between phrases. 'Terremoto— earthquake!' the prompter breathed back. Pavarotti gripped the hand of his Mimì, soprano Dorothy Kirsten, a little more tightly, but kept on singing at full voice and never missed a beat." — TIME Magazine, 1969 
HL: What are some of the greatest operas performed by the company? 
BR: The core repertory of Italian, German, and French works has always been well represented on our stage, but the Company has at times also excelled in presenting Czech opera, Russian titles, and other European works. But in more recent times, San Francisco Opera has been a leader in presenting new works by American composers such as John Adams, Jake Heggie, Gabriela Lena Frank, etc. This coming season we have three co-commissions on stage featuring the music of Mason Bates, Rhiannon Giddens and Michael Abels, and the late Kaija Saariaho, the latter for her final masterpiece, Innocence, in its U.S. premiere in June 2024.
Tenor Plácido Domingo rescues the season's opening night in 1983 by hopping on a private jet from New York to replace the ailing Carlo Cossuta as Verdi's Otello. To accommodate his late  arrival, the Opera Ball is held before rather than after the performance. Originally scheduled for 7:00 p.m., Otello gets underway at 10:25 p.m. and ends at 2:06 a.m. 
HL: So much goes into a production. Can you tell us about how intricate costumes are researched, designed, and made? What about production sets and props?  
BR: That would be the purview of our costume department and the incredibly talented craftspeople there. They take the sometimes fanciful and imaginative ideas dreamed up by designers and create actual garments that our artists wear onstage. The costume shop is located in Diane B. Wilsey Center for Opera on the fourth floor of the Veterans Building. It's where part of the magic happens long before we see their work on stage in performance. The carpenters, welders, scenic artists, and props artists are amazing. If you can think of it, they can build it.
HL: Crystal ball time: What might the next 100 years bring as the second century of San Francisco Opera dawns? 
BR: More evenings in the theater where the world's greatest artists come to San Francisco and create magical experiences. There will be new works alongside the classics that continue to speak to us and our times.