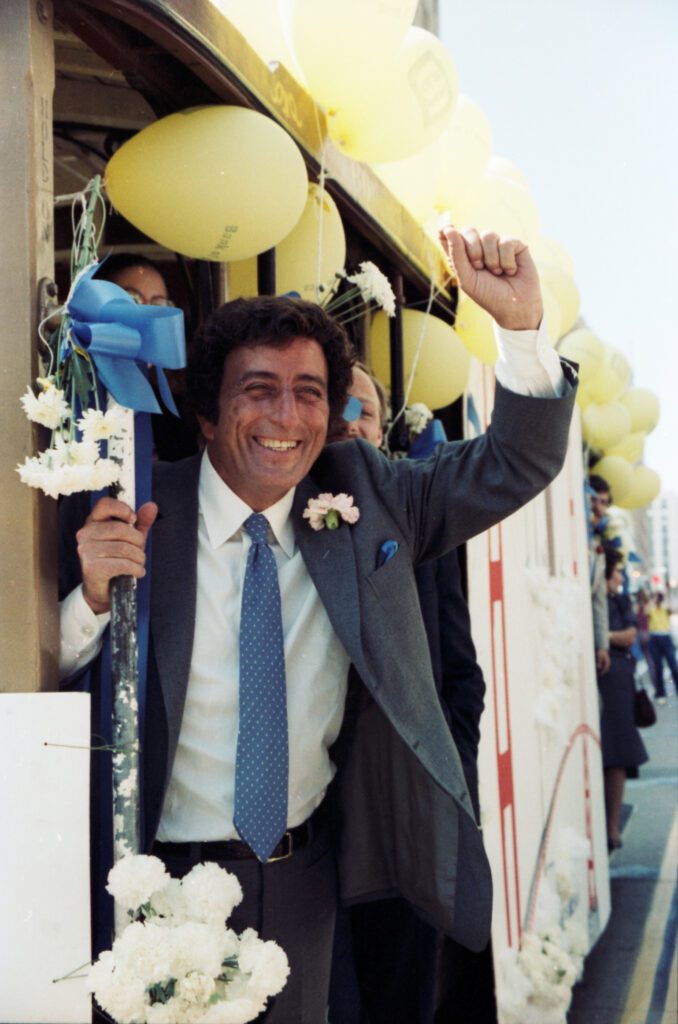 On New Year's Eve in 1961, the candlelit, plush red Venetian Room at the Fairmont Hotel atop Nob Hill was the place to be. Yet none of the "well-dressed crowd at the fabulous supper club" could have known that a song debuted by the charming crooner from New York City would become an internationally acclaimed serenade to the City by the Bay. The audience loved it.  
Tony Bennett talked about that signature love song in his autobiography: "I sang it on opening night at the Fairmont Hotel. It really went over like gang-busters. It might have ended right there, but as fate would have it, local Columbia reps heard the song at rehearsal that afternoon and loved it…On January 23, 1962, I recorded San Francisco in one take."  
During the decades that followed for millions of fans all over the world, Tony Bennett was one of San Francisco's greatest and most celebrated ambassadors. His "melodic clarity, jazz-influenced phrasing, audience-embracing persona and warm, deceptively simple interpretations of musical standards helped spread the American songbook around the world and won him generations of fans…" reads an obituary in The New York Times.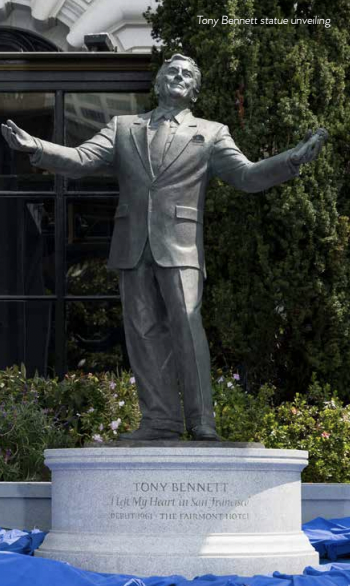 On his 90th birthday on April 19, 2016, hundreds attended the unveiling of an eight-foot-tall bronze statue of Tony Bennett outside the Fairmont Hotel. He's depicted with outstretched arms, in full song, symbolically embracing the city. Two years later, the City of San Francisco renamed the stretch of street that fronts the hotel as Tony Bennett Way. "He may have left his heart in San Francisco, but he won all of our hearts. Be at peace, and sing to us now from the stars, Tony Bennett," comes from a statement issued by The Fairmont San Francisco.
Another prominent location in San Francisco is permanently graced by Tony Bennett's considerable artistic talents. On a pedestal at Union Square's northwest corner, passersby may be unaware that one of the city's most recognizable public art installations was personally painted by Tony Bennett. Unveiled in 2004, his original landscape depicts a colorful San Francisco Bay and Golden Gate Bridge. An annual call for artists by San Francisco General Hospital Foundation, the project "Hearts in San Francisco" fundraiser theme was inspired by the famous song. 
We're honored to use these pages to share glowing memories, wonderful photographs, and heartfelt tributes to the talented master of lyrical interpretation with an unmistakable voice, a legend in his own time.
  # # #
"A national treasure, Tony Bennett inspired countless people the world over through his timeless music, civil rights activism, and dedicated humanitarian work. Tony Bennett will always have a special place in my heart and in the hearts of all San Franciscans. My thoughts are with his many loved ones and admirers at this time of loss." – Governor Gavin Newsom
At the statue unveiling ceremony, former mayor Willie Brown's praise was expressed simply: "Tony is an adopted son."
"Tony Bennett provided us with a song, a spirit, and a magic that is intertwined with the history of this city and who we are. His contributions to this city go far beyond words on a page or melodies in the air. From the first day he sang "I Left My Heart in San Francisco" at the Fairmont Hotel and through all the decades since, Tony Bennett embodied a love for this city shared by all San Franciscans. Today we honor his memory and celebrate his legacy that will stay with us forever." – Mayor London N. Breed
"He made cable cars famous around the world, beyond San Francisco. He brought millions to San Francisco to ride those little cars over 60 years. For most listeners, 'To be where little cable cars climb halfway to the stars' was the line that stuck and pushed the little cars to the top of their must-do list … It seems fair to say that the magnetic ability of cable cars to draw visitors to San Francisco was constantly recharged by the enduring popularity of Bennett and his signature song." – Rick Laubscher, president, Market Street Railway
"I met Tony Bennett on the eve of my 21st birthday in Las Vegas and then again, I believe, in the '80s in San Francisco. What I remember from the first time I met him—besides being starstruck—after the show I saw him again at the bar and he sang a short happy birthday to me. Beside that unforgettable event, during his performances, he scanned the room with his kind and smiling eyes, and if his gaze fell on you, you felt he was singing to you and only you." – Lily Samii, couture designer and author, "A Journey Through Life and Fashion"
"I have been a fan of Tony Bennett since forever. Any singer would be … I saw him at the Carlyle in New York, when he would be at the late singer/pianist Barbara Carroll's opening night for her season, each year there, supporting his dear friend. He sang truth, and he spoke the truth. We are grateful for his always speaking out against injustice and being on the right side of history." – Paula West, American jazz and cabaret singer
"I shared the Venetian Room stage with Tony Bennett at probably 200 shows over seven years. The venue was added a few decades after the Fairmont was built, so there were no dressing rooms for entertainers. The artists would take the service elevator down from their suites and hang out in the kitchen. I had martinis with Tony on a few occasions; he was such a wonderful guy—one of the most gracious men I've ever met. He'd often go to the lobby to greet people as they arrived for the show, just to shake hands and say hello. Tony was a real star by my definition, possessing that rare humble quality … What you see is what you get, both onstage and off." – Dick Bright, veteran bandleader; musical director at the Venetian Room; author, "Workin' For A Livin': Makin' It In The Music Business"
"He visited us at least twice that I remember. He dined here with former mayor George Christopher when I was a kid back in the '70s. We are celebrating our 115th year anniversary on October 4, 2023, at noon with a block party offering free food and wine to the public and we will pay a tribute to Tony Bennett." – John Konstin, owner, John's Grill
"I remember back in the late 1970s, when I was assistant manager at the Grand Hyatt Hotel Union Square, some delightful evenings spent in the Venetian Room at the Fairmont Hotel at Tony Bennett's show. This was the 'golden era' of Tony Bennet and San Francisco." – Olivia Hsu Decker, owner/publisher, Haute Living Magazine, San Francisco and Northern California 
"That voice, that warm smile will remain with us forever … I sang with him for a few moments on the red carpet at the 2008 GRAMMY® Awards. 'I don't sing if I'm not paid,' he told me, so I gave him a $20 bill which he happily returned after a few lines of us singing 'I Left My Heart in San Francisco' together. Truly one of the magical moments of my life." – Liam Mayclem, radio and TV personality