Scottsdale Wine Trail will keep you hot this season!
Arizona is a state known for its iconic landscapes, outdoor adventures, golf retreats, luxury resorts and spas, and of course, the Grand Canyon. Also, let's not forget the heat, which can reach highs of 115 F and lows (if you can call it that) of 90 degrees at night during the summer months. While these summer temperatures don't represent the entire state, they do describe popular Arizona destinations like the Phoenix, Scottsdale, and Tempe areas. Another thing that raises the temperature of some Arizonians is the reaction tourists and wine enthusiasts have when they hear about Arizona as a wine destination. The response is often in the form of a question, "Arizona makes wine!?" Not only is the answer yes, but Arizona is one of the oldest wine producing regions in the United States.  Wine production in Arizona dates back to the 16th century and continued until prohibition in the 1920s stifled the industry. This holding pattern lasted for 60 years, until a re-emergence began in the 1980s.
Still not convinced?  There are many factors that must be present to produce grapes for winemaking but the basics are: elevation, climate shifts during the day and night, as well as some moisture. These conditions are met in the three main Arizona wine regions – Verde Valley, Sonoita, and Wilcox. The high desert elevations, mineral-rich soil, and wide diurnal temperature swings are similar to Mediterranean wine regions in Spain, Italy, and southern France. Thus, varieties such as Tempranillo, Syrah, Grenache, Mourvèdre, Petite Sirah, and Sangiovese are grown in the state. 
Now do you believe?! If so, your next question naturally is: Where should I head in Arizona to enjoy the diversity of wines the area produces? There are roughly 120 wineries in the state, but Scottsdale stands out as one of the best cities to enjoy and learn more about the wine culture. If you are visiting in the fall and winter months, I suggest you still pack sunscreen even though temperatures are hovering around a more comfortable 70 -80 degrees. However, to fully enjoy the Scottsdale Wine Trail all you really need is your wine passport and an open mind to start your journey at these three wineries. 
LDV Winery 
7134 E. Stetson Drive 
Located near the South Bridge on the Scottsdale Waterfront, owners Curt Dunham and Peggy Fiandaca opened the LDV tasting room as a quaint gathering space to linger with friends. Locals and visitors alike can enjoy seated tasting flight inside or on the patio year around. LDV grows estate Rhone-varietal wine grapes at 5,000+ foot elevation in the Chiricahua Mountain Foothills of southeastern Arizona. Their belief is great wines start in the vineyard and they want to share the results in every glass.
Wines to try: 2015 Sky Island Grenache. 2016 R.E.D. Red Wine (61% Grenache and 39% Petite Sirah). 2015 The Signature Petite Sirah. 2016 The Epilogue Petite Sirah. 2016 Syrah. 
Carlson Creek
4142 N. Marshall Way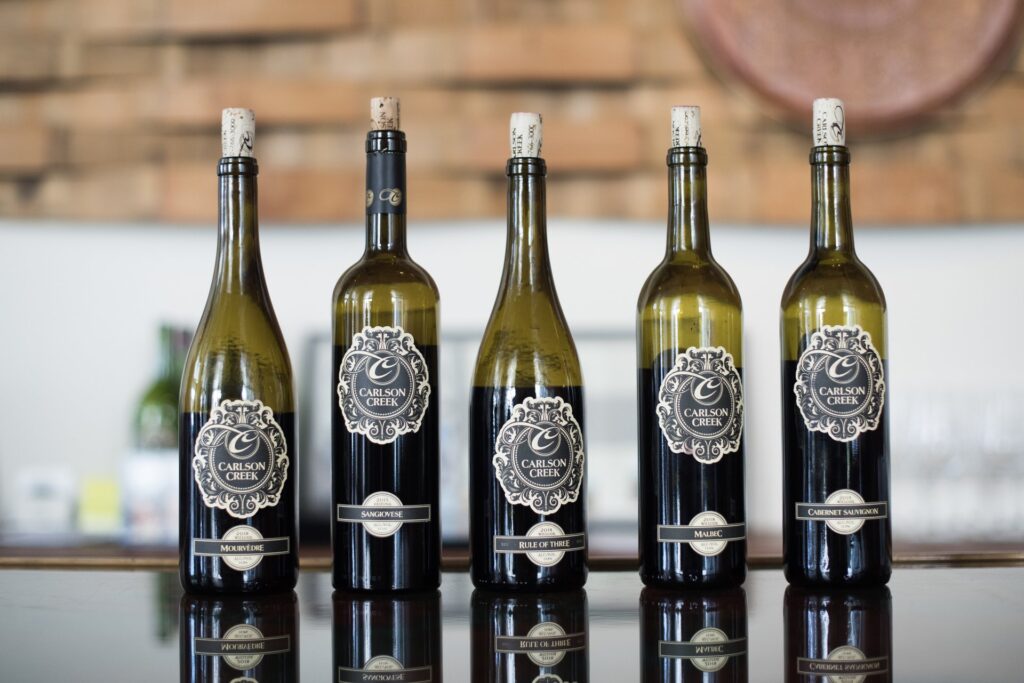 The Wilcox-based winery opened an Old Town tasting room in 2016 in response to their wine club members (most located in Scottsdale area) clamoring for a local place to drink their award-winning wines. The 2,300 square foot space was a former art gallery completely renovated to feature a 20-foot distressed copper bar and barrel stave art installation. Your senses will be fully activated as patrons can sample through 13 different wines while viewing artwork from local artists.  
Wines to try: 2020 Rule of Three (50% Grenache, 20% Syrah, and 30% Mourvèdre). 2020 Chenin Blanc. 2020 Sweet Adeline Rosé. 2015 Sangiovese. 2021 Malvasia Bianca
Merkin Vineyards 
7133 E. Stetson Dr., Ste.#4 
Founded by Maynard James Keenan, of the rock band Tool, after he moved to Jerome, AZ in mid 90s. He soon realized the area was perfect for growing grapes and making wine. Now he produces wine from his 110 acres of Estate Vineyards in both the Verde Valley and Willcox, AZ. Fans of his work can visit the Old Town Scottsdale tasting room where patrons can sample Merkin (and their other brand Caduceus) wines paired with locally sourced food.  
Wines to try: Merkin Diddler (55% Malvasia Bianca, 45% Viognier). Merkin Chupacabra (60% Malvasia Bianca, 40% Sauvignon Blanc). Merkin Tarzan Red (85% Tempranillo, 15% Garnacha). Merkin Jane Pink (100% Monastrell)