From the Bronx to the Bay
Article by Sharon Seto
Photos by Robert B Richards
Winter HOLLY DAYS always had a very special place in my heart. In childhood, this was an extraordinary time because not only did Santa Claus magically came down the chimney to put presents under our Christmas tree, but more importantly, I knew that there would be tons of family and friends we'd get to see. It was common for people to fly from faraway places to our home, including my 100-year-old grandma who brought us live Maine lobsters annually to San Francisco. I would gleefully poke and play with them in the kitchen sink with chopsticks, and Mom would promptly cook the lobsters Chinese style in her big wok! Holidays allowed us to reconnect and bond with time-honored family traditions. They are special, because people celebrate these events by doing something different, more exceptional than the norm of a regular day. Holidays make treasured memories.
In Haute Kitchen, I've got the perfect chef, Eric Upper, who just launched a brand new, oh-so-upscale, exciting restaurant, AFICI, for dining out during those special occasions! This extremely talented chef also shared some amazing, special recipes to "up our holidays!" As a grandma myself, I hum with happiness each time I mark up my calendar with bright red circles, upcoming plans in my brain—my mind's eye reflecting on treasured memories that kept us together then flashing to future events that will gather our family. Winter holiday traditions are certainly special, as they unite family and friends for all time.  Boy, I can't wait to see my little "joy pot" granddaughter from Sacramento, Maddie, and her sister who is scheduled to make her first appearance into the world on December 1!  Happy holidays to you all!
Chef Eric Upper brings culinary excellence and a decorated background to AFICI and Alexander's Steakhouse Group. Over the past 15 years from New York to San Francisco, Chef Upper has established himself as a prominent fixture and rising star in the culinary space. His passion for food was first sparked in the heart of the Bronx where he prepared and enjoyed multi-course dinners with his extended Italian family over the years. He fondly reminisces about making pasta by hand at the kitchen table with his grandmother and always being greeted by an impressive spread of food when coming home for the holidays.
Chef Upper officially began his culinary journey in 2006 at Lorenzo de' Medici School in Florence, where he studied Tuscan cuisine and Italian wine. In 2009, he returned to New York to complete his education at the French Culinary Institute and subsequently built the foundations of his professional career through experience at Morimoto, Michelin-starred Aureole, and the renowned Robuchon at the MGM Grand in Las Vegas. After three years of working alongside the late Joël Robuchon, Chef Upper returned to his New York roots to join the opening team of Italienne as chef de cuisine, where he further developed his passion and expertise in pasta making, full-animal butchery, and charcuterie techniques. Looking for his next opportunity, Chef Upper followed the advice of former colleague and mentor, Chef Claude Le Tohic, and embarked on a cross-country adventure to join Alexander's Steakhouse in San Francisco as the executive chef in 2018.
At Alexander's Steakhouse, Chef Upper is responsible for managing culinary teams and overseeing all operations in the kitchen, as well as menu and concept development. When given the chance to manage The Patio pop-up during the pandemic, Chef Upper was able to work with pasta again and experiment with Wagyu beef outside the steakhouse format. His newest venture, AFICI, features contemporary American cuisine in a fine dining, yet approachable, space. The restaurant highlights the Italian and French influences derived from Chef Upper's education and showcases handmade pastas, whole-animal utilization, and charcuterie techniques perfected throughout his culinary journey. Upper says, "For me, dining out is a special experience that can't be repeated at home. The service, the ambiance, and the food at our restaurants make it very memorable and make our guests want to return again and again." I agree!
HL: When did you know you were going to be a chef and who inspired you?
EU: My family is my first inspiration. They came over from Italy and settled in New York in 1938. They initially tried to get into construction work but couldn't, so they ended up becoming professional chefs. Outside of that, my grandmothers, mother, and aunts all cooked. I was always surrounded by food, and time with family centered on food, whether we were prepping in the kitchen (I used to make pasta with them) or sitting down for a meal. 
I had other career aspirations before deciding to become a chef. My love of food was obvious as a kid, and cooking was always something I loved—so much so that I was a chef for Halloween one year! I knew I did not want to work at a desk, and I was not interested in wearing a suit. I went to college to study psychology, but after 9/11, I decided to become a firefighter. I enrolled in the program and went through the training, but there was a hiring freeze and I could not get work. While I waited for hiring to begin, I was the general manager at an upscale wine shop in Manhattan. During the 2007/2008 crash, the owners decided to shut down, and I found myself again at a huge career crossroad. I was still hoping to be a firefighter but needed to do something else. I went back to my love of cooking and enrolled in culinary school. 
HL: How do you unwind after a long day in the kitchen?
EU: It really depends on the day, but I always walk my two Chihuahuas when I get home from work. Sometimes I go to the gym first, grab a protein shake, walk the dogs, and go to bed. Other days I head home, make a bowl of pasta, open up a bottle of wine, and just unwind. 
HL: Whom would you invite (dead or alive) to your dream holiday dinner party and why?
EU: I would be surrounded by family—alive and deceased—enjoying a huge Italian feast. I wouldn't have it any other way. 
HL: Growing up, my mom would make turkey stuffed with sticky rice—a traditional Thanksgiving dish in our home. What is your holiday menu for Thanksgiving and for Christmas for your family? Any must-have traditional dishes that you serve year after year?
The holidays for any Italian family are huge, and mine is no exception. Growing up, we would have celebrations of up to 25 people with aunts, uncles, grandparents, and cousins. On Christmas Eve, we would have the bigger family gathering[KS1] , and it was very much traditional Italian: tortellini en brodo, lasagne, quail, charcuterie, risotto—just a huge feast! My aunt would make panettone every year, and the table would be filled with pies, pastries and cookies made by family and picked up at the local Italian bakery. Christmas Eve was always a smaller family gathering[KS2]  and we tended to stay home, but the meal was just as important. The dinner most centered on Christmas roast. 
Our holiday menus at AFICI this year are inspired by a lot of the dishes I enjoyed throughout childhood. I'm looking forward to sharing those with our guests! 
HL: Anything "cooking" in the future horizon for you and/or the Alexander Steakhouse Restaurant Group? New restaurants, books, or projects in the works?
EU: As a company, Alexander's Steakhouse Group is always looking at new opportunities. We would love an AFICI or another concept in Los Angeles. It would be great to work on an AFICI cookbook at some point, too! 
CHEF QUOTE: "Every part of the animal and plant has a use in the kitchen—from savory dishes and desserts to cocktails. There are creative ways to utilize everything."
Quail with Cranberry and Brussels Sprouts 
     Chef Eric Upper 
Quail
Ingredients: 
2 Quail
2 Lemon wedges
2 Sprigs thyme
2 Sprigs rosemary
2 Cloves garlic
Olive Oil
Salt
Pepper
 Method: 
It is best to get your quail three days ahead of the use-by date. This way, you can dry out your quail, which will create a more tender and more flavorful product. It will also ensure that the skin on your quail crisps up. 
Remove your quail from the refrigerator and allow it to come up to temperature. Preheat your oven to 375 degrees Fahrenheit. Rub the quail with olive oil and season with salt.
Stuff the cavity with a lemon wedge, a smashed clove of garlic, one spring of thyme, one sprig of rosemary, and cracked black pepper. 
Cook until the internal temperature is 140 degrees Fahrenheit (about 11 minutes). Rest your quail for 5 minutes and enjoy.
Cranberry
Ingredients: 
12 ounces cranberry
3 tablespoons white verjus
1 tablespoon water
½ cup sugar
 Method: 
Combine all ingredients and simmer for 40 minutes.
Remove from heat.
At this juncture, you can either blend or serve rustic.
Brussel Sprouts
Ingredients:
1 pound Brussels sprouts
¼ pound bacon, slab
½ cup chicken bouillon
½ cup white wine
¼ cup maple syrup
 Method: 
Cut Brussels sprouts in halves.
Cut bacon into lardons.
For the bacon, use slab bacon that you can get at your butcher shop, but cut it into lardons. (This is a French cut that mimics the size of your pinky finger.)
Over low-medium heat, render the fat of the bacon and brown on all sides. You want to cook the bacon slowly so it releases the fat and browns evenly.
When the bacon is evenly seared, remove it from the pan. Keep the fat in the pan (this is where all the flavor comes from) and add your Brussels sprouts cut side face-down.
Roast the Brussels sprouts until there is nice even color on the faces, then deglaze with white wine.
When the white wine is sec (evaporated), add the chicken bouillon, maple syrup, and bacon.
Cook the Brussels sprouts until tender (about 5 minutes).
Season with salt and pepper if needed.
White Wine Risotto
By Chef Eric Upper
Serves four people 
Ingredients: 
1 cup Acquerello Carnaroli Rice
4¼ tablespoons of butter 
2 tablespoons finely chopped shallot
4 tablespoons of white wine
3 cups chicken bouillon, warm    
⅓ cup water
⅛ cup grated Parmigiano 
Salt
Pepper 
Method: 
Sweat the shallot in a little less than half of the butter (1½ tablespoons) until translucent and tender.
Add the rice and cook, stirring constantly, until grains of rice are translucent around the edges. 
Deglaze with white wine, bring to a simmer, and cook, stirring occasionally until wine is completely evaporated, about 2 minutes.
Reduce heat to medium, then add hot chicken bouillon to rice in ¾-cup increments, stirring constantly and allowing liquid to absorb fully before adding more. On one of your last times adding liquid, add the hot water. Cook until rice is al dente and surrounded by fluid, a not-too-thick, creamy suspension. 
Start checking the rice after about 15 minutes. The grains should be tender but not mushy, with a slightly firm center that doesn't leave a chalky or bitty residue between your teeth after tasting. Do not overcook. This should take 18 minutes to cook, but time can vary quite a bit.
Remove the pot from heat and let rest 3 minutes, giving the rice time to fully absorb any liquid.
Add the remaining butter and cheese and season with salt and pepper. Plate and enjoy!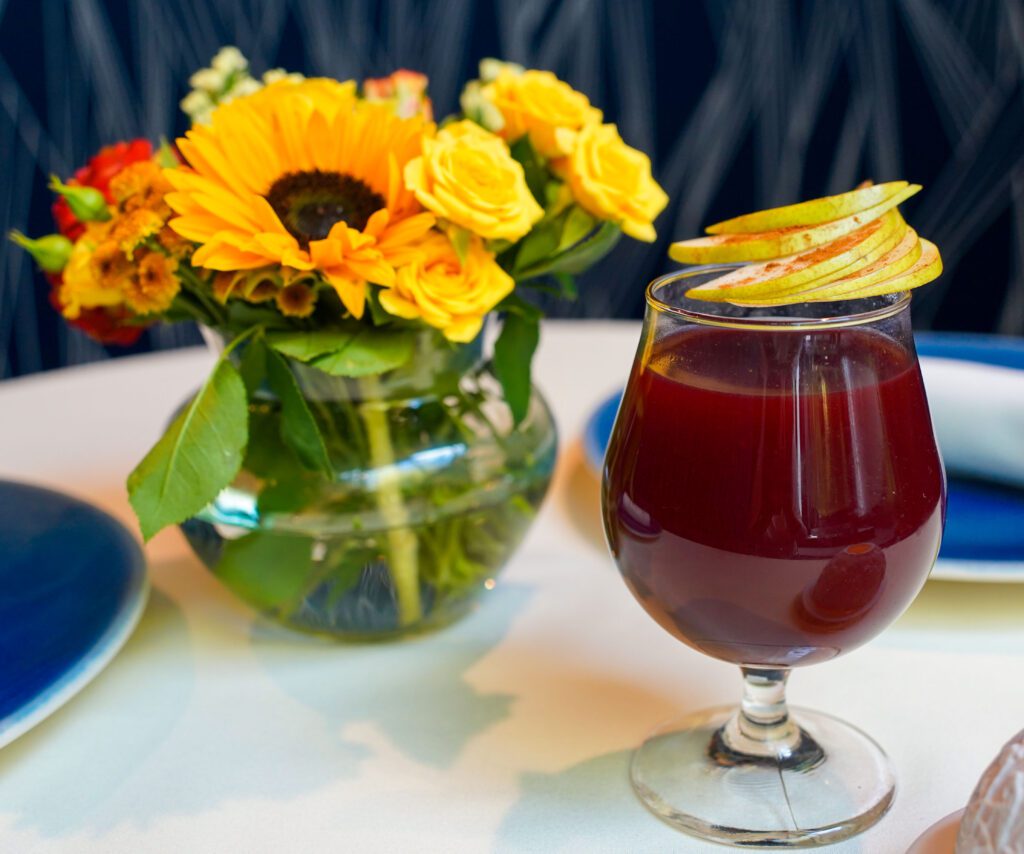 Pear Blossom cocktail 
by Bar Director Nicholas Bonney
AFICI's full beverage program showcases a carefully curated list of wine, a selection of highly allocated spirits, and a menu of cocktails, as well as low proof cocktails, that take inspiration directly from the kitchen.
The cocktail menu, designed by San Francisco native, bar director Nicholas Bonney, encourages exploration and invites guests to enjoy classics alongside a list of inventive libations rotating seasonally. Here is a hot, deliciously flavored cocktail created by Bonney that will delight your senses and warm your toes and your soul for the season.
Serves 1 
Ingredients: 
4 ounces hot Earl Grey tea
1 ounce apple brandy (Calvados or Applejack) 
1 ounce St. George spiced pear liqueur
½ ounce Douglas Fir brandy
1 ounce cranberry juice, unsweetened
½ ounce honey
Cinnamon stick
 Asian pear slice 
Orange peel 
Method: 
Boil water for the tea.
Steep the Earl Grey tea up to 2 minutes, adding additional liquid ingredients to combine. 
Pour into a brandy snifter.
Add orange peel to the glass.
Garnish with Asian pear slice and serve.  
OPTIONAL: Light the cinnamon stick on fire over the glass and in a smoking dome to engulf the glass in cinnamon smoke. Serve immediately, presenting in the glass dome.
---