The St. Regis Hotel is raising the bar in San Francisco.
Looking for dining, décor, and drinks in downtown San Francisco? The St. Regis Hotel, renowned for redefining luxury hospitality in San Francisco, recently completed an elegant update of its guest rooms, meeting spaces, lobby, and bar as part of a multi-phase property redesign. This 5-star hotel is located on Third Street in the SOMA district near the Yerba Buena Gardens, Union Square, and the San Francisco Museum of Modern Art (SFMOMA).
Drawing inspiration from the rich colors found in the vineyards of Sonoma County and the complex architecture of San Francisco, London-based firm Blacksheep envisioned the new look for the hotel's destination bar. Blacksheep's designers created a location for meeting friends, grabbing a drink after work, or indulging in a nightcap before turning in. Whether you are walking on Third Street or entering through the lobby, your eyes will immediately track to the bar's illuminated backdrop with brass features throughout that doesn't seem to end. In addition, the dark emerald and pink jade custom furniture adds contemporary touches in counterpoint to the modern noir ambiance, with traces of the past suggested by the bar's sophisticated shapes and millwork. Be it locals, socialites, or business travelers, there is a bit of everything for patrons at the St. Regis Bar.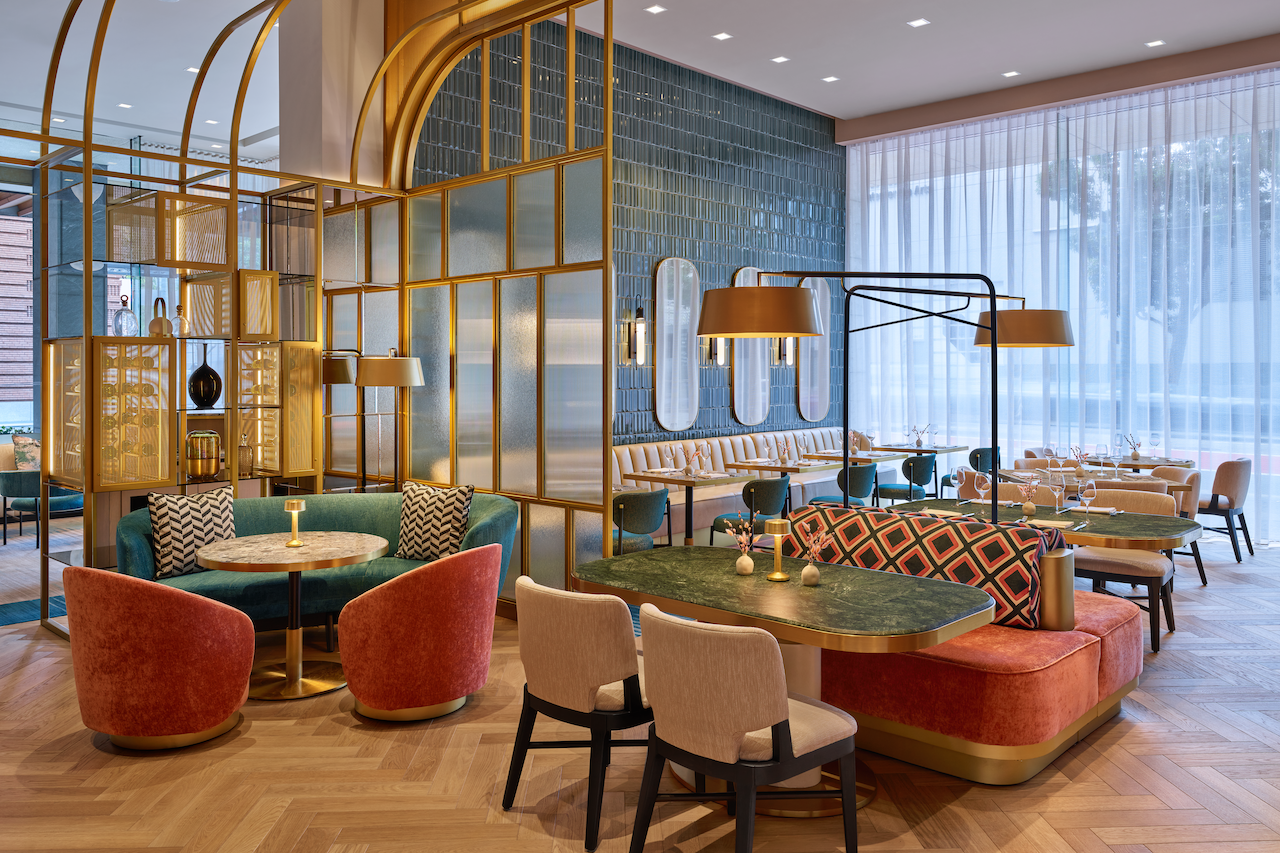 The hospitality of the bartenders and staff is only rivaled by the wine and cocktail list which includes the St. Regis Signature Bloody Mary dating back to 1934. As the legend goes, Ferdinand Petiot was working at Harry's New York Bar in Paris, France in the early 1920s when he was introduced to tomato juice by Americans and vodka by Russians fleeing a revolution. It is rumored he thought the taste of vodka was bland, so he wanted to add some flavor by combining it with tomato juice, thus making the first Blood Mary. After his son-in-law tried the famous Bloody Mary, John Jacob Astor IV, founder of the St. Regis, brought Petiot over to bartend at the King Cole Bar in the St. Regis in New York City. The sophisticated clientele enjoyed the cocktail, especially when Petiot added some "spice" to it with the addition of tabasco pepper, lemon, Worcestershire sauce, and cayenne pepper, calling it a "Red Snapper." Fast forward almost a century and the tradition of each St. Regis brand creating its own spin on the original Bloody Mary is still very much in practice. Guests are free to sample a few versions to see which one excites their palettes. 
After (or during) a drink, you might be ready for more than a light bite. This cocktail bar also specializes in American cuisine and serves lunch and dinner, while Astra (located at the far end) is open for breakfast. While enjoying morning favorites like the truffle omelet and millionaire bacon, guests can enjoy a dreamy landscape titled "Mountain Mist" by Janie Rochfort. This piece reflects a unique watercolor style with rich olive greens and lighter pinks, capturing the fluid colors of a sunset reflecting off San Francisco's hills.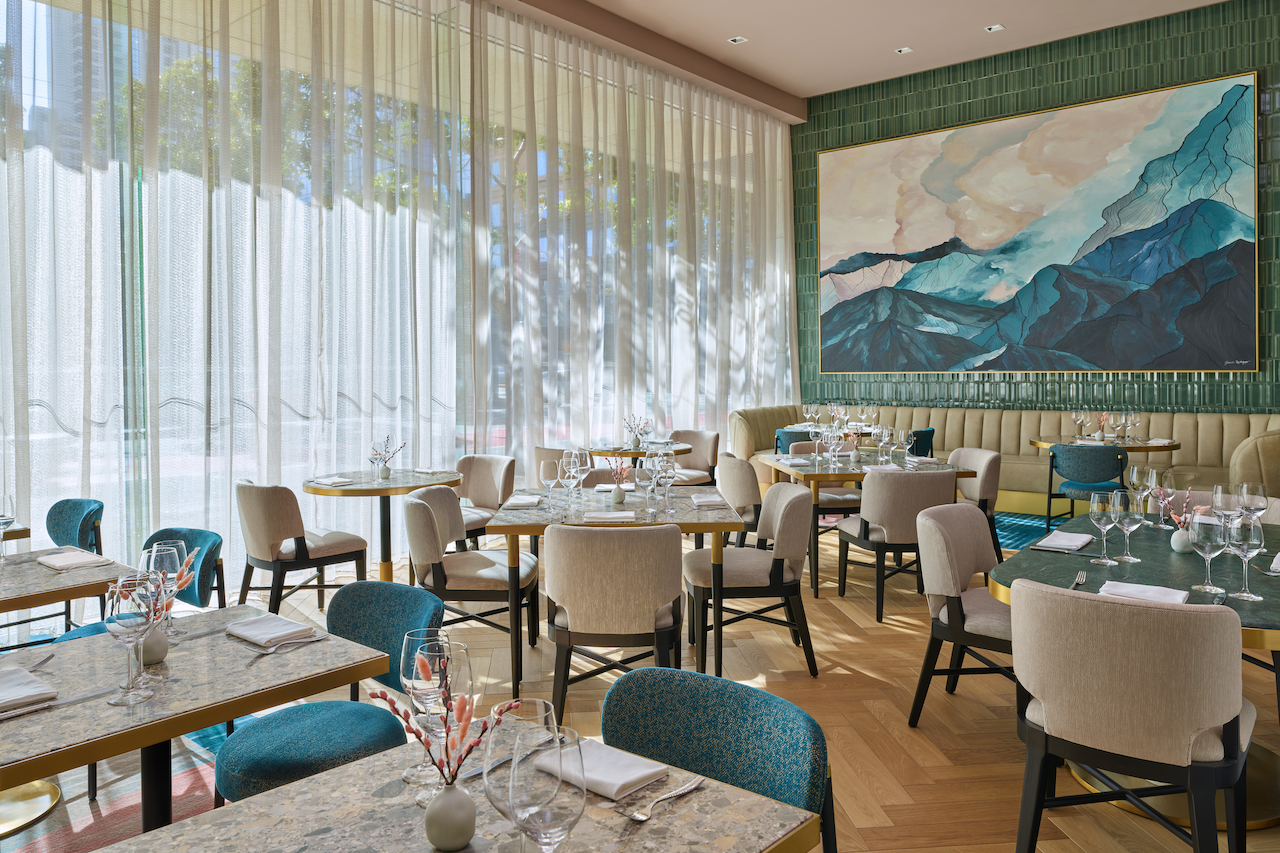 About The St. Regis San Francisco: 
The St. Regis San Francisco opened in November 2005, introducing a new dimension of luxury, uncompromising service, and timeless elegance to the city of San Francisco. The 40-story landmark building, designed by Skidmore, Owings & Merrill, includes 102 private residences rising 19 levels above the 260-room St. Regis Hotel. From legendary butler service, "anticipatory" guest care, and impeccable staff training to luxurious amenities, the St. Regis San Francisco delivers an unmatched guest experience. The St. Regis San Francisco is located at 125 Third Street. Telephone: 415.284.4000. 
---