Perfectly Paired Luxury
When recommending wine tasting venues to family and friends, it's challenging to come up with properties and estates that offer the same level of luxurious hospitality as that at Theorem Vineyards. Located in Calistoga on Diamond Mountain, Theorem has it all: stunning Mount St. Helena views, a noted private chef beloved by his local community, several tasting venues – each offering a different vibe – and of course, stellar wines.
Theorem's portfolio of high elevation wines crafted by winemaker Kathleen Ward (who works side-by-side with consulting winemaker Thomas Rivers Brown) includes bottlings from the home vineyard on Diamond Mountain as well as a second estate vineyard on Moon Mountain in Sonoma. Theorem's flagship Voir Dire and Hawk's Prey Diamond Mountain Estate Cabernets are rich, delicious testaments to the quality of Diamond Mountain vineyard fruit. The winery also makes small lots of an estate Merlot, and a Sauvignon Blanc, Chardonnay, Syrah, and Cabernet made with fruit from their Moon Mountain District estate vineyards. 
"What I love about wines produced from our Diamond Mountain District AVA is that they possess the perfect balance between ripeness and freshness," said Ward, who is in the process of initiating the winery's first sparkling endeavor. "The daytime temperatures on the mountain are reliably warm, helping to develop great flavor and fruit concentration. However, each afternoon, like clockwork, breezes from the coast arrive at 3 pm and begin cooling everything down. This unique climate helps preserve grape acidity, producing wines that have signature 'mountain fruit' tannin structure and a long, satisfying finish that keeps you coming back for another sip."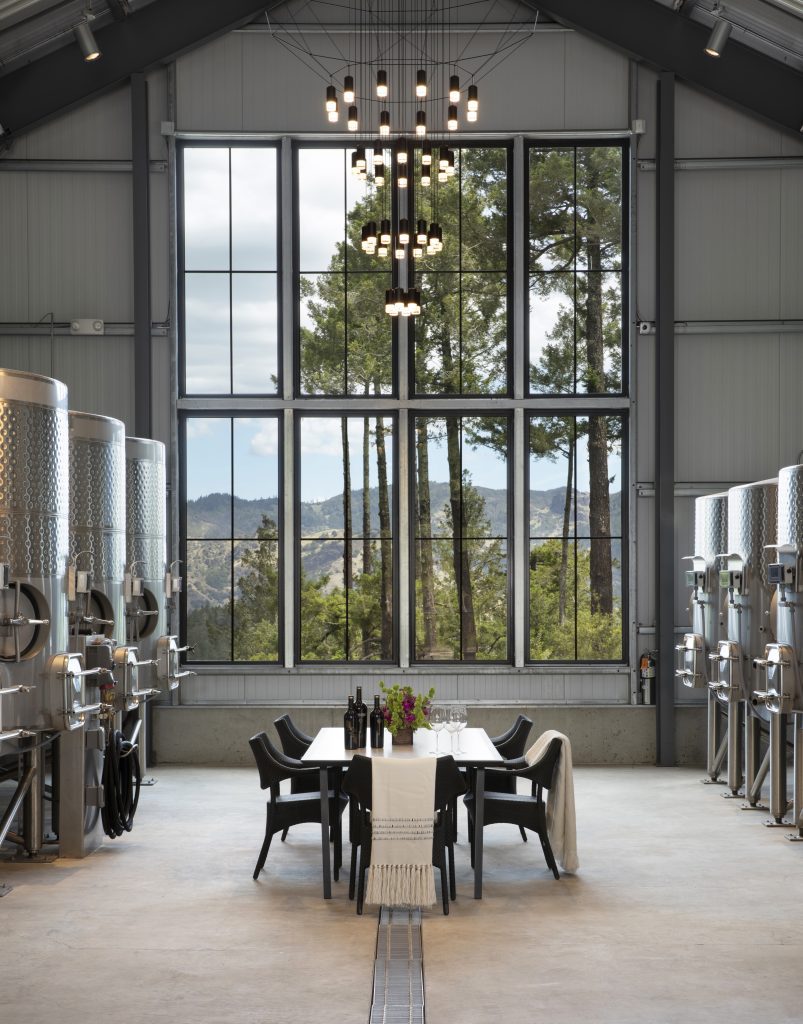 There is no better way to sample these wines than with a VIP wine/culinary pairing experience prepared by Theorem's culinary director Josh Mitchell. Mitchell was raised in the Napa Valley and studied at the CIA at Greystone before working at some of the most highly regarded restaurants in the area – Auberge du Soleil, Meadowood, Bistro Jeanty, Thomas Keller Restaurant Group, and Solbar.  He had been contracted by Theorem's owners Kisha and Jason itkin over the last few years for special events, but more recently, Kisha, Theorem's president, brought him on full time at the winery, much to the consternation of fans of his legendary fried chicken sandwich, once served at his now shuttered Napa Valley Heritage Catering Co, just down the hill from the winery.
"What I love about wines produced from our Diamond Mountain District AVA is that they possess the perfect balance between ripeness and freshness." Kathleen Ward, Theorem Vineyards winemaker
To enjoy one of Mitchell's wine pairing explorations is to be indulged at a level not typically found in wine country. Four courses, meticulously prepared and perfectly paired with Theorem wines, are served leisurely throughout the multi-hour afternoon tasting within a choice of the winery's venues: in the new Tasting Barn, in the stylish tasting salon, or al fresco with sweeping views of Mt. St. Helena and the Palisades range. A sublime sampling: Parisian Herb Gnocchi and cherry tomatoes served with a 2020 Moon Mountain District 2020 Sauvignon Blanc. Maine Lobster Roll on Hawaiian Brioche served with a Moon Mountain District 2020 Chardonnay. A-5 Rib Eye and Squash Blossom paired with both a Diamond Mountain District 2018 Voir Dire Cabernet Sauvignon (the name is a wink to Jason's vocation as one of the Nation's preeminent trial attorneys) and a Moon Mountain District 2019 Cabernet Sauvignon, and for dessert, Strawberry Pie and housemade vanilla ice cream with truffle caramel sauce.
Many of the menu's ingredients are grown steps from the dining table within Theorem's lush garden, where guests are encouraged to amble afterward. Peppers, strawberries, tomatoes, and squash create a colorful canvas from which Mitchell also crafts bespoke Theorem hot sauces and jams.
But at Theorem, even a more traditional tasting is elevated, quite literally. At 1100 feet above sea level, with panoramic views of the surrounding mountains, the property is stunning. The Itkins have spent nearly a decade restoring and renovating the historic estate; initial efforts included the rescue and restoration of several historically significant buildings (including a one room schoolhouse) dating to the mid-1800s, and the preservation and replanting of the vineyard which had suffered from neglect. The exquisite Tasting Barn is the most recent visual evidence of their dedication: Working with renowned San Francisco architect, Richard Beard, the duo resuscitated a dilapidated 19th century dairy barn, turning it into a world class guest venue that honors its former purpose with barn-red shiplap cedar boards, Dutch doors, and a wraparound porch.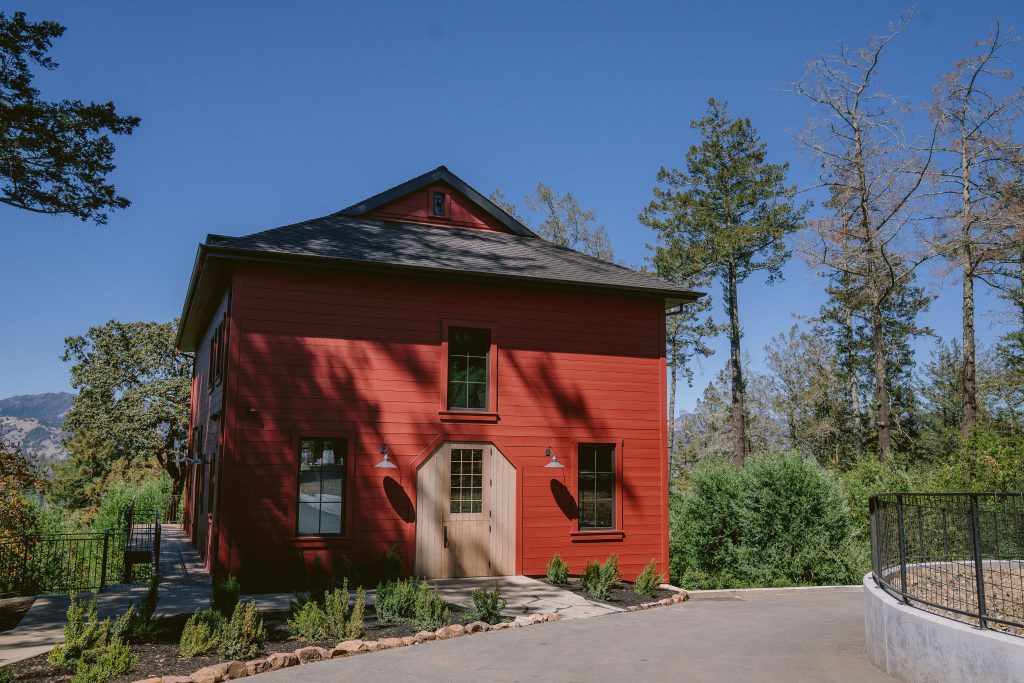 When first visiting the property several years ago, the Itkins understood that the site's unique location with its special blend of minimal fog, abundant sunlight, and volcanic soils would yield greatness in the vineyard, and thus, in their wines. One taste, and guests can affirm that the Itkins were correct.
Theorem is limited to 14 guests per day. The winery's Keepers of the Key, invitation-only, membership program continues to grow as wine production continues to increase. To inquire about a tasting appointment and/or Keepers of the Key, visit Theoremvineyards.com.
Photos courtesy of Theorem Vineyards, unless otherwise noted.