LaFerrari's powerful younger brother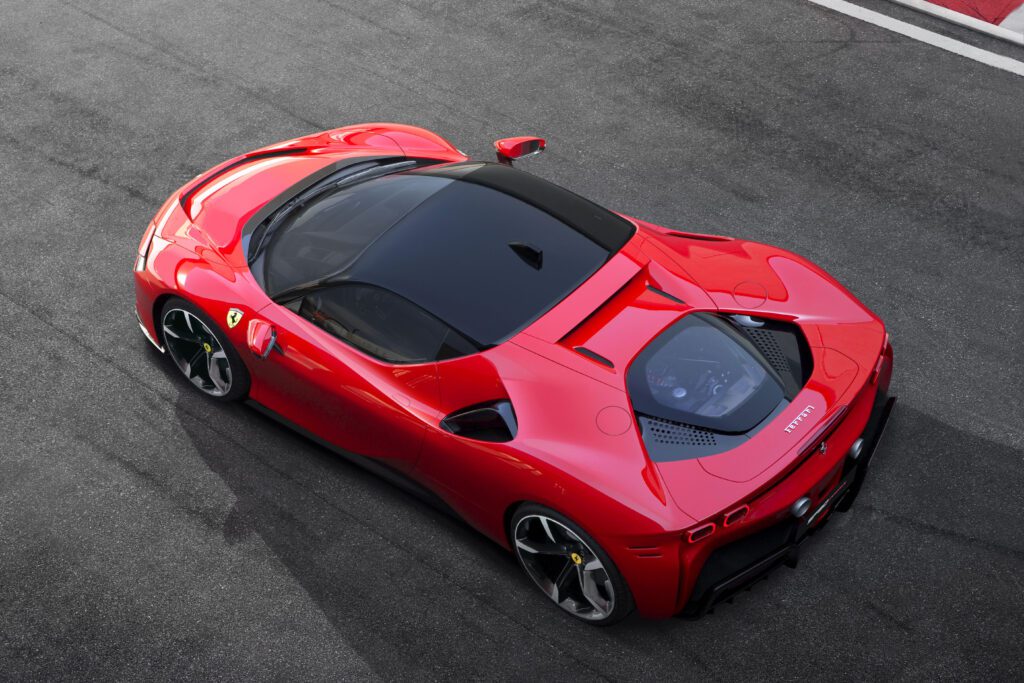 When I sat down to write about the Ferrari SF90, I had two ideas. One was simply to type "Wow!" 500 times, thereby meeting my word quota while leaving enough room for some nice photos. However, that would not provide much illumination about this incredible vehicle, so I went with the second option: "Wow!" written only 100 times with more discussion following.

"Good idea," said I to no one in particular. "Not so fast," said my editor. So here, for your edification, is the result of that negotiation.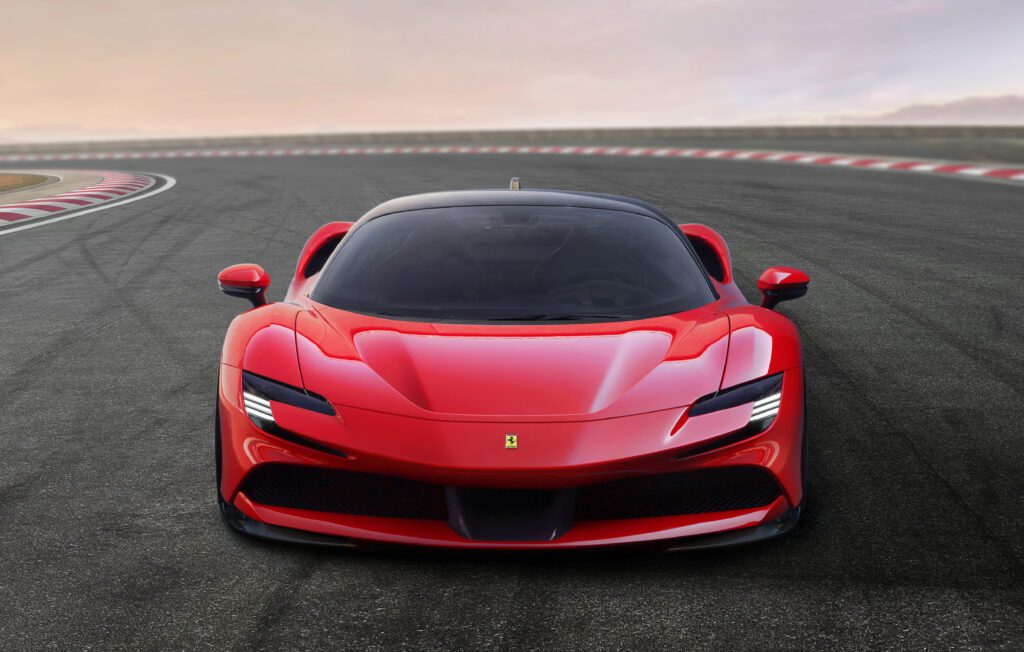 The SF90 is one of the most incredible vehicles that I have ever driven. What does that mean exactly? It means that it is gorgeous, it has copious amounts of power (almost 1,000 horsepower!), it can accelerate like a jet launched from an aircraft carrier, it has the screaming-eagle/banshee sound of a Formula One car—especially at the 7,500 RPM redline—and it can top the speed of virtually any passenger jet's liftoff velocity. Yet words alone cannot amply describe what it is like to drive a car with such an ability to thrill that it can accelerate faster than you can say "Isaac Newton," since it's an object that seemingly never stays at rest.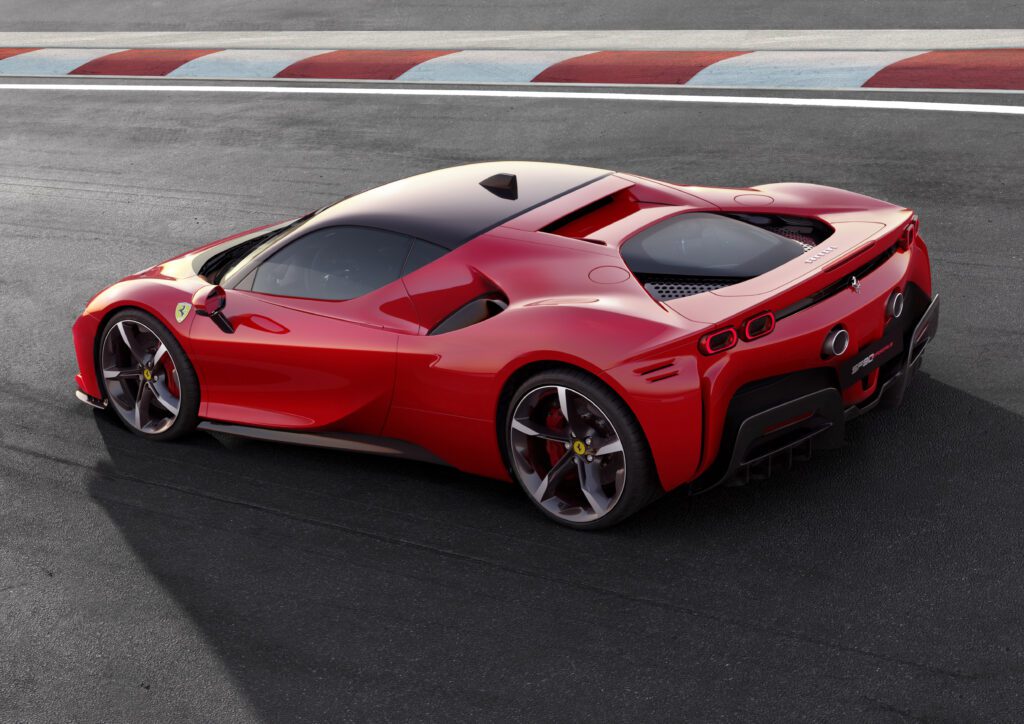 The name SF90 denotes the Scuderia ("stable," of course) Ferrari being founded 90 years ago. The "Scuderia" moniker normally is associated with the racing division of a car manufacturer; but, when it comes to Ferrari, their street cars are imbued with the soul of their racecars, so it was appropriate to denote this street car as the SF90, as it is the first Ferrari ever to combine potent gasoline-powered energy (twin-turbo V8 with 769 hp) with three electric motors (totaling 217 hp). I know: it's a twin-propulsion vehicle, but this road rocket shares very little with the vehicle one typically envisions when hearing about a "hybrid." Two of those electric motors are independent of each other and power the front wheels, while the third motor assists the gas engine in providing the thrust to the gearbox and, by extension, the rear wheels. And, boy, does that power (a total of 986 hp) perform, with 0 to 60 miles per hour hit in 2.5 seconds, quicker than you can say, "License and registration, too?"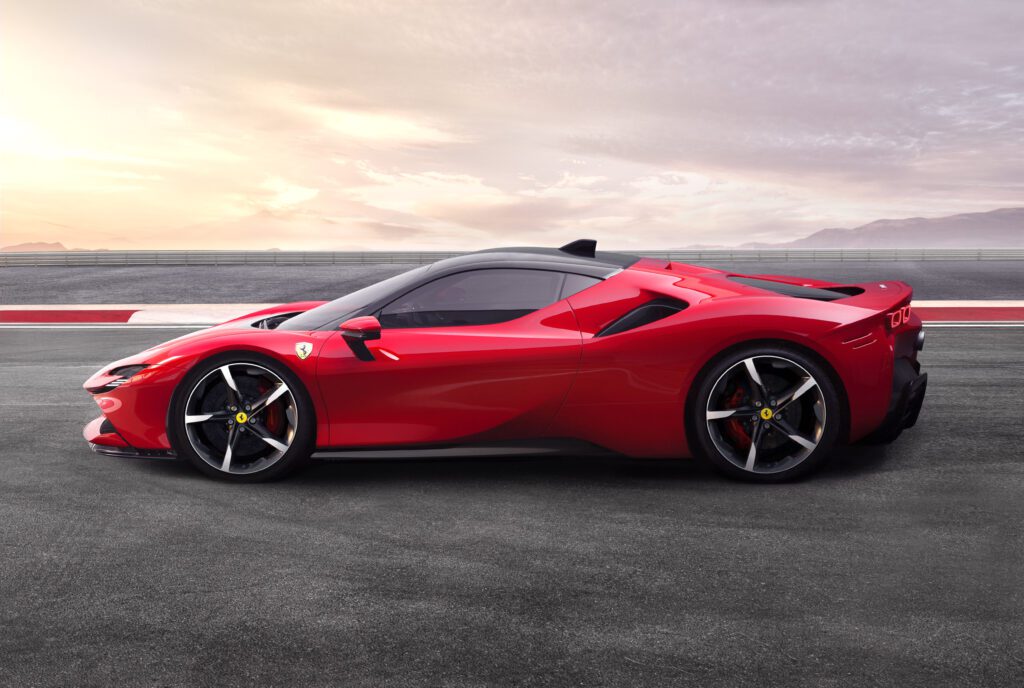 All Ferraris are both sinewy and svelte, and the SF90 does not wander from that formula. With purposeful scoops, vents, wings, and slats, the car looks fast when stopped and is superfast when under way. The top speed is 211 mph, but it's how it gets there—the way it feels and sounds—and the way it handles once there that combine to make this car so amazing. It clearly is a close relative of the Ferrari Formula One cars, as it's so comfortable under heavy acceleration and cruising at high speed. (No, I didn't exceed 200 mph; I promise that I was below 150 mph virtually the entire time.) And yet, there is no punishment imposed as a byproduct of that astounding performance, as the car feels like it's on the way to far greater speeds, so comfortable is it under all of the conditions that I experienced.
Usually, I borrow cars for a week, but this car is so rare (and expensive) that the Ferrari minders allocated a select group of journalists only a few hours each. Maybe it's like dog years, though: a few hours with the SF90 equals one week with a "regular" car. Either way, I did get a chance to experience canyons (hello, Coldwater), twisties (good to see you again, Mulholland), and iconic locations (I am looking at you, Beverly Hills and Century City). The SF90 has no bad photo angles; it looked terrific at each location. And, had I had more time, I am sure that the passersby would have like to learn more about this distinctive and impressive car.

The SF90 clearly is a performance car for the ages, but it's also beautiful, easy, and fun to drive, plus it sounds great. Since it's a plug-in hybrid, I was surprised (not really) to see that it wasn't on the California DMV carpool-eligible list; but, then again, maybe that's not the target market. With a base price of $513,691, perhaps not that many owners will be commuting 9 to 5. However and wherever you drive it, if you're fortunate enough to get some seat time with this special car, I predict that you will love every minute of it.
Photos courtesy Ferrari North America, Inc.
---
TIM LAPPEN
A lifelong petrolholic, mechanic (cars, motorcycles, boats), and automotive journalist since penning a column for his high school newspaper. Internationally recognized attorney Tim Lappen is a partner at a major Los Angeles-based law firm where he chairs the Family Office Group and Luxury Home Group — and is, of course, a member of its Motor Vehicle Group. He can be reached attlappen@gmail.com or visit LifeInTheFastLane.org
---