Chef Jean Paul Carmona of Routier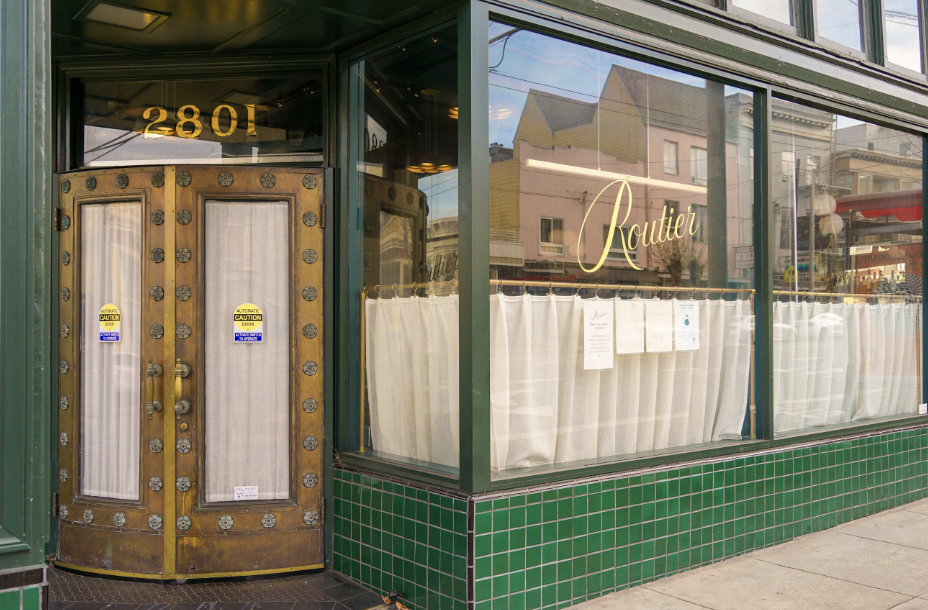 It's really a TOSS-UP as to which month I like better, since May and June mean the approach of sunny weather and eating yummy SALADS! Also the months we celebrate Mother's Day and Father's Day, family time when we can kick back and relax while our children spoil us! In this issue, LETTUCE provide you delicious salads and a great lamb recipe for more THYME to play or to enjoy with family—from talented chef Jean Paul Carmona of Routier.
Chef John Paul Carmona
Chef Jean Paul is a native of El Salvador. From family and childhood experiences, he developed a love and appreciation for eating and cooking. Attending Johnson & Wales University in Rhode Island, JP apprenticed under chef John Richardson at Pot Au Feu restaurant. Afterwards, he worked with chef Ken Oringer at the acclaimed Clio in Boston. There he was introduced to the world of fine dining, leading JP to complete stints at Alinea in Chicago and Mugaritz in San Sebastian, Spain.
After his travels, JP returned to California where he was introduced to chef David Kinch and Manresa restaurant. He went on to spend almost six years at Manresa, moving from line cook to chef de cuisine and eventually pastry chef before moving on. As chef de duisine, he was voted a rising star by the San Francisco Chronicle and StarChefs.
JP credits his experience and relationship with Kinch as an extremely valuable and formative time, both professionally and personally. It was here where he met Belinda Leong, during her time as pastry chef. They developed a friendship that would last for years after they stopped working together.
After Manresa, JP worked as a private chef, consulting and traveling to help friends in restaurants abroad. During this time, he helped Belinda with her openings of B on the Go and b. patisserie in Korea. While working together, along with Michel Suas, the other half behind b. patisserie, the idea of Routier first started.
QUESTIONS & ANSWERS
HL: You and Belinda Leong of b. patisserie worked together at Manresa. With a busy kitchen so meticulously focused there, it must've been quite hard to even chat! How did you two become such great friends in that kitchen?
JPC: Manresa was a busy kitchen, but we had a great team at the time, who not only had respect for each other professionally, but also valued the importance of joy and happiness during and after work. The team was friendly and welcoming. If you know Belinda, those are characteristics she embodies, so she fit right in.
Professionally, we bonded because of our curiosity regarding recipes, chefs, and techniques. During her time there, the concept of b. patisserie was always in her mind, I had a lot of respect for her because of how driven and hardworking she was to reach that goal. I also benefited from being able to try her many tests with kouign-amann and croissants; I have a really hard time saying no to delicious pastries!
Our friendship started with that professional bond, but from there, it evolved because of our love for food. When she left Manresa, we always stayed in touch and shared many meals at whatever new restaurant had just opened. All in all, we have similar tastes and values. That developed a trust that kept our friendship growing.
HL: It's so cool that you partnered up pastry legends, Belinda and Michel! How did that happen?
JPC: As you know, Belinda and Michel partnered to open b. patisserie. That is how I essentially came to know Michel. I helped out a bit with some of the very first "savory" recipes for the bakery, as well as the opening of b. patisserie in Korea. After working together, there I realized what real partnership meant. Especially in an industry as hard as ours, where so much time goes into what we do, you need to do it with people you not only respect, but who also make the hard work seems less like just work.
To me, they are very good people who happen to be very successful in their fields. Success does not always determine the quality of the person. That is what I think the three of us value and what has become the core of our partnership.
HL: Routier is a cool name. What is the inspiration to come up with the name and concept?
JPC: The three of us were sharing a meal at the old Hong Kong Flower Lounge II, trying to think of names we liked and had some meaning to the kind of restaurant we wanted. There were many suggestions, but nothing resonated with us. All of a sudden toward the end of the meal, Michel said, "What about Routier?" The three of us really liked it almost instantly. The origin of what it means in France was exactly what we wanted to share in San Francisco. Although many people associate France with fine dining, I have always experienced it as a sort of pure enjoyment of all things food and drink, no matter the price point or social standing of who is consuming it. The name Routier captured that feeling in a very simple and unassuming way.
HL: Owning a successful restaurant takes quite some time to keep up. What is your dream vacation?
JPC: In the current state of the restaurant industry, I would not dare to call ourselves successful. I have learned to find success in the small things, in completing the tasks every day, in being able to employ a team that I am proud of, and in making most customers happy. For the purposes of this question though, I will ignore the worries. Any possible vacation is a good vacation! A warm beach, with not many people around, is where my mind would go relax if it were left to wander. Of course, delicious food and drinks would be a required part of the setting. Cocktails, oysters, and champagne are the few things that come to my mind almost instantly.
HL: What is your favorite meal?
JPC: I have a hard time picking favorites; I love so many things. I love eating simply when I make something for myself. When it is made for me, I like to feel that there was care put into it. When asked what my last meal would be, the latest answer was oysters, bread and butter, and champagne.
HL: Which chef(s) serve(s) as a role model to you and why?
JPC: I look up to any chef who has been able to keep a business going for a long time, especially anyone who has been successful and remained humble. I've been lucky to work for and with people I respect: Ken Oringer, Andoni Luis Aduriz, David Kinch, James Syhabout. Most of all though, Michel and Belinda have always been people that I respect, look up to, and have learned very much from.
HL: What happens when you close up and go home? We like to make a drink, get dinner ready, and eat together to catch up! How about you?
JPC: I do very much enjoy making myself a cocktail. Depending on how I feel, it varies between a gin and tonic, an old fashioned (often with aged rum), or a version of a negroni. Most nights there is food, but usually it's the lunch I didn't have time to eat!
HL: What are your top five restaurants you like to visit?
JPC: There are so many restaurants to like in the bay area. In the last few years, my time off has been really limited, so I haven't been able to try as many places as I'd like. Especially now since covid started, there are fewer options for those of us whose "weekend" is on Mondays or Tuesdays. In no particular order, these are the ones I like to return to, because I crave them more often than others.

1. Dumpling Home. It's such a satisfying place to eat. The menu reminds me of eating in Taipei. The dumplings (as well as the rest of the menu) are homey and delicious. It is just done so well in an unpretentious way; this is my perfect kind of restaurant.

2. Rich Table. I've always enjoyed my meals at Evan and Sarah Rich's restaurant. They are also people and chefs I respect and admire. I do really enjoy eating food that is made by good people like them. Their menu is always exciting, and you can have an impromptu tasting menu in a really relaxed setting.

3. Chili House SF. Belinda introduced me to this restaurant a while ago, and it quickly became a favorite. I've returned many times with her as well as with family. It would be one of the main places I would pick up from during the pandemic to share it with my family. To me, eating is traveling, and coming here is like taking a little trip.

4. La Palma. It's my favorite place for a burrito, which I always get using their delicious chicharrones. The taco Sonora, also with chicharron, is my other favorite there. I'll usually get both, though, so I don't have to choose. The tortillas at La Palma are what make it, especially the flour ones. Once griddled, you can see layers in the dough, almost like the inside of a croissant. If thinking about tacos in the Bay Area, I do have to mention tacos El Patron or Los Carnalitos.

5. I'm going to cheat with my last pick and mention Zuni Café, Nopa, and Chez Panisse. These are bars and dining rooms that always give me joy to be in. I love the character they have, the timelessness of the spaces, and the food. These are bay area institutions that inspire me with how I want people to feel when they visit Routier.
Quote:
A favorite of mine has always been the "Man in the Arena" quote by Theodore Roosevelt:
"It is not the critic who counts; not the man who points out how the strong man stumbles, or where the doer of deeds could have done them better. The credit belongs to the man who is actually in the arena, whose face is marred by dust and sweat and blood; who strives valiantly; who errs, who comes short again and again, because there is no effort without error and shortcoming; but who does actually strive to do the deeds; who knows great enthusiasms, the great devotions; who spends himself in a worthy cause; who at the best knows in the end the triumph of high achievement, and who at the worst, if he fails, at least fails while daring greatly, so that his place shall never be with those cold and timid souls who neither know victory nor defeat."
Motto: I repeat to myself daily: "Keep it simple" and "complete the task at hand, focus on what has to be done now."
RECIPES
Tuna with Golden Sesame and Blood Orange
Serves 2
6 ounces sushi grade ahi tuna
1 blood orange
½ tablespoon chopped chives
Purple frizzled mustard or other greens to garnish
Maldon salt, as needed
Golden sesame oil vinaigrette
1 ounce white soy
1 ounce golden sesame oil
1 ounce lemon juice
1. Slice the tuna into ⅛-inch thick slices and arrange on a large plate.
2. Mix the three ingredients for the vinaigrette in a bowl. If you can't find golden sesame oil, use untoasted. White soy should be available at any Japanese market.
3. Peel the blood orange and make sure you remove all the pith. We reserve the peelings of the orange and cut them into julienne, salt them heavily, and let them sit for a few hours or overnight for an extra citrus flavor. This is optional, but if you want to do it, I suggest doing it the night before or in the morning. Once peeled, cut the orange lengthwise from top to bottom, then cut each half, flat side down, into thin half circles. Make sure to remove any seeds.
4. Place each orange half on top of the tuna. Spoon the vinaigrette over both. Be generous. Sprinkle the zest (if using), chives, and maldon salt on top to your liking. Garnish with mustard or any other greens that you enjoy.
Steamed Spinach Salad with Pomelo and White Sesame Dressing
Serves 2
2 bunches Bloomsdale spinach, washed thoroughly
1 teaspoon finely chopped shallot
1 tablespoon chopped parsley
¼ cup finely julienned sorrel
1 pomelo, peeled and segmented
1 red radish, shaved thinly
1 watermelon radish, shaved thinly
½ cup of a mix of your favorite greens (mizuna, mustard, frisee, tat soi)
Olive oil as needed
Kosher salt as needed
2 tablespoon puffed wild rice
White sesame dressing
½ cup untoasted sesame seeds
½ cup grapeseed oil
⅛ cup lemon juice
¼ cup white soy
⅜ cup water
⅛ teaspoon garlic, crushed
Zest of 1 lemon
1. Bring a large pot of salted water to a boil. Blanch the spinach for 20 seconds and immediately shock in an ice bath. Once cooled, drain and remove as much excess water as possible.
2. Place all the ingredients for the vinaigrette in a blender. Blend for two minutes on high or until it is very smooth and all seeds have been pureed.
3. Place the spinach in a bowl and toss well with shallot, parley, and sorrel. Arrange in the bottom of your platter or serving dish. Spoon dressing generously over the spinach; you want it fairly creamy and well-seasoned.
4. Arrange pomelo and radishes over the spinach, highlighting the colors and making your salad more attractive.
5. Gently toss the greens in olive oil, salt, and a few drops of lemon juice. Place them over your whole salad and top everything with puffed wild rice. If you can't find wild rice, you can replace it with any other puffed grain or toasted seeds.
Endive Salad with Ricotta and Caper-Honey Vinaigrette
Serves 2
3 each Belgian endive
½ cup fresh ricotta cheese
2 tablespoon toasted walnuts, chopped
Kosher salt as needed
Pickled golden raisins
⅓ cup golden raisins
¼ cup apple cider vinegar
¼ cup water
1 teaspoon salt
⅓ tablespoon sugar
Caper honey vinaigrette
¼ cup walnut vinegar
⅛ cup honey
⅓ cup extra virgin olive oil
2 tablespoons chopped capers
½ teaspoon Spanish smoked paprika
¼ teaspoon salt
1. Start by making the pickled golden raisins, as they need time to cool before using them for the salad. Combine all ingredients in a small saucepan and bring to a boil. Transfer to a jar or covered container and let them sit and cool down.
2. Combine all ingredients for the vinaigrette in a small bowl or jar. Whisk all ingredients until the honey dissolves completely. If you can't find walnut vinegar, use high quality sherry vinegar.
3. Separate the endive leaves by cutting a bit of the core at a time to easily pull off each leaf or petal separately. Repeat until you have separated all of them to the core. Place them in a large bowl and add about three tablespoons each of the pickled raisins and the vinaigrette. Season with salt to taste and toss well.
4. Place ricotta cheese in the bottom of your serving dish. Arrange the endive on top, trying to achieve different heights with the leaves to make it more pleasing to the eye. Drizzle a bit more of the vinaigrette and sprinkle the chopped walnuts over the top.
Fennel Salad with Curry Vinaigrette, Dates and Feta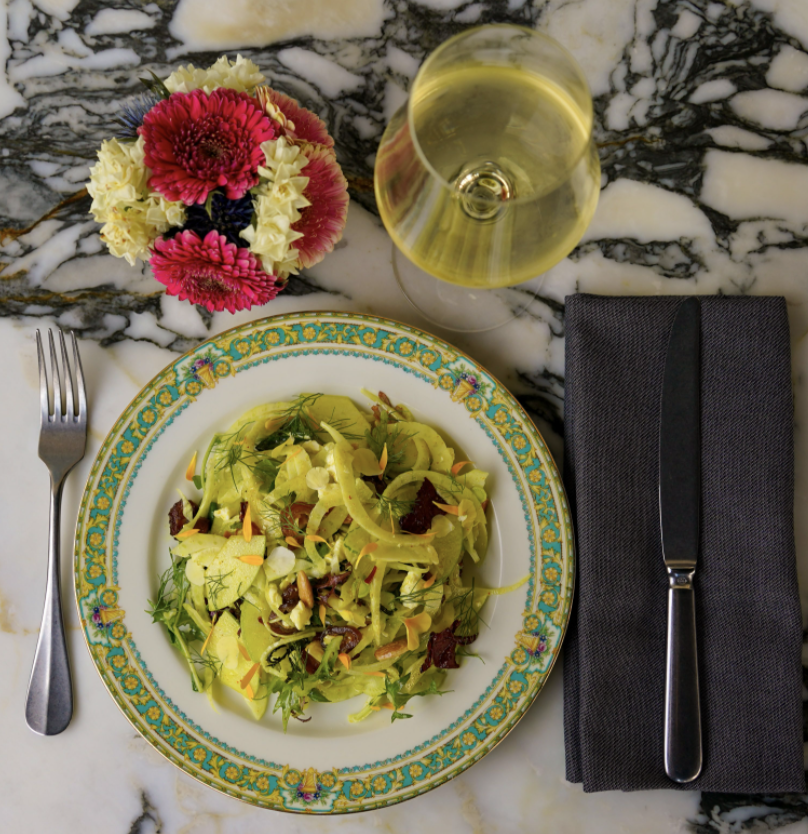 Serves 2
1 bulb fennel, washed and trimmed, fronds reserved
½ each Granny Smith apple
3 tablespoons Marcona almonds
¼ cup feta cheese, crumbled
3 tablespoon dates, sliced
Calendula petals
Kosher salt as needed
Curry Vinaigrette
1 tablespoon Madras curry powder
1¼ cup grapeseed oil
¼ cup sherry vinegar
¼ cup lemon juice
3 tablespoons honey
⅛ teaspoon salt
1. Make the vinaigrette first to let it sit and cool down while the flavors meld a bit. In a small microwavable bowl, place the curry powder and oil. Using a microwave, warm for about 30 seconds on medium only to heat it up slightly and let the oil infuse. Alternately, heat it up in a saucepan on very low heat on the stove. Meanwhile, in a larger bowl mix the rest of the vinaigrette ingredients and pour the infused oil along with the curry powder. Mix well and reserve.
2. Using a mandolin, shave the fennel and apple thinly, about the thickness of a coin, to make sure there is texture after they get tossed.
3. Place the fennel and apple in a large bowl, along with the almonds, dates, and feta cheese. Season with salt to taste and about three tablespoons of the vinaigrette. Mix well and place on your serving dish, building it up and making sure to show the dates and almonds in the finished salad.
4. Arrange the fennel fronds and calendula petals over the salad to brighten it up.
Lamb Loin with Spring Shoots and Green Garlic Jus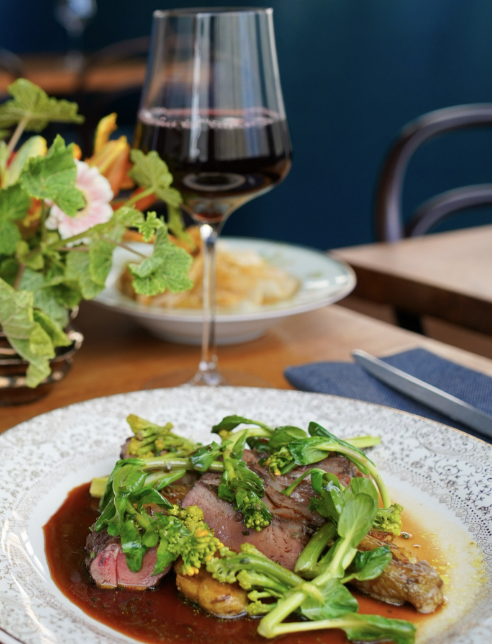 Serves 2
12-ounce lamb loin, trimmed
8 each fingerling potatoes, boiled
1 cup sprouting romanesco
1cup shoots (tat soi, broccolini, etc.)
3 sprigs thyme
2 each garlic cloves
Salt as needed
Lamb jus
½ cup lamb jus (reduced lamb stock)
2 tablespoons green garlic, chopped
1 tablespoon parsley, chopped
2 teaspoons chives
1 teaspoon Espelette pepper
1 tablespoon extra virgin olive oil
1 each lemon
Fleur de sel to taste
1. Preheat the oven to 350 degrees Fahrenheit.
2. Season the lamb loin liberally with salt and pepper. Heat a sauté pan to medium-high heat, add a teaspoon of olive oil, and sear the lamb loin fat side down. Allow it to color and render properly (about five to seven minutes). Drain excess fat, if needed, lower the heat to medium low, and add garlic cloves and thyme. Once more fat has rendered, turn the lamb loin for about 1 minute, then turn back on the fat side and start basting it with its own fat. Using a meat thermometer, check the doneness of the lamb. Once it reaches 125 degrees Fahrenheit, remove from the pan and allow to rest in a warm place
3. In the same pan, add the fingerling potatoes. Using a spatula, flatten the potatoes about halfway, so that they are still whole but have more surface area to allow them to crisp. Place them in the oven for about five minutes and turn them to make sure the other side gets crisp and golden.
4. Add the romanesco to the same pan and return to the oven to roast it for a few minutes. You want it to cook through, but maintain its color and crispness
5. While the vegetables cook, heat two teaspoons of olive oil in a small saucepan and sweat the green garlic until soft. Add the lamb jus and cook on very low heat to infuse. Right before serving, add the rest of the ingredients and season with salt.
6. Once the romanesco is cooked, add the rest of the shoots to the pan. Toss them so they wilt, do not cook through. This will depend on what kind of shoots you have, their thickness, etc. The idea is to have crisp, fresh leaves in your dish. Season with salt and plate the vegetables in a platter or separate dishes.
7. Warm the lamb loin briefly in the oven for a couple of minutes. Slice the meat into quarter-inch slices and place over the vegetables.
8. Grate some lemon zest over the dish and use some of the juice to season your sauce. I prefer a good amount of acid to cut through the fat and slight gaminess of lamb. Spoon the sauce over your dish and finish with fleur de sel.