Finding destination inspiration as the world reopens its borders
What does luxury travel look like in 2022? As the pandemic-battered travel industry springs back to life, two things are certain: Nothing will ever be quite the same again and that's probably a good thing.

Luxury travel has evolved. People are traveling purposefully, looking for wellness, adventure, niche interests, and educational travel. Intentions may be motivated by seeing loved ones, quality private time, getting off the grid, and destination immersion. What's of no interest? The proverbial bucket list.

The pause in travel and the shift away from over tourism has been good for the planet. Many are hoping a reset that is properly thought out will naturally lead us to a more sustainable travel comeback.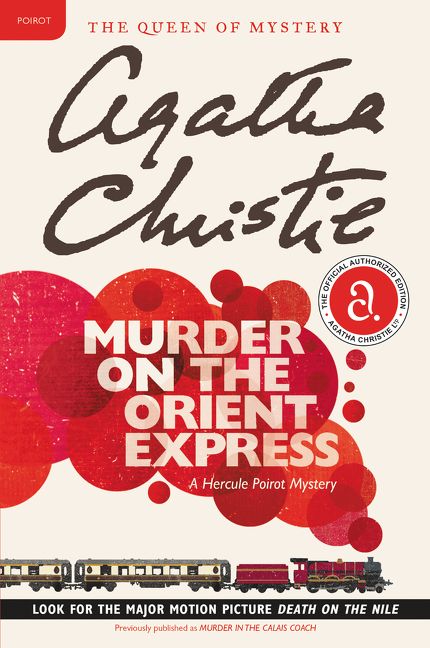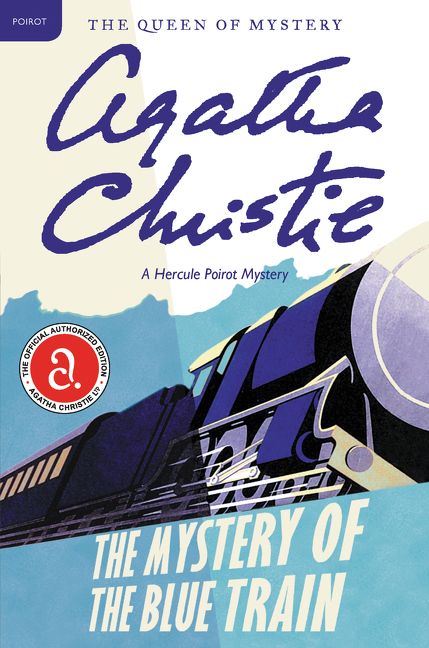 An Epic Journey in the Steps of Agatha Christie

On January 20, 1922, Agatha Christie embarked from Southampton, England on an ambitious 10-month "Grand Tour" around the world, meticulously documented through weekly letters and photographs to her mother.

A century later, travelers have the opportunity to recreate that journey undertaken by a 31-year-old on the precipice of her legendary career. Agatha Christie's great-grandson, James Prichard, has selected Black Tomato, a luxury tour operator with storytelling at its heart, to design and launch an exclusive trip that follows in her footsteps.

Guests pay tribute to the legacy of The Queen of Mystery, whose sales of two billion-plus books have been bested only by William Shakespeare and the Bible. This multi-leg series of adventures—choose just one or do them all in a marvelous 40-night adventure—allow enthusiasts to experience a contemporary version of Christie's epic odyssey that inspired The Main in the Brown Suit, Murder on the Orient Express, and Death on the Nile.

The Preface: Start in London with a stay at the author's beloved Brown's Hotel and take a proper English tea in the company of Pritchard or noted historian Lucy Worsley OBE.

Chapter One: Africa.

Like Agatha, check into the glamorous Belmond Mount Nelson Hotel to begin a 10-night trip that closely follows her adventures. Learn to surf near Cape Town, visit wineries in Franschhoek, tour on the legendary Blue Train to the old diamond mines of Kimberley. Priced from $7,195 per person based on two traveling.


Chapter Two: Australia and New Zealand.

Agatha was "entranced by landscapes coloured" in the cobalt vistas of the Blue Mountains, the orange groves of Yanga, red kangaroos, and the wilderness of Rotorua, Nelson, and Hokitika. Pass through the Dandenong Ranges via a lovingly preserved steam train, explore the cuisine of Mornington Peninsula, and visit Agatha's favorite cities: Melbourne, Sydney, and Hobart. A 15-night itinerary is priced from $25,980 per person based on two traveling.


Chapter Three: North America.

Crossing the Pacific to Hawaii, Agatha perfected her surfing before exploring the lakes, mountains, and hot springs of British Columbia and Alberta, calling this "the most beautiful place I had ever seen." Take a private flight to Niagara Falls, a highlight for Agatha's curious spirit, pause for wine in the Finger Lakes, wrap it up in New York City (Central Park views mirror those from the apartment of Miss Van Schuyler in Death on the Nile), where Christie's own father was born. From $18,300 per person based on two traveling on a 13-night trip.

In collaboration with Agatha Christie Limited, established in 1955 by the author herself, Black Tomato Co-founder Tom Marchant said, "In bringing this special adventure to life, which inspired some of her most beloved books, we're similarly aiming to harness travel to inspire life affirming journeys, as well as a new generation of literary fans."
blacktomato.com/us/agatha-christie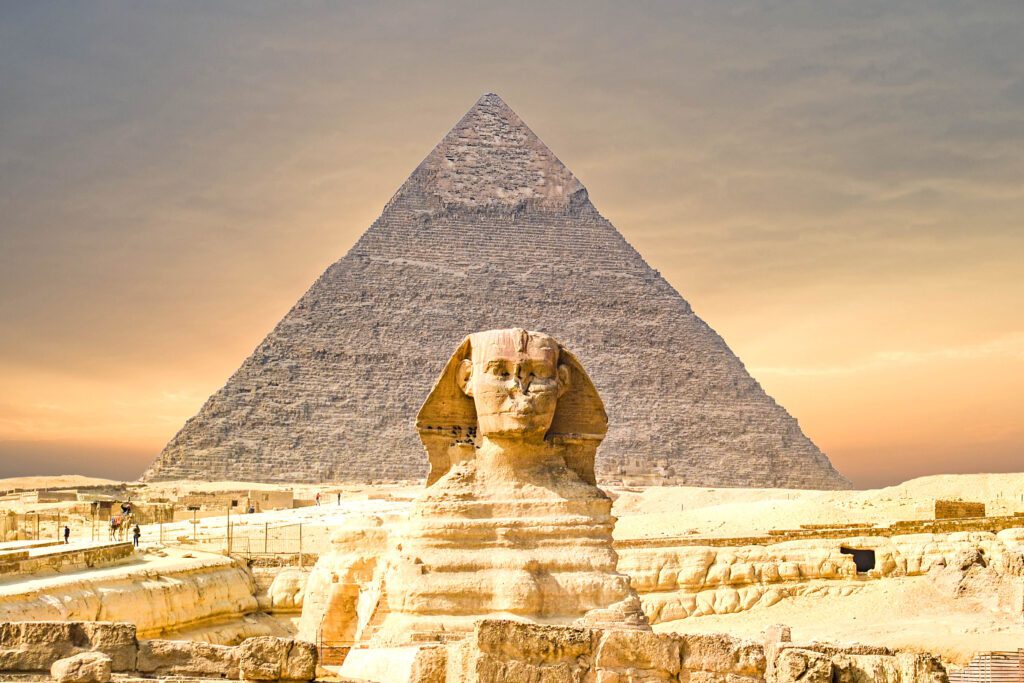 Ultimate Egypt: Culture on the Nile
Picture the billowing sails of a high society riverboat floating along on the Nile, the setting forAgatha Christie's 1937 murder mystery, Death on the Nile. She penned that page turner at the storied grand hotel that is Egypt's finest, Sofitel Legend Old Cataract Aswan, a stop on this itinerary. But that's later.
Day one begins at the Nile Ritz Carlton with an oversized bathtub, soft candlelight, and picture windows facing the Nile or the Egyptian Museum at the doorstep. Egypt is "an ancient land that has entranced and mystified, compelled and confounded," best appreciated without rushing; there is much knowledge to be gained.
Packed with wanderlust and awe, unparalleled luxury at a slow pace is how Black Tomato delivers a 14-day itinerary that takes guests to Cairo, Luxor, Esna, and Aswan. Check into Luxor's palatial Moudira Hotel with its arabesque archways, domed ceilings, and ornate garden fountains. It's an early morning call that's well worth the effort, for a private transfer to the Giza Plateau is timed for sunrise framed by the pyramids and the Sphinx. Accompanied by a photographer and an archeologist, this timing provides early access before public opening hours as well as access to stand between the paws of the Sphinx, otherwise off-limits.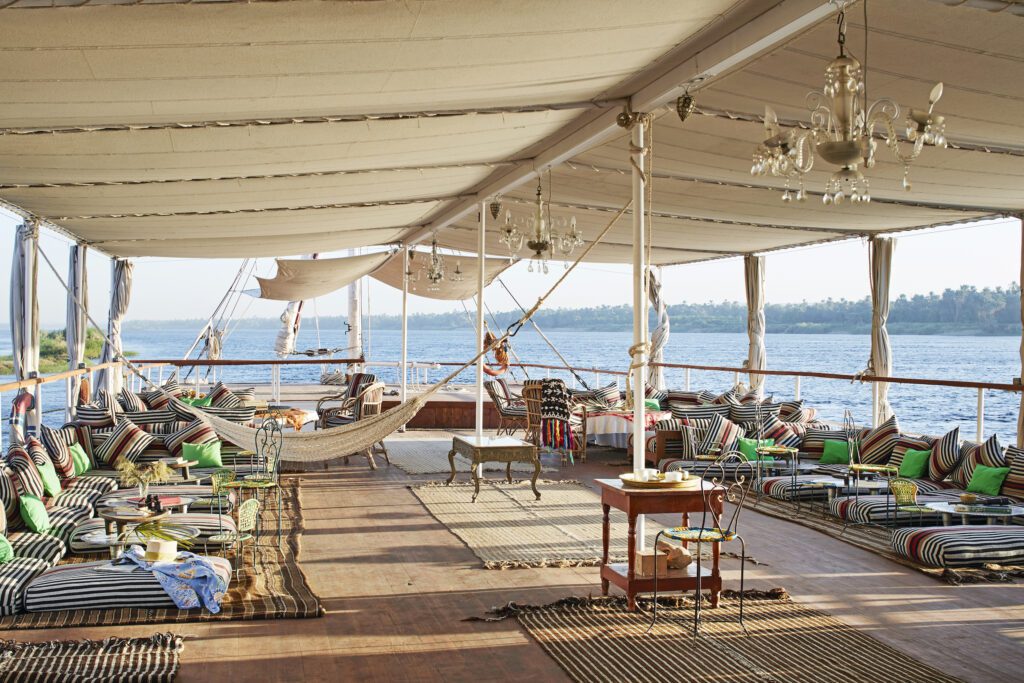 Sailing down the Nile from Luxor to Aswan on a wind-powered private dahabiyat of the Nour El Nil fleet is sheer magnificence that cannot be overstated. This type of shallow-bottomed passenger boat has plied the Nile for millennia; similar vessels are depicted on the tombs of the pharaohs. In modern times more than a century ago, this stylish mode of transport was the choice of monarchs and aristocrats.
This floating 5-star hotel boasts a captain, a crew, and a private chef. Spacious all-white cabins have floor-to-ceiling windows for panoramic views from a king bed dressed in the finest Egyptian linens. Adorning deck and roof terraces, chandeliers hang above plush sofas with intricately embroidered cushions, just the place for plonking down to marvel at the passing scenery. Later, there's a bonfire on the Nile's sandy banks for cocktails and stargazing.
On a 5-night journey peeking into places where bulky cruise ships cannot venture, there are stops for picturesque villages, weekly bazaars, spice markets, banana plantations, and lesser-known sites where Egyptologists await to conjure up facts entwined with storytelling of hieroglyphics, deities, temples, and gods. There are even places to stop for a walk in the desert.
At Aswan, leave the hotel's elegant comfort for a private flight across the sands toAbu Simbel Temples, the crowning13th century achievement of the Great Builder, Ramses II. Trek by camel or sail by feluccato the southern tip of ElephantineIsland and visit the historic village, Qubbat al Hawa. More history—plus music and whirling dervishes—is revealed at Kalabsha Temple, which is exclusively opened after-hours for a private dinner. Priced (upon request) in US dollars, excluding roundtrip Cairo flights in and out of New York or London.
Masterclass: Venetian Art and Architecture at Biennale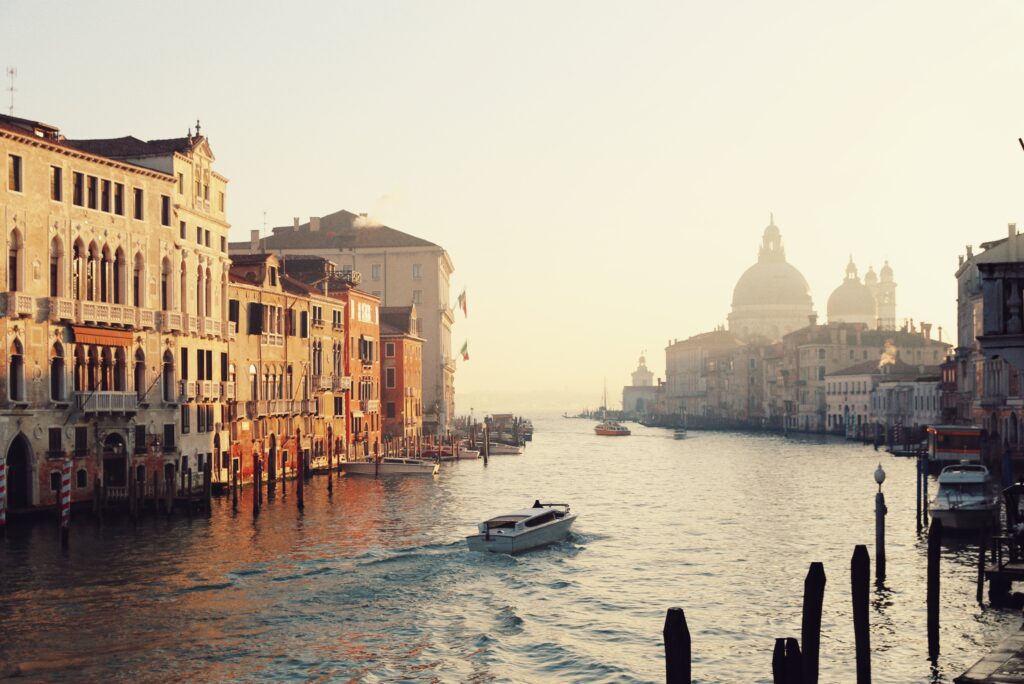 For the 59th Venice Biennale from April through November 2022, a bespoke travel company has launched a luxury offering with art education at the forefront. Think of this as a five-night masterclass, an opportunity to experience the city through the eyes of resident experts.

The Luminaire taps into a local guild of expert minds to bring substance and purpose to visits shaped by their guests' curiosity. These are artists, explorers, naturalists, historians, archaeologists—leading thinkers with a lifetime of professional and personal experience to share, punctuated by captivating stories.

At Venice Biennale 2022, the theme centers on transformation, technology, and our human relationship with the environment. Discover the city's unique artistic and cultural history through rare behind-the-scenes access while learning about impressive technical and ecological projects that aim to safeguard the future of Venice.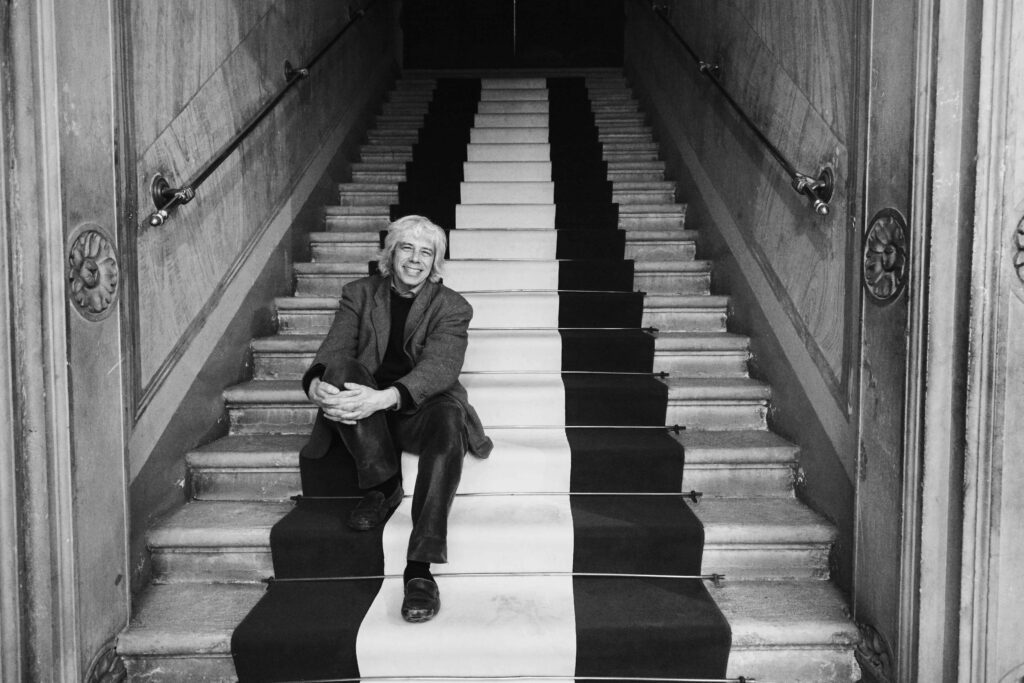 Architect, author, filmmaker, and historian Francesco da Mosto can trace his family roots in Venice for more than a millennium, since gondolas first plied these canals in 1094. He brings a singular perspective on the floating city's rich history and uncertain future in the face of the escalating effects of climate change.

With Francesco, explore the lagoon that's home to 118 islands. He unveils the ground-breaking digital recording project that created a 3-D model of the entire island of San Giorgio Maggiore. In Giudecca, he reveals an innovative, forward-looking approach to urban landscaping. Francesco guides a visit to the former quarantine island of Lazzaretto Nuovo with its remarkable history and discusses the city's expansive flood barrier at Bocca di Porto di Lido. On San Michele, observe traditional winemaking methods and hear about challenges at the island's only vineyard. At sunset, enjoy local cuisine at dinner on Torcello. Francesco also leads an intimate visit through St. Mark's Basilica, a cherished symbol that is perilously sited at the city's lowest-lying point, Piazza San Marco.

Dr. Giulia Martina Weston is an Early Modern art specialist who delivers insightful, unrivaled appreciation of one of the world's greatest cultural events, curated this year by Cecilia Alemani. Giulia leads a visit to the Biennale Giardini, site of the national pavilion. She shares her expert knowledge to enhance viewings of masterpieces by Titian and Bellini in the Basilica dei Frari and Early Modern paintings by Venetian women artists at the Gallerie dell'Accademia.

Spend time in the Accademia's conservation laboratories for insights into the meticulous art restoration process. Gain entry to an after-hours visit to the Peggy Guggenheim Collection's 'Surrealism and Magic' exhibition with curator Gražina Subelytė, concluding with an aperitivo on the roof terrace.

Home for the week is a lagoon-view suite at a landmark property. Francesco da Mosto opens the door to his family home, Palazzo Baglioni with its magnificent staircases and ancient frescoes. Guests will join the architect together with distinguished art historian Giulia for a welcome dinner at one of Francesco's favorite restaurants. An especially memorable evening is arranged at La Fenice opera house.

Priced in sterling from £14,395 per person for five nights based on a group of four traveling from London.
theluminaire.com/itinerary-venice-biennale
Best of the Alps Wants Tourism

In this time of border conflict and controversy, we salute the enduring charm and authentic style presented by Europe's classic mountain resorts. Known as "Best of the Alps," for 35 years this collection of 11 remarkable Alpine destinations have benefited from a five-nation cooperation while each preserves a strong sense of place, identity, language, traditions, and freedom. What do they need? Tourism.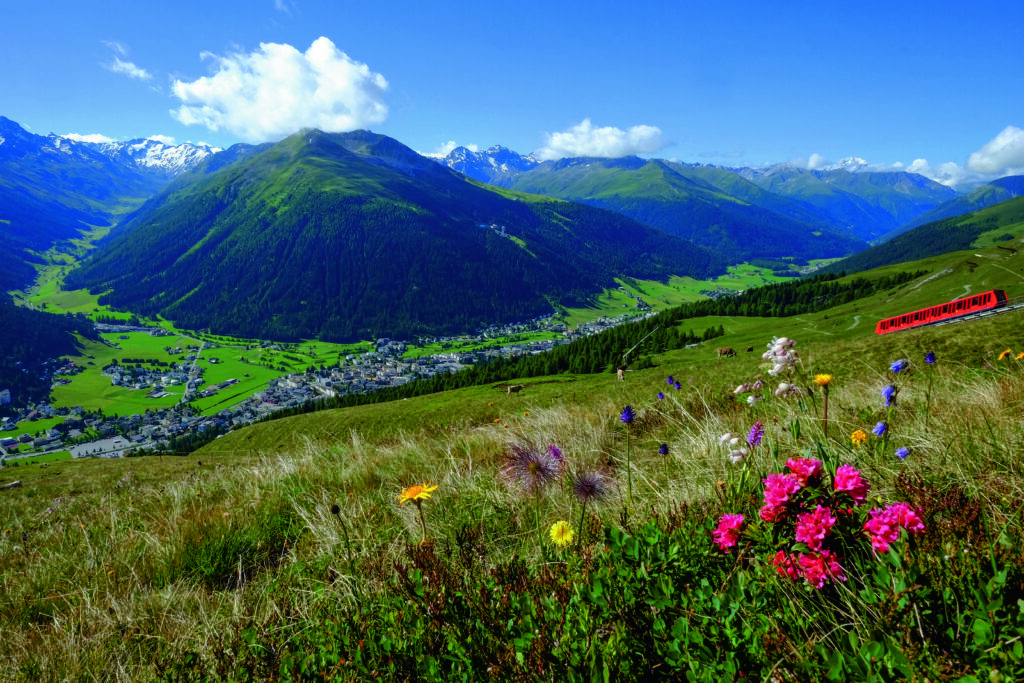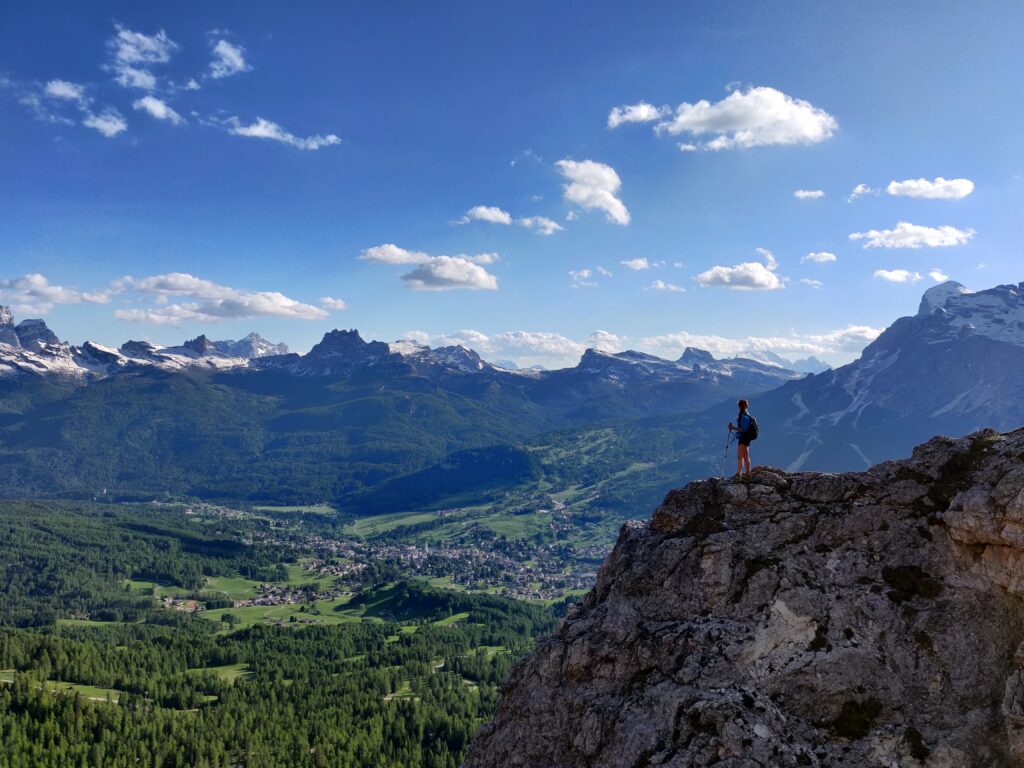 The cradle of skiing has hosted two Nordic World Ski Championships and five Olympic Games with another planned for February 2026. The region's five-star resorts are known for warm hospitality and plentiful dining options from more than 130 highly decorated chefs. There are lovely mountain villages, powerful pioneering adventures, and breathtaking natural vistas around the highest peak in the Alps.

Meet the group and make a date for next winter.

* France: Chamonix-Mont Blanc and Megève
* Switzerland: Crans Montana, Davos Klosters
* Italy: Courmayeur, Cortina d'Ampezzo
* Austria: Kitzbühel, Seefeld, St. Anton, and Lech Zürs
* Germany: Garmisch-Partenkirchen

Travel tip #1: Think airports, not countries. It can be surprising that the closest airport to a resort in one country is an airport in another. For example, Courmayeur is the French name for an Italian ski resort with its nearest airport in Switzerland.

Travel tip #2: Think Sound of Music and edelweiss. Fresh air mountain summers are just as special as glacier skiing.
bestofthealps.com/en/team