Finding wholeness in the Himalayas at Ananda
Have you ever found yourself on the brink of a crisis or in pain whispering those four dreaded words: "I don't want to be here?" We try to achieve excellence by pushing beyond limits, persevering through challenges, and embracing the inevitable discomfort. But is this good for us? Based on the ancient science of Ayurveda, this is not how we should treat our bodies. After all, our body is the only vehicle we have to make it through this lifetime. Yet, many of us suffer from physical imbalances leading to insomnia, migraines, and chronic health conditions. Others fight through the pain with high anxiety and stress levels, while some fall into deep depression and hopelessness.
Ananda's promise is an escape to a serene paradise in the birthplace of Ayurveda, yoga, and meditation. There, you can immerse yourself in 100 acres of stunning landscapes with breathtaking views of the majestic Ganges River and the sacred city of Rishikesh. Roam through miles of vibrant gardens and peaceful pathways that invite you to reconnect with the blissful harmony of nature.
Ayurveda philosophy believes space, air, water, earth, and fire connect everything; and, if you are in harmony with the universe, then you will have good health. When something disrupts this balance, your dosha creates an energetic imbalance which leads to physical and mental ailments. The goal at Ananda is to balance your dosha and bring you to a place of optimum health and ease.
Documented over 5,000 years ago, Ayurveda is one of the world's oldest holistic healing systems. It is two Sanskrit words: ayu, meaning life, and veda, meaning science or knowledge. It translates to the "science/wisdom of life" or the "knowledge of longevity." Ayurveda's key to optimal health and wellness is to achieve a harmonious balance in body, mind, and spirit. A fundamental principle at Ananda is a concept stating that the whole universe comprises five elements, and the permutation and combination of these gives every form of life a unique set of qualities and responses. That unique set of qualities and responses is one's dosha.
Before starting your journey to this extraordinary place, where you'll recenter your life and find peace and healing, you must first have a video consultation with one of the highly skilled Ayurvedic physicians on staff to assess your needs. Before your consultation, you fill out a health questionnaire online that the physicians use to determine your dosha. Once your dosha is determined, the staff will customize your schedule, treatments, and cuisine accordingly.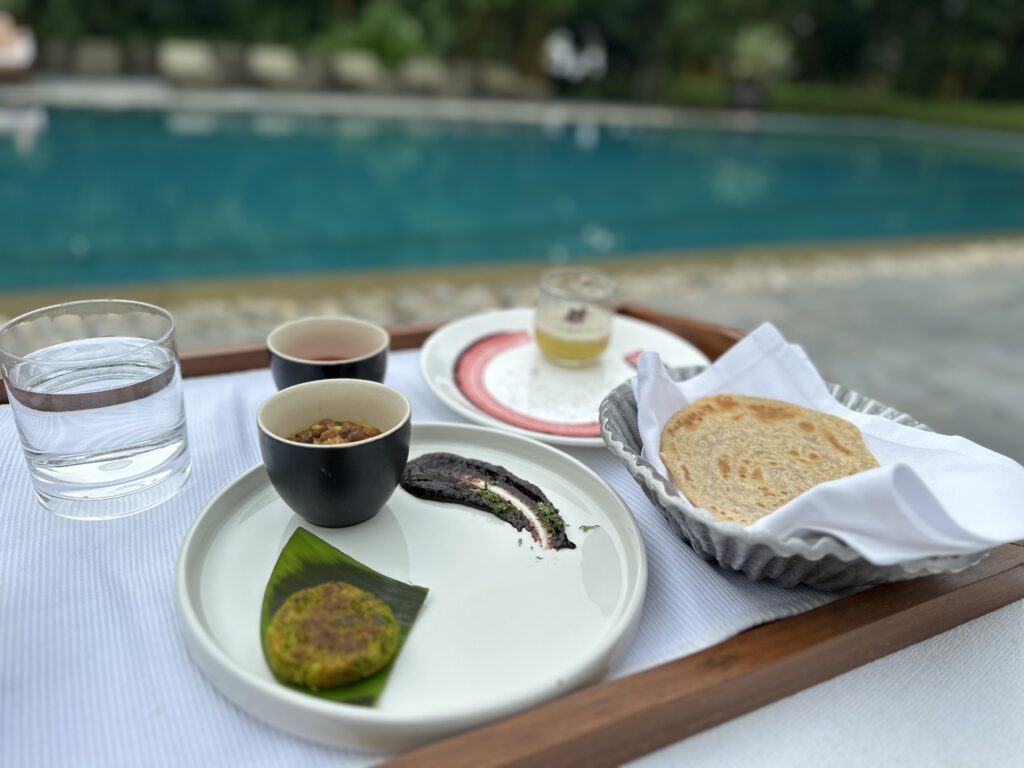 Once the staff knows your dosha, you are given a personalized dining experience based on your needs. Ananda's chefs incorporate seasonal variations in cuisine and recommended cooking styles to create a truly exceptional dining experience tailored just for you. Many herbs and vegetables used in treatments and cuisine are grown in one of the estate's many gardens.
Finding your perfect escape with Ananda's diverse offerings, featuring luxurious villa packages and rejuvenating wellness programs, is easy. One of the most popular plans is the Ananda Rebalance program. You can book a 7-night, 14-night, or 21-night stay. They use ancient Chinese therapies to achieve hormonal balance and find relief at any stage of life.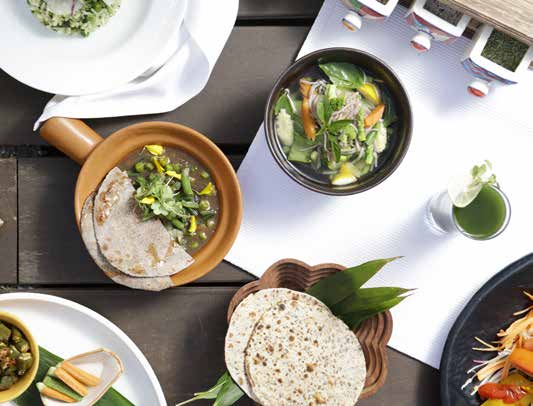 This unique approach addresses menopause and imbalances in testosterone and other hormones for men. By focusing on unblocking energy flow through the 14 meridians, their intensive therapies help restore balance, reduce pain, boost energy levels, and reset your whole system. Ananda offers over a dozen personalized programs, and some of the most popular include holistic detox, weight management, chronic pain management, stress management, and sleep enhancement.
While the property is a paradise of waterfalls, quiet pathways, and expansive lawns, the true magic happens in the state-of-the-art spa center which is the heart and soul of the property. Their expert physicians will review your needs and provide tailored solutions to restore balance, tranquility, and health. With their personalized care and comprehensive treatment plan, you journey towards a revitalized and harmonious body, mind, and spirit.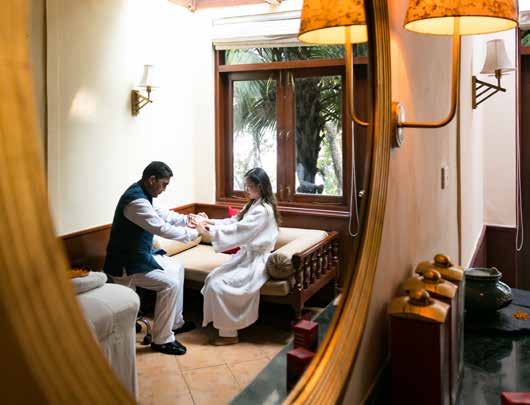 Ananda has an impressive cadre of qualified Ayurvedic physicians and therapists to administer treatments ranging from therapeutic massages to more rigorous modes of toxic elimination. The Ayurvedic therapies at Ananda are firmly rooted in ancient traditions. Each day, you'll receive a list of treatments that focus on your healing, along with fresh white cotton kurta pajamas provided in your room, comfortable attire all guests can wear throughout the property. Treatments range from physiotherapy to address chronic pains to acupuncture and oil massages to help with circulation and muscle tension. You'll meet with a traditional Chinese medicine doctor and an Ayurveda doctor to chart your progress during your stay.
Some of the most popular therapies include emotional healing therapies which apply a comprehensive set of ancient and scientific tools ranging from spiritual counseling, energetic cleanses, and behavioral cognitive therapy. The path of emotional healing therapy resolves traumas and negative thought patterns to bring relief to the mind and manifested physical ailments. The resort offers daily morning meditation, chanting, yoga, workout classes, and lectures by international leaders in the wellness space. Weekly offerings include cooking classes, hiking excursions, and trips to surrounding towns.
Of course, going through these deep processes throughout the day requires a comfortable nest where you can rest at night. Ananda offers a few different luxurious accommodations, from garden suites to villas. Experience the opulence of India's regal past at the magnificent Viceregal Suite.
Perched in the guest wing of the maharaja's stunning palace, this suite is appointed with a spacious sitting and dining area, a plush bedroom with a period four-poster bed, and a private terrace with rooftop gazebo seating where you can enjoy breathtaking views of the beautiful, landscaped gardens and the distant Ganga Valley.
For those who want ultimate privacy, choose from one of the three villas on the property. Each villa features a spacious living room, a pantry for your butler, a stylish dressing room, and a large bathroom with a private sauna. Enjoy quiet swimming in your private pool as you relax amid the thick bamboo and flowering plumeria trees.
Personal transformation can be challenging sometimes, and the attentive staff at Ananda understands that. Everyone, from the morning yoga instructors to the gardeners, greets each guest with a smile and folding of hands as if you were the only person in the world. Their team is dedicated to your comfort, well-being, and healing. From their talented chefs to expert massage therapists, your needs are their top priority.
At the end of your stay, you'll receive a personalized post-treatment plan from their experienced physicians based on your specific wellness program. Your treatment plan includes:
Their observations from your visit, including your physical and mental constitutions, imbalances, body ailments, locations of stuck energy, and emotional state.
A list of your food allergies, nutritional preferences for optimum health, and dietary restrictions that you should follow to maintain balance.
A detailed list of recommendations, including overall lifestyle changes, dietary suggestions, and physical activities to help your body integrate the improvements you made during your visit to Ananda.
Discover the blissful sanctuary of Ananda, where you can embrace a transformative wellness journey like no other. Their immersive experience combines physical and emotional care with tranquil serenity, catering to your needs and limitations. Ananda is your sanctuary if you seek a destination dedicated to healing and personal growth. Indulge in a lavish retreat with 24-hour room service, exquisite wellness à la carte dining options, rejuvenating spa treatments, and a tranquil poolside setting with opportunities to sip herbal teas. Experience the ultimate luxury getaway tailored to support your healing needs.
Sometimes, the best way to reconnect with our divine selves is by disconnecting from the chaos of the present moment. At Ananda, they gently help you create a healthier lifestyle with the perfect balance of emotional support and physical restoration. It's a place where they see your potential to become the best version of yourself, and through their gentle guidance and healing, they will show you the way from here to divinity.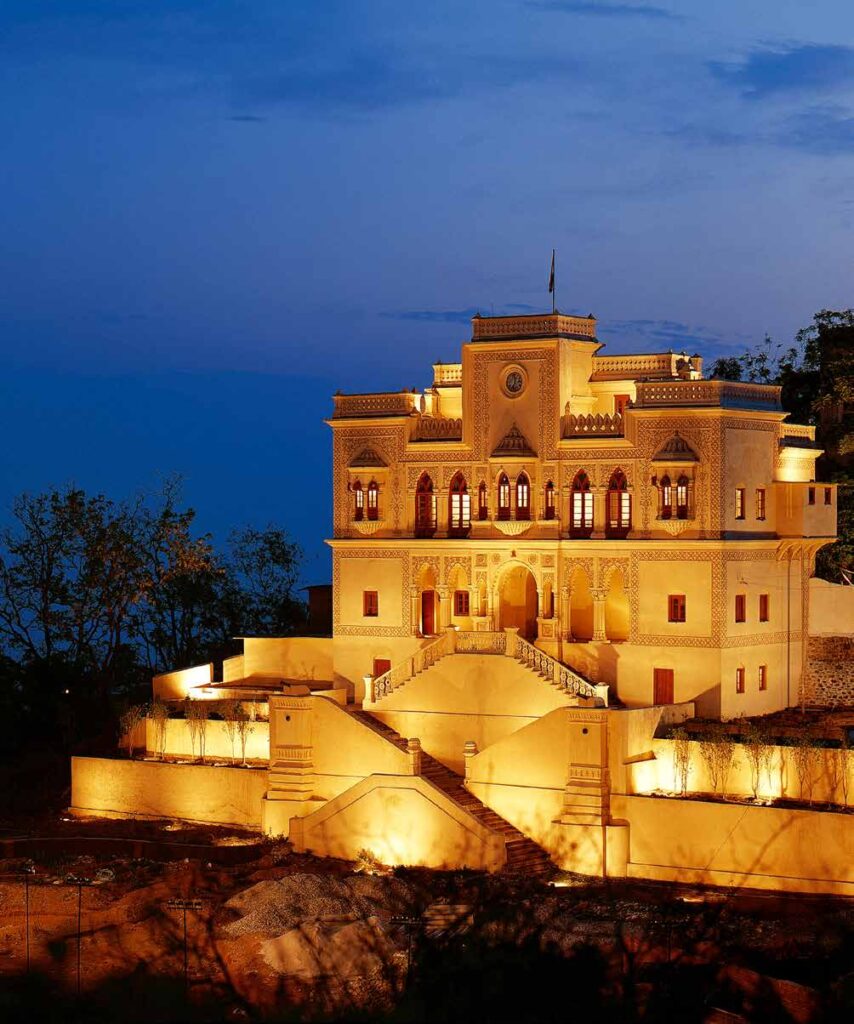 HOW TO GET THERE
Embark on an exhilarating journey to the majestic Himalayas—an adventure that may not be easy, but certainly adds to its allure. Experience sheer comfort and style with Air India, the best way to reach this exotic destination. With daily flights from SFO to Mumbai and Delhi, Air India ensures a luxurious travel experience.
From the moment you step into SFO's International Terminal, your business class experience begins. Their attentive staff caters to your every need, ensuring a pleasant and luxurious flight across the globe. Settle into your private cabin and indulge in ultimate relaxation as you receive a set of cotton TUMI™ pajamas and a top- notch TUMI toiletry kit. Quench your thirst with a wide selection of champagnes and wines from France and Italy, listed on their impressive menu.
Throughout the 16-hour flight, you will be treated to delectable meals featuring Western and Indian cuisine. Enjoy lunch, dinner, and flavorful snacks, making your journey delightful.
Whether you prefer road transfer or domestic air travel, Ananda is there to assist you. They also offer meet-and-greet services and access to exclusive lounges at the Delhi airport. If you need hotel accommodation in Delhi for overnight transfers, Ananda can arrange that, too. Let Ananda take care of your travel needs, so you can focus on creating unforgettable memories.