Whether it's a ball, an affair, a shindig, a barbeque, or a bash, hosting and planning the perfect
and memorable party is my passion. From an early age making moments special for others was
something I gravitated toward. I fondly remember summers at my grandmother's house and
her asking me to get her a Tab. Do y'all remember Tab? The first diet cola in the pink can? I'd
find a beautiful crystal glass, fill it will it with ice that I would crush by hand, garnish it with a
lemon wheel and a maraschino cherry pierced together with a paper cocktail parasol—when all
she wanted was a can of pop. It was these little crazy details that family and friends came to
expect from me … and those details only grew more elaborate in adulthood!
For me, planning an event always begins with the inspiration. That inspiration may come from
anywhere. A sultry, black, vintage-inspired Dolce & Gabbana cocktail dress with a pastel floral
print inspired Mystique Savannah, a Savannah, Georgia-themed luncheon where I transformed
the Rotunda restaurant at Neiman Marcus in San Francisco into a turn-of-the-century,
enchanted Southern public park complete with a wrought iron garden arbor gate entrance and
hanging Spanish moss I had flown in from Savanah. And the following year for Kaiseki Bloom, I
was inspired by the Sakura (cherry) Blossom Festival that takes place every March in Kiyoto,
Japan, simply because cherry blossoms are in bloom in March—a lesson I learned when
magnolias weren't in bloom when I ordered them for the centerpieces for Mystique
Savannah—only for a chance storm that hit the grower's cherry blossom orchard, knocking all
the blossoms from the branches and forcing my florist to improvise by subsidizing the sparce
cherry blossoms the grower was able to salvage with silk ones! No party goes without its own
little (or big) hiccups, but somehow, I always pull it off and smooth it over, and guests are never
the wiser.
Bringing Paris to San Francisco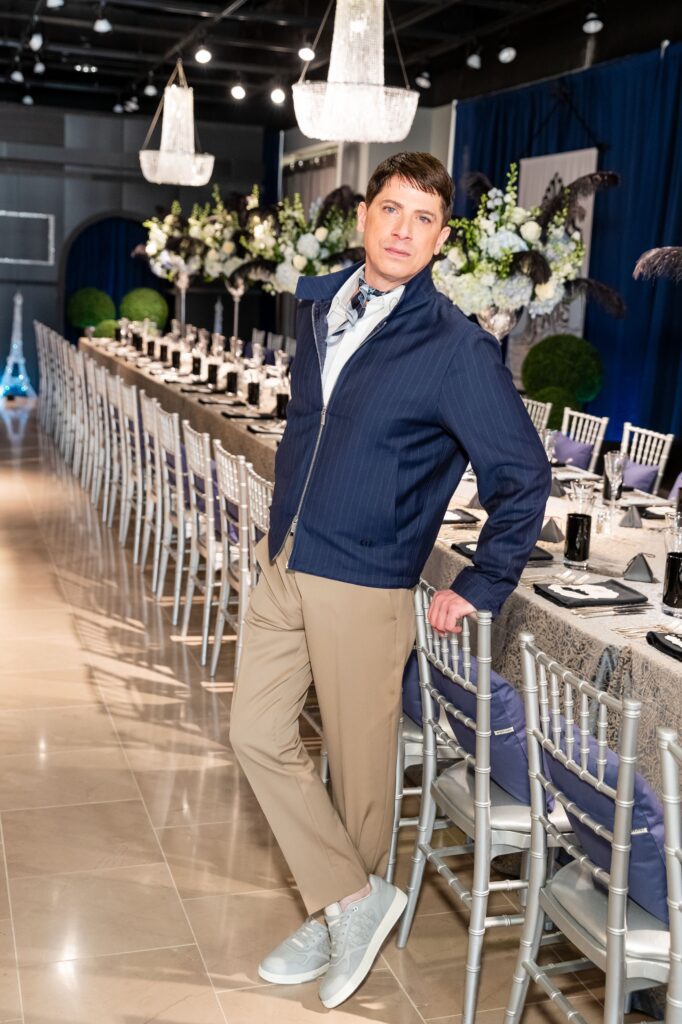 For this year's birthday bash, "Rencontre Moi à Paris" (Meet Me in Paris), I looked to Neiman
Marcus San Francisco's Rotunda restaurant's executive chef, Erik Harrelson, for inspiration.
During our initial event planning meeting, I asked Chef Harrelson what food inspired him the
most and, to be exact, what cuisine he enjoys cooking the most. Without so much as a thought, he fondly reminisced about his training in classic French haute cuisine at the California School of Culinary Arts (CSCA). Classic French haute cuisine is an art of cooking that is seldom practiced in California these days and in which chefs and diners alike are more comfortable with a more rustic approach to plating. It was at that moment in the meeting that the vice president/general manager of Neiman Marcus, Mark Sullivan, and I excitingly shrieked "Parisian!"—and the
Parisian concept was afoot.

Because of the pandemic, it had been over a year since friends and I had been able to enjoy our annual pilgrimage to Paris for Fashion Week. With travel finally opening up, some friends were still wary of international travel due to hassles with COVID restrictions, yet an immense longing for Paris among my friends was beginning to take its toll. The longing for us to meet together again in Paris was strong, thus this year's theme "Aubrey Brewster's Rencontre Moi à Paris Birthday Luncheon" (Meet Me in Paris) was born.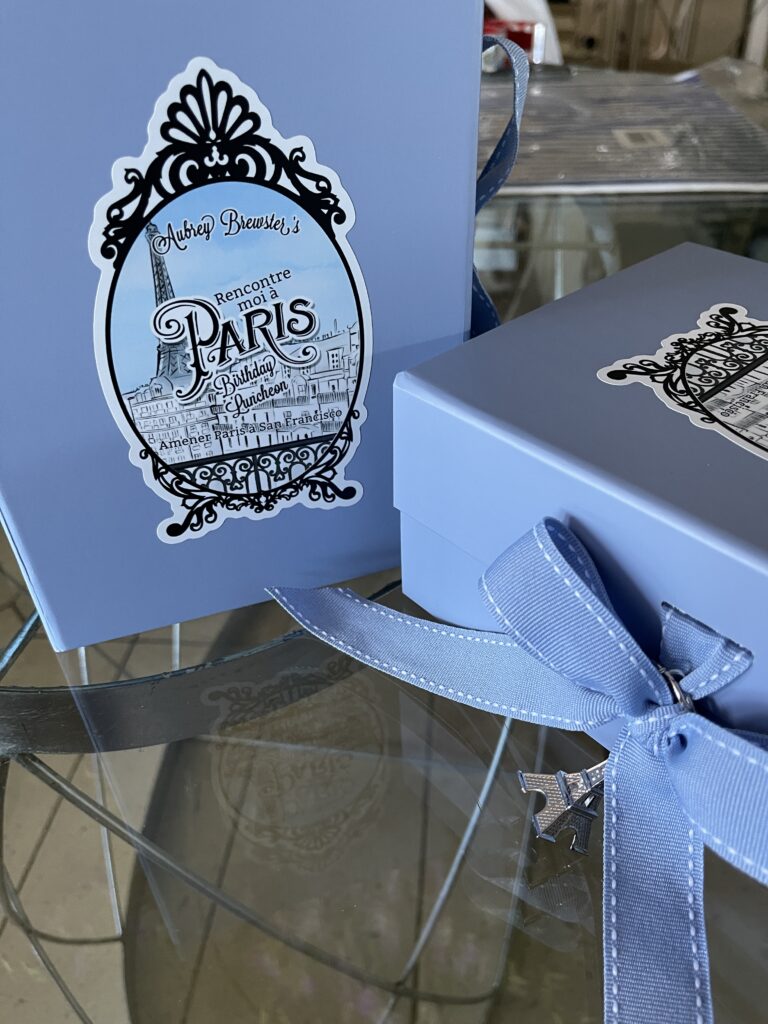 Sending out a tantalizing announcement gives the guest a peek into what to expect. The
invitation not only announces the event, but sets the tone.
My trips to Paris wouldn't be complete without a stop in Angelina's on Rue de Rivoli for their
Mont-Blanc, a pastry of meringue, whipped cream, and chestnut paste "vermicelli" and a big
mug of their famed African hot chocolate, hands down the best hot chocolate. Going to
Angelina's has been a tradition for more years than I wish to confess. So, when I think of Paris, Angelina's always comes to mind. In the spirit of that nostalgia, for "Rencontre Moi à Paris" I wanted to share this sentiment. I ordered collector's assortment tins of Angelina's classic cookie collections from Paris. Accompanying the invitation, each invitee received a beautiful, powder blue, magnetic keepsake gift box with a tin of Angelina's cookies tucked beautifully inside and wrapped with matching saddle stitch ribbon and a silver souvenir Eiffel Tower keychain. How French is that?
Now that a theme is chosen, what colors will set the mood? When I think of Paris, two colors
come to mind: a rich, velvety red that conjures up Paris night life—moreover, the famed Moulin Rouge nightclub (where can-can dancers do their flirtatious kicks and dips and where sipping from a lady's stiletto was made famous), and French blue, a dusty, powder blue reminiscent of the Parisian morning sky. With two such iconic sentiments, choosing one seemed impossible. But in typical fashion, I thought why not both? Two seemingly opposing thoughts … crazy, right? But then again, taking crazy risks makes for a fun time had and "go big or go home" attitude have come to be a mantra. Not to mention, I had two adjacent rooms and a long hallway to work with.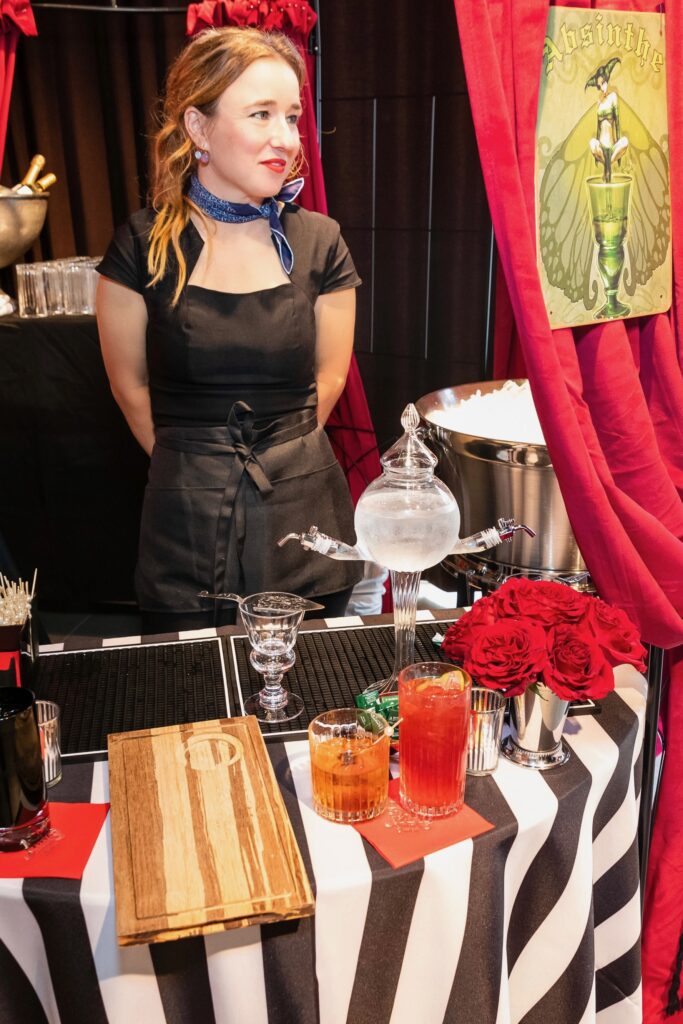 Neiman Marcus made available two adjoining fifth floor event spaces that Neiman Marcus. The Glass Room, a bright and sunny room with floor-to ceiling windows overlooking Geary Street on Union Square was just the right size for the cocktail reception. It was perfect for our "Moulin Rouge Bar & Lounge." At the center of the lounge was a black ironwork gazebo enrobed in rich red velvet drapes, surrounded by beautifully covered high-boy tables in vermillion, baroque, tapestry-like tablecloths, and deep red rose floral arrangements, emulating the plush décor of the Moulin Rouge (that oddly enough, I sourced that on Amazon) where the bartenders were the main attraction while they mixed drinks. Guests first arrived for an hour or two of liquid courage, traditionally served absinth we nostalgically referred to as the Green Fairy, overflowing Perrier-Jouët champagne, and copious amounts of chilled "fishberry jam" from the caviar bar, where Chef Harrelson made hot buttery sourdough blinis to order while wearing his chef toque for guests' amusement. Bites of hot escargot bouchées, and chilled and boozy Pernod oyster shooters with Angostura bitters cocktail sauce were passed to keep guests hearty before being seated for lunch.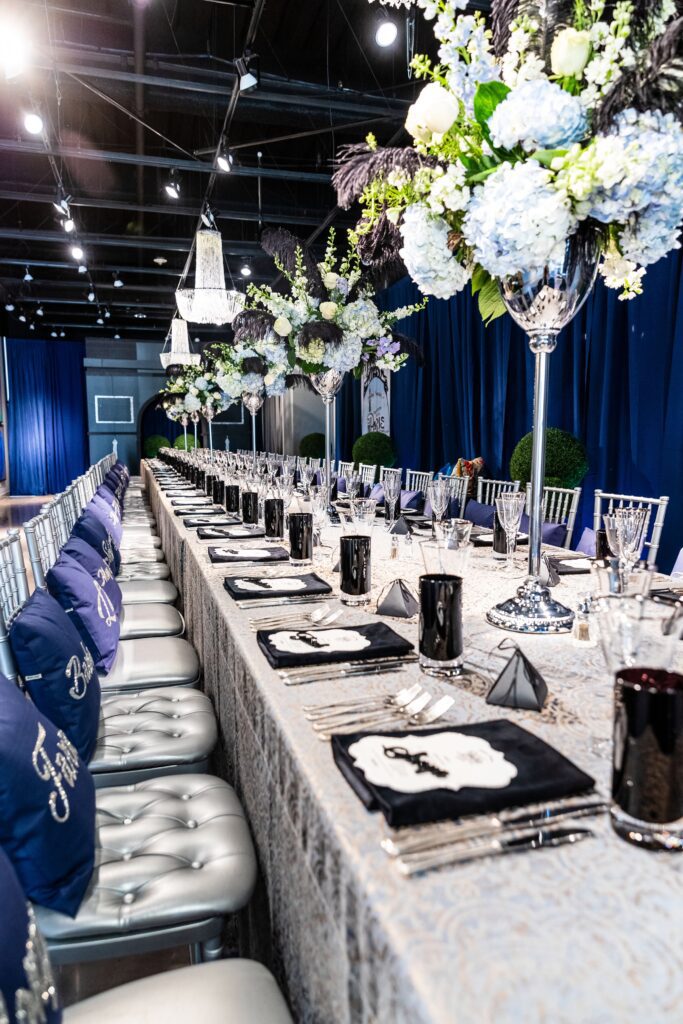 Lunch took place in the main room, the Penthouse on 5, a long spacious and airy room where we could transform and bring the City of Paris to life. At the heart of the room was the 40-foot dining table (that we affectionally dubbed the Champs-Élysées) covered in a French blue tablecloth with baroque silver embroidery, set with sterling silver flatware, black velvet napkins, matching black water goblets, platinum-rimmed stemware, and handmade pearlescent and platinum menus by Yours Truly Invitations by Lindsey. Guests sat under a canopy of colossal arrangements of periwinkle and white elderflower, white roses, silver-blue hydrangea, and black ostrich plumes by Dino Bocala & Mark Leahy arranged in silver pedestal vases nearly reaching the tiered "diamond swag' chandeliers.
Welcoming guests as they sat for lunch were chic, customized, dark French blue 14-inch silk
cushions with their names in silver beaded appliqué embroidery on their chairs to give comfort and take home as keepsakes of the afternoon by Shikha. Towering over the far end of the "Champs-Élysées" was a black 10-and-one-half-foot by 10-foot free-standing scale model of the Arc de Triomphe de l'Étoile, (one of Paris' most famous monuments). I bought the Arc de Triomphe as a kit from Andersons.com; but when it arrived in three gigantic boxes, complete with spray paint, silver glitter, and a glue gun, we knew we were a bit over our heads in putting the megalith together. Luckily, NM's brilliant engineering department had a go at it, and after a few frustrating days, et voila!
But it couldn't have been Paris without the City of Lights' most famous and iconic monument of all, the Eiffel Tower. I searched for weeks for the perfect Eiffel Tower. It needed to be grand; after all, it was the statement that would anchor the event, submerging my guests into the fantasy … the one iconic piece that would transport us to Paris, and we couldn't "meet in Paris" without it. I found one for rent here in San Francisco, but it wasn't perfect, and I was weary of renting it, for it seemed to have seen better days, and the color didn't work with the elegant look I was out to achieve. By pure chance, I found the perfect, 12-foot Eiffel Tower on Etsy.com from a vendor in India. It seemed too good to be true. It was a little over $2,000 with tax and the shipping! I quickly placed the order and couldn't wait for it to be delivered; that is, until the vendor sent me a message telling me that they found out that it would cost over $8,000 to send it. I was informed that it was so heavy and large that it had to be packed in a wooden crate and sent via freight with its very own space on the plane. I was frantic.

Neiman Marcus' shipping department kindly set out to see how they could help and checked to
see if they could possibly get it here cheaper; but, they confirmed that, indeed, there was no
way around the freight costs and the price was over $8,000. I thought about it for minute, and
debated on paying the ransom, but my friends, NM's Theresa Spirz and Mayor Willie Brown
helped me snap out of it, telling me that I would be insane to spend ten grand on a prop for one
afternoon. Needless to say, it wasn't in the cards.

While licking my wounds, my dear friend Jerold Osato stopped by Ro (the Rotunda) to join me
for lunch, he took one look at the photo of the Eiffel Tower and proclaimed, "I can build that! I can even make it lighter and foldable for compact storage!" Jerold, an engineer (and now
savior), quickly got started on the design, building it from thick white cardstock attached to a
lightweight aluminum frame. And after painstakingly hand-cutting each cutout with an X-Acto®
blade, in only three weeks he delivered a beautiful and towering, white, 12-foot, scale replica of
the beloved Parisian landmark the day before the party. He and I set it up just in time for the
event, making it the most popular photo op at the party. It was so stunning, that even former
Mayor Willie L. Brown Jr. couldn't believe it was made by hand!
Chef Harrelson introduced guests to his specially curated haute cuisine menu with an amuse-
bouche of lobster in Calvados foam topped with caviar and wildflowers and served in vintage
style, rock-cut crystal Parisian coupes.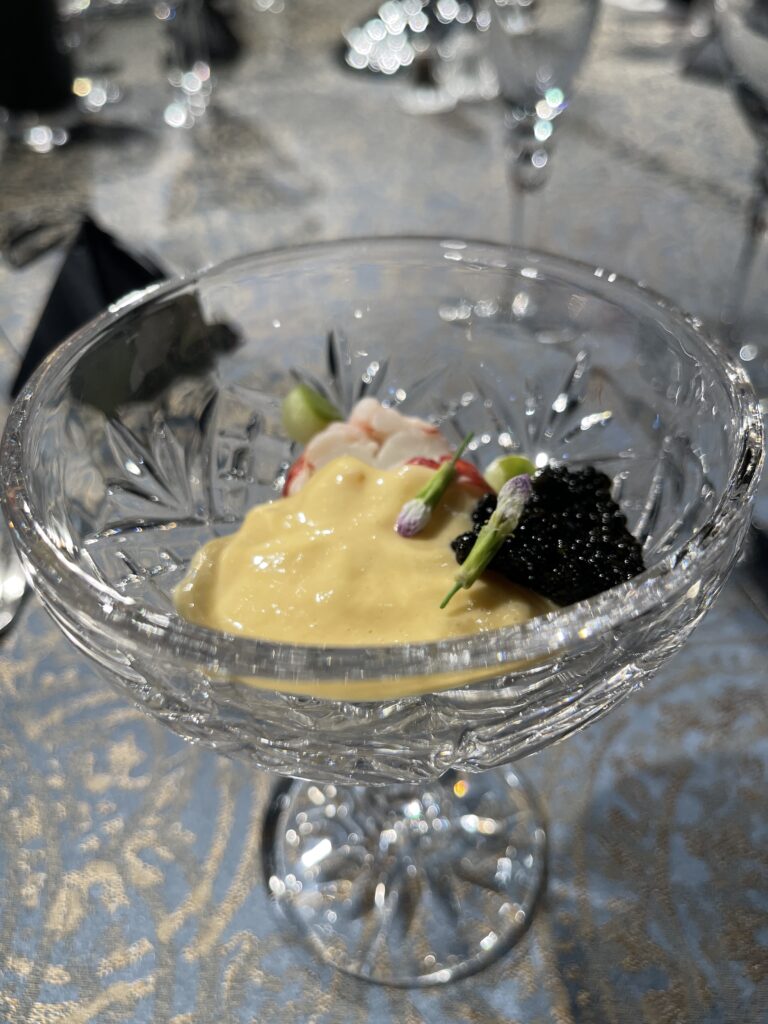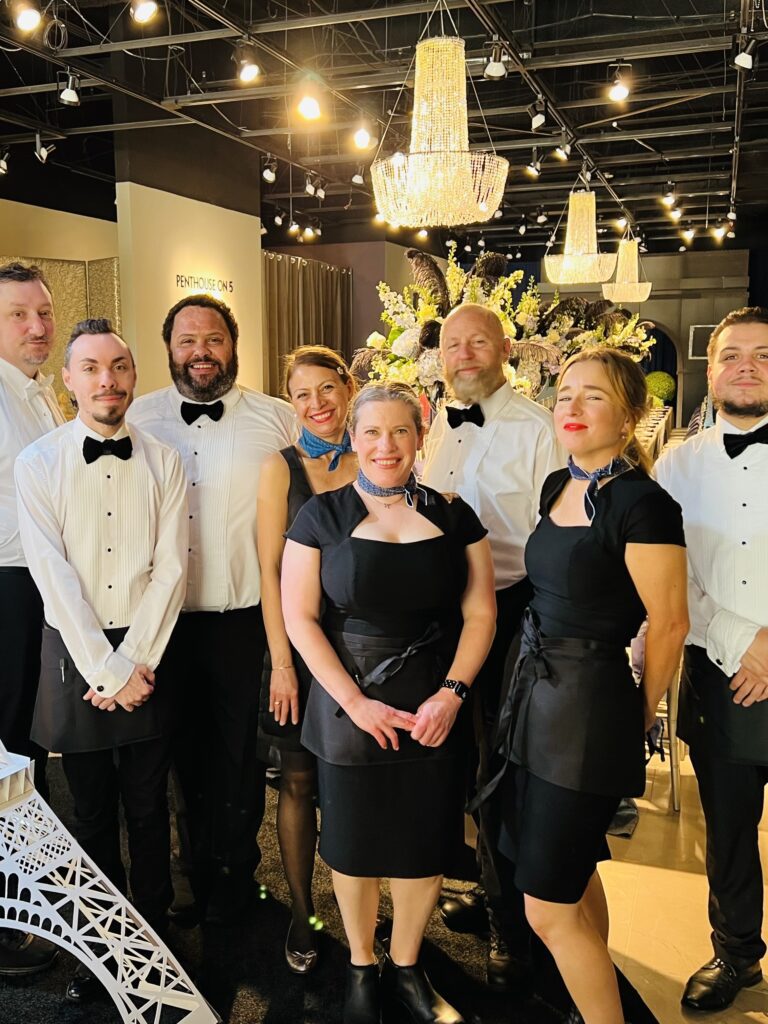 Served by gentlemen servers dressed in white French cuff tuxedo shirts and black velvet bow
ties and ladies in chic coquette black dresses with blue Hērmes "French knot" neck scarves (that
they got to keep), the 4-course menu began with terrine of foie gras and duck confit with red
wine and strawberry reduction. An asparagus salad with ham, roasted red pepper, a perfectly
executed soft boiled egg, and caper vinaigrette followed. I had four people, including the boss
himself, Mark Sullivan, wanting to petition for the chef to include it on the Ro's menu: yes, it
was that good! For the main course, a most tender tenderloin of beef topped with decadent
sauce choron (think pink hollandaise) and spring vegetables. Lunch finished with a selection of
French cheeses and petite fours.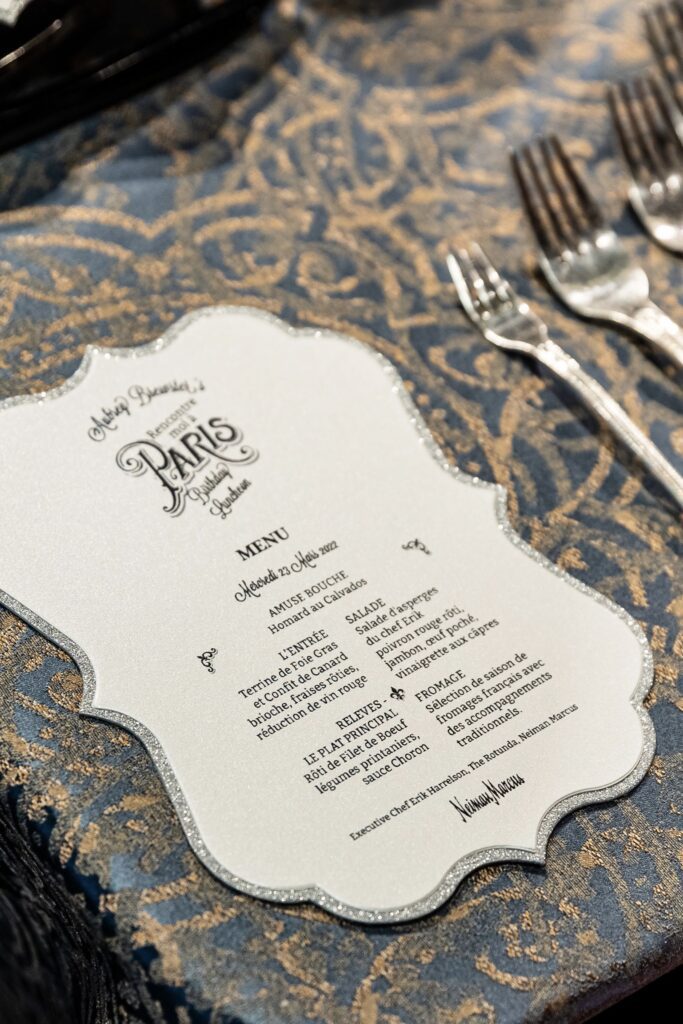 As guests dined, models from LOOK Modeling agency modeled Christian Dior, Celine, and Yves
Saint Laurent couture. In honor of Paris, I wore Dior Home from the Spring 2022 collection.

And for the pièce de resistance, le grand gâteau! Inspired by Paris in springtime, world-
renowned cake designer BethAnn Goldberg of Studio Cake in Menlo Park, California once again
created this year's masterpiece, featuring two classic French flavors for guests to indulge:
chocolate éclair, vanilla butter cake layers with vanilla crème pâtissière and chocolate-fudge
buttercream and crêpes suzette with Grand Marnier-soaked orange butter cake layers and
orange buttercream. The three tiers were enrobed in blue fondant with a hand-painted,
Parisian cityscape overlay and black iron-inspired accents.

The afternoon was dreamlike, and guests partied until we closed Neiman Marcus!
Aubrey's 5 Tips of Wisdom in Party Planning:
Have a theme. Immerse your guests in an escape that they'll talk about for years to
come. A theme also gives your event direction, guides menu and décor decisions, and
makes planning easier.
Send invitations via mail. Not to say that electronic invites aren't effective, and they are
indeed far more affordable; however, a tangible and memorable invitation will create
buzz (especially on social media), and guests will feel like they are a part of something
special.
Plan ahead. Make lists for the menu, bar essentials, and décor. Hosting a party should
be an exciting and enjoyable time; being ill-prepared leads to stress. If the host is
unprepared, this stress will pass on to everyone involved.
Personalize. Small, personalized details make guests feel special; and having guests'
names in front of them ensures that everyone gets to know each other. Whether simple
place cards, cushions, menus, party favors, or glassware, a personalized touch takes
your soirée to the next level.
Make a seating chart. When hosting a sit-down luncheon or dinner, conversation flow
and guest compatibility are essential for a memorable time. Having a place card with
their names ensures guests will remember their seatmates' names and everyone feels
welcome and remembered.