Some say that fashion is society's mirror, a reflection of trends that define, elevate, and inspire us. To whit, at the presentation of her 1969 collection, Coco Chanel reminded us that fashion wasn't just about clothing: "Fashion is not something that exists in dresses only. Fashion is in the sky, in the street, fashion has to do with ideas, the way we live, what is happening," she said. We think she'd agree, too, that when we travel, fashion beckons us to flow deeply into the heart of our experience. It paves the way for our journey as clearly as road signs. It clarifies the difference between one place and another. Inevitably, it reminds us exactly where we are. Whether it's the uniforms the flight attendants don on an Air France flight that whisks us to Paris, the grand suite aboard a Caribbean cruise ship decked out by Ralph Lauren in American-style casual elegance, the silk-flanked Explorer suite by Jim Thompson at Anantara Siam Bangkok, or the traditional Swiss Alpine trousers and jackets designed by St. Moritz-based fashion company Bündnertuch as uniforms for the Carlton Hotel St. Moritz's affable employees, fashion only draws us further into the enchantment of our destination.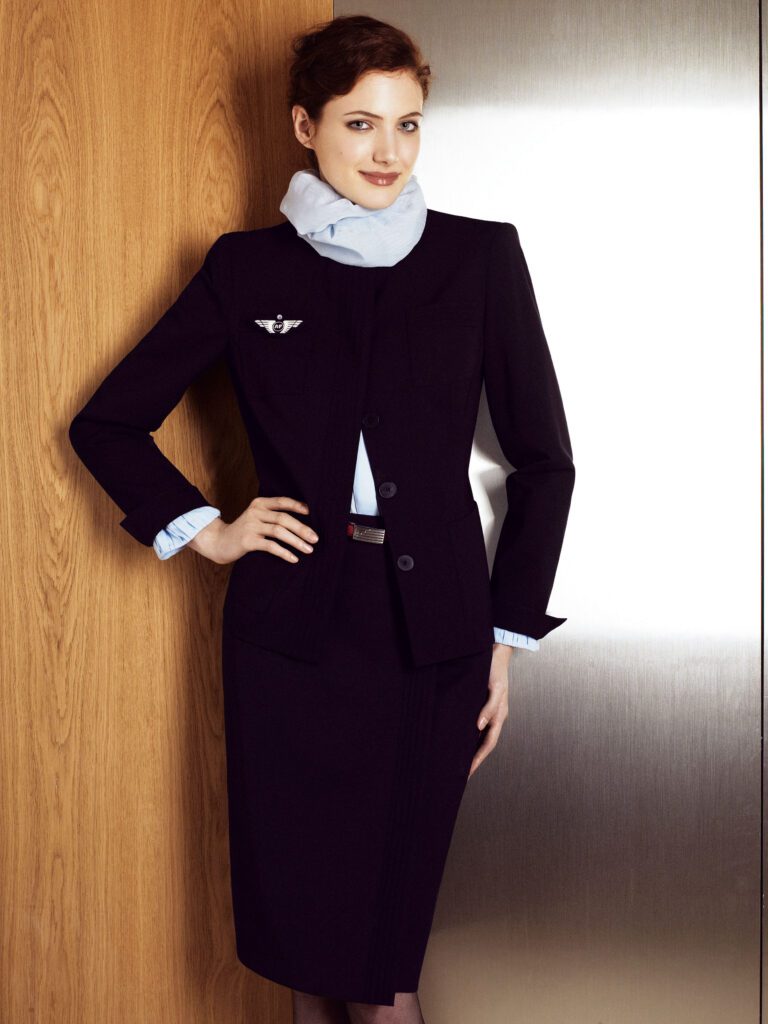 Air France
Style is a way to show who you are, and the French know that better than most. Ergo, it will surprise nobody that Air France has sported some of the most stunning in-flight uniforms since the airline's inception in 1945. Christian Dior, Cristobol Balenciaga, Nina Ricci, Jean Patou, and Pierre Cardin have all spun their magic for Air France's in-flight wardrobe. Since 2005, spiffy crews have been proud to fly only in couture designer Christian Lacroix's incomparable combination of 100 harmonious items—from soldier blue jackets to Parisian scarves to bow-adorned sashes to Hollywood heyday-esque, form-fitting, red gloves. Add in the complimentary champagne poured in every class of service, and Air France flights feel like front row seats at a fashion show.
Oceania Cruises
Amongst the Miro- and Picasso-sheathed walls of Oceania Cruises' stunning Marina and Riviera ships (which display more than 2,000 works of fine art between them), guests can retire on either ship to their top-of-the-line Owner's Suite guest room to be enveloped in the aesthetic viewpoint of none other than Ralph Lauren. Meant to be a manifestation of the designer's outlook of barefoot elegance, every inch of each 2,000-square-foot suite has been conceived by Ralph Lauren Home. Expect Lauren's omnipresent navy, bone, and camel hues, floor-to-ceiling windows dressed in Grimaldi-weave sail fabric, and extras such as an ebony player piano and Mad Men-esque bar in the foyer.
Four Seasons Resort Tamarindo
Famed Mexico City designer Kris Goyri contributes to the indigenously drawn, location-specific ambiance at this new, Pacific-sited hotel set at the jungle's edge between La Manzanilla and Barra de Navidad in the state of Jalisco. His one-of-a-kind collection, commissioned by the resort, incorporates references from pre-Hispanic symbolism through colors, silhouettes, textures, and shapes. The designer wanted to represent the landscape, the resort's goals to offer an authentic Mexican experience, the people, and history of the region, and the mysticism of the Aztec calendar. Each uniform, though created with minimalist lines, is drenched in visible local folklore.
The Hermitage Hotel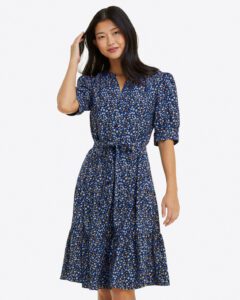 For more than a century, downtown Nashville's beloved icon, The Hermitage, has been a haven for making memories and providing guests with unforgettable moments. Its newest chapter embraces a slice of modernity under the leadership of native daughter Reese Witherspoon and her Draper James American lifestyle brand. Collaborating with the hotel, Reese and Draper James bring a new staff wardrobe that features a print called "The Ditsy Flower," meant to reference traditionally Southern floral splendor, as well bright yellow accents, emblematic of the Women's Suffrage Movement. Guests enraptured by the fashion can take home their own "Loretta" dress in the hotel's custom print. This fashion refresh from Draper James is one of the many features of The Hermitage Hotel's top-to-bottom renewal this year.
Anantara Siam Bangkok Hotel 
Every tourist to Bangkok learns about Jim Thompson, an American businessman who helped resuscitate the Thai silk industry in the 1950s and 1960s. He introduced the bright jewel tones and theatrical color combinations now associated with Thai silk worldwide into the global fashion world, while boosting the local cottage industry of handwoven silk. Mysteriously, Thompson disappeared in 1967 after going for a walk in Malaysia, becoming yet more legendary. In homage, ritzy Anantara Siam Bangkok offers The Explorer Suite by Jim Thompson, a capacious, 2-bedroom hideaway meant to suggest a Thai summer home brushed with colonial touches. From teak floors to local fabric and artworks, the sumptuous suite brings with touches of Thai heritage. Notably, it also features some of Thompson's earliest silk and linen prints, presenting a slice of Jim Thompson textile history.
Hotel Château Du Grand Luce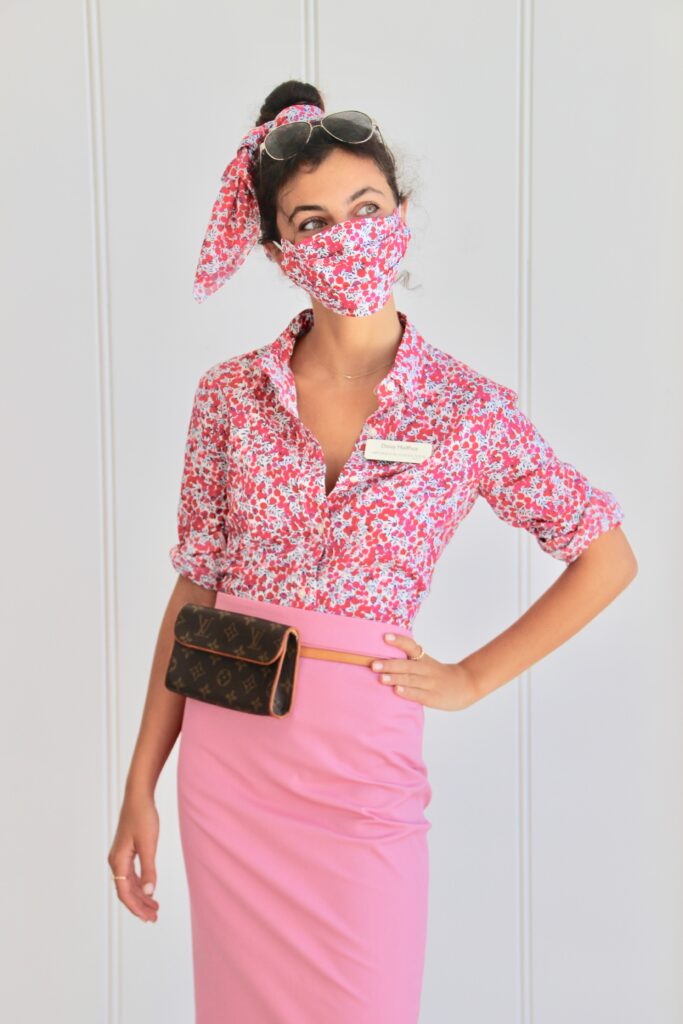 Built in 1760, this grand house dominates the tiny French village of Luce. As Baron Jacques Pineau de Viennay's retreat in the countryside, it provided a tranquil oasis from the rigorous pace of 18th century Paris. Remote, it served as a supreme party house where he welcomed guests as noble as Voltaire, Mozart, and Rousseau. Today, the estate invites as a tantalizing stay for modern-day, discriminating travelers, an ideal spot to base among the Loire Valley's vineyards and castles. Incredibly opulent, it coddles guests majestically with rooms filled with antiques and art, leafy grounds, and noteworthy service. Like icing on the cake, Hotel Château's natty staff sport uniforms worthy of their surroundings, but sprinkled with some modern whimsy. Look for ubiquitous Wayfarer Ray Ban sunglasses (a nod to the property's American owners), Liberty of London outfits, Converse Comme Des Garçons shoes, and the pièces de résistance: vintage Louis Vuitton pochettes.
Carlton Hotel St. Moritz
On the Alps' southernmost side near the Italian border, posh St. Moritz reigns as one of the glitterati's most sought-after winter retreats. Considered the birthplace of winter tourism, home twice to the Winter Olympics, the see-and-be-seen town also revels in its age-old, Swiss traditions—from fondue to Alphorn playing. At the elegant Carlton St. Moritz, the ski town's own Bündnertuch, makers of traditional Swiss mountain-wear, has re-imagined the staff's wardrobe, summoning local design motifs, including Alpine jackets, Grisons-cloth trousers, and a limited-edition jumper.