XIAN NIAN KUAI LE! Happy New Year!
Growing up in a traditional Chinese home, the Lunar New Year is the most important time for "family." No matter where one lives in the world, our family members travel back home to dine together on New Year's Eve and stay with each other to celebrate for two weeks, visiting relatives and friends. It's about reuniting and being a whole family.
As a young child, I looked forward to this holiday with excitement. Whether people visited our home or we visited others, I was given beautifully decorated red envelopes filled with lucky money. But my fondest memories were plates of auspicious food eaten during gatherings and the sense of togetherness around the table. Whether we dine during home visits or at restaurants, eating is a big part of celebrating the Chinese New Year. Food binds family and friends. My parents taught me that a family who eats together stays together.
Harborview Restaurant & Bar is all about family, operated by two generations working seamlessly together. It's one of my favorite Chinese restaurants, constantly buzzing with happy, chattering diners enjoying delicious dishes, plate after plate. It gets extra busy during Chinese New Year festivities.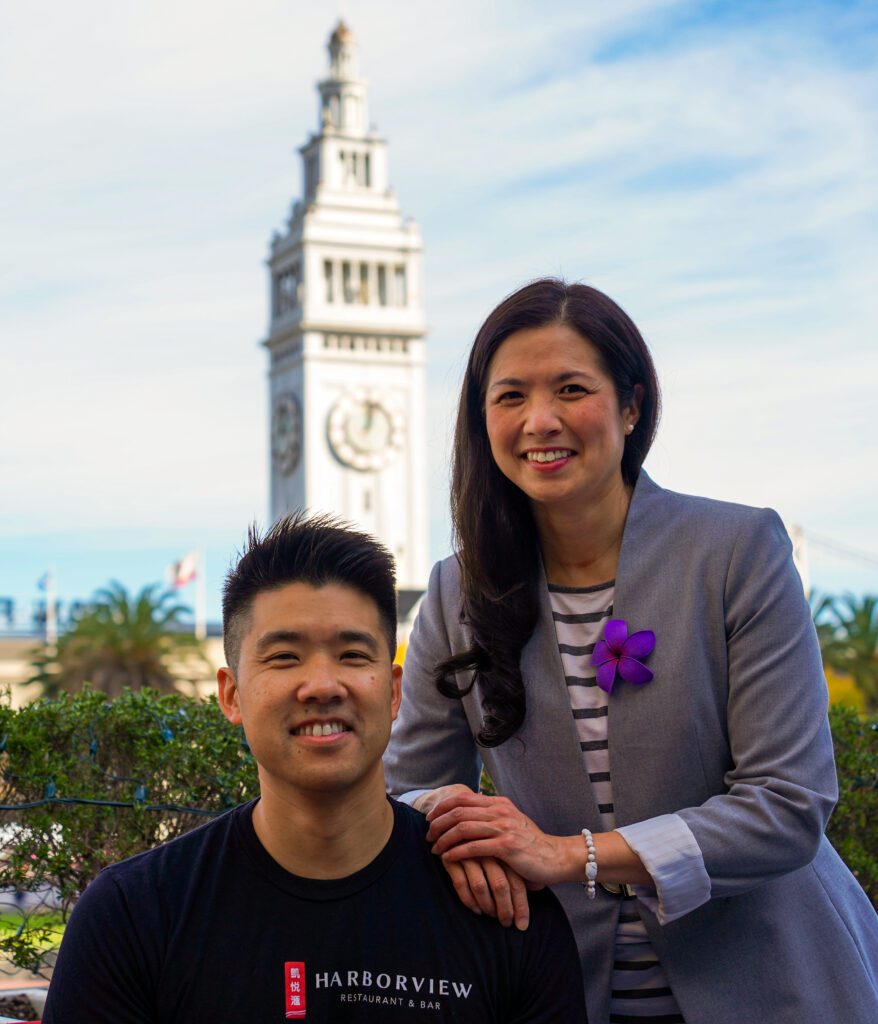 My friend, Karen Liu, is co-owner of Harborview Restaurant and Bar. She is also director of marketing and special events. Karen works alongside her father, Kinson Wong, and brother, Frank Wong. Her love for family and their restaurant is obvious.
Karen's energy to keep operations seamless at this popular restaurant amazes me! She credits her work ethic to her immigrant parents, who instilled hard work and perseverance into Karen as a child.
Both her parents sought opportunity at "Gold Mountain"— termed by the Chinese for the United States — in 1975. Through perseverance and hard work, Kinson and Emily Wong moved up from their first jobs as a kitchen helper and seamstress to operating a dim sum wholesale business. In 1985, Kinson Wong co-founded R&G Lounge in Chinatown and built it up for over 33 years. In 2018, the Wong family grabbed the opportunity to start a large-scale dim sum and seafood restaurant at the Embarcadero Center: Harborview Restaurant & Bar.
With only a third grade education in China during the Cultural Revolution, the Wongs had difficulty navigating the U.S. business world, but it has been a dream come true for Kinson Wong and now for his daughter, who is following her father's footsteps.
Karen grew up watching her parents and family cook at home and at the restaurant. Before the restaurant, the Wong family made rows and rows of dim sum by hand while listening to classic Chinese "oldies" songs.
These were Karen's fondest childhood memories, playing in the dim sum kitchen while her family made har gow (Cantonese dumplings) and siu mais(steamed pork and shrimp dumplings). Wontons were made at home where the Wongs held contests to see who could eat the most. Karen confessed she may have eaten somewhere in the range of 30 to 40 in one sitting!
The Wong family used to dine at the former Harbor Village on weekends, and the place was quite busy. Now she reflects that they have come full circle, being able to own and operate Harborview Restaurant & Bar at the same location. Liu gets asked all the time if Harborview is related to or an offspring of Harbor Village. Nope!
Harborview Restaurant is a Wong family legacy realized. Long ago, Kinson Wong's vision was "to bring high quality, authentic Cantonese Chinese cuisine to the people. With his work ethic and tenacity, this dream became a reality," Karen says.
Being a Certified KonMari Consultant, Karen focuses on things that spark joy and letting go of things (and people) that don't. Each day, Karen is motivated to spark joy in her clientele through Harborview's cuisine. She loves to create joyful moments for people in her family's restaurant and being a part of a lasting memory when her guests celebrate a milestone with them. She says, "At the end of the day, it's about the symbiotic relationship between us and our guests. Being in the restaurant industry is demanding and has its challenges, but I am driven to succeed with inspiration from my family and amazing team."
KAREN'S QUOTE: "Does it spark joy?"
Q & A
HL: Whenever my mind wanders into food and recipes, it immediately evokes fond memories of cooking with my mother and grandmother: happy times of doing what we love, then eating it! My mom's famous Asian fried chicken or my po po's gai loong from her village. Now, my kids carry on my mother's version of Chinese spaghetti. What is your favorite family recipe and why? What food takes you home?
KL: We grew up eating at the restaurant quite a bit, because our family worked together there; but at home, my mom cooked a lot for us. She loved to make simple and healthy Chinese meals by steaming, such as steamed eggs or steamed whole fish. My mom's way of cooking is "a little bit of this and a little bit of that" and never really followed any recipes! To this day, there is an ongoing joke in our family that my brother, Frank, loves steamed fish (but he actually doesn't), because we ate it too much growing up. Steamed fish always reminds me of childhood, because my mom gave us the cheeks, saying it's the best part of the fish. I didn't appreciate it as a child; but, now reflecting on it, she really loved us to give us the best. Fish in Chinese sounds like "yu," a homonym for abundance or prosperity.
HL: Lunar New Year is a time when food plays a big role in festivities. Cooking brings family together! What will be on your family's Chinese New Year table?
KL: My mom makes really awesome sweet chili garlic tiger prawns. It's a little sweet and savory and very delicious! Shrimp in Chinese sounds like "ha," so it's symbolic of the sound of laughter, wishing everyone lots of laughter throughout the year. Again, fish is symbolic of prosperity.
HL: Oh, please, I'd love you to share your mom's recipe! Family is the utmost priority for me, and I was brought up pretty traditionally. I believe customs keep the family unified for generations to come. At our house, we traditionally stack plates of citrus fruits (leaves on, of course!) and embellish them with red envelopes for good luck, fill vases with quince, hang auspicious scrolls, ready "trays of togetherness" with nuts, candies, and seeds to serve visiting guests, etc. It's pretty chaotic, but we love it. What happens at your house?
KL: Red envelopes! Lots of kids and lots of red envelopes filled with lucky money are passed and treasured. Our family celebrated Chinese New Year more than the typical Hallmark holidays—and also very practical like typical Chinese families. We have lots of citrus fruits and trays of turnip cake and sticky rice cake, kumquats, and peach blossom branches.
HL: What is your fondest childhood memory of Chinese New Year?
KL: Going to Chinatown and being scared by firecrackers! I used to hate firecrackers and now smile at the childhood memories when I used to climb on my parents because I was so scared of firecrackers.
HL: Uncle Kinson's background is pretty interesting. Tell us his story.
KL: My dad and mom) were Chinese refugees to Hong Kong in the seventies during the Chinese cultural revolution. They were not allowed to go to school back then and learned to farm in the villages. In hopes of a better future, they traveled by foot and swam for days to arrive in Hong Kong. My dad got his first job in the kitchen from his uncle who had restaurants. My parents eventually came to the United States in 1975 and had no money, but they did have help from relatives to get settled.
My dad worked multiple jobs in Chinatown as a dim sum kitchen helper and in the peninsula, before eventually starting his own dim sum wholesale business in the tenderloin. Our family handmade dim sum for many large Chinese restaurants in the bay area. I have fond memories growing up in the dim sum kitchen, watching my family make trays and trays of sticky rice, barbequed pork buns, shrimp ha gow dumplings, siu mai, and more. In 1985, an opportunity came up to open a restaurant in Chinatown, and that his how he founded R&G Lounge. After 33 years of passion and hard work, another opportunity was presented at the Embarcadero Center, now known Harborview Restaurant & Bar. It was his dream to open this restaurant in such a beautiful space within such an iconic part of San Francisco. We count our blessings every day for where we are now.
Besides our immediate family, we are incredibly grateful to our staff, customers, and business partners, all who have been extremely supportive. Before we opened our doors, there was definitely some skepticism, but we made it to our third anniversary which we were so very fortunate to have celebrated with our amazing team. Harborview's motto is teamwork! Teamwork makes the dream work!
HL: Working together as a family is special. What do you like about being together at work? Any challenges? Will your children follow you and your dad's footsteps in carrying on Kinson Wong's restaurant legacy? Any future business endeavors?
KL: Working together as a family is great, because we have the same passion for it. You have to love what you do! We each do what we are good at. For example, my dad is the CEO/general manager, because he has the most experience and he's the patriarch in our family. My brother, Frank, oversees the bar, and I am in charge of marketing and special events.
I love helping our customers plan special events for milestone birthdays, corporate cocktail parties, or just a nice gathering of friends or family. On the other hand, working together as a family also has challenges, because we may not always agree on things. We are multigenerational and also multicultural! Our parents' generation as immigrants and our generation as American-born can butt heads sometimes, but in the end, we are a family no matter what.
Our parents worked hard to put us through college, because their hope was for us to not need to "struggle" in the restaurant business like they did. However, it is interesting that we have come full circle to end up in the restaurant business anyway! Our hope is our children will do something they are passionate about. Sometimes children follow in their parents' footsteps and sometimes they do not. Whatever path they take, it is theirs to choose.
HL: You must have witnessed and have plenty of stories to tell about your customers. Anything funny? Tell me a story.
KL: We love celebrating with our customers. When they tell us we have helped make their special event "perfect," is the greatest compliment of them all. Our customers come from all walks of life, and we love to see our customers "grow up," coming as kids and now parents and even grandparents over the last 36 years.
We have served celebrities and government officials, but meeting Anthony Bourdain was a very memorable experience for our family. He was not as "mean" as sometimes portrayed on camera. Michael Mina, also an idol of ours, was a regular customer back in the day. He and my dad had mutual respect for being restaurateurs in San Francisco. Now that Michael Mina has become more well-known, we have not seen him, but we will always treasure our friendship! During the presidential campaign, there was a social media buzz about Bernie Sanders and his mittens, so we jumped on the bandwagon and created a Bernie mitten meme as well, with my dad mimicking the "pouty" pose. Our dad was such a good sport!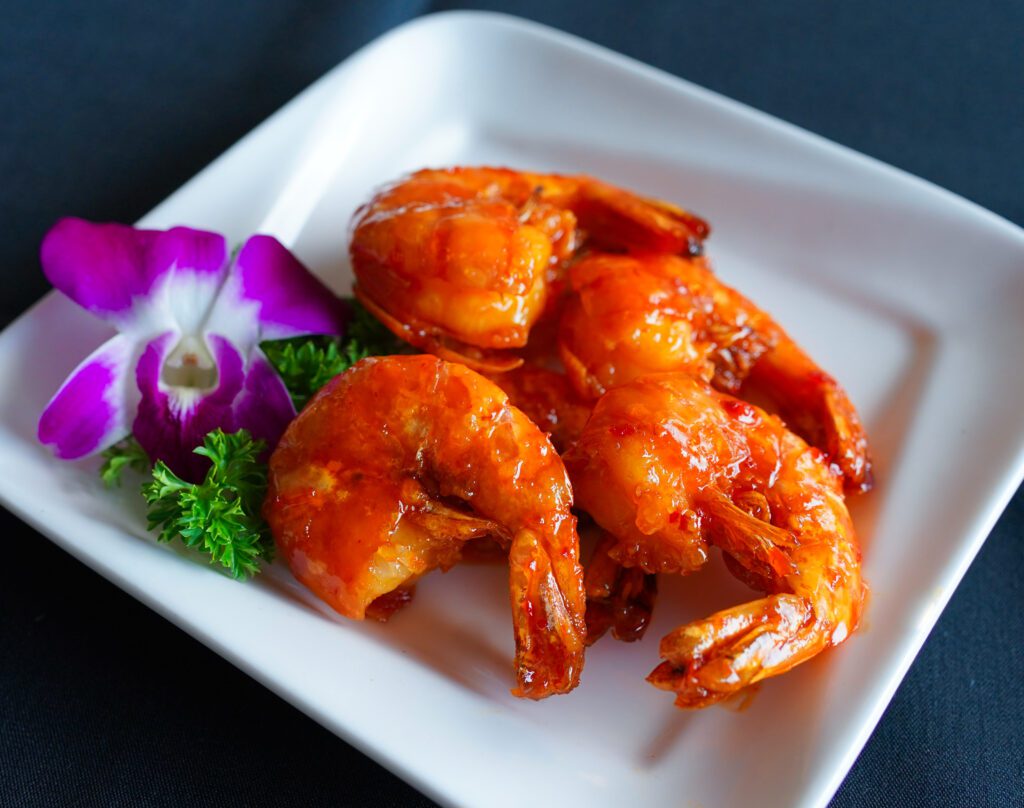 TIGER PRAWNS with SWEET CHILI and GARLIC SAUCE

Ingredients:
1 pound tiger prawns or large white prawns (headless, deveined, best with shell, but no-shell optional)
1 whole shallot
2 cloves garlic

Sauce:
1 tablespoon water
2 tablespoon mirin
1 teaspoon sweet dark soy sauce
2 tablespoon Thai sweet chili sauce
1 tablespoon fish sauce
Feel free to adjust portions to taste.

Instructions:
1. Clean and devein shrimp if needed. Rinse and pat completely dry.
2. Chop garlic and shallot and set aside.
3. Mix ingredients for sauce and set aside.
4. Heat canola oil in wok on high heat.
5. Brown each side until prawns are just becoming translucent. Do not overcook.
6. Remove prawns from wok.
7. Heat canola or vegetable oil in wok on lower heat.
8. Sauté shallots until translucent, then add garlic until brown.
9. Turn heat to low and add sauce mixture slowly to avoid burning.
10. Keep adding until prawns are well coated, liquid evaporates, and sauce is mostly gone.
11. Remove from heat, plate, and garnish with cilantro.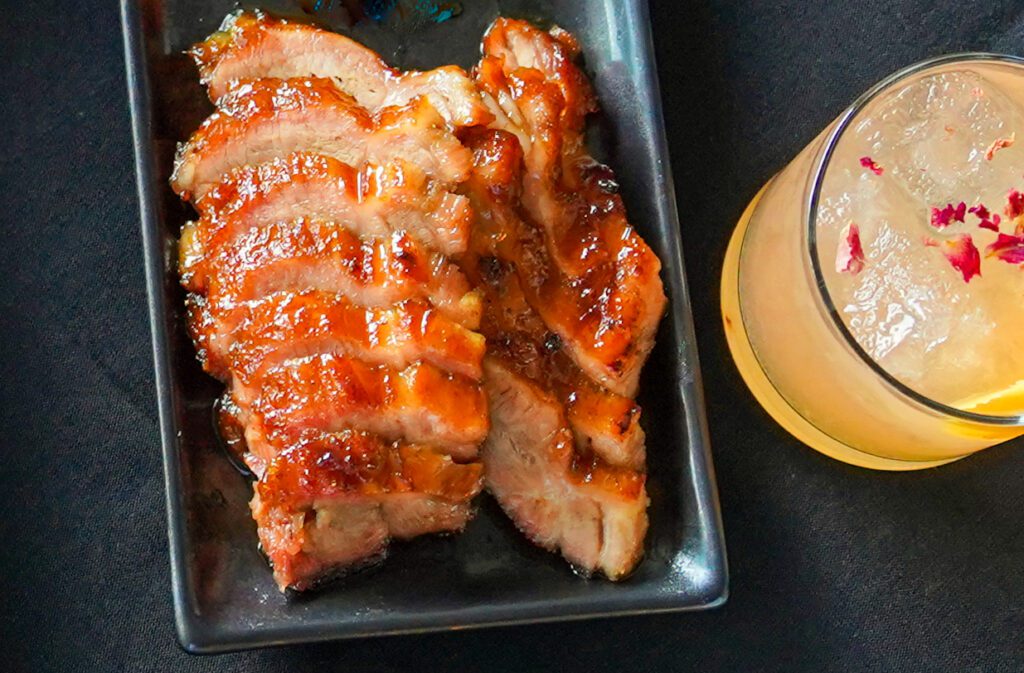 HONEY BARBECUED PORK

Ingredients:
1 pound pork shoulder meat

Marinade:
1 teaspoon salt
5 teaspoons sugar
1 tablespoon chicken powder
1 tablespoon barbecue pork sauce
1 tablespoon light soy sauce
1 tablespoon dark soy sauce
2 cloves minced garlic
1 teaspoon Chinese five spice powder
1 tablespoon rose wine
Mix well!

Instructions:
1. Slice pork. Each slice should be the thickness of a thumb.
2. Rinse and drain in a sieve.
3. Coat in the pre-mixed marinade and marinate for about two hours.
4. Slide meat on to metal skewers.
5. Roast mean in the oven at 500 degrees Fahrenheit for 15 minutes.
6. Reduce temperature to 350 degrees and continue roasting for another 15 minutes until the surface color of barbecue is bright red, with a clear gravy dripping.
7. Coat the pork with honey or maltose and roast at 300 degrees until nicely colored.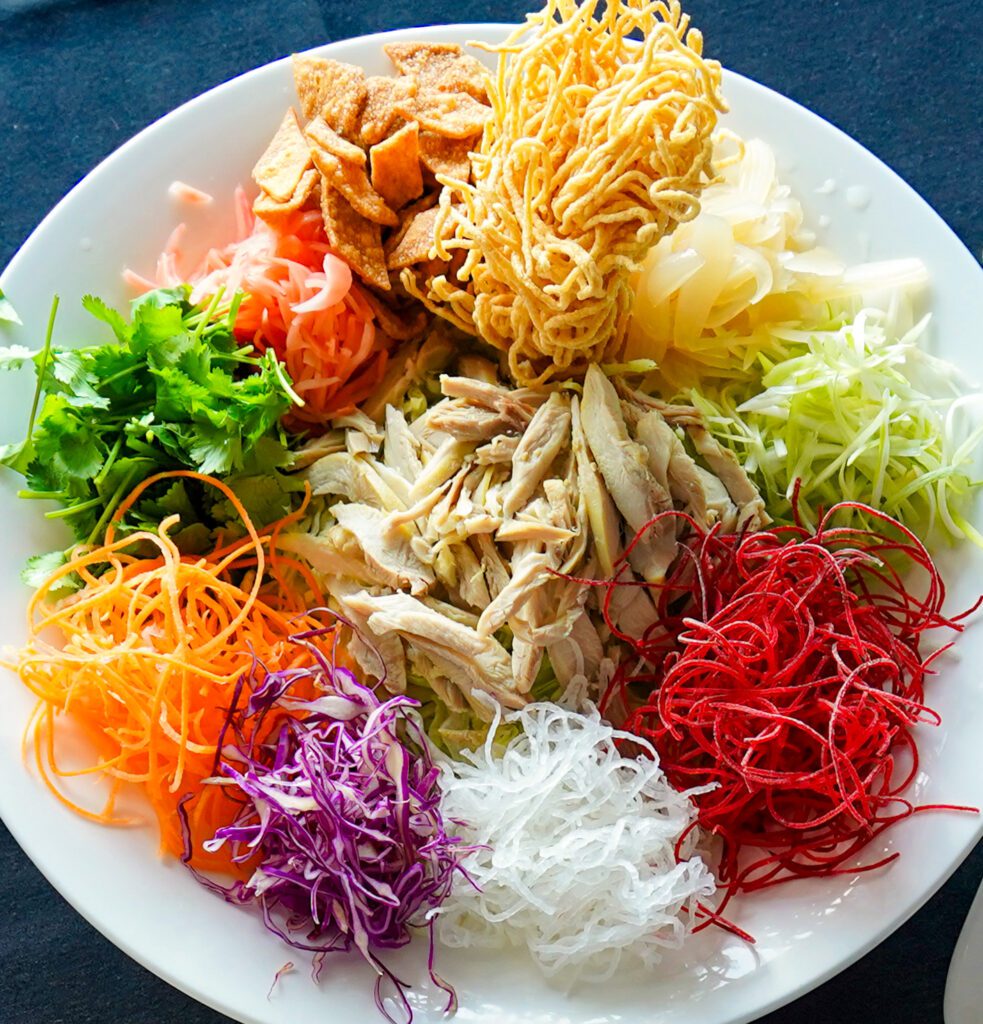 Prosperity Tossed Salad: Two versions (Photo Credits above and below: Evan & Josh)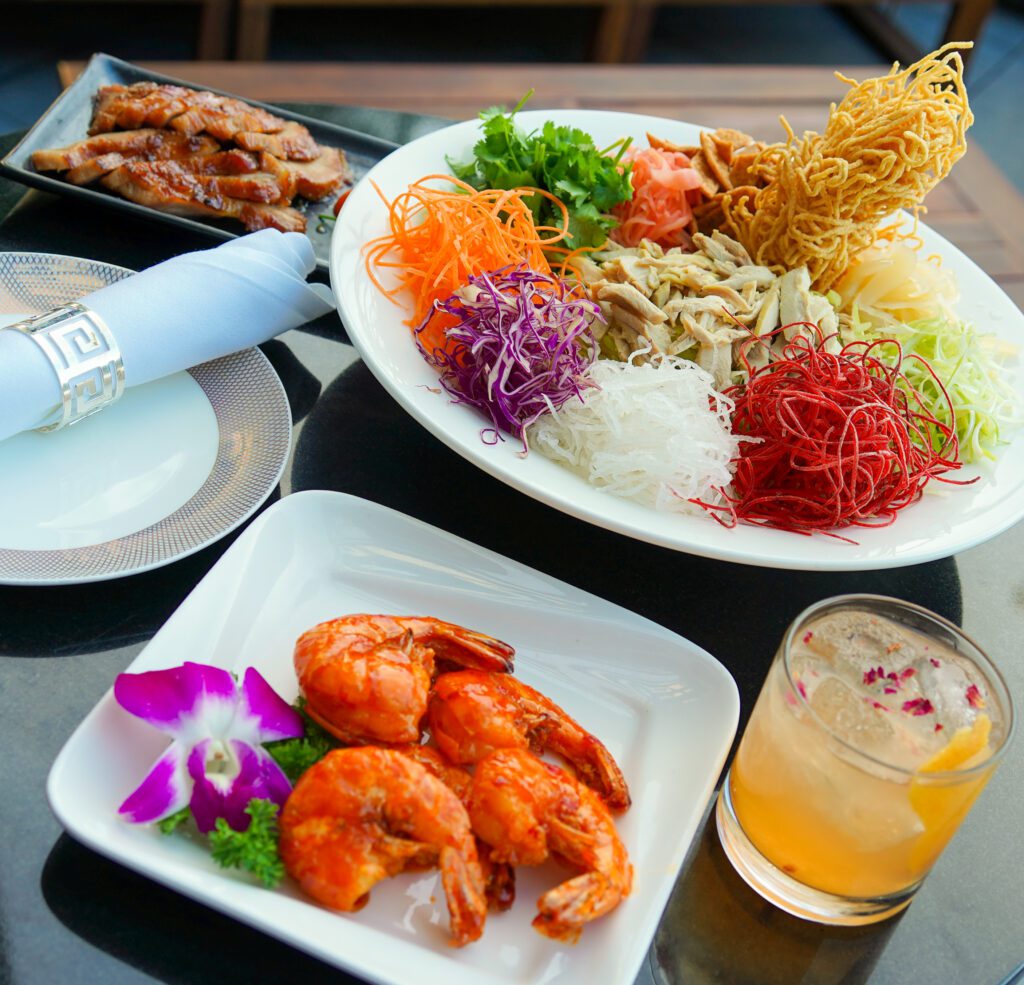 PROSPERITY TOSS SALAD: Two Versions
For Home Cooks
Ingredients:
Equal portions of any protein and vegetables to your liking!
Protein traditionally is raw fish or salmon sashimi, but you can also use shredded chicken.

At Harborview:
Cooked shredded chicken or salmon sashimi or abalone
Vegetables, all shredded: lettuce, carrots, pickled garlic, turnip, scallions, beets, cilantro, nuts (optional)

Use any salad dressing or Harborview Dressing: Thai sweet chili sauce and plum sauce.

Instructions:
No cooking needed!

This Chinese New Year dish is a lot of fun because, before you eat it, loved ones gather and toss the salad ingredients in the air. The higher the toss, the greater the fortune!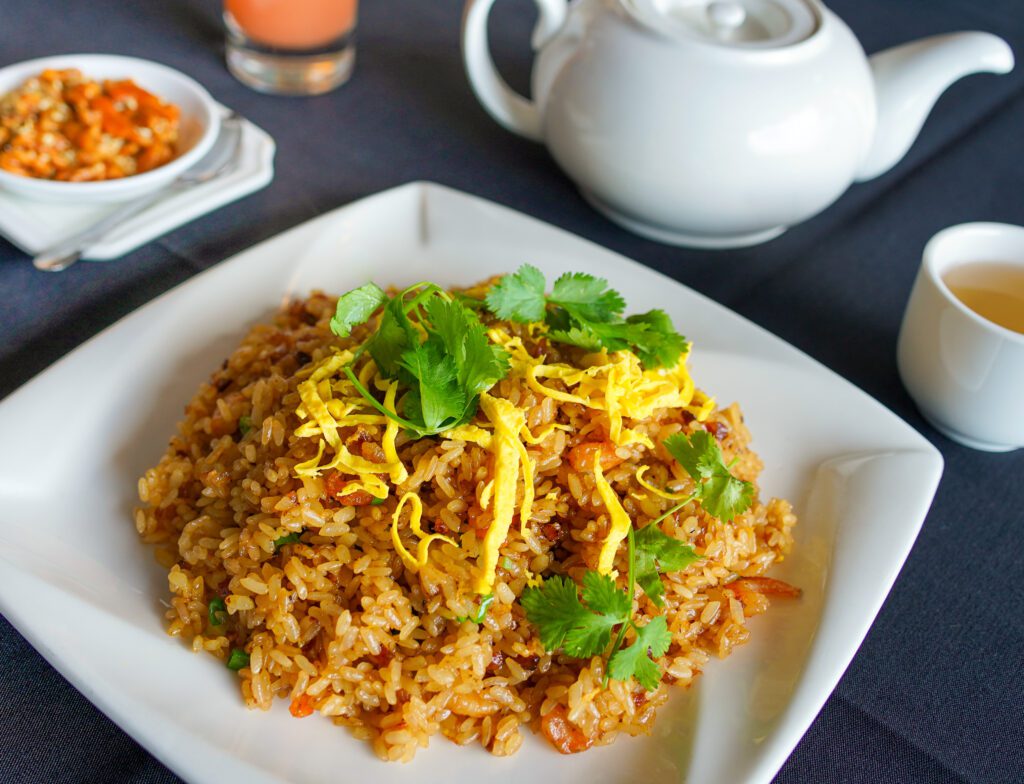 STICKY RICE with CHINESE BACON & SAUSAGE
(4 servings)
Ingredients:
2 tablespoons dried shrimp
2 tablespoons Chinese cured sausage
1 tablespoon Chinese cured bacon
Green onions
Cilantro
1 egg
1 teaspoon dark soy sauce
1 teaspoon light soy sauce
1/2 teaspoon oyster sauce
Sauces can be adjusted to taste.
1 pound sticky rice
1 tablespoon cooking oil (canola or vegetable)
Instructions:
Rinse glutinous sticky rice and soak for 45 minutes.
Steam sticky rice in steamer for 45 minutes.
Allow sticky rice to cool. (Day-old rice is actually better for stir-frying.)
Dice shrimp, sausage, bacon, green onions, and cilantro into small pieces.
Heat wok with cooking oil on medium high heat.
Scramble egg and set aside.
Brown diced Chinese sausage, bacon and dried shrimp.
Add sticky rice to wok and stir fry until loosened.
Add soy sauces and oyster sauce. Season with chicken powder if desired.
After rice and ingredients are well mixed, add chopped green onions and scrambled egg.
Garnish with cilantro leaves for additional color.
Wong family patriarch and Harborview Restaurant founder and owner Kinson Wong