Texas has been endlessly stereotyped: big hats, big hair, big landscape. But all along, aesthetes in the know have been lauding the state's exemplary, abundant, well-financed, world class art scene. Perhaps Texas' artsiest city is Houston, a sprawling, culturally diverse metropolis born on oil profits, sports teams, and a storied space program. Richly urbane, historically global in its outlook, fearlessly sophisticated, and rakishly creative, the city boasts a history of striving (and succeeding) to embrace cultural and artistic expression in all forms.
Today, Houston reigns as home to seven cultural districts—more than any city in the United States. One of them, the Theater District, stretches across a 17-block area, encompassing Houston's resident performance companies, including ballet, drama, opera, and symphony. Equally inspiring, its walkable, park-like Museum District with a trove of 19 acclaimed institutions draws more than 7 million visitors a year to see objects and exhibitions as diverse as exotic animals, Holocaust artifacts, dinosaur bones, and masterworks of every imaginable genre. The Museum of Fine Arts Houston alone houses more than 70,000 pieces. Just as captivating, independent galleries, edgy oeuvre (such as street graffiti and beer can architecture), and unexpected venues (such as the catacomb-like The Cistern at Buffalo Bayou Park art space) enliven the vibe. 
Ready to immerse in H-town's art-centric glory, but unsure where to start? Here's an artful list of not-to-miss sites for your next visit.
One of the world's most celebrated private collections, the Renzo Piano-designed Menil Collection was founded as a gift to the public by power couple John and Dominique de Menil in 1987. On a 30-acre, tree-peppered campus set amid a neighborhood, the modern structure holds some 17,000 works: drawings, photographs, prints, sculptures, and paintings dating back to pre-historic times. Ten thousand of these were personally acquired by the de Menils from 1940 to 1990. Highlights include the stand-alone, Piano-designed Cy Twombly Gallery (which displays some of the contemporary artist's finest works), a jaw dropping collection of Surrealist masterpieces, and a diverse cache of African art.
Rothko Chapel:
In 1964, the de Menils commissioned Abstract Expressionist Mark Rothko to design an ecumenical sanctum. Located steps from the Menil Campus, the stark, somber, octagonal building contrasts dramatically with the surrounding neighborhood's cheer. Perhaps that was Rothko's point. It holds 14 of his paintings, each executed in controversially dark hues. A deeply spiritual place for many, the chapel elicits a ruminative effect from visitors. It reopened this year after a $30 million restoration which resulted in a new skylight. The newfound illumination allows dappled light from the bright Texas sky, as candle flames might brighten a cathedral. 
Houston Center for Contemporary Art
Appropriately sheltered in a re-kitted warehouse, this casual, interactive museum pays homage to conceptual and imaginative art made from clay, found/repurposed materials, glass, metal, fiber, and wood. Spellbinding for visitors of all ages, HCCC not only vaunts galleries, but showcases resident artists—such as potters, weavers, or metalsmiths— at work in their ateliers. A craft garden, gift shop, and an array of classes and workshops seal the deal. From June 5 to September 11, 2021, check out Suited Up: Contemporary Armor Making in Texas, which presents the work of Texas-based, contemporary blacksmiths and leatherworkers, among others.
Truly a phenomenal destination for art lovers, the vast, grand Museum of Fine Arts, Houston spans 300,000 square feet of prime downtown real estate. Its thousands of works, derived from six continents and ranging from antiquities to contemporary art, fill three main gallery buildings as well as two house museums, a sculpture garden, a school, restaurants, and other structures. Tunnels, artworks in themselves (with installations by the likes of James Turrell), connect most of the venue. Notably, MFAH opened its new Kinder Building in late 2020 to great acclaim as a place to promote its black box gallery and display its growing collection of contemporary art. Fans of Impressionism should make time for the Beck Building's riveting stockpile—from Matisse to Monet.
This private establishment, a haven of contemporary art, focuses on art cars, various forms of fine art, and lesser known artists. Nicknamed the "Garage Mahal," the museum primarily features elaborate, whimsical, mind-boggling art cars, low riders, and mobile vehicles—each imaginatively constructed. The museum began in 1984, with the idea of exploring the spirit of car culture. The annual Art Car Parade is a citywide highlight.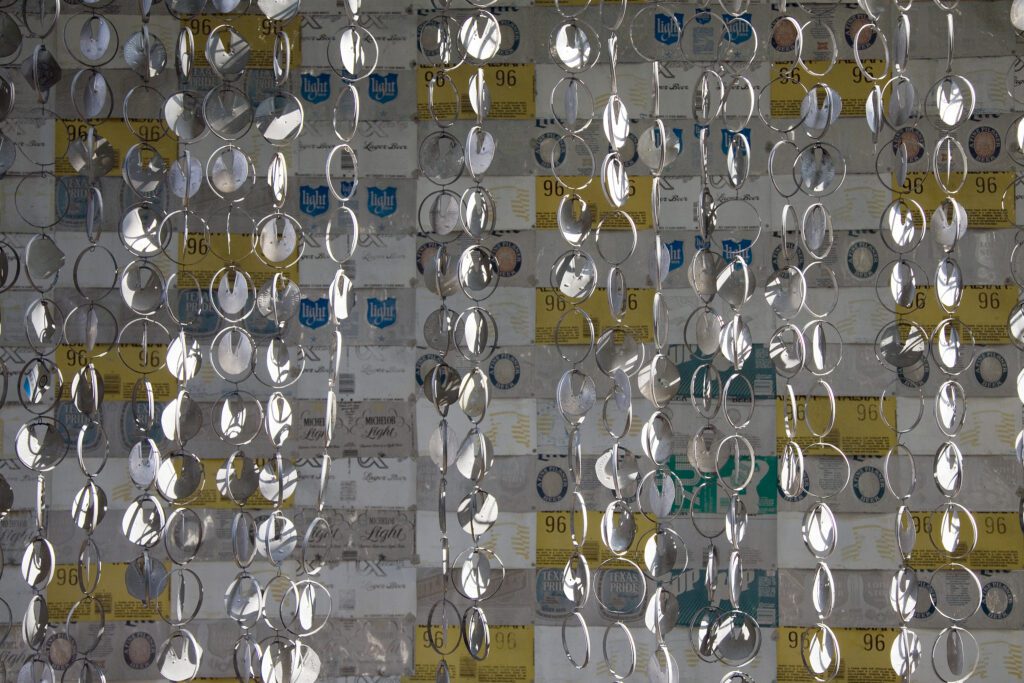 What would you do with 50,000 beer cans? Build a house? That's what John Milkovisch did. In 1968, he dipped into the plethora of empties he kept in his garage and decided they would create the ultimate siding. Now a folk art legend, the artist also carpeted his lawn with glass-inlaid concrete blocks, adorned his redwood fence with marbles, and used thousands of pull-tabs for curtains hung from the front porch. An inspiring reminder that art is everywhere, the Beer Can House has been named one of America's top 50 roadside attractions (Time magazine 2010).
Arts District Houston and Sawyer Yards
Recognized statewide as a cultural district, this area lies along the Washington Avenue Corridor, spreading out for about half a mile. It is touted as boasting the highest number of working artists in Texas—and it certainly exudes a creative buzz. With legions of galleries, studios, shops, and restaurants, not to mention public art installations and more, the district gains gravitas from Sawyer Yards, a campus that extends across 55 acres of converted industrial warehouse space housing hundreds of established and emerging artists. Also within the campus and set in old rice silos, The Silos at Sawyer Yards features not-to-miss galleries.
The Cistern at Buffalo Bayou Park
Houston or Istanbul? You'll wonder for a moment when you enter this exotic spectacle, built in 1926 as a cistern. Once an actual reservoir for water, the 85,000-square-foot chamber was closed for many years until it being repurposed as a popular venue for rotating art installations and shows. Cistern history tours and sound healing meditation (can you imagine the acoustics?) also draw crowds.
It arises from Houston's traffic-infested sprawl as a radiant mirage. Located in Houston's East End, this unofficial park—more a row of blocks—honors the enchantment of human expression and the dignity of creative pursuit. Colorful and riveting, each inch of the street plays a part in the overall composition. Many of the works were painted during the Houston Urban Experience (HUE) Mural Festival, an annual event.