As every gardener knows, a tomato plucked from her own vine trumps the same fruit grown somewhere else. Likewise, wellness centers that summon their surroundings not only connect their guests to the locale, but also provide them with a deeper, local experience. Below, I've reminisced about some of my most memorable, soul stirring forays to the source for healthful benefits. You'll want to visit, too.
The Volcanic Facial soothes with volcanic mud sourced from the Valley of Desolation, close to the island's famous Boiling Lake, while the Perennial Massage heals with a restorative blend of plant oils native to Domenica— rosemary, peppermint, bay oil, coconut, lemon citronella, and rose.
Switzerland
In Switzerland's sunny, southern, Italian-speaking lake region, profuse vineyards and gardens yield a bountiful harvest. Known for gastronomy, the area also gets accolades for its indigenous wellness offerings, many inspired by the landscape. Castello del Sole, a Relais & Châteaux hotel, sits on Lake Maggiore, part of a fertile area particularly rich with vineyards and orchards. The retreat goes to great lengths to allow the terroir to lead. I notice it at the farm-to-fork, Michelin-starred restaurant and at the resort's WWF bird sanctuary among the well-tended grounds.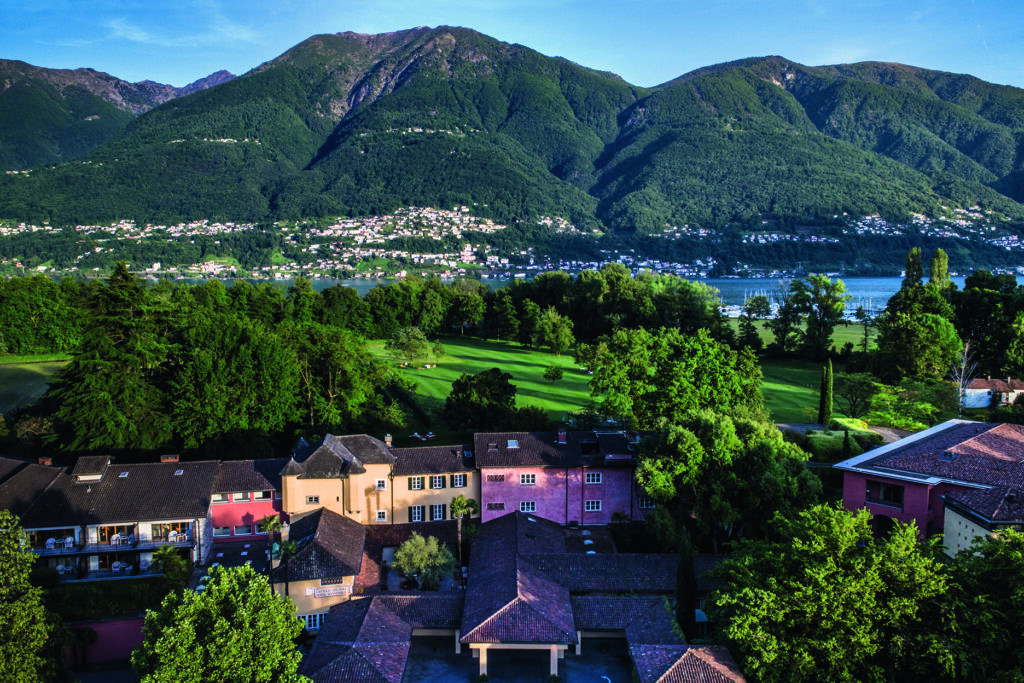 However, it's within Castello SPA & Beauty where I let the terrain be spread over my body. Here, grapes from the field where I've picked them off the vine with a local farmer the day before are used to make the wellness center's renowned vinotherapy treatments. This modality, which harnesses the residue of winemaking for antioxidant-rich spa products—creams, oils, and scrubs—serves as the font of Castello SPA's healing offerings. "From the field to your face," says my therapist.
Abu Dhabi
In Abu Dhabi's mesmerizing Empty Quarter in the Liwa Desert, mounds and mounds of towering sand, some as shapely as shark's teeth, unfurl as far as the eye can see in every direction. A sunrise here among the sand shows an ascending blood orange ball in an indigo sky. At dusk, the sun descends back into the sandy hills, as pendulous and golden as a Sorrento lemon dropping from its tree. I hike the dunes and ride camels over them, but its only when I slow down to relax in the Qasr Al Sarab Desert Resort by Anantara's stunning spa, a veritable oasis, that I experience the Empty Quarter's own sand as a rose-scented exfoliant. Here at its wellspring, I enjoy the Arabian Desert Rose Ritual, which begins with a local sand for the scrub, then continues with a rose oil body mask, rose milk bath, and massage.
England
In Bath, I channel Jane Austen at Gainsborough Bath Spa. Constructed in 43 AD by the Romans around healing springs (once sacred to the Celts), the legendary, mineral rich bath complex of Bath took shape as a community gathering place and a temple to Minerva. It had many iterations throughout the centuries and experienced a major renaissance as a beloved social setting for ladies and gentlemen in the Georgian era, such as Jane Austen, a former Bath resident, and her clique. A clever hotel with many attributes, The Gainsborough nevertheless draws me most of all for its bedazzling spa, the only hotel spa in the UK with direct access to these thermal waters. Their Bath Circuit, inspired by the Romans and their hydrotherapy habits, reigns as a haven of soaking areas, saunas, and rumination. As the cherry on top, the hotel's unique Spa Suites have in-room access to the mineral water via immense marble soaking tubs.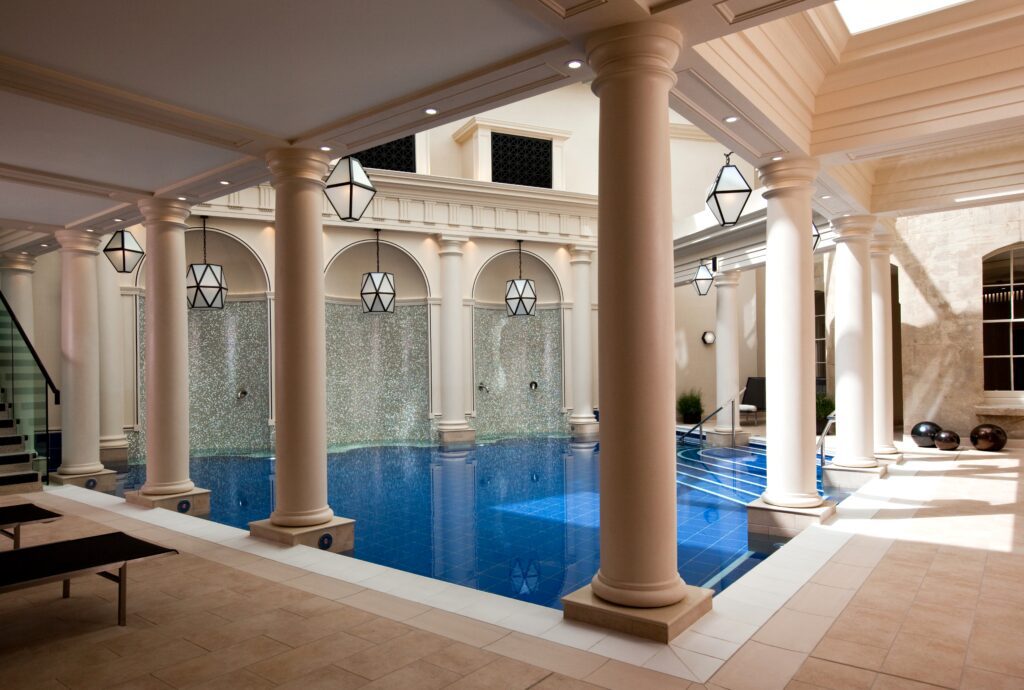 St. Lucia
Many know St. Lucia for its evocative volcanic spires, the Pitons. At Jade Mountain, an astonishing resort designed by owner/architect Nick Troubetzkoy, my open-walled sanctuary (as Nick calls the suites) overlooks them. From my jungle-encircled, hillside hideaway, the natural monuments look close enough to touch, though the turquoise sea lies between us. Steps from my bed, an indoor-outdoor pool beckons. I could linger within all day splashing in my pool and looking at the view, but for the resort's myriad tempting activities—especially the spa which proffers chocolate-themed treatments. They create their eight hydrating, healthy experiences from a chocolate facial to a mocha massage from the cacao yield harvest from 1,000 trees that grown on the resort's own organic farm. Pro tip: Tour the farm (a Jade Mountain signature activity) before visiting the spa to feel particularly connected to the island.
Czech Republic
Cobblestoned Prague may be best known for its Gothic and Baroque cathedrals, medieval neighborhoods, ornate bridges, and majestic castles, but its denizens have also harbored an historic penchant for beer. At Augustine, a Luxury Collection Hotel, Prague, guests can invoke the spirit of the ancient, restored building's former inhabitants—hard-working, beer-making monks. In a spa ritual inspired by the brewery and its holy brewers, which dates back to 1358, the hotel's spa offers the St. Thomas Beer Body Ritual, born from a secret recipe guarded by the Order of St. Augustine Order for centuries. It begins in a hammam room with a scrub made from finely-ground beer hops and nourishing St. Thomas dark beer. Salts and phyto-extracts promote detoxification and hydration. A restorative massage completes the process. Afterwards? Take boat ride on the Vltava River to show off your glowing skin.
Dominica
In the Caribbean's dreamy Dominica where my cliffside sanctum at sustainable Secret Bay seems to be a portal to the horizon, I imagine myself in a treehouse, albeit a glamorous one, hewn from Guyanese-sourced hardwood and designed by lauded Latin American architect Fruto Vives. Home to untrammeled forests and nine volcanoes and known as "Nature Island," Dominica is lesser traveled—and that's the vibe I'm after when I arrive at this 10-suite, boutique getaway, a member of Relais & Châteaux. I immerse myself in the island's wilderness spirit at the hotel's Gommier Spa which makes all its own products from oils to masks. Referencing the island's ancient bush medicine traditions in its ethos and incorporating indigenous plants and nutrient-rich mud into its treatments, the spa reflects the island's origins. The Volcanic Facial soothes with volcanic mud sourced from the Valley of Desolation, close to the island's famous Boiling Lake, while the Perennial Massage heals with a restorative blend of plant oils native to Dominica— rosemary, peppermint, bay oil, coconut, lemon citronella, and rose.
Zambia
Hippos bellow, giraffes tower and I find repose at Bush Spa, located inside The Bushcamp Company's crown jewel, Mfuwe Lodge. Ensconced among the Zambian wilderness, it's the antidote to the dusty exhilaration of game drives. I soak in an herbal-infused Jacuzzi before yielding to treatments that feature indigenous, salubrious ingredients, such as marula (a humectant from the tree's nut), baobab (antioxidant-filled oil from the seed), and kigeli (a flowering tree used to treat skin ailments).