By now you've figured out social distancing. You've learned to bake bread, studied new languages, and reconnected with childhood friends over Zoom. But that doesn't mean you don't need a break from the mundane. In fact, if you're like us, you're craving a change of setting. For those who want to continue to follow healthy protocols and still embrace the joys of travel, villas fit the bill. We're particularly fond of standalone hideaways located among resort communities or hotel complexes, because they offer the coddling amenities—from room service to VIP concierge experiences—you expect on a vacation. Whether you plan to work, homeschool your children, or simply sip cocktails beside your personal plunge pool, we offer this list of stylish villas around the globe.  
Five-Bedroom Beach Front Villa at Four Seasons Resorts & Residences Anguilla 
Best known for its astonishing 33 perfect beaches, friendly Anguilla stands out as one of the Caribbean's most elegant islands. On its northwest shore, the art-bedecked Four Seasons bestrides a point which overlooks two of the island's top sandy crescents—one of which is Barnes Bay. There lies the hotel's 5-bedroom Beachfront Villa, just steps from the water. With interiors by legendary celebrity designer Kelly Wearstler, the haven spans nearly 9,000-square feet, encompassing both indoor and outdoor living spaces. Embodying Wearstler's classic whimsy and swanky outlook, the villa presents a symphony of textures, from alabaster to heirloom woods. Elements, such as driftwood lamps and a book-matched marble floating bar, add uniqueness. A private pool, laundry room, gourmet kitchen, and devoted residential assistant make extended stays the stuff of dreams. $8,000 nightly. 
Su Casa at Dorado Beach, a Ritz-Carlton Reserve 
Puerto Rico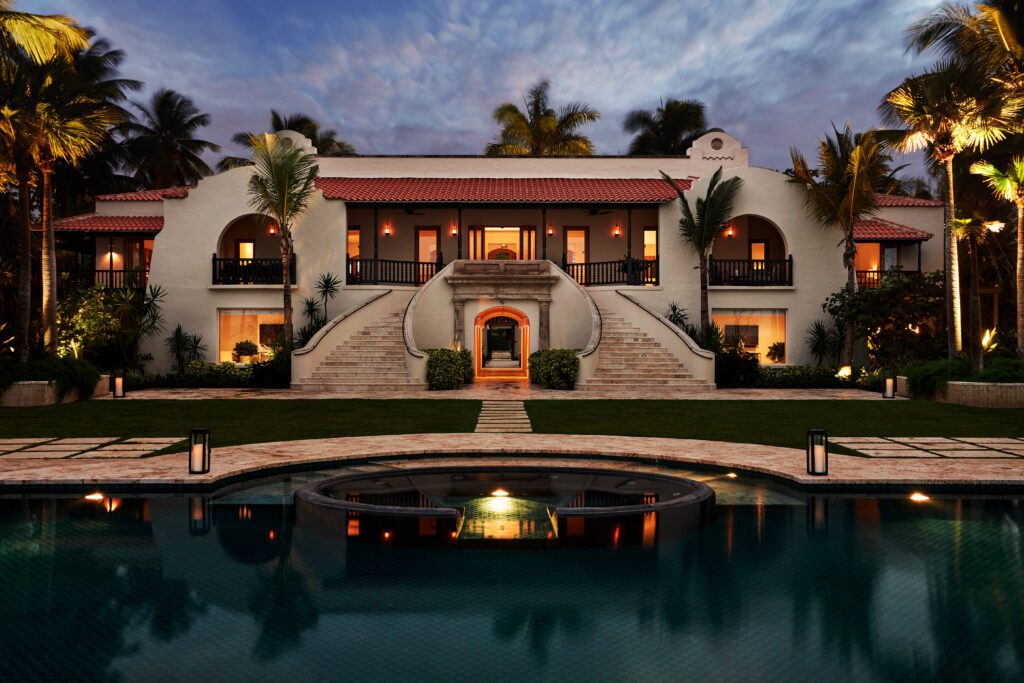 Caribbean beauty meets Old Spanish elan on tropical Puerto Rico, a United States territory. Home to waterfalls, rainforests, and beaches galore, the isle boasts one of the Caribbean's finest eco-retreats on its remote western shores—Dorado Beach. Opened in the 1950s by Laurance Rockefeller, the seaside estate, deeply entrenched in nature, was hewn from a former plantation. It offers abundant amenities from a world class spa and golf to top-notch restaurants. Its coup de grâs, Su Casa, an historic, 5-bedroom, 1920s-era mansion, provides a sanctum far from the madding crowd. Recently redesigned by renowned design firm Champalimaud and helmed by a personal embajador (ambassador), the villa pleases with two pools, a full kitchen, and a spa treatment room. Jaw-dropping views go without saying.  
$25,0000 nightly. 
Guatemala 
Take repose on the shores of glimmering Lake Atitlán under the spell of its three volcanoes at boutique Casa Palopó, Guatemala's first and only Relais & Châteux member hotel. With nature's bounty ever present, the region fascinates with its novel Mayan villages, 12 of them set on the lake's rim. Muse over it all from your infinity pool and private terrace at 3-bedroom Villa Palopó, which also offers lake views from its oversized bathtubs. With a living room embellished with Guatemalan art and furnishings (ideal for tutoring your child or as a backdrop for your online meeting) and two helipads, the former home includes the services of a chef and butler. Don't miss a meal at the hotel's Restaurant 6.8 Palopó, acclaimed for its renditions of local fare. $1,198 nightly. 
Oceanfront Residence at Mauna Lani, an Auberge Resort 
Hawaii
Heralded by the Hawaiians for its mana (prodigious spiritual energy), the Big Island wows with its black, green, and white sand beaches, volcano power, misty valleys, waterfalls, and ancient lava fields. Its resorts dot the Kohala coastline as emerald oases. One of them, Mauna Lani, Auberge Resorts Collection, is a past domain of Hawaiian kings and draws from Hawaiian culture in spirit and footprint. Its garden, royal fishponds, and coral reefs set a bygone mood. At the same time, its recent $200 million re-imagination and redo brings an air of contemporary opulence and coddling—such as its new permanent Goop store, the first in Hawaii. Choose the airy, 4,000-square-foot Oceanfront Residence, a 2-master suite extravaganza with pool, gourmet kitchen, and dedicated guest experience manager who sees to your whims. $7,000 nightly. 
Fiji 
The ultimate in exotic getaways, 255-acre Vomo Island occupies prime Pacific real estate just off Viti Levu, Fiji's main island. A stronghold of barefoot chic with 32 villas, myriad, palm-edged nooks, sugary beaches, and two pools, the private island escape offers both tranquility and activity. Golf, scuba dive, volley on the tennis courts, fish, spa, or just hang out beneath the flowering trees. There's even a fully equipped Kids Village led by Baby Butlers. Have the entire island to yourself and achieve that longed-for Robinson Crusoe sense of seclusion. Move into The Palms, an ultra-modern, 4-bedroom, set-apart extravaganza with a pool, kitchen, and personal beach. Starting from $5,500 per night. 
Villa Norte or Villa Luna at The Sanctuary on Camelback Mountain Resort & Spa
Scottsdale 
Kaleidoscopic sunsets, saguaro cacti, desert jeep rides, western flair, otherworldly desert landscapes, Frank Lloyd Wright's Taliesin West, and a hip, small city vibe combine to make Scottsdale a coveted holiday hangout. One of its most sumptuous enclaves, Sanctuary, welcomes guests for discreet stays in seven architecturally distinctive villas located near the hotel. Conceived to fuse with nature, indulge in local mood, and portray views through panoramic windows, each offers something unique from game rooms to tennis courts. Choose Villa Norte for its southwestern decor and adobe styling (plus tennis court) and Villa Luna for its floor-to-ceiling glass walls and eye-popping vistas. Personal butler and private vehicle available upon request, with all resort amenities included in your stay. $3,200 nightly. 
Note: At this time, each destination allows visitors from the United States, but with different entry and exit requirements. Please check with the hotel for current information when booking.