Somebody I know said that everyone ought to host a populous party in their home at least once a year, because in its advent one feels the need to finally get around to reorganizing those closets and drawers that beg for attention, not to mention scrubbing down those corners that even your housekeeper fails to find time to complete. As for me, when a fancy party looms, I tend to reorganize the furniture—for better or worse. Perhaps a simpler idea is to eschew the home venue concept for something infinitely simpler and less personal: an over the top 5-star hotel suite, complete with in-house catering, amenities, staff support, and often a jaw-dropping view. Here are some first-in-class suites for planning your next soiree.
The Penthouse Suite at The Post Oak Hotel Houston, Houston
Perched as the highest point of this glamorous hotel's 38-story tower in Houston's swanky Uptown, this astonishing 2-story grand residence encompasses 22,000 fantastical square feet, complete with stunning 360-degree urban views. At $125,000 a night, it may be the world's most expensive place to spend the night.
Envisioned by owner billionaire Tilman Fertitta—owner of sports teams and restaurants among other things—as a showpiece and gathering place for his friends and associates, the palatial suite has five bedrooms (one with a his-and-her closet with room for 150 shoes and countless purses), a fully equipped kitchen, a teppanyaki corner, two hot tubs, 28 televisions, a movie theater, infinity pool, basketball court, interactive putting green, and state-of-the-art fitness center and spa. Bedecked with pieces from Fertitta's own fine art collection (think: Robert Motherwell), the colossal suite features lavish design elements, including Michael Alexander velvet chairs, 23 custom chandeliers, silk fabric wall coverings, and Calacatta marble floors.
The Villas at Christopher Hotel, St. Barthélemy
Perhaps no Caribbean island is as exclusive on New Year's Eve as ritzy St. Barths, a destination that fuses island chic with Parisian élan. Rather than wait for an invitation, throw your own fête in one of the Christopher Hotel's outstandingly lavish villas—the Niña, Pinta, or Maria. Embracing uninterrupted views of the ocean and neighboring islands, the contemporary hotel and its eye-catching villas lie between gin-clear waters and verdant Pointe Milou.
Prime for ringing in the New Year with your favorite fellow jet-setters, the villas, set among lush vegetation, stretch for 12,600 square feet. Each holds four bedrooms and a private swimming pool. For a pre-party celebration, yield to the ministrations of the hotel's Spa Sisley. Count on your personal hotel butler to help organize your celebration and staff to keep the Champagne and canapes flowing.
Penthouse Suite, Rome Cavalieri, A Waldorf Astoria Hotel, Rome, Italy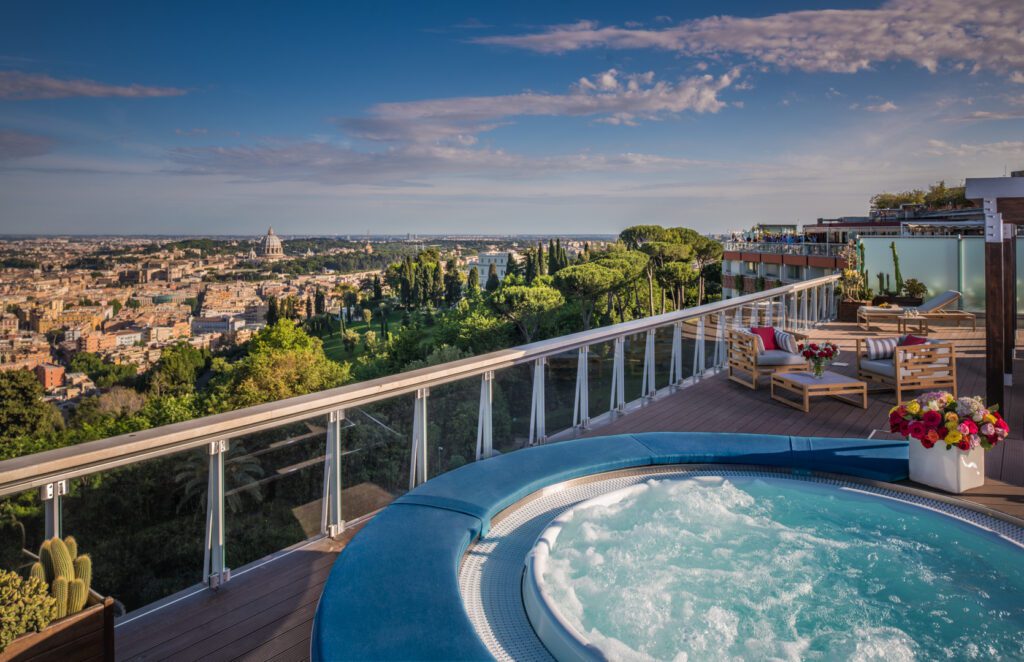 Whether you want to offer your friends la dolce vita with an extravagant spread or show them that relaxed opulence means following the Italian concept of dolce far niente (the art of pleasant idleness), the iconic, hilltop Rome Cavalieri has the answer. Book their 2,115-square-foot penthouse suite for New Year's Eve (or any time of the year) for an enchanted evening, rife with fine food and wine and replete with sweeping vistas of Rome and the Vatican. Under prized art, including works by Andy Warhol, and amid glistening Swarovski crystals embedded into the décor and furnishings by the incomparable Karl Lagerfeld, your guests can enjoy the suite's dining area with a bar; a large, walk-in dressing room; a private wine cellar loaded with top label wines; and a hydro-massage bath.
Broadmoor, Colorado Springs, Colorado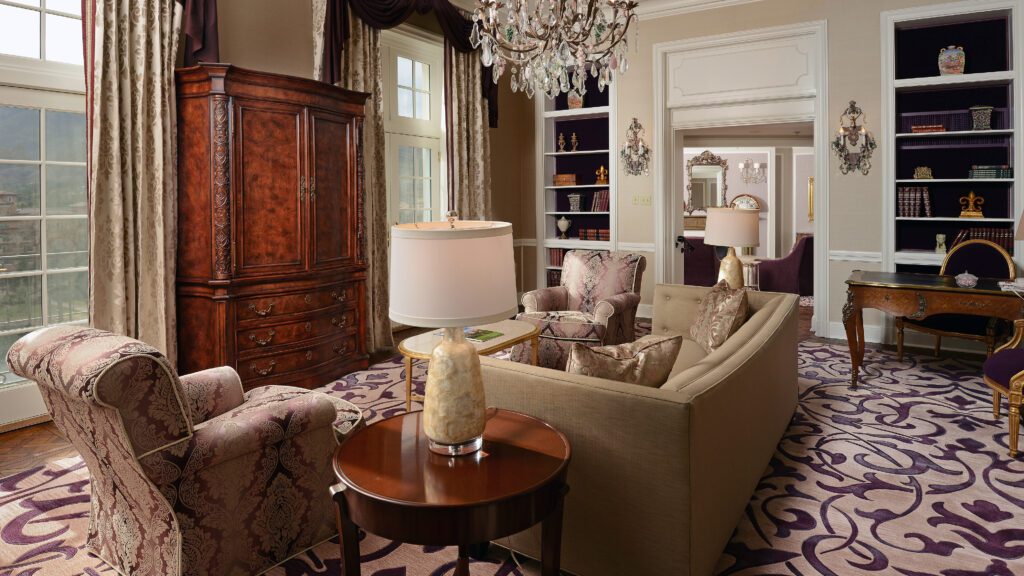 The guest list at the regal Broadmoor is the stuff of legends. For more than 100 years, the resort has treated every guest like a celebrity, including a slew of truly newsworthy visitors such as Jimmy Stewart who honeymooned here. A Rocky Mountain-situated manse with huge grounds, two golf courses, 20 restaurants and cafés, a swimming pool, a lake, and a garage brimming with vintage Cadillacs, the iconic hotel has white glove service down to a science. While they hold their own black tie gala on New Year's Eve with a 5-course meal and special musical guests (this year, Broadway star Marcus Lovett and singer Julie Bradley), the hotel also encourages private guests to throw their own elite parties. Do it in the historic Penrose Suite, a 3-bedroom, 3-bathroom, private apartment that boasts spectacular views. Swoon over a dining room, sitting room with fireplace, sunroom, and formal living room—perfect for your sophisticated extravaganza, planned in collaboration with the Broadmoor team.
Armani Dubai Suite, Armani Hotel Dubai, Dubai
Imagine watching the fireworks and sharing greetings for the New Year from the tallest skyscraper in the world, the Burj Khalifa. As elegant as the designer behind the brand, the staggeringly gorgeous hotel and its 4,198-square-foot Armani Dubai Suite provide the ideal haven in which to share hopes for an auspicious year to come with friends and family. Situated on level 39, overlooking the Arabian Gulf, and floating above the city, the suite quickens the heart with its spellbinding, circular entrance vestibule, sleek décor, and three fixture powder rooms. Consider beginning the evening with an indulgent, 7-course dinner with wine pairings at Armani/Ristorante, the hotel's Italian-intoned signature restaurant. This one is for fashion-forward revelers looking to take the holiday to new heights.
Imperial Suite, Grand Velas Los Cabos, Los Cabos
If tequila or a regional Mexican wine is your drink of of choice on New Year's Eve, there's no better retreat to toast the New Year than the Imperial Suite, a lavish, 2-bedroom delight at Grand Velas Los Cabos. Gifting mesmerizing ocean views, the Imperial Suite has a commodious living area with a bar, a dining area, and accordion-style doors that lead to a terrace (complete with plunge pool). The whole accommodation seems to float above the waves. On Near Year's Eve, stand on the terrace, glasses aloft, canapés in hand, as you dance privately to the live band music wafting up from below and cheer the beauty of the fireworks as they explode kaleidoscopes of color in the sky. Note: with a 5-night stay, this tony suite's stay includes two 50-minute massages, a 3-hour tour on a Bella yacht, roundtrip airport transfers, a private en suite dinner, and tequila tasting.