Snuggled in a warm coat, my throat wrapped by a long scarf, I skitter across the icy road to enter the Christmas market in Budapest's Vorosmarty Square. Festooned with twinkling lights and peppered with cottage-like vendor's stalls set up in rows, the town plaza hums with vivacity. Scattered laughter fuses into melodies that blend with a brass band and the singing voices of roving groups of carolers, sweetly dressed like angels. Pods of friends and families huddle together amiably, deep in celebration mode. Wafting through the air, the scents of cloves and cinnamon feed the soul.
Pushing through the ebullient crowds, I meander the labyrinth of alleyways, eyeing huge pots of aromatic goulash (garnished with prunes) and salivating over Hungarian-style pizza topped with tomatoes, bacon, and dollops of cream. Savory pancakes and immense pork knuckles tempt, as do handmade chocolates, cakes, and nuts roasting on grills. Husky goose thighs and fat sausages cook on long spits stretched across open fires.
It's a timeless scene in a centuries-old square named for a poet. As I focus on a table that holds wooden handicrafts and hand-knitted hats, I think to myself that, besides the occasional cell phone being hoisted for a selfie, I could have stepped into any bygone century. At last, I reach my destination, one of the many vendors brewing up orange-infused gluhwein, redolent of vanilla and spices. A warm, sweet concoction, it possesses all the flavors of Christmas at once—like Christmas in a cup.
More on Christmas Markets
Europe has a long history of festive Christmas markets which operate daily throughout the season, often opening as early as November. Usually constructed as tiny villages with hut-like vendors' stalls, they occupy street corners, city squares, and parks and lie in front of monumental buildings. Like street parties open to all, these Christmas markets embody the essence of the holiday. They incite connection and camaraderie between locals and tourists alike and deepen the spirit of the season.
Put These Christmas Markets and Festive Hotels on Your List for Holiday Travel
Budapest
The Market: Christmas Fair & Winter Festival at Vörösmarty Square Budapest's famous winter market opens November 17 and continues until January 1, 2024, abundant with activities. Set in the heart of the city, on the Pest side of the Danube River, this is considered one of Europe's top fairs.
The Hotel: Anantara New York Palace Budapest Hotel, a mélange of art nouveau, baroque, Italian renaissance, and gothic styles, reigns as a glamorous gathering place, once the den for Hungarian intellectuals and literati. You'll find it on elegant Erzsébet Krt boulevard on the Pest side of the Danube River.
Copenhagen
The Market: Intimate, brimming with convivial hygge, more like a house party, Copenhagen's Christmas markets exude an element of chic chill. Wander the capital city's most famous fête which takes place at historic Tivoli Gardens, the world's renowned amusement park. Sip gløgg beneath glittering lights as you admire more than 1,000 Christmas trees adorned with some 70,000 ornaments. Rides, concerts, food hawkers, gift stores, and entertainment galore gladden hearts.
The Hotel: Part of Tivoli Gardens, magical Nimb, a member of Small Luxury Hotels of the World, spellbinds with otherworldly charm. With just 17 exclusive suites, the elegant hotel manages to impart an element of opulent fantasy and awe.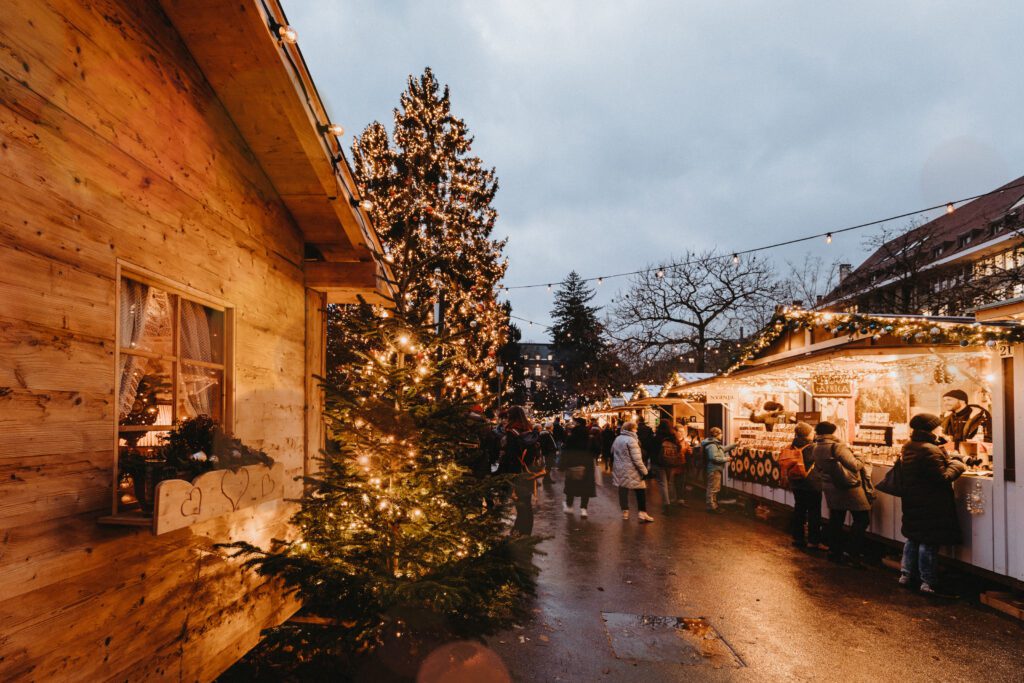 Bern
The Market: With its preserved medieval city center, Bern's Old Town boasts UNESCO World Heritage status. That makes this Swiss capital, the home to Lindt Chocolate, an ideal backdrop for a yuletide soiree. Enjoy the Bern Christmas Market, a paragon of holiday razzle-dazzle, set atop cobblestone streets among ancient buildings. Replete with an ice rink, live entertainment, food stalls that feature local cheese from Emmentaler to Gruyère (don't miss the raclette), chocolate, cookies, and mulled wine, the fair offers Swiss crafts such as cuckoo clocks and embroidered linens.
The Hotel: After all that gallivanting, you'll crave a grand dame. Make it Hotel Schweizerhof Bern & Spa, a 5-star beacon in the heart of the city. Luxurious suites, old school charm, a sky terrace heated in winter, and Jack's Brasserie, a Bern institution famous for its wiener schnitzel, ensure a memorable stay.
Berlin
The Market: More than 100 Christmas markets take place in Berlin annually, evoking the city's much-appreciated physical and cultural contrasts. The Christmas Market at Charlottenburg Palace features more than 250 vendors. Shop for classic German Christmas sweets such as marzipan loaves, gingerbread, and stollen, as well as Christmas crafts from ornaments to nativity figurines. A nostalgic fairground near the orangery thrills children with merry-go-rounds and other rides.
The Hotel: Revel in the lavish halls of legendary Hotel Adlon Kempinski, located opposite the Brandenburg Gate. A treat at any time of the year, the hotel outdoes itself during the holidays with festive decor throughout its halls and special, seasonal meals, such as a goose menu on Christmas Eve and Christmas Day.
Oslo
The Market: Fjord meets forest in Norway's vibrant capital city, but in December you'll likely find snow as well. Along Karl Johan Street is the city's most popular Christmas market in Spikersuppa, the city's famous holiday-time ice rink attracts hordes of revelers. With a Ferris wheel, market stalls that sell gifts from jewelry to pottery to knitwear, yuletide concerts and plays, and loads of traditional food and drink, the market opens in November.
The Hotel: Hotel Continental Oslo, a member of Leading Hotels of the World, has been family-owned for more than four generations. Elegant and with four stunning restaurants, it invites just steps from the National Theater and Royal Palace.
Vienna
The Market: December festive markets date back to the Middle Ages in stately Vienna, home to urban vineyards, classical music, top-of-the-line art museums, and coffeehouses. Christmas markets large and small abound across the city. Centrally located, the Viennese Dream Christmas Market sprawls in front of City Hall, awash with yuletide cheer and offers concerts, carolers, programs, sweets and savory snacks galore, and plenty of hot glühwein.
The Hotel: Hotel Rathaus Wein & Design stands out as Vienna's only wine-themed hotel. A short walk from City Hall, a slew of museums, the storied Naschmarkt, and most of the city's top attractions, this intimate boutique hotel pampers amid sleek décor.
Prague
The Market: Atmospheric and transportive, Prague makes an impression with its ornate bridges, spellbinding architecture, and castle atop the hill. Celebrate the holidays as people have for centuries at the Old Town Christmas Market, erected annually in historic Old Town Square. Among its traditional Czech, village-like configuration, you'll find rustic huts selling Christmas goods aplenty, including traditional Czech blown glass balls, wooden toys, embroidered linens and more. Dig into juicy sausages and Czech roasted ham, washed down with Czech pilsner. Don't leave without indulging in trdelník, a sweet pastry grilled on an open flame.
The Hotel: Embrace the spirt of the city at newly refurbished, 5-star NH Collection Prague Carlo IV, a Neo-Renaissance palace that once served as a splendorous bank. Just 10 minutes from Wenceslas Square, the hotel lies in central Prague, convenient to all attractions.