It's always hora feliz at this swanky new spot on the Embarcadero.
It's a balmy Friday evening on the Embarcadero, and the city's social set is out and about. At Pier 1½, lively chatter drifts out the double doors as patrons stream in: a pair of girlfriends in gilded platforms, an assemblage of backpack-decked colleagues, a sharply dressed suitor with a bouquet of lilies in hand. The location is La Mar Cocina Peruana's newly reopened bar, connected to the acclaimed restaurant by an adjoining foyer. Following an 8-week renovation, La Mar Bar has unveiled a new, nautically themed interior, a menu of delectable Peruvian bites and beverages, and a spirited music line-up. The 49-seat bar and lounge seeks to revitalize nightlife on the Embarcadero with deejay sets and musicians performing live Thursdays through Sundays. Tonight, tropical house is on the menu: a saxophonist riffs to the sounds of summer spinning on the turntables, setting the scene for the happy hour crowd.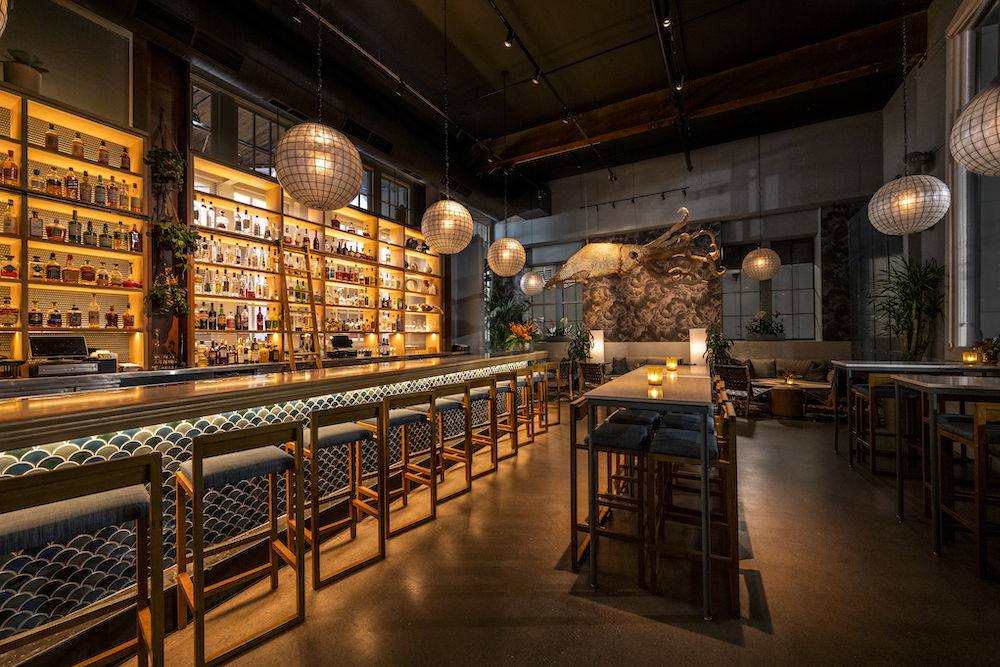 Designed by David Magid of the Los Angeles-based Magid Studio, the seafood-centric menu and waterfront setting, as well as the fishing villages of Lima, inspire La Mar Bar's whimsical new interior. A sleek, 13-seat bar showcases ceramic tiles, reminiscent of fish scales, in various shades of aqua. Behind the bar, backlit shelves house an impressive spirit selection of piscos, tequilas, mezcals, and more. A lounge area tucked into the far end of the space is the ideal place to loosen up after work or ahead of the weekend, softly lit by a 12-foot calamari sculpture suspended above. The centerpiece of the new space, the giant cephalopod was hand-woven by Peruvian artist David Goicochea and imported directly from his workshop in Lima.
La Mar Bar's new menu curated by executive chef Victoriano Lopez is an opportunity to indulge in shareable bar snacks showcasing the vibrant flavors of Peru. Choose from a selection of taquitos: salmon with a zesty jalapeno-cilantro sauce, cured hamachi with a spicy roasted tomato and rocoto sauce, ahi tuna with smoked aji amarillo sauce, or Dungeness crab with salsa roja. Another fresh option is the nigiri, with duck, hamachi, and scallop on offer. House specials include crisp plantain chips served with creamy avocado sauce, beef oxtail empanadas, savory chicken croquetas, chicken thigh chicharrón with raw hot pepper sauce, and even a Peruvian take on fondue: picture a bubbling skillet filled with sweet corn, queso fresco, and Gruyère.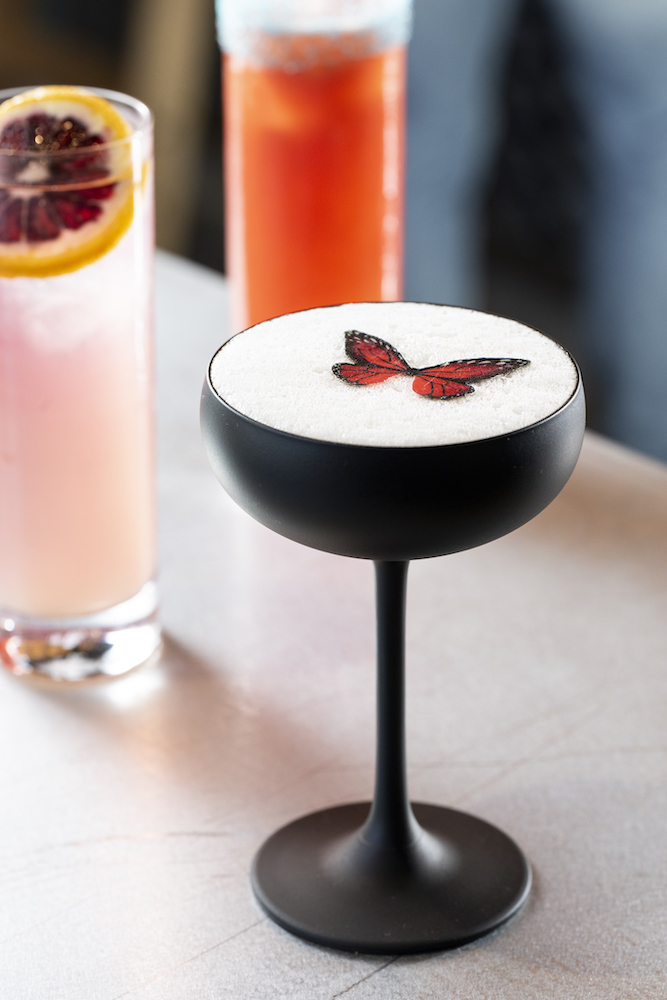 While you might come for the food and atmosphere, you'll stay for the drinks. The bar's drink menu, exclusive to the space, features a variety of libations spotlighting agave and pisco. La Mar Bar perfects the pisco sour, Peru's national drink: a unity of tart, sweet, and earthy flavors in one silky concoction. Twists on the original include the chilcano, adding a refreshing fizz with ginger beer; El Capitán, a take on the classic Manhattan; and the pineapple-infused pisco punch, invented right here in San Francisco. Other cocktails range from bubbly and bright to bold and brash, with taste profiles sure to satisfy all. Highlights include the Wasp, a floral concoction of passionfruit and aji panca; the rich and nutty Que Bacan made with pisco, Kahlúa, espresso, and sherry, and the Yasashi Mariposa, a citrusy sake-based cocktail topped with an edible wafer butterfly. Looking for something a bit more unorthodox? Try the Ojo de Tigre, an alcoholic twist on leche de tigre—the spicy, citrus-based marinade used in a classic Peruvian ceviche.
In the spirit of Peruvian culture, La Mar Bar is a toast not only to eating and drinking well, but also to celebrating the social aspect of both. So, whether you're raising a glass with old friends or a new date: Salud!