PHOTOS JOSEPH CHUN
Festival Napa Valley presented a sensational Olivia Decker Power of Music concert by the Vitamin String Quartet (VSQ) at the Palace Hotel San Francisco on April 22. The evening included a reception hosted by Olivia Decker, Palace Hotel General Manager Angie Clifton, and Festival Napa Valley president Rick Walker, featuring fine wines from Grgich Hills Estate. The sold-out concert delivered powerful, enchanting music for a remarkable evening at the Palace Hotel's magnificent Garden Court.
Since their debut in 1999, VSQ has helped establish classical crossover as a genuine force in contemporary music with captivating string performances, scoring unforgettable film and TV moments, and helping couples around the world create their perfect wedding playlists. Fresh off high-profile placements in Netflix's smash series Bridgerton and Universal's The King of Staten Island, VSQ has become one of the most popular contemporary string ensembles in the world. With more than 300 releases,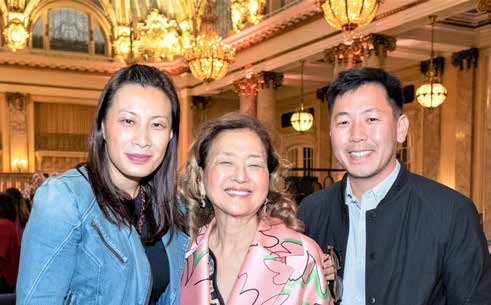 VSQ has produced cutting-edge string renditions of a highly eclectic mix of artists, erasing boundaries between classical, dance, hip-hop, rock, and pop. Their longstanding VSQ Performs the Hits series showcases their
transformation of the best hits pop has had to offer for the past eight years. The quartet also engages with select artists on a full-album basis, including visionaries such as Cardi B, Lana Del Rey, Björk, and Sigur Rós, as well as music from the films of Studio Ghiberti.
To date, these heartfelt renditions have earned the ensemble over 1 billion streams, almost 4 million downloads, and over 1 million physical units sold. Seven of VSQ's albums have charted with Billboard magazine, peaking at number 4 in both the classical and classical crossover categories. Most recently, the full-length album VSQ Performs Lana Del Rey was nominated for "Best Classical Record" in the 2021 Libera Awards.
VSQ's music has appeared in other high-profile TV shows besides Netflix's Bridgerton, including HBO's Westworld, Showtime's Shameless, and ABC's Modern Family. The ensemble also appeared onscreen with 30 Seconds to Mars for an episode, MTV Unplugged, and an episode of Gossip Girl. VSQ can also be heard alongside Danny Elfman, Plain White T's, Korn, and others in the official The Nightmare Before Christmas tribute album, Nightmare Revisited.
Based in Los Angeles, VSQ features a rotating cast of musicians and producers and frequently collaborates with animators, creators, and like-minded artists. Their collaborations with ThatViolaKid, Simply Three, the Dutch Domino Team, and DoodleChaos have been major creative successes.
Festival Napa Valley's Olivia Decker Power of Music Series showcases globally recognized performing artists and emerging talent in year-round, live presentations on spectacular stages in the San Francisco Bay Area and other locations.
For past and upcoming concerts, visit: https://festivalnapavalley. org/ programs/olivia-decker-power-of-music-series/