The Calistoga Wine Growers Association and Four Seasons Resort and Residences Napa Valley hosted the second annual Calistoga Wine and Culinary Experience on Saturday, April 1, 2023. The event brought together the best of Calistoga's wine and cuisine at the beautiful Four Seasons Resort and Residences Napa Valley in Calistoga.
Located at the northern end of Napa Valley, the Calistoga AVA produces some of the world's most prized wines. Talented winemakers get the most out of the region's unique terroir to craft impressive white and red wine varietals which are attracting global attention. This event showcases what makes Calistoga one of the world's most unique and special wine and hospitality destinations.
Guests enjoyed some of California's best wines produced by top winemakers. Participating wineries included Amici Cellars, Au Revoir, Baldacci Family Vineyards, Barlow Vineyards, Bennett Lane Winery, Canard Vineyard, Chateau Montelena, Clos Pegase, Elusa Winery, Fisher Vineyards, Girard Winery, Jack Brooks Vineyard, JAX Vineyards, Jericho Canyon Vineyards, Jones Family Vineyards, Kaiser Family Winery, Kenefick Ranch Vineyards, Knighton Family Vineyards, La Sirena, Lawer Estates, Lúnasa Wines, Mancini Family Vineyards, Maria Concetto Winery, Phifer Pavitt Wine, Poggi Wines, Romeo Vineyards, Solorio Family Wines, Stellareese Wines, Storybook Mountain, Switchback Ridge, THE GRADE Cellars, The Wager, Twomey Cellars, and Work Vineyard.
Participating in the event were a few of Napa's Valley's legends including world-famous winemaker Heidi Barrett and Rogelio Garcia, the executive chef from Top Chef's 15th season who is now creating magic at Auro, the extraordinary restaurant at Four Seasons Resort and Residences Napa Valley.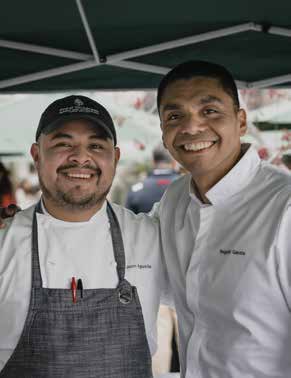 Between sips, guests dined on delicious food offered by some of Calistoga's top restaurants, including CAMPO, Auro, TRUSS Restaurant + Bar, Solbar, Evangeline, Lovina, and Flourish Chocolate. Favorites included caviar served on cracker pillows created by Auro, Lovina's Mushroom soup, CAMPO's carne asada tacos, and tater tots with caviar by Evangeline.
Many guests extended their Four Seasons experience and enjoyed a stay at the Four Seasons Resort where several dined at TRUSS and Auro. After the wine tasting, some adventurous guests ate poolside, enjoying authentic Mexican cuisine from CAMPO between swimming and soaking in a hot tub.
For those looking to escape city life, consider visiting the pastoral Four Seasons Resort and Residences Napa Valley in Calistoga. Although less than a 2-hour drive from San Francisco, it feels like a world away.