In a time capsule Hollywood movie from 1969, If It's Tuesday, This Must Be Belgium, a group of American tourists dash through Europe on a whirlwind bus tour to nine countries, escorted by an overwhelmed tour guide. A tidbit from the funny script: "This tiny country is famous for Rembrandt, tulips, Edam cheese, and also for Van Gogh, Dutch chocolate, Dutch beer, Dutch cleanser, Dutch treats, Dutch doors, Dutch uncles. In fact, folks, you're in Dutch!" 
The rom-com film's representation of a vacation is precisely what people don't want. Less is more and priorities have shifted. 
Today, the evolution of luxury travel takes us to the intersection of education, personal development, and imaginative fun layered with eco-friendly destination considerations. As travel inspiration for 2023, we highlight three unique and starkly different itinerary suggestions in diverse locations: Europe, South Australia, and Yellowstone National Park.  
European Assignment: The World of 007 
With the coronation of King Charles III at Westminster Abbey on May 6, 2023, all things quintessentially British are at the forefront of our minds—including the 60th anniversary of the James Bond movie franchise. Since Ian Fleming wrote Casino Royale in 1952, the trendsetting Bond stories have sold over 100 million copies worldwide while the films hauled in another $7 billion dollars. From Egypt's Great Pyramids in The Spy Who Loved Me to the Casino Monte Carlo in Never Say Never Again and GoldenEye and beyond, the world's most famous fictional spy has put plenty of miles on the odometer. 
In partnership with EON Productions, the US- and UK-based luxury travel company Black Tomato has created "The Assignment: Europe," a curated, 12-night journey into the world of 007. Guests will pursue Bond-worthy adventures inspired by the famous fictional special agent through London, Paris, Monaco, Lake Como, Venice, and the Austrian Alps.  
Get trained to drive an Aston Martin and learn about physical stunts with veteran Bond coordinator Lee Morrison. Have a drone capture your own high-octane chase in a Superhawk 34 on the River Thames accompanied by Sarah Donahue, the Cigar Girl in The World Is Not Enough. Board a private yacht to cruise the Riviera with Octopussy and A View to Kill actress Carole Ashby. Head up to the summit of Austria's Gaislachkogl for lunch at ice Q restaurant overlooking the spot where Daniel Craig as Bond first encountered Hoffler Klinik in Spectre and met Dr. Madeleine Swann (Léa Seydoux). Tour the secretive Bollinger Champagne estate in a Land Rover and sip exclusive vintage selections from its hush-hush private cellar. Ascend the interior of Torre Dell'Orologio, the 15th century landmark clock tower above St. Mark's Square, featured in Moonraker.
Pull on some gloves to handle 007's actual props and classy Omega watches with the James Bond archival director. Hear about cinematic, death defying feats by seaplane, mountain, and water skis from former cast, special effects crew, and a Bond stunt double.  
Looking for something even more extraordinary? Adventurous guests can tailor a unique Bond-inspired trip from among 35 experiences. Personalized trips, which run for a minimum of five nights, are priced from $18,000 to $60,000 (excluding airfare) per person. More information at: blacktomato.com/us/james-bond 
South Australia: The WOW Factor Is Everywhere       
South Australia is the "Artisan Australia" where the brand promise is succinctly expressed as WOW—wine, outback, and wildlife—all abundant and easily accessed from the charming city of Adelaide. Visit southaustralia.com  
A hop, skip, and jump by ferry off the mainland, the wildly beautiful Kangaroo Island (say "KI," like the locals) is widely regarded as Australia's Galapagos due to the abundant wildlife. More than one-third of the nation's third largest island is covered by national and conservation parks, making it a haven for kangaroos, wallabies, possums, frogs, bandicoots, koalas, platypuses, sea lions, and fur seals. To visit KI is to help support the island's regeneration and recovery from devastating bushfires in 2020.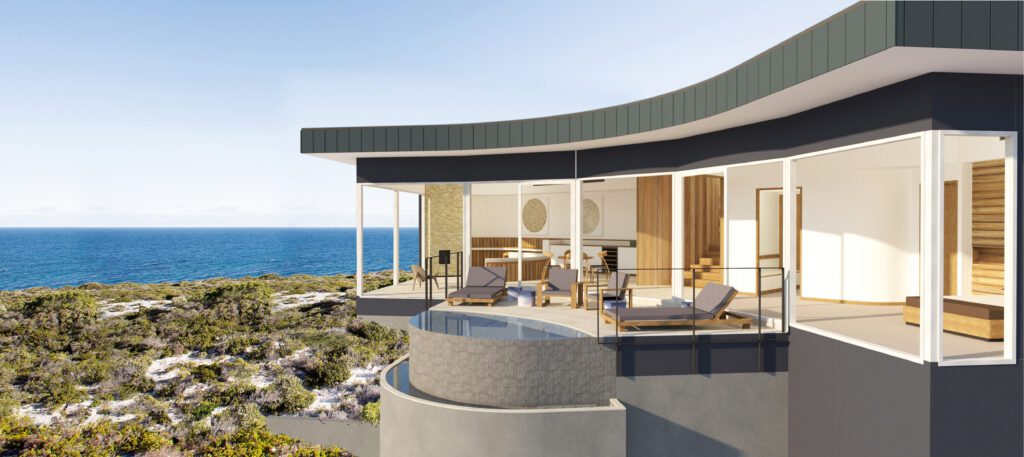 On Kangaroo Island, an ambitious rebuild of the iconic Southern Ocean Lodge, notable for its breathtaking ocean views, is well underway. The resort's holistic approach recreates a premium, nature-based experience and sense of place, emphasizing a strong focus on sustainability. For example, hybrid solar and battery infrastructure allows the lodge to operate off the grid in a remote area. Investment in reverse osmosis uses solar power to convert bore to potable water and rain savers harvest pure, drinkable rainwater.  
Since opening in 2006, Southern Ocean Lodge has worked closely with over 170 local suppliers ranging from Ligurian honey producers and gin distillers at KI Spirits to tour operators with a lifetime of knowledge to interpret the island's extraordinary wildlife and landscape. 
Southern Ocean Lodge is a member of Luxury Lodges of Australia, a co-op of 19 independently owned and operated high-end lodges that partner with Tourism Australia to highlight experiential luxury. From leadership in conservation and environmental sustainability to engagement with indigenous communities, each lodge employs "makers" that are skilled local craftspeople using best practice initiatives to achieve excellence. Collectively, the lodges offer more than 250 privileged access experiences for every season. Together, the properties showcase Australia's extraordinary diversity with purpose and positive impact at its core. Separately, each place provides compelling reasons to visit.  
The property is a sanctuary of calm: there are just 25 luxurious suites along the coast, plus Ocean Pavilion, a contemporary villa of nearly 7,000 square feet perched on the limestone cliffs. With a spectacular outdoor terrace leading to an infinity pool, when Southern Ocean Lodge reopens in December 2023, guests will have the best seat for sunrises, sea mists, and thundering breaking waves. More information at: luxurylodgesofaustralia.com.au/lodges/southernoceanlodge 
A living museum of Australian winemaking history exists in the Centennial Cellar at Seppeltsfield in the picturesque Barossa Valley. The tradition of laying down a barrel of the finest wine from each vintage has continued here since 1878, so visitors can taste their birth year at this famous estate with its own historic lodge on the premises. seppeltsfield.com.au 
Historically speaking, there's a great deal more. In South Australia's Flinders Range, the country's largest mountain region, Nilpena Ediacara National Park is a place of rich cultural heritage and exceptional scientific value. Here, evidence of Earth's earliest complex animal life dating back half a billion years has been discovered as fossils preserved in fine sandstone grains on an ancient seafloor. The nation's newest national park, due to open later in 2023, will present an exciting one-of-a-kind fossil experience for visitors. More information at: parks.sa.gov.au/park-management/new-in-sa-national-parks/nilpena-ediacara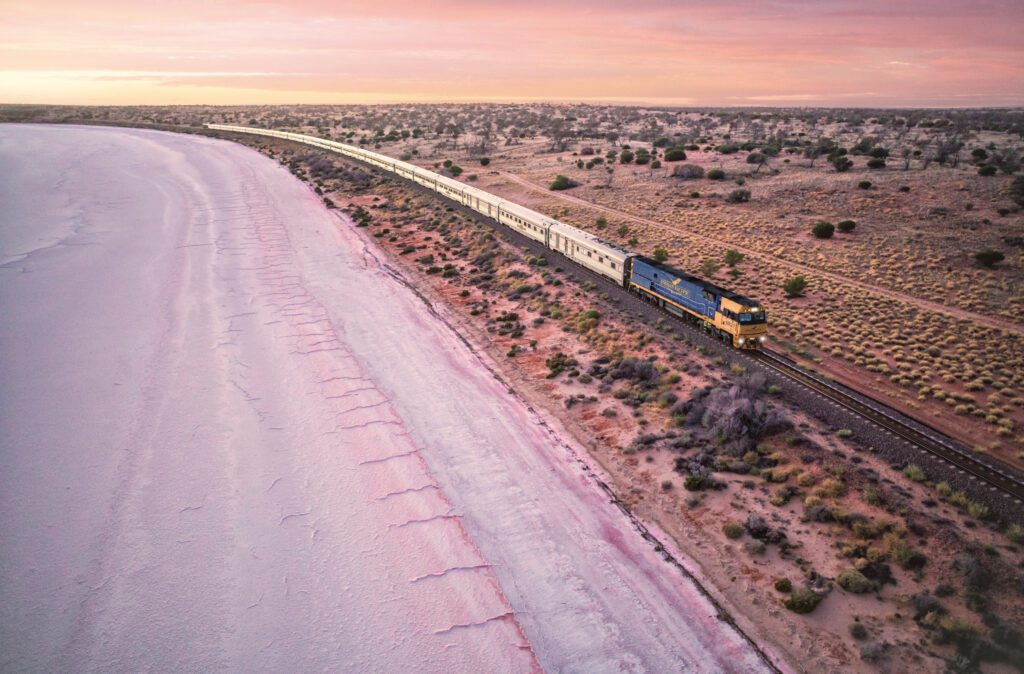 For getting there, Australia's luxury trains are just the ticket. With weekly departures, the famous Indian Pacific links Sydney to Adelaide in 26 hours, crossing the great, treeless Nullarbor Plain on the journey. In platinum class, limited to 24 Tasmanian Myrtle wood-clad cabins, the day lounge with windows on both sides converts to a comfortable sleeper cabin with a private ensuite bath and shower. In addition to full room service, platinum class offers an exclusive dining room for guests. Alternatively, travel 515 miles from Melbourne to Adelaide, a 10.5-hour daytime trip on the historic train, The Overland. More information at: australia.com/en/things-to-do/luxury/best-train-journeys-to-take-in-australia.html   
Jackson Hole: Yellowstone Wildlife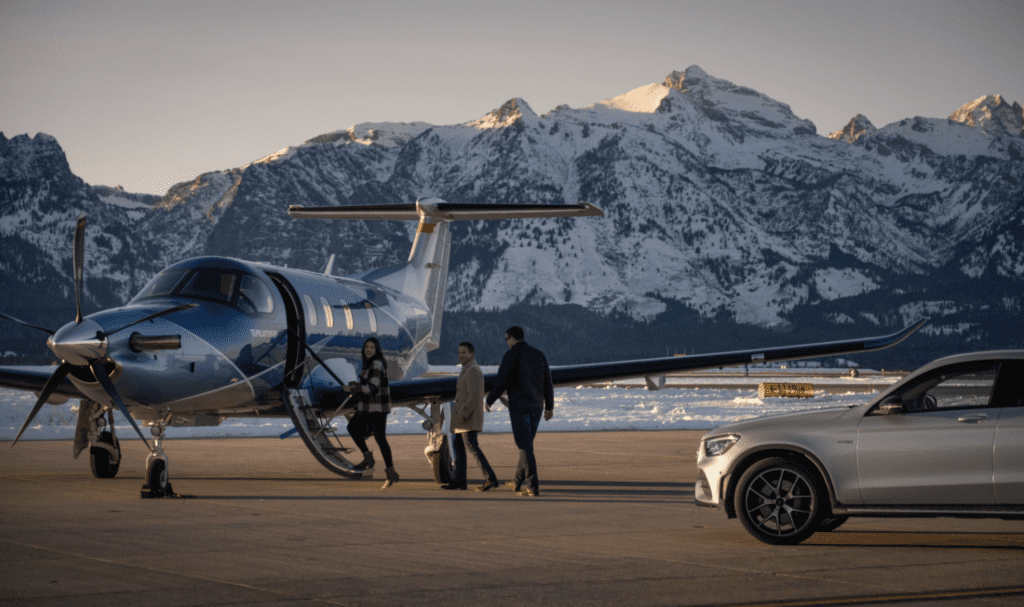 Tourism officials say the top-rated Yellowstone television series demonstrates the power of the American West's imagery to influence people to visit the region. The show is actually filmed in several locations across Montana and Utah, including Bozeman, Livingston, and Park City. Just over the border in Wyoming, the Four Seasons Resort and Residences Jackson Hole is near enough to be a comfortable base for exploring by private aircraft. The 5-star alpine resort is surrounded by some of America's most rugged peaks and an inspiring array of wildlife.  
"A Day with the Wolves Experience," is a day-long, immersive adventure curated by the Four Seasons Resort Jackson Hole. It allows guests to potentially view the elusive, native gray wolf population of Yellowstone National Park in their pristine habitat. In partnership with Jackson Hole Wildlife Safaris and Yellowstone Safari Company, the experience provides for a charitable donation to Yellowstone Wolf Project which helps support sustainability of the wolves, one of the most mesmerizing apex predators in the natural world.  
In early morning, a party of up to eight guests departs the resort for a gourmet breakfast before joining two pilots on a Swiss Pilatus for an aerial tour to appreciate the grandeur and majesty of Yellowstone National Park, America's first park. After landing under Montana's big skies in Livingston, guests are greeted on the ground in a luxury, 4-wheel drive SUV with a team of biologists, certified naturalists, and tracking experts to provide insights on the diverse, delicately balanced flora, fauna, and wildlife of the Greater Yellowstone ecosystem. Following a 4-course lunch, continue your excursion by viewing and photographing wolves through specialized Swarovski spotting scopes. Personalize your adventure by adding a snowshoe trek into Yellowstone's wilderness, get a wildlife photography lesson from a pro, take a deeper dive into wolf biology, or try a mini-class on identifying animal tracks and signs.  
In summer, the "American Serengeti" tour focuses on animals active in North Yellowstone during the warmer months: bison, elk, moose, grizzly and black bears, mountain lions, bighorn sheep, pronghorns, bald and golden eagles, foxes, and more species. The inclusive experience is priced at $16,000, inclusive of hotel transfers, private plane transportation, luxury SUV vehicle, wildlife safari guides, and customized, full-day food and beverage. More information at:  fourseasons.com/content/dam/fourseasons/images/web/JAC/pdfs/JAC-a-day-with-wolves.pdf