It's easy to believe in magic and synchronicity after spending time with the world-renowned fashion designer and artist Naeem Khan. His life story reads like a fairytale entwined with a historical novel.
He invited us to meet and talk about his fascinating life at his vibrant atelier during New York Fashion Week. Between model fittings and answering important calls, Khan was kind enough to take an hour out of his hectic schedule to sit down with us and share his life story, his passions, and his vision for the future. Priceless moments like these with great people inspire us to be the best versions of ourselves.
From his humble beginnings in India to the school he supports in the Dominican Republic, we relished this rare opportunity to learn more about this multidimensional man and talented designer who dresses queens and first ladies.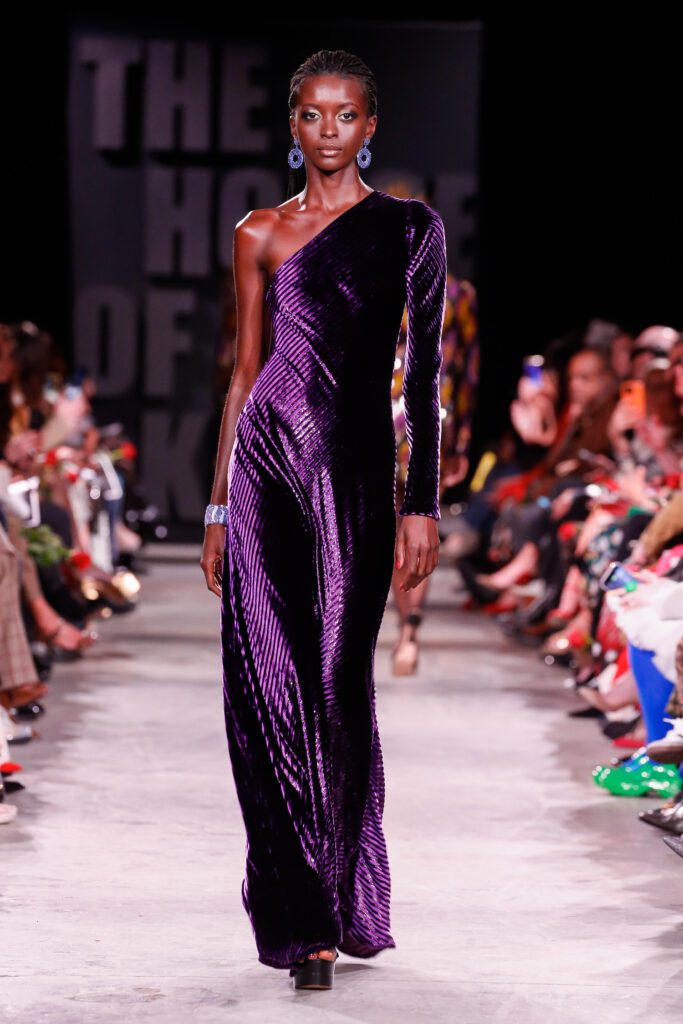 HL: Let's start from the beginning. Tell us about your childhood.
NK: I grew in a very interesting family of artists and poets. I was born in a small town in northern India called Bareilly, which is not on any maps. I was born at home, and the date of my birth was never recorded. In those days in India, the culture did not allow women to go out, so, the men in the family were responsible for registering my birth. They never did. Years went by and my family moved to Mumbai. I was supposed to go to school. The school asked for my birth certificate. Since I didn't have one, my grandfather got a fake one.
HL: Did you ever find out your actual birth date?
NK: I had to go back to that village and find all my father's friends and call them over for dinner. I asked them what they were doing when I was born. My dad's best friend is a watchmaker, and he was the one who said, "Well, it was Thursday; I was off; the year was …" So, I used my calculator and computer to figure out the day I was born. My mother said it was somewhat early in the morning. My birth date is like Indian cooking: there's no measurement. It's like this, much cumin, and that, much coriander, and some onions.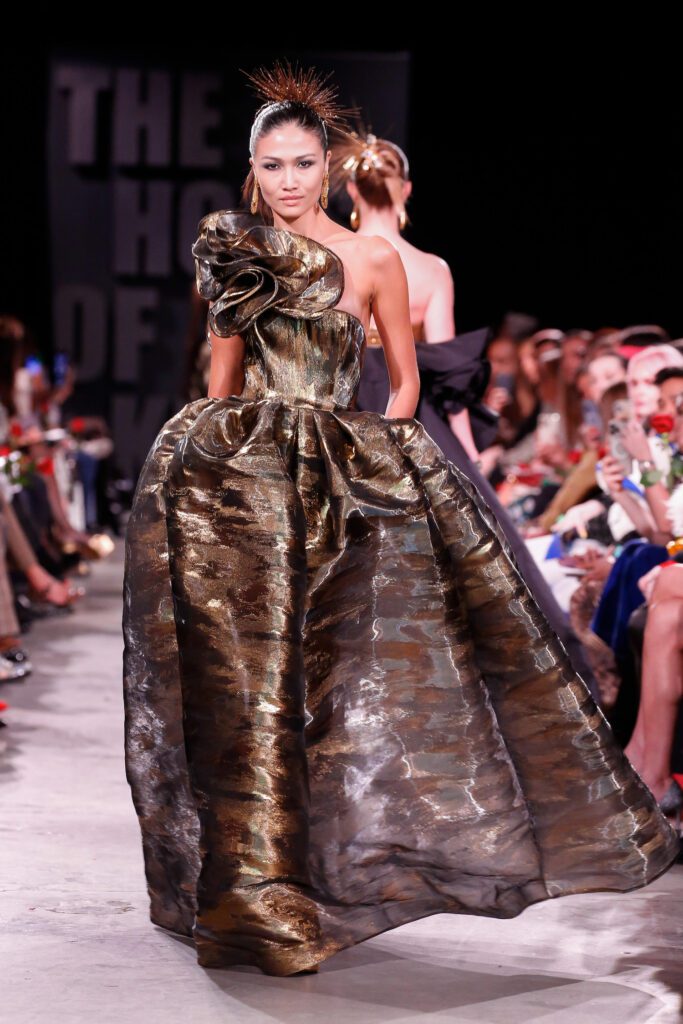 HL: So, what day were you born?
NK: I was born the 21st of May.
HL: Tell us about your family.
NK: I grew up in a family in which my father had poetry readings every other weekend. Poets came from different parts of the country and recited poetry. As a child, I listened to how words were put together and how meaningful they became. I think there is something about a child's mind that gets developed when you are exposed to all this. My mother and father also loved cooking and had amazing chefs who flew in from different parts of India to cook, because cuisine in India is very diverse. The food in northern India and southern India is different. So, being exposed to that kind of life set the base for me.
HL: What was your family's profession, and did it influence you?
NK: My family makes textiles. We have been producing textiles for 120 years. I'm the third generation, and my sons are fourth generation. We made textiles for the royal families.
So, my family does embroidery. We used to embroider for the royal courts of different countries. I remember my grandfather making stuff out of gold—pure gold, pure hand-beaten metal—and creating piets by hand and sewing it all to create these fantastic flowers and things like that. So, I grew up with them.
All the fashion magazines, like Harper's BAZAAR and Vogue, inspired me and my family. As a kid, I used to browse through all that and think, "Oh my God, I want to be one of these people!"
I told my father I wanted to be a fashion designer. As a young kid in India, I was always into sports, like cricket and soccer. I didn't pay much attention to my education. My parents said, "You need to be either a fashion designer or a doctor." You know, it's an Indian family, so I had to be educated.
HL: How did you end up coming to New York?
NK: Well, I got into too much trouble in school in India. I was not a good boy, running off with girls, playing too much, and not putting time into education. My dad was coming to America for business, so my family said, "Send him to school in America, and he will be away from all the bad influences and friends here." So, I came to America with my dad. I was supposed to sign up for school at FIT, get all my papers in order, and start school. But I went to a meeting with my father before all that, and my fate would turn that afternoon.
HL: What happened?
NK: My father had a meeting with Halston, and I tagged along. I sat there. There was Halston in the most incredible offices that I have been to. I had a big afro at that time. Halston had broken up with his boyfriend, who looked like and older version of me. So, not knowing of that resemblance, I was hired to be his assistant. We went back to India.
My dad didn't want me to work for Halston; he wanted me to go to school. I also had to convince my mother and told her, "Mom, I'm not going to school. I hate school. I hate the teachers. I want to work for Halston."
Halston sent telegrams asking my parents when I would be ready to come to America. Halston got my visa, and I arrived in America at the age of 18. My father had no idea how important Halston was. Anyway, my dad let me go, and I started working with Halston.
HL: Tell us about working with Halston.
NK: Halston was the best teacher in the world and became my mentor. I designed costumes for Martha Graham. Jean-Michel Basquiat and Andy Warhol would come by Halston's office. Andy and I became great friends. I bought five paintings from him for $1,000 each, and he gave me four as gifts.
HL: Is there a mantra that he instilled in you?
NK: There were so many, not just one. First of all, it was ethical work. He was so dedicated to his job. There was never a Monday or a Saturday or a Sunday. We were literally working every day. His other mantra was "party." Yeah, it was like, you partied hard and worked hard.
One day, it was Warhol, him and me sitting together late one evening. It must have been like eight or nine o'clock. There was a bunch of orchids on the table, and Warhol said, "What do you see?" I said, "I see flowers." He said, "That's not what I'm asking you. Look beyond, keep looking beyond. Suddenly, things start to appear. You begin seeing shade. You start seeing color. You start seeing so many things within that thing. Otherwise, you just think it's a flower." That really taught me to look beyond just what you see.
There is so much more to it, but it's about the mind and how the mind can actually create. If you go within, you can see so many other things beyond what you are looking at.
Another thing he taught me: one day, he said, "Do dresses come in your dreams?" I said no. He's said, "When dresses come in your dream, you will have reached a very good point." And it did.
I understood much later when I started my own business, when I was so obsessed with it. Working for somebody else is very different. But when you have your own company and your mission is your name, when you don't sleep at night. At three o'clock, something tells you that is the path you need to take. That means your mind has reached a certain self-awareness. Now, I create subconsciously. It just comes.
HL: Are there moments when you are not in that space?
NK: Yes, there are times of disturbance. For me, if I fall in love, that's a disturbance. I mean, it's a great thing, but it takes me away from my art, then I can't create.
HL: Really?
NK: Well, or I can create. Amazingly. It depends. Sometimes when I'm sad, I'm so troubled I can create much better. It's so weird how the mind works, yeah.
HL: What did you learn from Halston?
NK: You know, Halston was the most incredible teacher, but it was not just he who taught me, but everybody who surrounded him. Designing for Martha Graham is an example, just doing costumes for her dances. How does everything move with jersey when she moved her leg? How should I cut the dress? It was just so incredible to take some fabric and understanding the fabric and what fabric does to you.
In the beginning, I did not understand fabrics because I didn't know there were so many types of fabrics. He taught me that when you look at fabric, you play with fabric, you handle fabric and put it on the mannequin. The fabric must talk to you. The fabric will tell you what it what you should do to it. You try to do something else with the fabric, it will never work. And you have to be intuitive, have a relationship with the fabric. Even now, sometimes I'll get a bolt of fabric that I've designed and meant for a dress that I'll show you. It would lie here for six months, then I would pin it up. And I wouldn't say, "Oh my God, what am I going to do with this battery, because it's so stiff in one side and because it's woven with metal?" One day it came to me that if I cut it on the bias and twisted it, I could create these odd shapes. It's on the form in the back. It's just incredible.
So, I took a small piece and I cut it on the bias. When you cut it on the bias and it becomes this. Then we started like, you know, just twisting and turning it. Yeah, I mean, this should be cut, but there it was. That's amazing. You can see if you feel it. There is metal in here—on the edge—like this is the real grain of the fabric. So, yeah, it doesn't, but if you go like this, look; but when you cut it on the bias, it does different stuff. Now I can mold it; I can twist it, you know? It's insane.
So, the art of making clothing is not just cutting a cloth, but understanding the cloth.
HL: Is there a style of dress that you're drawn to create?
NK: Well, you know I like glamorous clothes. So, I wouldn't say a type of dress. I want my clothes to be like pieces of art. It's not the clothes that make a statement. My clothes change something in you. What I mean by that is it's important how a dress makes you feel. You have to feel elevated. You have to feel like, you are the most beautiful person in the room. Those kinds of dresses I design.
I'll tell you a crazy story. I was at a trunk show at Neiman Marcus, and a young woman came up to me. She said, "I had to come and meet you, because you changed my mother's life." I said, "Like, why?" She said—I swear I cried—to me, "My mother turned 83, and on her birthday, she wanted to wear a Naeem Khan dress. So, we came to Neiman's and we had a dress made for her with your atelier for her birthday. Then, she wrote in her will that she felt so amazing wearing that dress that, when she dies, she must be buried in that dress. She said she wanted to meet her maker in that dress."
HL: That is such a beautiful and powerful story.
NK: You know how a dress can make you feel. I mean, it's so important what happens to you when you wear a dress or you look good when your hair is right. You feel like you're on top of the world, you're unstoppable. I want this to be the most magnificent thing that I can dream of. And that comes from my mother.
At the airport when I left India at the age of 18, she was crying. She said to me, "You're going to work for Halston. I don't know who Halston is, but he's a great American designer. We come from a family who worships our art. It's not about money. You go and make the most beautiful things, and you will be the most successful man ever. Don't think about money; think about making the most beautiful things."
In the end, I've remained true to that philosophy. I am not owned by anybody. I don't have any investors, nobody in my company. I own 100 percent of what I do, and I just keep it small like a jewel box that I have. And that's my story.
HL: How many kids do you have?
NK: I have two kids, two boys. One is married and one is not. And they both work in our company. We basically same philosophy: we please people. We make the most beautiful things, and that's our family heritage that we continue in this Western world well.
HL: Is there a piece of advice you would give somebody just starting out?
NK: Fashion is following a passion, because if you don't follow passion, you cannot be in fashion, right? But there is much more than that. You have to dedicate every cell of your body to this art, because this art is not just painting a canvas, this is an art that is commercial. There are so many layers to it. You know you have to understand the woman you're designing for. Who's your client? You have to understand how commerce is done. You have to understand how to conduct yourself with the women that you create. You cannot be just designing clothes and sitting at home.
Halston was an image. Fashion is bought by the person who look up to you; so, you yourself have to become a brand that people look up to and you become. You know, in a way it's like being a movie star. You become a personality, and people buy personalities. So, for young person coming into fashion needs to be interested in many things. You just cannot be about fashion: you have to be interested in nature and you have to be interested in art, museums, movies. You know, what is society doing? You have to understand culture. You have to be all that in order to be a successful fashion designer. It's as simple as that.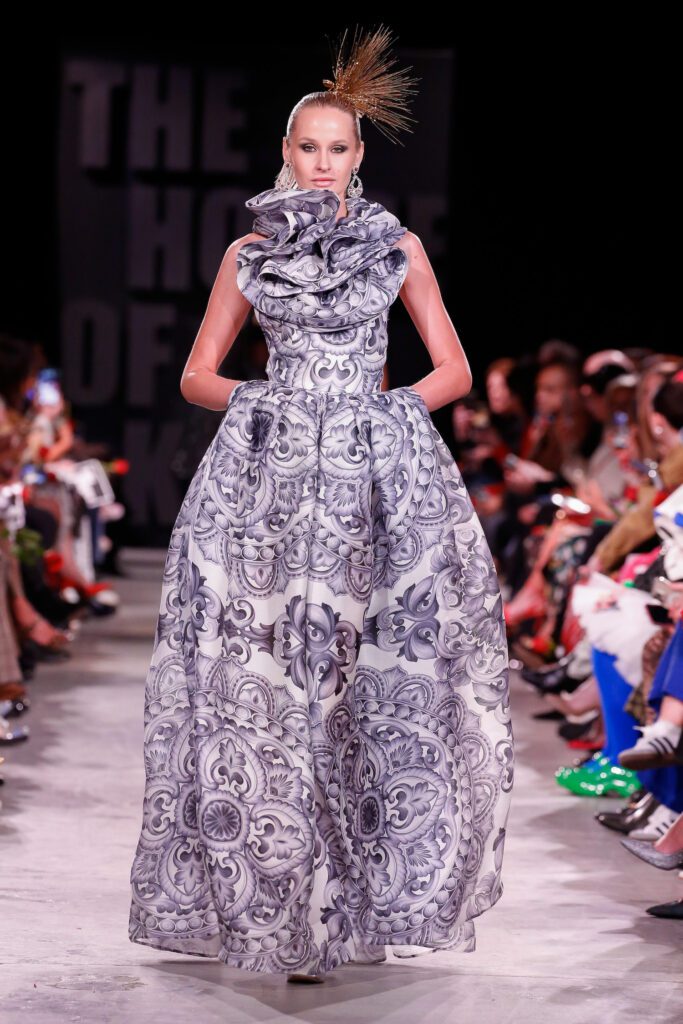 HL: Are there any trends that you're seeing or following this season that are influencing your art?
NK: I get influenced by what is the new food, or it could be by something that I've read, or it could be the movies I'm watching. So, you can say it's those things in which I follow trends, but I don't follow fashion trends. I follow the trends of culture and society in order to create my clothes.
HL: Do you have favorite movie?
NK: Fiddler on the Roof! I cannot tell you how much I love it. I look at the people, and they follow the tradition to the point where the Russians are attacking and they're dying, but they follow their traditions. I love it. The movie is fantastic.
HL: Have you done clothes for movies?
NK: Of course. I designed the gowns for the finale for Dreamgirls. I made them all in titanium. It would be great to design clothes for a Bond girl. You can take any of my designs and put them in a movie.
Costume designer Sharen Davis asked Naeem Khan to create the titanium chainmail dresses that the trio wear in the closing number of the movie. Each dress weighed about 12 pounds.
HL: So, what is it like to see queens and the first lady wearing your creations?
NK: It's so amazing, I cannot tell you. Let me go back to when I was 14 years old. Iwas sitting and chatting with a girlfriend on a bench one day and said to her, "One day, I'm going to design a dress for the first lady of the United States."
Fast forward to the first state dinner during the Obama Administration. I got a call and the representative for Mrs. Obama who said she couldn't give me her measurements. So, I figured it out. I looked at a photo. Because of my art background, I know that a face is usually 11 or 12 inches. So, I started dividing the whole body. We undid the entire body, and I made a dress for her. There was not an inch that needed to have altered. Can you imagine? The biggest opportunity I dreamed about on a park bench when I was 14 years old and now that dream happened.
HL: Tell us about the amazing dress you designed for her.
NK: There were a lot of sleepless nights. I kept thinking, "What am I going to make for my first dress for the First lady? It has to be my history. Where do I come from? What do I do? This is not just a dress." So, my years at Holsten came into focus: simplicity of form and clean. Then a vision of my grandfather when I was a child came to me. The workshop where sequins were made had 150 men sitting on the floor beating metal. It was pure silver, pure gold to a certain gauge. And they cut each sequin by hand. So, these guys were hammering and the sound of that noise—tick-tock, tick-tock—of cutting the metal rang in my ears, reminding me of my grandfather's technique to swing the silver into the textile.
I said, "That's what it is." Then I recalled my days with Warhol. "I'm going to take the poppies and I'm going to manipulate them." So, I put all the poppies I handle on the dress, on the fabric. I used the same technique my grandfather used to create the flowers which were made of pure sterling silver. The shape was Halston, and the craftmanship was my family's heritage. I took my years of all my skills and talents and put them into one dress.
HL: Tell us about the school that you support for underprivileged children.
NK: I'm part of a foundation called the MIR Foundation. Mir. The school is in the Dominican Republic, and there are 2,000 children. Every year I raise money for the school. They have a fashion school. We pay for their tuition through the money that I raise. These kids in the Dominican Republic … you don't have any idea how poor they are. These are kids who are left on the doorsteps of churches. They have no parents, or their parents are so poor they don't have food to eat, so we provide them with food and education as well as teach them how to become functioning members of society. Fashion is one of the programs that I'm a part of, and I raise money for these guys to make this into something substantial.
HL: You are truly amazing, Naeem. Can you share a bit of your magic with us?
NK: Sometimes I feel that you imagine things, and that imagination can be reality. I wanted to dress the first lady and it became a reality. How did I know when I was 14 that it was going to be true? You have to put the energy to make your dreams a reality; but first, you have to always have a dream. Without a dream, your dreams cannot come true.
Naeem Khan was mentored by the fashion icon and man-about-town, Halston. Under Halston's guidance, Khan learned the fine art of cutting and draping fabrics and was introduced to New York's royalty, including Andy Warhol, Truman Capote, Elizabeth Taylor, and Liza Minnelli.