The newest and brightest star in the fashion galaxy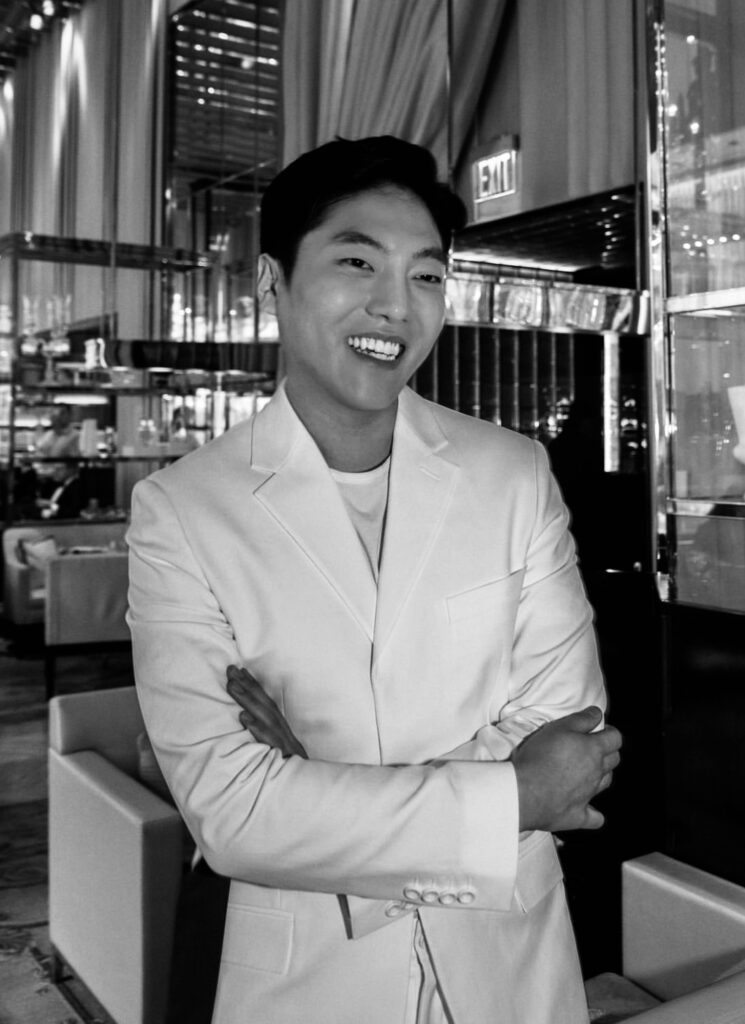 Haute Living, San Francisco scored an exclusive interview with New York's newest fashion designer, Andrew Kwon, after his much-anticipated fashion show at the famed Baccarat Hotel. This young designer is taking the fashion world by storm. At only 27 years of age, he is on a meteoric track to becoming one of America's most beloved designers in the next few years.
HL: This is your first runway show at New York Fashion Week?
AK: Yes, I started my line a few years ago, but this is my first runway show.
HL: So, let's look at the beginning and how you decided to become a fashion designer.
AK: From a very young age, I always looked up to my mom. Growing up, I saw her hardships with my family and my dad, but she always had her hair together and her makeup done, and even how she dressed, even if it was not the most expensive thing. She always looked so put together. I saw this confidence in herself, and I think it manifested in me subconsciously. I wanted to do that for other women one day.
HL: What else inspired you when you were a child?
AK: I love fashion and watching the red carpet. There are so many things about the red carpet in the world of couture that made me fall in love with fashion repeatedly.
HL: How did your studies help you with designing clothes?
AK: There is definitely architecture in the lines and structure of clothing. I loved a lot of architects, such as Peter Marino. Designs come to fruition in many ways because you're really designing them digitally or just a small 3D model. Fashion is very hands-on, and you can make the clothes in person, unlike a building that takes years. I feel with fashion design, I can see my designs come to life.
HL: Tell us about breaking into the gown market at such an early age.
AK: I think it's a very niche market, but it is saturated with so many talented designers already. They said that it would be a difficult market to break into, because you need to get to that level of not just being a fashion brand but a fashion house, especially with something like evening and bridal wear. So, it's not just having talent, you need to have talent and connections, and now you must have social skills to socialize and network.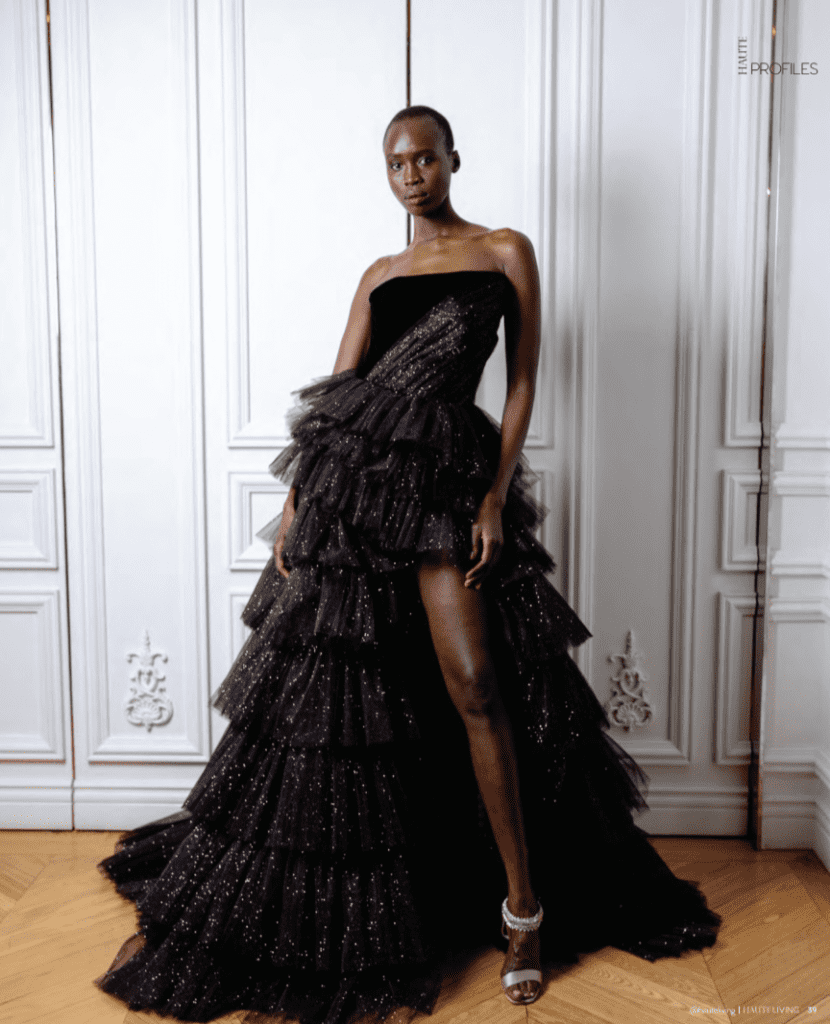 HL: What was your strategy?
AK: One of my goals was to connect with a celebrity stylist. I remember I e-mailed and reached out to Micaela Erlanger who is Lupita N'yongo's stylist. My professors kept asking, "How are you going to possibly get in contact with them?" And guess what? I got a reply from her, and she gave me a lot of advice. And that's when I first realized the power of connecting with people over social media or cold calling or emailing them.
HL: When did you start our fashion label?
AK: I graduated in 2019 and launched my first collection in 2021, on Valentine's Day.
HL: You launched a high-end gown and bridal collection during COVID?
AK: Yeah, I launched at the peak of COVID. In 2019, I graduated, went to Paris, and represented Parsons in the annual Supima Design Competition against seven other fashion universities across the U.S. When I was in Paris, I went to the Hermès show, met some people I always admired and adored, and messaged them on Instagram. We all stay connected. With the the advice from them and many others, I began to pursue the establishment of my own brand. Although I had a love and passion for evening wear and the red carpet, there really were no events that were going to be taking place for a while. It did not make sense as a business to launch something so niche like that during COVID, but I followed my instincts and thought bridal felt appropriate right then.
The business model was fabulous: there was less overhead, less wasted production, and everything in the collections could be timeless—as long as you were able to reproduce and create the fabrics and materials needed in that specific style. But a luxury bridal collection, from a new designer during the pandemic? I know it sounds nuts, but I was observing the world closely, and saw that women were still getting married in micro settings and sometimes larger settings in very private areas. And another thing? Many people get stuck at a company for years and years, and all that creativity and energy is just really pulled out of you. And so, that's something I always thought about as well, so during the pandemic, I pivoted from red carpet and evening wear and switched to bridal.
HL: Why bridal?
AK: I really connect to bridal, because when brides walk down the aisle, it's their red carpet moment. So many women's red carpet moments are on their wedding day. I saw it when my mom got remarried: I saw a lot of the emotions on her face and how powerful that type of moment of dressing could be. And you know, I want to have that type of impact on other women and bring out those types of emotions because I love creating stories.
HL: What brands did you work for before you launched your label?
AK: I interned first at Chloe, more on their marketing side, so it was interesting seeing how market and buyer appointments go. Then I went over to the corporate side. It was a fast fashion company. I saw where the money comes from in fashion. That wasn't super exciting to me, but it was good to see that from a business standpoint. I've always loved the red carpet, so I had to go to Marchesa. I learned the most there. I got to work on some of the most incredible dresses. At some point, I worked on Octavia Spencer's dress. We only found out who it was later. And so many amazing, beautiful wedding gowns as well.
HL: You've studied architecture, interior design, and did these internships. How did you decide to go into fashion and gowns?
AK: I'm a go-with-my gut type, and I felt it was time and ready to design gowns specifically. I remember many people telling me in the beginning: "Why don't you work for a company for a few years, for three or four years?" I felt the tension from some parts of the industry. There is a way to take that tension and use it to reach the next level and put yourself out there. My type of energy attracts positive people like what you're putting into the world. I had a lot of support from my parents. My stepdad is not in fashion, he's in real estate, but he gave a lot of good advice. My mom and stepdad are my two most prominent supporters, and they were also my two biggest supporters switching out of architecture to fashion.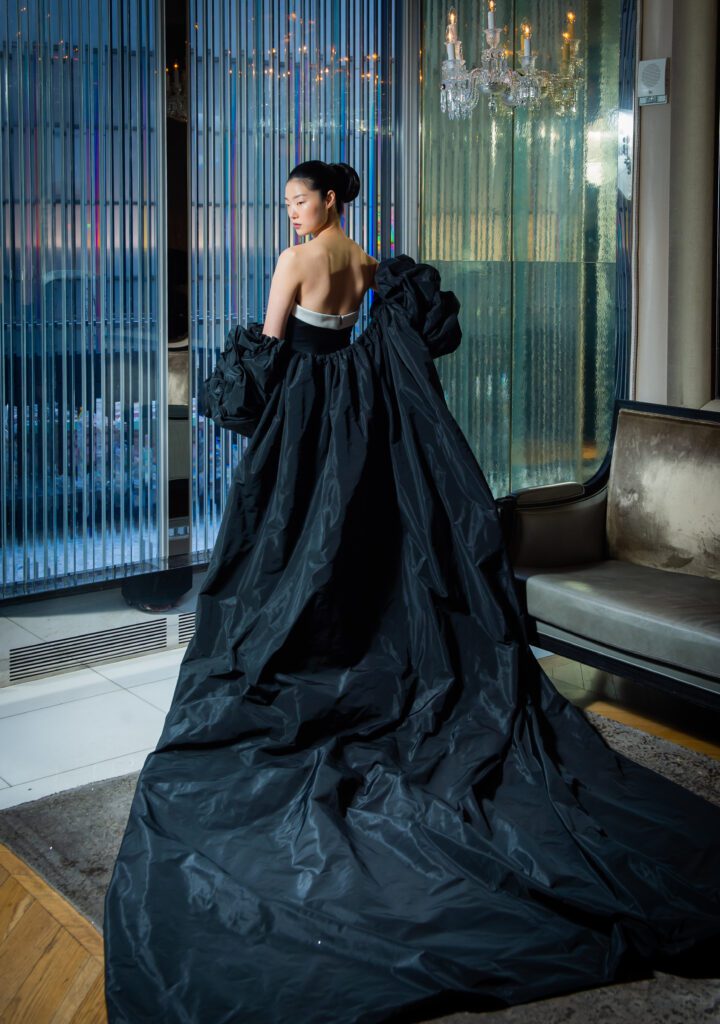 HL: Let's talk about your latest collection.
AK: This collection is another chapter of what I see in modern, red carpet experiences. I went over the top of some of the gowns, and there are pieces that I've tried with new fabrics that I've never played with before and that seem like a lot of people's favorites. And so, I want to design for galas and events like the opera, not just red carpet moments. But, if you're creating a real business, it's about sales and creating sellable and wearable pieces. Seeing a 20-foot-long train for a show or red carpet is great, but it's learning how to give the second option of cutting the train a little shorter or making the bow a little smaller. And so, you'll see that in the collection that there is room to customize a lot of that. I can customize colors as well. But it stays true to the brand's DNA.
HL: Tell us about your inspirations for this dazzling collection.
AK: A lot of the collection was inspired by some of my favorite flights. The first flight I ever took was in middle school to L.A., and I think it was the first time, you know, growing up in Colorado and looking out that window. I saw a lot of these moving lights. The lights were highways. And remember, I was so captivated by that because I grew up in Colorado Springs before that, which didn't have highways like those. The other flight I took that inspired this collection was transferring flights somewhere in Colorado. I remember how dark it was looking out of the airplane, but then I would see little pockets of these little slivers of lights. I like to create stories in my head. So, I imagine seeing the northern lights. And so, when you see the collection, you'll notice some of these beautiful emerald and plum colors that remind me of the colors of the aurora borealis.
HL: Is there somebody you have your eye on dressing for the red carpet?
AK: Nicole Kidman. I fell in love with her when I was in the second grade and first saw the Chanel No 5 commercial she was in, directed by Baz Lurhmann. She's running down the red carpet in a pink feathered gown. Then she falls in love with someone who's clearly not from the same world as hers. When she returns to her fabulous celebrity life, she's walking up the steps in a sleek black gown. When she turns around, there's this little diamond necklace that swings with the No 5. Perfection. There was something so masterly cinematic about every single part of that commercial. And those cinematic moments are what I create with my collections and shows.