Get to know a few of the icons and innovators in haute joaillerie today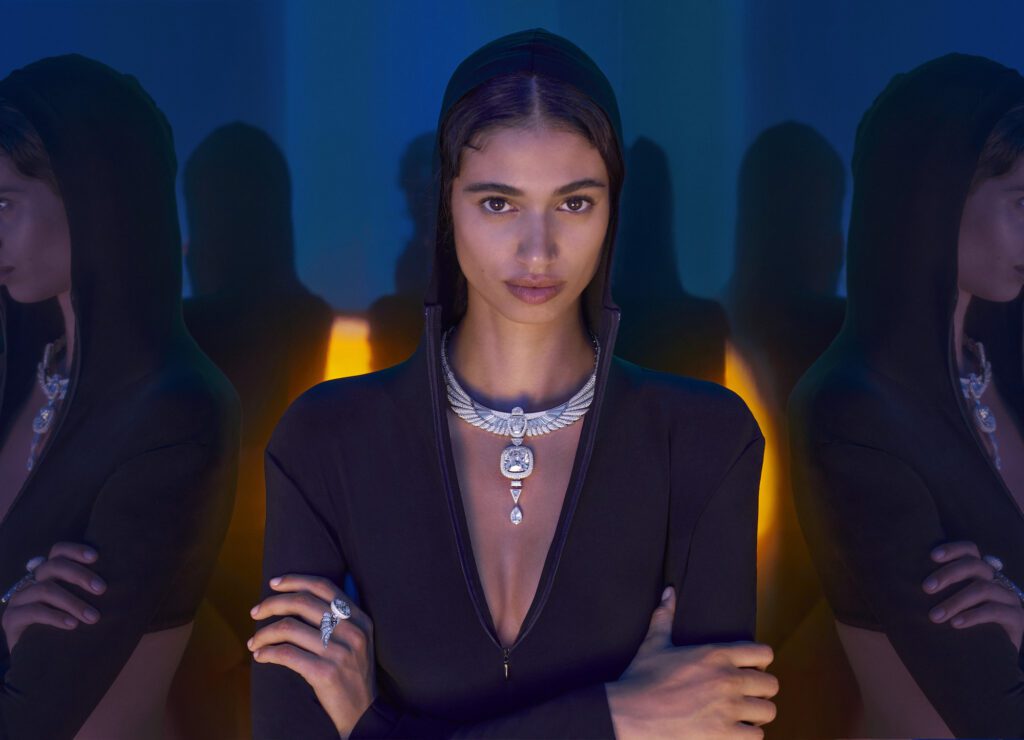 Messika
Featuring diamonds fit for a queen, Parisian jewelry house Messika launched Beyond the Light at a star-studded runway show during Paris Fashion Week last September. The dramatic new collection comes from Valérie Messika, daughter of renowned diamond dealer André Messika.
"I loved working alongside my father and sharing our common passion for diamonds, but I was missing the creative aspect," she says. Messika founded her eponymous jewelry maison in 2005, becoming a household name whose pieces are worn by the likes of Julia Roberts, Venus and Serena Williams, and Beyoncé. Chic yet timeless, as evidenced by its appeal across generations, the brand also aims to celebrate women and embolden them to wear diamonds for any occasion.
"When I founded Messika, there was a real fear and apprehension around diamonds," she says. "Most women only really wore the diamond for their engagement ring or for very traditional evening wear." As a result, she started Messika to break down these outdated style barriers. "My desire is to create a new way of wearing jewelry. I want my designs to be worn every day, not just on certain occasions."
Inspired by the mysticism of ancient Egypt, Beyond the Light reflects Messika's message of female empowerment. "Cleopatra was a legendary woman, and her memory is still as fascinating as ever," she says. "The ancient Egyptian woman resembles the Messika woman: bold, courageous, and self-confident." Messika is turning tradition on its head with an approach that envisions diamonds as a symbol of femininity and self-assurance. No longer only for special occasions or serious engagements, Messika asserts the belief that diamonds—like fashion—can be playful and dynamic.
Oscar Heyman
Known as "the jewelers' jeweler," Oscar Heyman is an iconic, family-owned institution that has endured for over a century. As one of the workshops behind some of the most venerated jewelry houses worldwide, its craftsmanship was trusted for decades by Cartier, Van Cleef & Arpels, and Tiffany before the label evolved into its own brand.
One of its crowning achievements came in 1969, when Cartier commissioned Heyman to produce a setting for the famed 69-carat diamond Richard Burton purchased for Elizabeth Taylor. With less than a week to complete the lofty task, Heyman's team sourced 67 stones of equivalent shape and quality, working around the clock to create what would become the legendary Taylor-Burton Diamond necklace.
"​Our aim is to create the finest, most beautiful handcrafted jewelry in the world using the finest gemstones and the finest manufacturing techniques," says CEO Tom Heyman, a third-generation member of the founding family. Designed to stand the test of time, styles such as its guard rings—which have been sold since its founding in 1912—have maintained their popularity throughout the decades.
While the company still turns to its archives for inspiration, the designs shift with the times. "Today we proudly stamp our own trademark on the pieces we create for customers who desire Oscar Heyman jewelry, in part due to the reputation we earned creating jewelry for others," says Heyman. One classic design adapted for modern tastes is the company's cornucopia bracelet, a strand of diamond-encrusted links originally designed as an evening watch strap in the late 1940s. This has been reimagined as a stackable tennis bracelet for everyday wear, available exclusively at Neiman Marcus.
Its model of relying on its retail partners to sell their jewelry allows the company to focus exclusively on sourcing the finest precious gemstones and creating these exquisite pieces. Oscar Heyman carries on its namesake's legacy, proving that designs focused on exceptional gemstones underscored by extraordinary craftsmanship will never go out of style. As Oscar himself once said: "Jewelry should transcend time like a fine painting, never losing its appeal."
Verdura
"Verdura … was always in the right place at the right time," says managing director Jim Haag of the company's founder and celebrated man-about-town. Born into Sicilian aristocracy, Duke Fulco di Verdura became a tastemaker for high society in 1920s Paris, Golden Age Hollywood stars, and the crème de la crème of '40s and '50s New York.
His early collaboration with Coco Chanel resulted in the Maltese cross cuffs, an enduring design that initially turned heads for its daring use of multicolored gemstones and the classical motif. "It was considered a stylistic revolution in jewelry, as they departed from the deco trend that was marked by the ubiquity of platinum and diamonds," shares Haag. "Verdura brought cuffs into the modern era by making them accessible and talismanic. Their boldness belies their easy wearability."
Verdura's list of clients later included icons such as Greta Garbo, Rita Hayworth, Katharine Hepburn, Cary Grant, and Cole Porter—a close friend who also helped to finance the opening of his jewelry salon on Fifth Avenue in 1939. The duke-turned-designer rose to renown for his bold yet sophisticated design aesthetic, becoming the first to set colored gemstones in gold for everyday wear. Today, the company is headed by Ward and Nico Landrigan, stewards of the brand committed to bringing Verdura's timeless designs to a new generation.
"Our mission is to help a client create their own unique, personal style," says Haag. "The team at Verdura has put a focus on the personalization and customization of jewelry: timeless jewelry that displays our clients' sense of style and confidence." The designs draw from the company's archives, which contain nearly 10,000 original sketches, while adapting to contemporary tastes. Each one is also created in limited production. Favored by trailblazers across fashion and film for nearly a century, Verdura continues to showcase the power of style with high jewelry pieces that are sophisticated but unpretentious, striking yet understated—reimagining heritage designs that will capture the attention of collectors for years to come.