From its perch at the corner of Union and Stockton where its neon sign overlooks Washington Square Park, Original Joe's presents as, well, a North Beach original. It seems as if the San Francisco institution has held court in this coveted and very fitting location for all of its 86 years. The restaurant's vibe, its food, and its energy are a perfect match for this iconic Italian-American neighborhood, where spirited diners and imbibers spill out onto sidewalk café tables as Frank Sinatra and Tony Bennett croon from speakers overhead.
Original Joe's and North Beach are a match made in culinary heaven. Though its origins, and the bulk of its long life, are associated with the Tenderloin District, Original Joe's has called North Beach home since 2012, when founder Tony Rodin's daughter Marie and her husband John Duggan, along with their children Elena and John, rebuilt after a disastrous fire destroyed the original on Taylor St. With a dedication to the restaurant's storied history, and an eye for classic design, the Duggans have created—or rather recreated—a communal gathering spot, filled night after night with families, couples, groups of friends, and the occasional celeb, all of whom arrive for the Italian-American comfort fare, the crafted cocktails, and the cool, retro atmosphere punctuated by high-backed red leather booths.
Hospitality, familiarity, predictability—these are the cornerstones of the Original Joe's brand, as first imagined by Rodin, a Croatian immigrant and innovator of the now nationally renowned "Joe's Concept" of exhibition kitchen, throwback design, and a menu offering an evolution of Italian-American cuisine. When he opened his restaurant in 1937, in addition to his abundant portions of house made favorites, Rodin served hope, camaraderie, and optimism, elements that are as comforting and fitting today as they were then. Original Joe's is as much about amity as it is about cuisine, but no one is faulted for booking a table solely for the Joe's House Made Ravioli with classic meat sauce, the Baked Lasagna with house made pasta and Joe's signature marinara sauce, or the classic Chicken Parmigiana.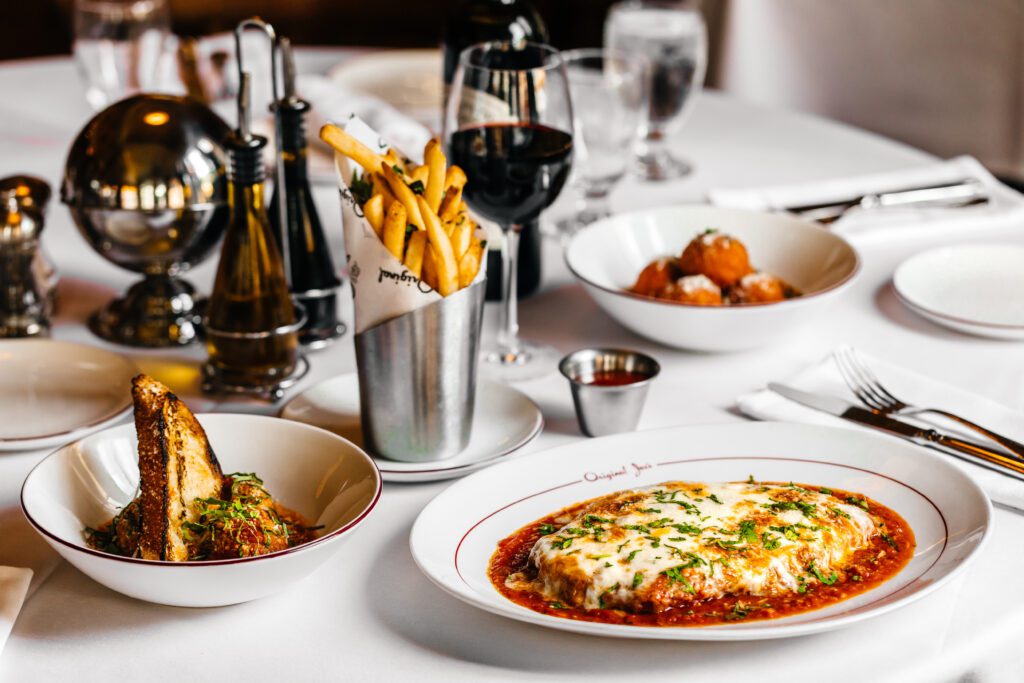 These are comfort dishes at their best, prepared in the center-stage exhibition-style open kitchen where flame and sizzle are ever-present. Cooks in crisp whites sauté, broil, and bake entrees served by professional, black-shirted waitstaff. Counter seating provides direct viewing of the kitchen choreography, while individual tufted leather booths line the ambient-lit dining room across from which is the restaurant's wall of fame—a pictorial history of its nearly nine decades. On the other side of the dining room is the backlit Bar & Lounge, a vibrant, television-lined space in which the game of the moment draws energized crowds.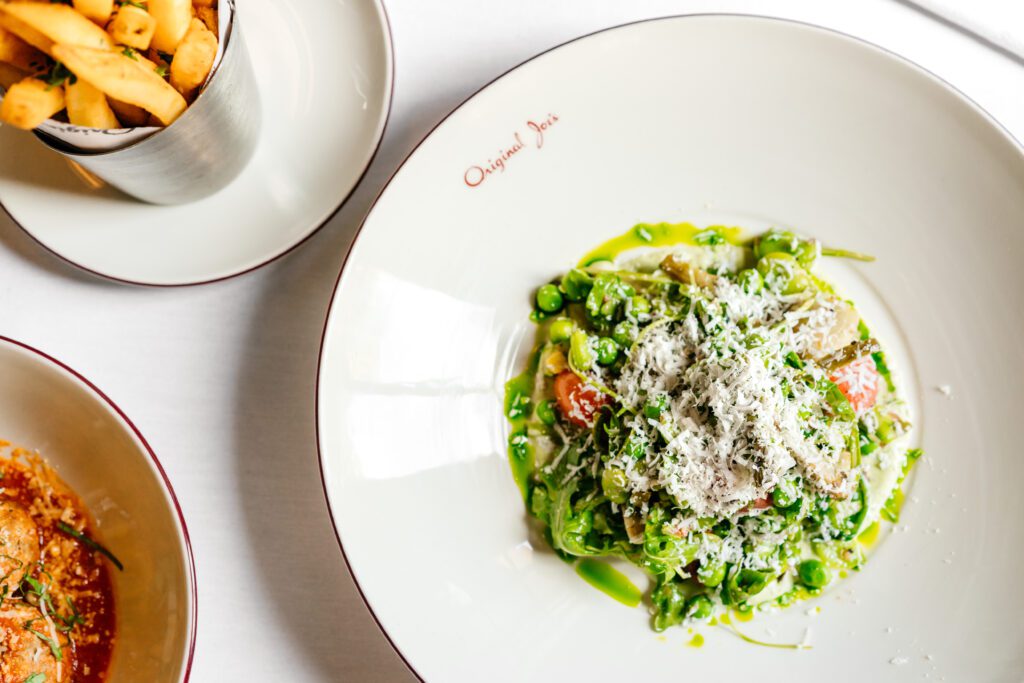 Open seven days a week serving breakfast, lunch, dinner and brunch offerings, Original Joe's features a full selection of unpretentious, old-school fare—from beef, veal, chicken, pasta and seafood, to salad selections, appetizers (the hearty Dungeness Crab Cocktail is a fave), signature soups, and specialty desserts (don't miss the signature Warm Butter Cake, slathered with vanilla ice cream and chocolate sauce). Classic dishes such as the Hamburger Sandwich served on a sourdough roll, the Red Wine Braised Short Rib, and the seafood-packed Cioppino can't help but transport guests (no matter their age) to a nostalgic era of old-school hospitality. It's funny to feel sentimentality for an era never personally experienced. But that's the beauty of this quintessential San Francisco dining experience.
The brand's additional restaurants include Original Joe's of Westlake and Little Original Joe's in West Portal; the newest will open in Walnut Creek in 2024.
Photos by Emma K. Morris, courtesy of Original Joe's
Original Joe's: 601 Union St., San Francisco